"No, it's not graffiti art. It's not street art. I'm a bushman cave painter."

Discover MFA Programs in Art and Writing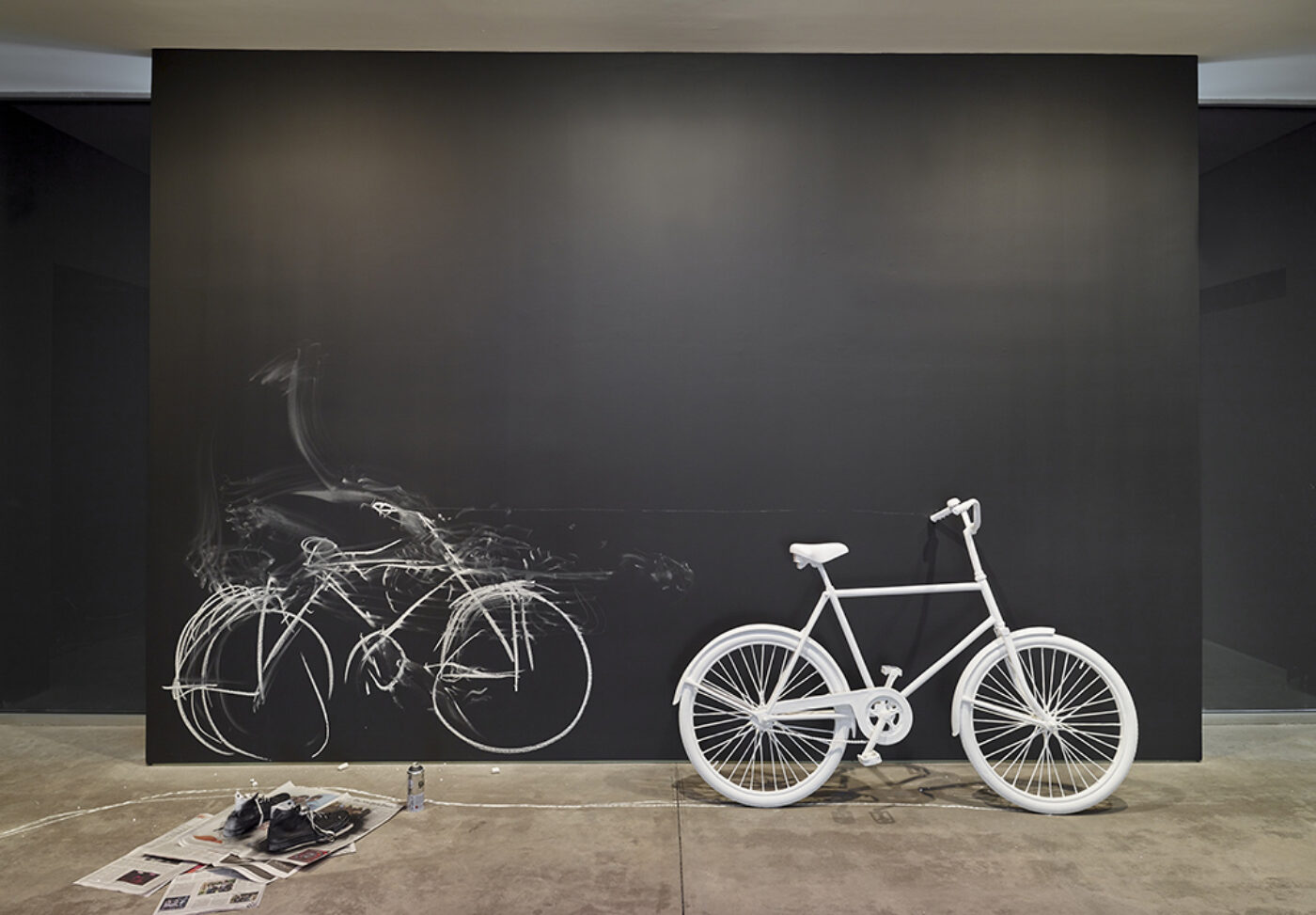 Cape Town-born and Berlin-based multidisciplinary artist Robin Rhode works across visual media to interrogate notions of the city and urban landscapes, the individual, and the cultural collective. Rhode was recently announced as a commissioned artist for Performa 15, the biennial of performance art, taking place in New York November 1–22, 2015. For his commission, which is still in the works, Rhode will reinterpret Schoenberg's 1909 opera Erwartung and build the set using doors reclaimed from his native South Africa. He currently has two exhibitions on view; "Borne Frieze," his third solo exhibition at Lehmann Maupin, features new work meant to broaden the possibilities of drawing as a medium. "Drawing Waves" at the Drawing Center, meanwhile, includes stop-motion photographs and a wall drawing done in collaboration with school children. We spoke recently about the new shows and what it means to make art in an increasingly globalized world. 
Robin Rhode It's been quite a busy time with my show at Lehmann Maupin opening in June, and before that I came and did a talk at Lincoln Center. And then I had the Drawing Center opening just a few weeks ago, so—
Lee Ann Norman Did you plan all this intentionally, these wonderful things happening at once? (laughter)
RR It all just kind of came together. I've had a really long relationship with the United States. I'm also working on a commission for Performa. I don't know if you're familiar with it.
LAN Yes, they often work with visual artists, and move their work in a more performative direction.
RR Exactly. I'm producing an opera for them in November. It's all just happening at once—unbelievable! (laughter) But where should I start with the exhibitions… Lehmann Maupin?
LAN Yeah. Tell me about how this new work came to be.
RR My initial idea was to explore the notion of materials that relate specifically to drawing, such as chalk and charcoal—chalk white, charcoal black—and play with these two tones as a balance for the show. Lehmann Maupin has a new gallery space, and there are various galleries within the gallery. I found that the architecture of the space could allow me to explore drawing as an environment. Instead of having an open exhibition, I utilized all of these spaces to create an environment for one narrative.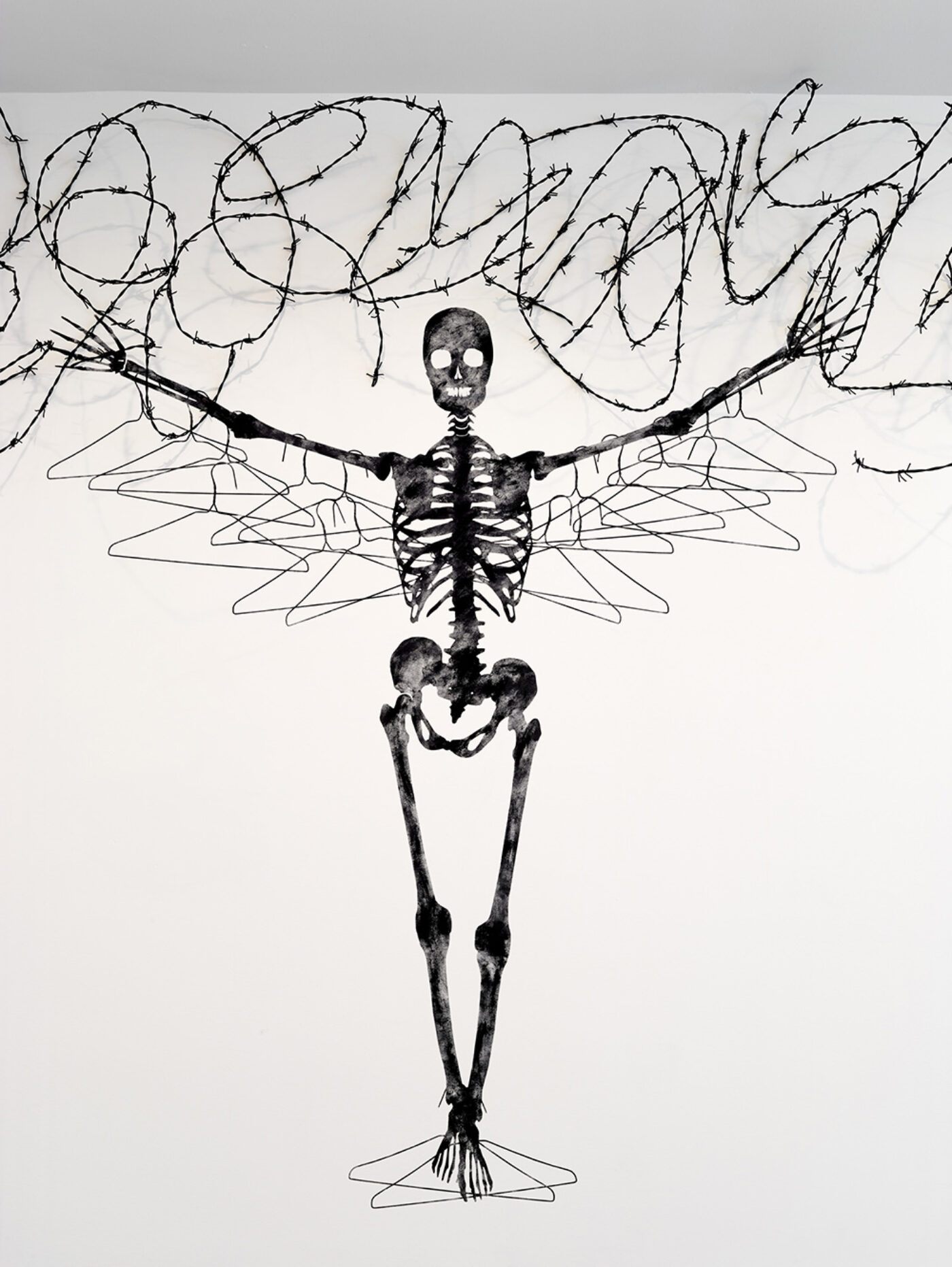 In the first space, you encounter a skeletal figure in the position of a crucifix. Attached to his limbs are wire coat hangers, and these barbed-wire shapes hang from above, on the wall, as if the skeleton had suspended itself from the wires. The crucified figure is very much present in the history of art, from Marc Chagall's White Crucifixion (1938) to performance art of the 1970s—think Chris Burden on the Volkswagen Beetle, or Marina Abromović crucifying herself in the gallery. Imagine this skeleton as a bird in an urban desert, which is interesting for me. Barbed wire is kind of like a line drawing.
In the next space, there are two enlarged sculptures, a chalk light bulb and a charcoal lightbulb. The space is dark gray with a short-circuited light fixture along the wall, which causes it to flicker. I did a performative action there. Reacting to the space's lighting conditions, I made a floor drawing. I think of it as a trace of physical action inside the gallery. I'm really keen on how sculpture can become more active. I like seeing how animating sculpture—by physically engaging with it—leaves some trace of its existence.
LAN I read somewhere that when you were young you and your school mates would draw on the walls at school, and you'd have the younger kids interact with those drawings.
RR Yes, but now, I've moved on to exploring the image in its physical reality, in a sculptural form. From there, I'm drawing with that object. This leads to the next space in the show, where there's a life-sized chalk bicycle installed, and you see these chalk-drawn bicycles around it. I did a physical action where I pushed the bike around the space, and my drawing was like a shadow of the actual chalk bike itself. I wanted to create a physical tension within each environment through mark making.
There's one animation in the show, a single-channel video called The Moon is Asleep (2015), which is named after a poem written by famous South African poet Don Mattera, who also narrates the video. He wrote the poem in the late 1980s or early '90s after his lover passed away from HIV/AIDS.
You mentioned the story from my youth about drawing on the wall, using bicycles, and interacting with them. There's a politics in this.
LAN Right, you've said that when you were growing up in South Africa, there would be these massive school shut downs, during which kids would steal the chalk from the school to draw. You also said that bicycles were kind of aspirational objects to have; no one that you knew had them. Is that correct?
RR No, some of my friends had bikes, but we weren't allowed to bring them to school. There were certain disciplinary issues with them. Another historical story about bikes comes from World War II. South African soldiers who volunteered to fight were given compensation. White soldiers were given land or property, but soldiers of color were given bicycles. So the object has a very strong political significance. Fifty years later, bikes manifest on the walls of schools as drawings, but the walls of the schools that we draw on, for me, also invoke the walls of caves. People say about my work, "Oh, it's graffiti art." But I say, "No, it's not graffiti art. It's not street art. I'm a bushman cave painter," because cave painting, too, goes back to the history of South Africa.
LAN I feel like the graffiti or street art label for your work is a surface thing. People probably say it only because you've drawn outside. (laughter)
RR It's an easy label to help people understand what I'm doing, but I'm not a street artist at all. I'm actually kind of a formalist.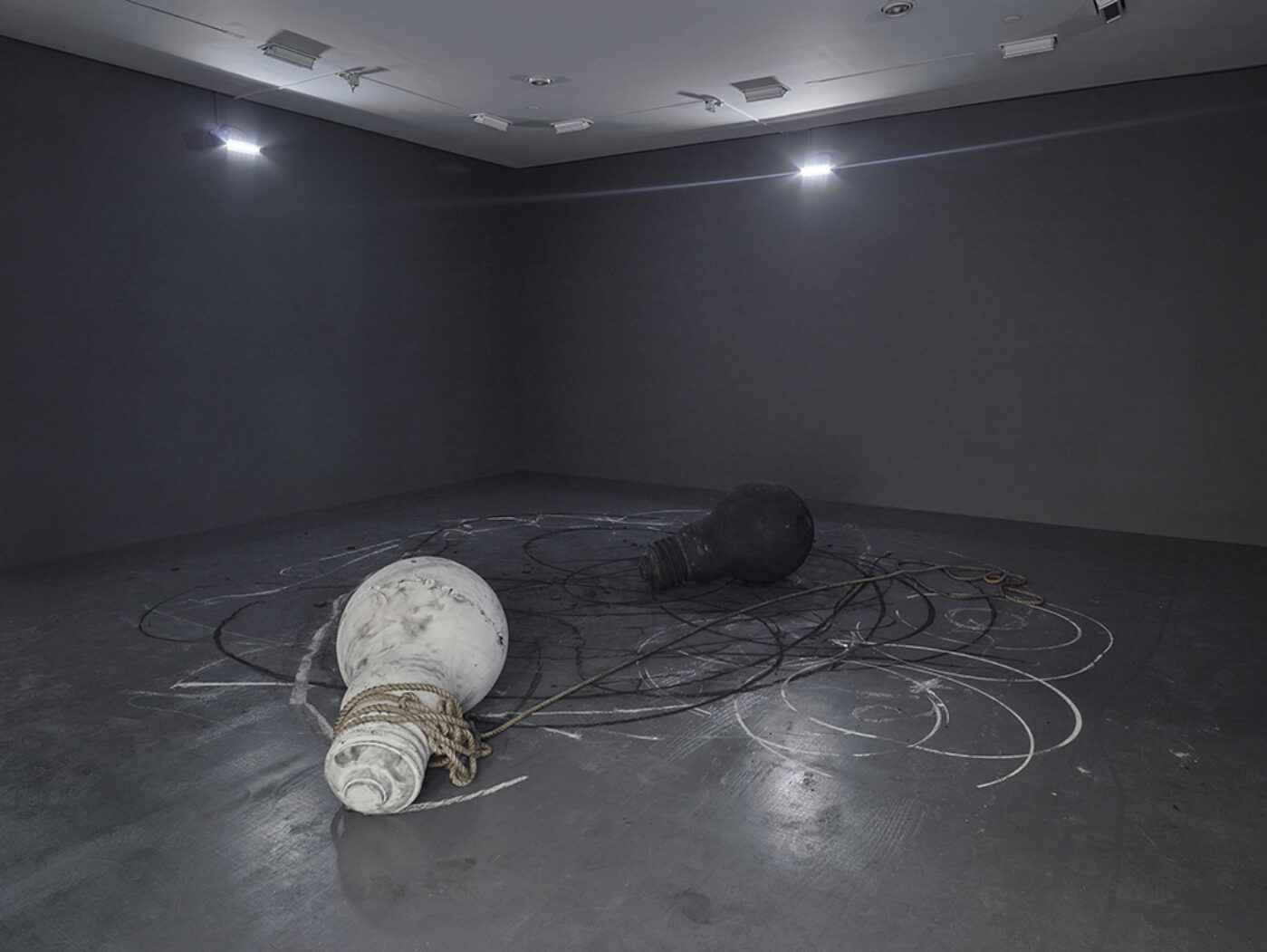 LAN I do like this idea of intervention that comes from the connection to street art, though. Your work seems really playful. Can you talk a little bit about the role of play or freedom in your interventions?
RR My work is rooted in humor, even in the context of South African art, much of which is focused on the notion of migration or politics. I believe in humor as a mechanism for destabilizing dominant discourses. Humor can flip the discourses labeling certain individuals in society, and I like to flip art history too. Humor is also a very important coping mechanism, and when you look at societies that are very divided, people develop these mechanisms, which become a way to be funny, yes, but also to critique in many cases.
LAN You've spoken often of how you grew up in a very politicized moment, as well as how you've experienced various stages of apartheid and post-apartheid. You've spent nearly fifteen years in Berlin too, which also has a fraught political history. But the coping mechanisms are very different. Berlin seems to be a much more serious society than the one you came from.
RR I always look back to South Africa for points of inspiration, but Berlin is a very interesting research home. It allows me access to various points of art history, and I appreciate all of them. It allows me to look back at my own society and critique it in a certain way. Sometimes I joke and say I'm actually a DJ, because I'm mixing old-school art history beats with new Afro-electronica. It's like an alchemy of styles and social conditions. We live in such a global world right now. That influence is huge in my practice. Being on the global periphery—in Southern Africa—and looking out into the world, into American culture, we start appropriating aspects of this dominant culture into our own.
Just to give you an example, did you know that the most dangerous street gang in South Africa is in Cape Town, and they're called The Americans? Their label is the US flag. Their headquarters is called the White House. (laughter) It's so fascinating. It's like out of a movie. But it shows you how much identity is influenced by globalization. You can appropriate and develop your own thing.
LAN I think a lot about the democratization of culture too. We have technology that puts us together, and it makes us feel like we understand what someone's life is like halfway across the world without ever visiting. We do take bits and pieces of cultures and make them our own. It's empowering when you can make your own rules.
You were joking about how you think of your practice like a DJ, but in a real sense, you do have a connection to music, right? How does that come into your visual world?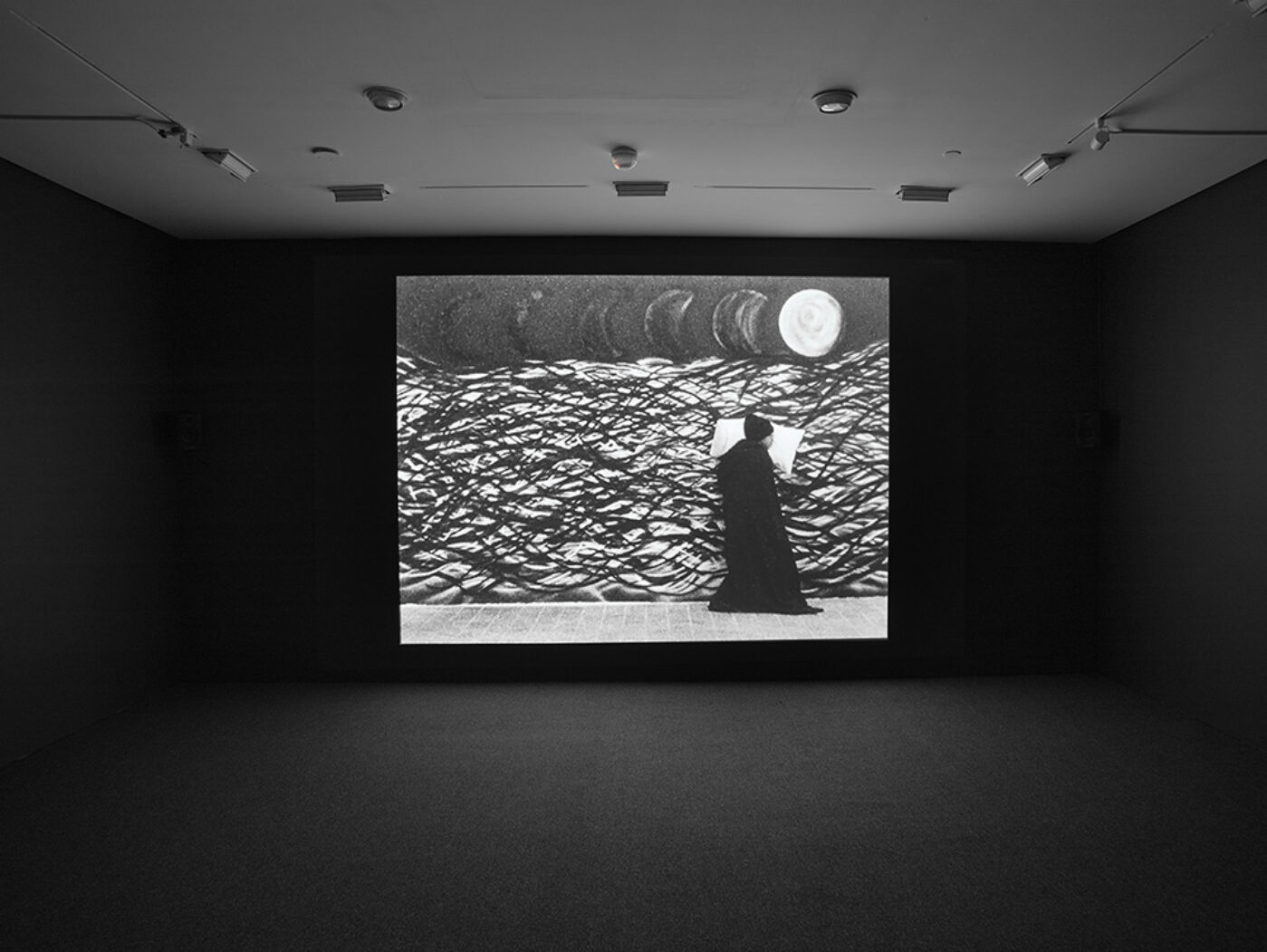 RR (laughter) I don't have any musical background, but I imagine that visual art evokes the same emotional response as that of a singer singing a beautiful song. I think the magnetism of music for me relates to the process of drawing. There's a rhythm to drawing that I'm really tuned into. I'm not saying I have to listen to music to draw, but the mark making process of drawing relies on tempo and is related to rhythmic impulses.
In 2009, I did the stage design for a solo piano concert at Lincoln Center—Modest Mussorgsky's Pictures at an Exhibition (1874). It was my first stage design and quite a phenomenal experience; I didn't have a link to classical music before. In fact, my relationship to music has developed so much over the last few years that I've established an underground label.
LAN Wow! What kind of music do you guys do?
RR You'll find no information on my record label, Rhodeworks, if you Google me, because I'm so underground! (laughter) My studio assistants are forcing me to establish a website so we can showcase our products though. I only publish limited edition vinyl records of 500.
LAN Nice, I like it!
RR I also work with various genres. For example, I worked with an underground Hip-Hop group from Johannesburg called Sky Klinic. I've also done a jazz album with Edward Maclean called From Bamako to Abidjan, and I've done an electronic album with New York-based contemporary artist Derrick Adams. I'm now working on a noise album with an underground collective from Milwaukee called Ching Suru, who started an underground noise radio station. I don't stick to one specific genre. My record label involves me having complete artistic control of the vinyl design. I see the vinyl and the limited editions as a means to create objects; I think of them as sculpture.
LAN I was thinking about the relationship between drawing and music, and how you've tried to figure that out. Once upon a time, I was a musician—I play clarinet—but I dabbled in drawing. I agree that there are parallels. When you're playing a wind instrument, it's all about the pressure, the speed of your breath. It changes the sound or the feeling. I think it's the same when you make a mark. If you make a fast one, or really push into the paper, it's in the body. It's a very visceral process that's very attractive to me.
I always say that Beethoven, for example, put those chords together not because of theory necessarily, but because he knew it would sound good, or it would feel right. Very often, that's where our creative gestures start, that place where it feels right, you know?
RR That's a very interesting point. You're talking about feeling, but the feeling that artist's experience is born from intuition. You need to intuitively know that this note or line can exist in a particular moment in time. I really rely on intuition. I set myself up to use it.
LAN What do you mean?
RR In order to react intuitively, you have to have the right conditions. You have to have constraints. You can't always have everything at once, so you need to react to generate something that isn't there. You know what I mean?
LAN Yeah. You have this set of materials or tools at your disposal, but intuition comes in, determining which tool you use in a certain situation. In the Lehmann Maupin show, for example, is that why you're working in this monochromatic paradigm? You're trying to push the limits of what you can do with just a few things?
RR Yes! Brava! (laughter)
LAN (laughter) Okay, I got it! That's an interesting concept to consider as we talk about expanding the conversation around drawing.
RR I like to see where constraint leads me. It's quite edgy. This isn't only about the contemporary art market, which has been such a dominant issue. It's interesting to destabilize that blue-chip structure. We used this show to add to the narrative of art, rather than the narrative of the market.
LAN This work is different than what's at the Drawing Center.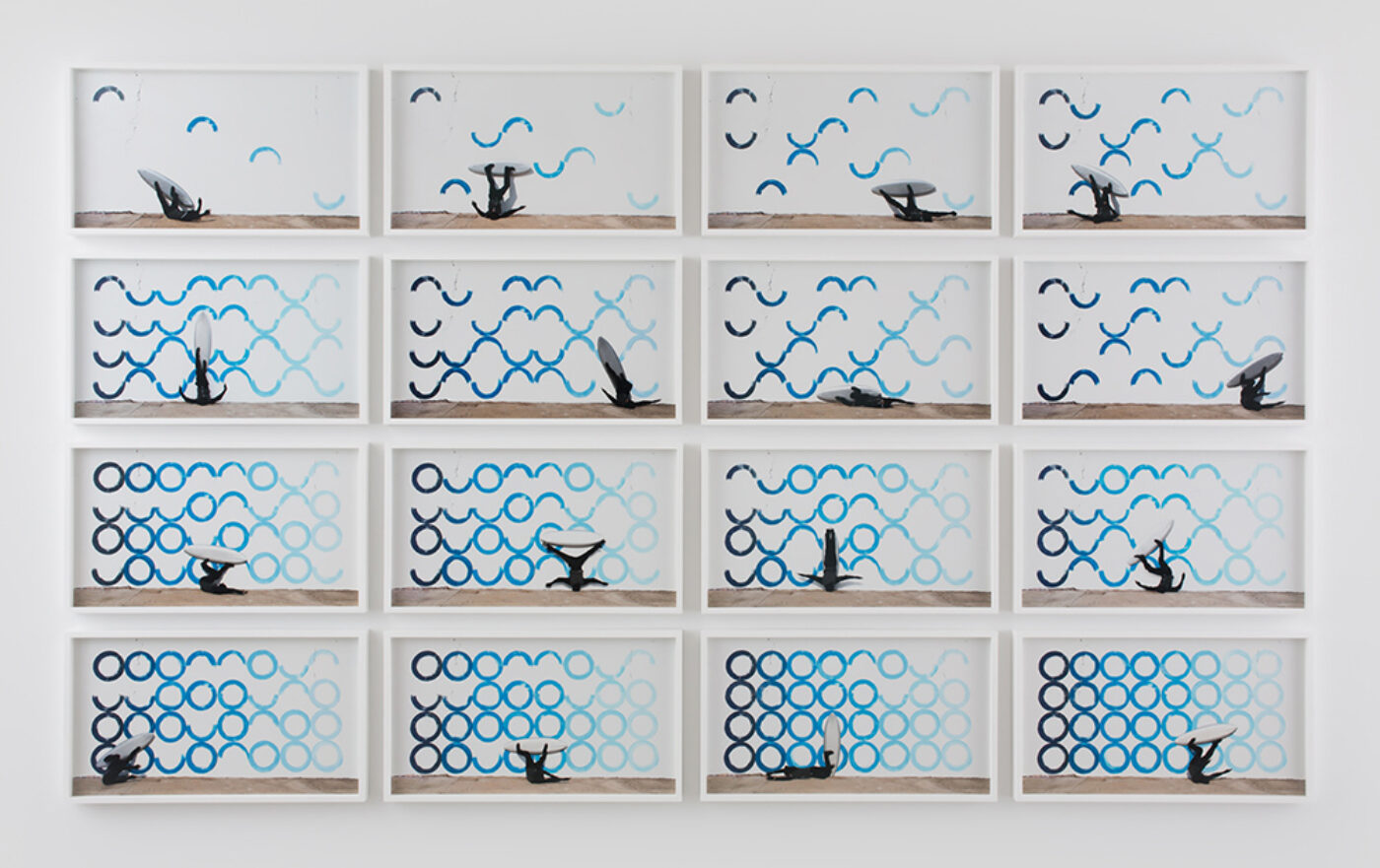 RR The Drawing Center is a very modest show. It's one body of work, a photographic piece. It's called Drawing Waves, which I took from a music video I worked on last year for U2, actually. It's an interactive, wall-drawing project with a group of young kids, who drew on the walls directly with enlarged oil crayons.
LAN Why work with young people? What's the appeal and importance of that?
RR I'm a huge follower of youth culture, particularly youth and art. It's personal for me because I came from a society that had very limited art education. To work with young kids now is almost an educational mechanism. When I do work on the streets of Johannesburg, I work with a very young crew on my wall pieces. When you're young, your imagination is untainted by reality. You have a freedom that as adults we don't have. They're more brave.
LAN I wonder what happens to us; we're able to see the beauty and art in life, but when we get older we become cynical and bitter, and that idealism just kind of goes away.
RR I remember searching for walls to create some works on in Johannesburg, and my young crew wanted to make a piece on one particular wall, but I didn't have the courage to do it. Maybe years ago I would've done it, when I was younger, but I don't have that edge anymore. Those young guys were like: What do you mean?! Just go and do it! I think I lean toward infusing my practice with energy and youthfulness. I also think about artists, from Warhol to de Kooning; the established, old guys always had the young ones around. By doing this myself, I always know the latest style, the vibe on the streets, the reality. The older we get, the more our minds are somewhere else, but I need to stay fresh so I can stay in the game.
Robin Rhode, Borne Frieze, on view at Lehmann Maupin, New York, until August 21, 2015. Robin Rhode, Drawing Waves, on view at The Drawing Center, New York, until August 30, 2015.
Lee Ann Norman is a New York-based writer and culture maker whose interests lie in the ways others read the world and how their readings influence everything.