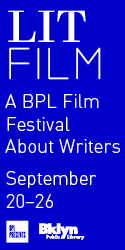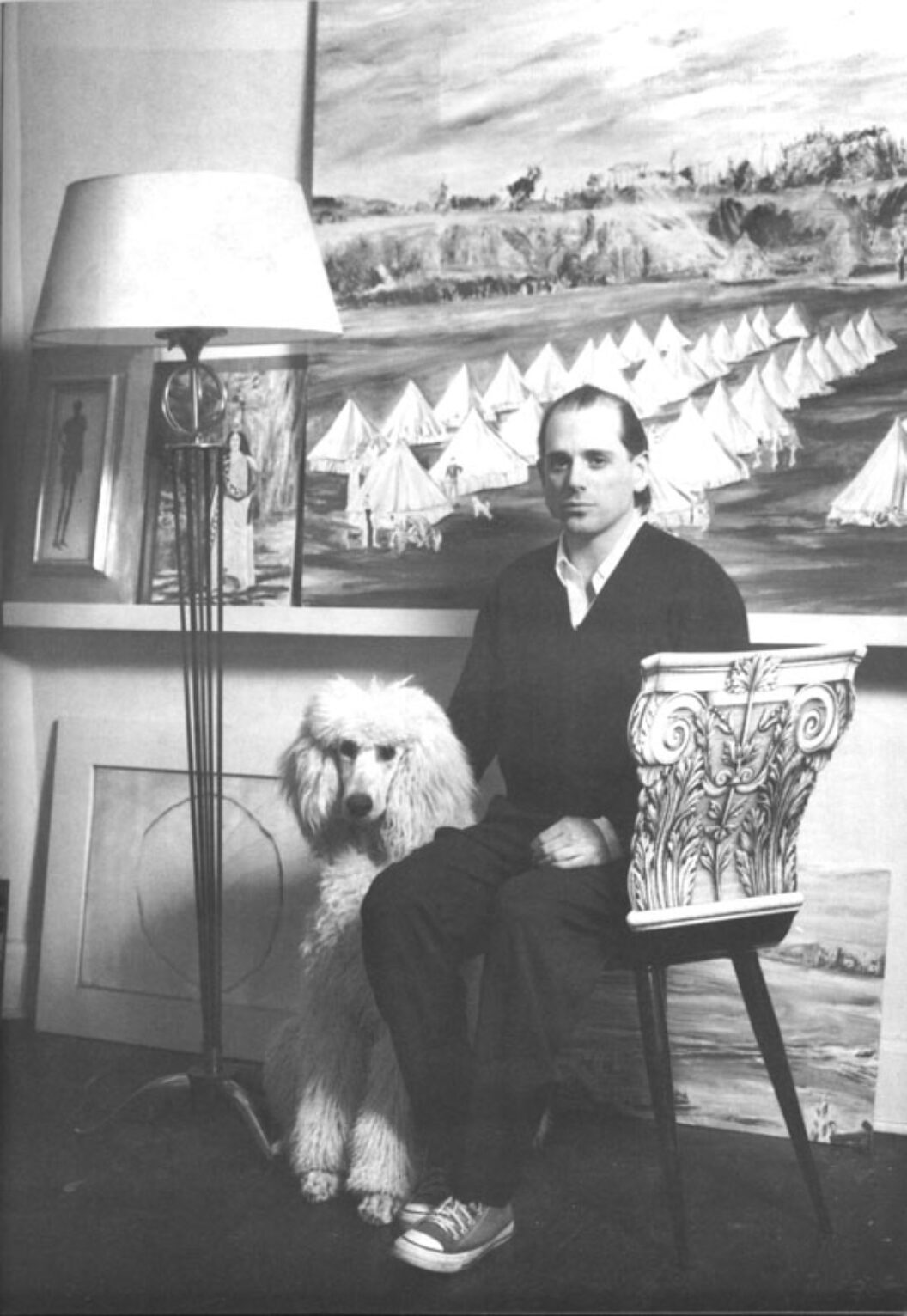 Robert Greene lives in a cherub-studded building on the westernmost edge of Manhattan's 72nd Street, in an apartment that seems to float over the Hudson River. There he dreams the urbanite's dreams of arcadia, infusing his canvases with the wistful winds of paint and reverie. Greene's work looks back to the tradition of European painterly pastorales through an American's sense of nature's vastness. The complex compositions he constructs are as rich in figurative anecdotes as they are in paint. Fred Astaire's humorous grace and lightness could well be a model for Greene's characters and touch. Although the figures and the landscape of these idylls may be endangered, Greene proves with jubilation that, if elegance is possible, elegance exists.
Klaus Kertess Often your paintings contain a series of disconnected narratives; are there specific stories that you want to paint? Or how do you begin putting the figures into the landscape?
Robert Greene I like the feeling of being overwhelmed in spaces. But while the space is overwhelming and the figure is very small, the feelings are strong and sort of mysterious. There's no specific story; it's not very direct. I'll think spatially of a landscape or a setting that would be powerful and that would give me certain feelings. Then, the casting of the characters somehow just happens. They slowly surface.
KK Your characters are so specific that they obviously have models. Where do they come from?
RG The walls in my studio are covered with magazine photographs and lots of photographs of friends and family that I've taken. Often I'll pose friends in the paintings; it's always personal. Even the dogs. Mostly they are dogs that I know. It just makes the painting more fun for me.
I think a lot of it came from when I worked for the fashion photographer Henry Wolf. I liked watching people being posed in different situations. The quality of setup is important to me.
KK So the poses are more specific to the painting than to the model.
RG The figures are very specific but they become imagined fantasies. It's most about disconnected feelings—the isolated feelings of different situations happening at the same time and in the same place.
Lots of times I start off from a photograph of a position that I find sexy or that just has some kind of appeal, some kind of draw. So, then for me to feel like it's mine and make it personal, I have a friend pose for me—I'll either draw the pose or rephotograph it. I love the idea of painting portraits and being able to incorporate them in the painting.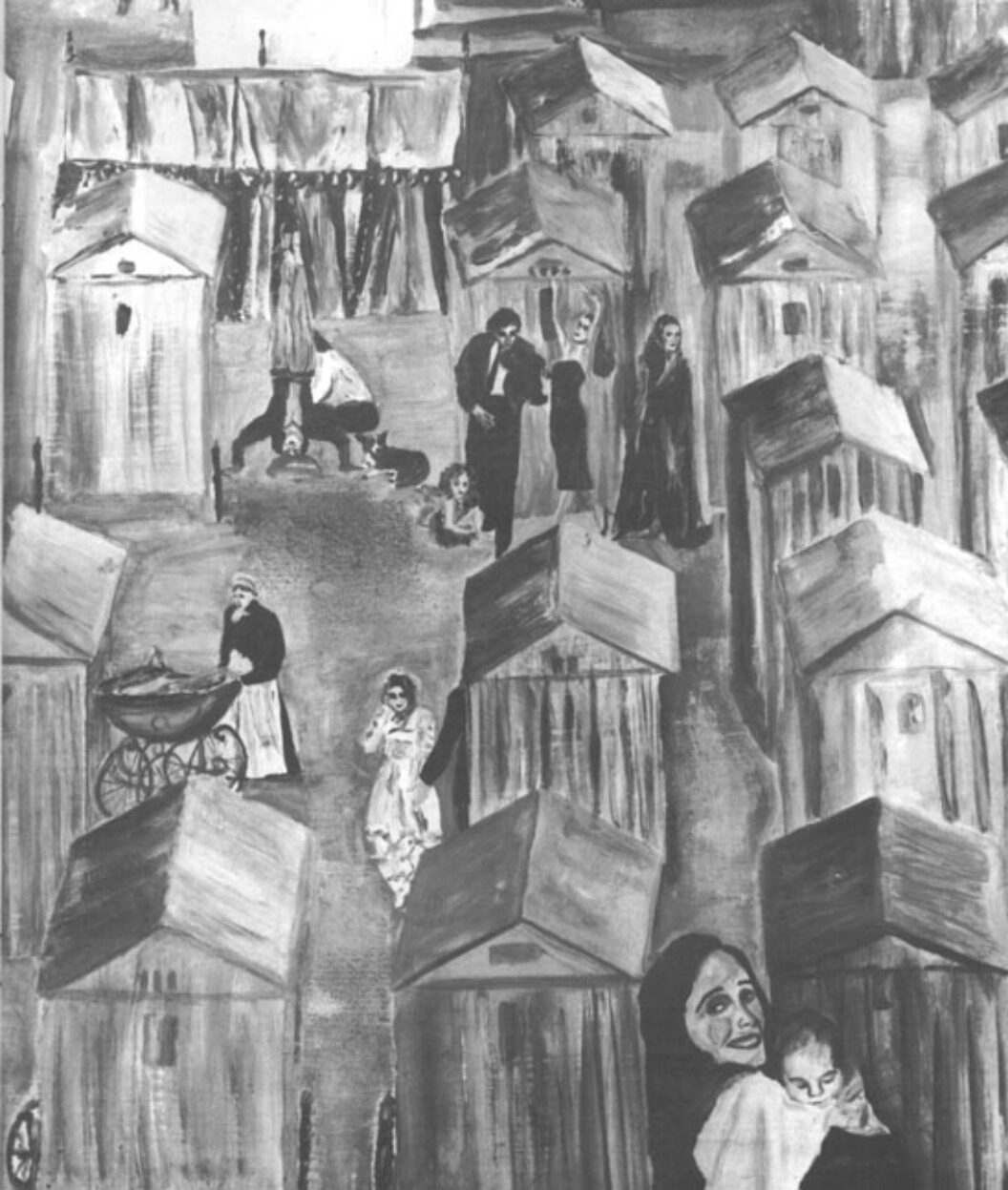 KK Dogs have always played a large part in your painting. There's one sitting between us now. Do they have a special significance to you?
RG I just love dogs. I think they have wonderful qualities, and their spirits are so loving and sort of generous and forgiving. They're very funny and affectionate. I've always felt very attached to dogs, and I try to throw all the things that I love into the painting, to give it as much personal passion as possible. I think it is interesting when you see paintings that can draw you in because you know that the artist has been very obsessive and very direct. It's obviously not an intellectual type of approach—it's more purely emotional.
KK The dogs are generally very highbred and lean. You paint poodles, whippets, collies, greyhounds; but I've never seen any mutts.
RG I like all dogs. It's just that I grew up with collies, and collies were very familiar to me. I also have a friend who is a dog breeder and breeds beautiful collies I've had poodles, so I throw poodles in. I also was very interested in Borzois; I went to a lot of dog shows with Borzois in them, and I followed Borzoi breeders. I like things that have an elegance and a refinement. I like a composed thing—anything composed with style and spirit.
KK Your style compounds sophistication with a pastoral yearning. The paintings seem to look back to Watteau, but the doll-like figures engulfed by the landscape have a very American quality—a little like Eilshemius. Who are the artists that have influenced you the most.
RG I like the artists that you mentioned. I like Eilshemius; he had a very eccentric personal quality. I like a lot of American paintings of the '30s and '40s; but, early on, I looked at a lot of Corot. I thought those paintings were so gorgeous; they affected me a lot.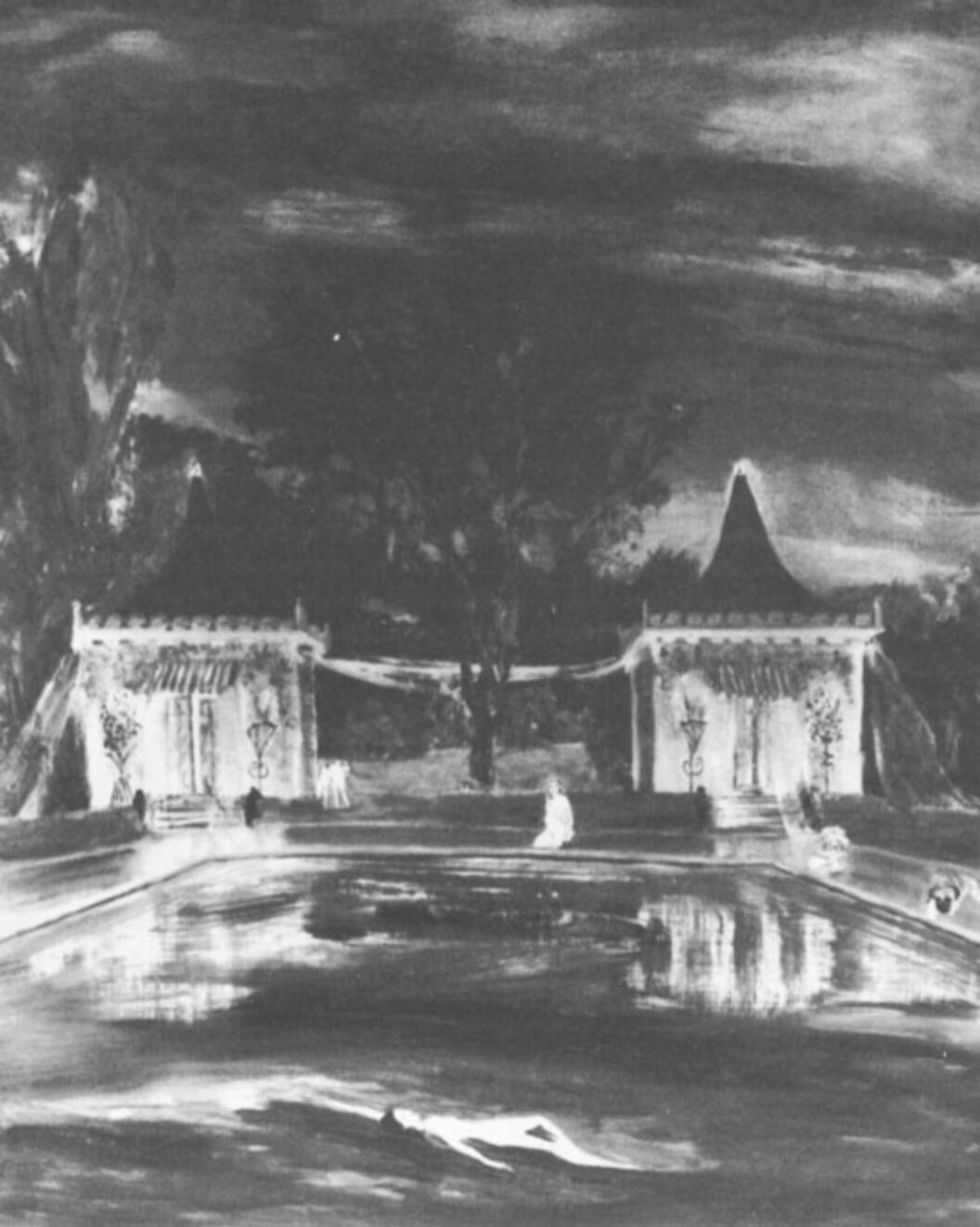 KK When you mention Corot, I think of the skies in your paintings. Very often the most lavishly painted part of the painting is a sky that recalls artists like Corot and Constable. How do you go about composing the landscape?
RG Well, it's a mixture of different temperaments or melodies in a way. They're all sort of separated areas at times—then they come together. The figures take quite a bit of concern and then the elements within the landscape happen. There is a freedom that corresponds to each of the parts. Field, shrubbery, and trees each have their own rhythm. And then the sky is another element, and the shadows interest me very much. The shapes that shadows have on the ground make their own separate tempo. So you end up seeing different rhythms and textures of paint. I really like looking at the surface of paintings.
I worked at the Met for five years and kept looking at the surface of paintings.
KK Besides Corot and the other artists we've mentioned, what painters are important to you?
RG Well, I have this list I always carry of painters that I really like.
KK Can you read the list to me?
RG Marsden Hartley, Alice Neal, Florine Stettheimer, Eilshemius, John Graham, Ryder, Bellows, Corot, Avery, Hopper, De Pissis, Puvis de Chauvannes, Picabia, Kuhn, Pènne du Bois, Van Dongen, Whistler, and Leonor Fini.
KK Are there younger artists that you consider to be your peers or that you're interested in?
RG There's usually elements in different people's paintings that affect me, that excite me, and that I think are really wonderful; but it's hard to say specifically one contemporary painter that I'm in love with.
KK What about Eric Fischl, whose figurative paintings are about as far removed in attitude from your work as is possible?
RG I enjoy the paint quality in his paintings; some I've liked very much, but I don't relate to the quality of suburbia that he paints about—it's an attitude about the narration of his paintings that I don't really respond to.
KK You mention Fischl as having a suburban viewpoint. You grew up in New York City; is your view of nature formed by the lack of it in the City?
RG I also grew up on the north shore of Long Island, and that had its effect. There were dogs in the back yard, and it was very beautiful. There was a solitude about that. I would go on long bike rides, and there was the water—Long Island Sound was right nearby. I love the quality of vast lawns with dogs. I think part of the excitement of living in the City and constantly painting large spaces is the deprived feeling that you have when you're in the City; and, yet, there's such an excitement with the buildings. I think there's a tension from living in a city which makes it appealing for me to be painting places of escape.
KK You compare your paintings to places of escape, and in conversation you use the word "beauty"; these are not very common sentiments at the moment. How did they come about in your work?
RG I think the desire for escape is a very deep feeling that everyone has at one time or another. My escape is to some kind of unexpected place that's magic; and I think painting can make that magic place.
About beauty—that's very complicated. Feelings can be beautiful and visual things can be aesthetically beautiful, and the way you see the combination can evoke another sense of beauty. For me, it's an ethereal lifting away; I'm very attracted to a sort of quiet breezy beauty. There is a quiet type of beauty that can be very powerful, and I like the contradiction of that—that something can be quiet and peaceful and also very exciting. Something turbulent painted in a quiet way can be beautiful. There's also all intrinsic beauty about the paint itself—just the paint can have a beautiful and emotional quality.
KK As you were growing up, when did you first begin to have the sense of both escape and beauty that's become so important to you?
RG I think it was from feeling isolated. I was alone when I was very young; and just visually, from the outskirts, I saw a lot of things that impressed me. I also grew up around a mother who was very attractive and had a big impact on me. She had her own sense of the aesthetic. She had a twin sister who was as dramatic as she was but also very different. Their awareness of beauty was a strong influence on me.
KK So when did you first decide to become a painter?
RG The painting just sort of evolved. I didn't plan to be a painter, at first. I studied industrial design. I loved paintings, but I didn't think to be a painter. At the time I went to school, people were doing more abstract Minimal and Conceptual work. Then a more decorative style of painting began to be shown, like Robert Zakanitch's paintings of flowers: and I thought I would just start to paint. I painted every evening and really began to enjoy being able to express myself with all the feelings that are inside of me, trying to turn them into paint—trying to find that magic place. Something very different than seeing a movie or some kind of reality—something more like reading poetry in an abstract way. I just started to combine all the things that I love.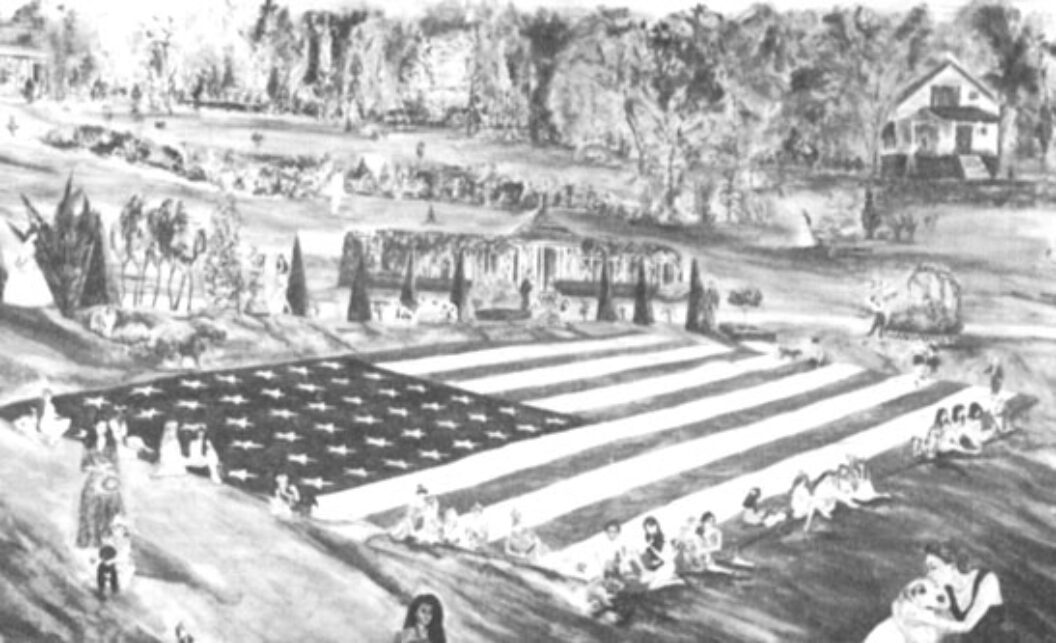 KK Can we talk about a specific painting—say the painting called Star Garden from your last show, where the American flag was spread across a portion of what looks like Central Park, for a picnic? How did you come to use the flag?
RG I think I've always been very attracted to shapes, and I think that it's like looking at an Arp sculpture—the shape can be very fascinating. Because the paintings are representational, there's a certain vocabulary of shapes that I've found very attractive—like the geometry of tent shapes and cone shapes and wagons. I think they just look interesting as visual elements. So the flag was another. Flags I've always thought are very strong as symbols and also they are so clear in shape and design. Since nature is so vague and blurry. I just decided to have this large flag out on a lawn. I liked the idea of the relationship of an enormous flag to a party, and I liked the idea of celebrations or epic events that could be more than just reality. And then I just thought, oh I wanted to do an American flag painting, and I think I still want to do other flag paintings that have an American feeling. Then I was just throwing lots of events in. There's a friend of mine, Leslie, who posed for me, and I put her in a lot of different situations, and I repeated images of myself growing up, and I just had a lot of family. It was just like a big party with all the people that I knew; and then I included a figure underneath the flag. So that's how it sort of happened.
Klaus Kertess is a writer who lives and works in New York. He is currently working on a collection of short stories as well as a book on the painter Brice Marden.
Originally published in
Salman Rushdie, Polly Apfelbaum, Dennis Cooper, James Nares, Penny Arcade, Mats, Alexander Kluge, Robert Greene, Nancy Shaver, Abbijane, Terry Kinney, Michael Tetherow, Bill Barrette, and Carmelo Pomodoro.