Ritualization and Embodiment: Sarah Zapata Interviewed by Jeanne Vaccaro
Textile works that investigate guilt, spirituality, and the future.


Discover MFA Programs in Art and Writing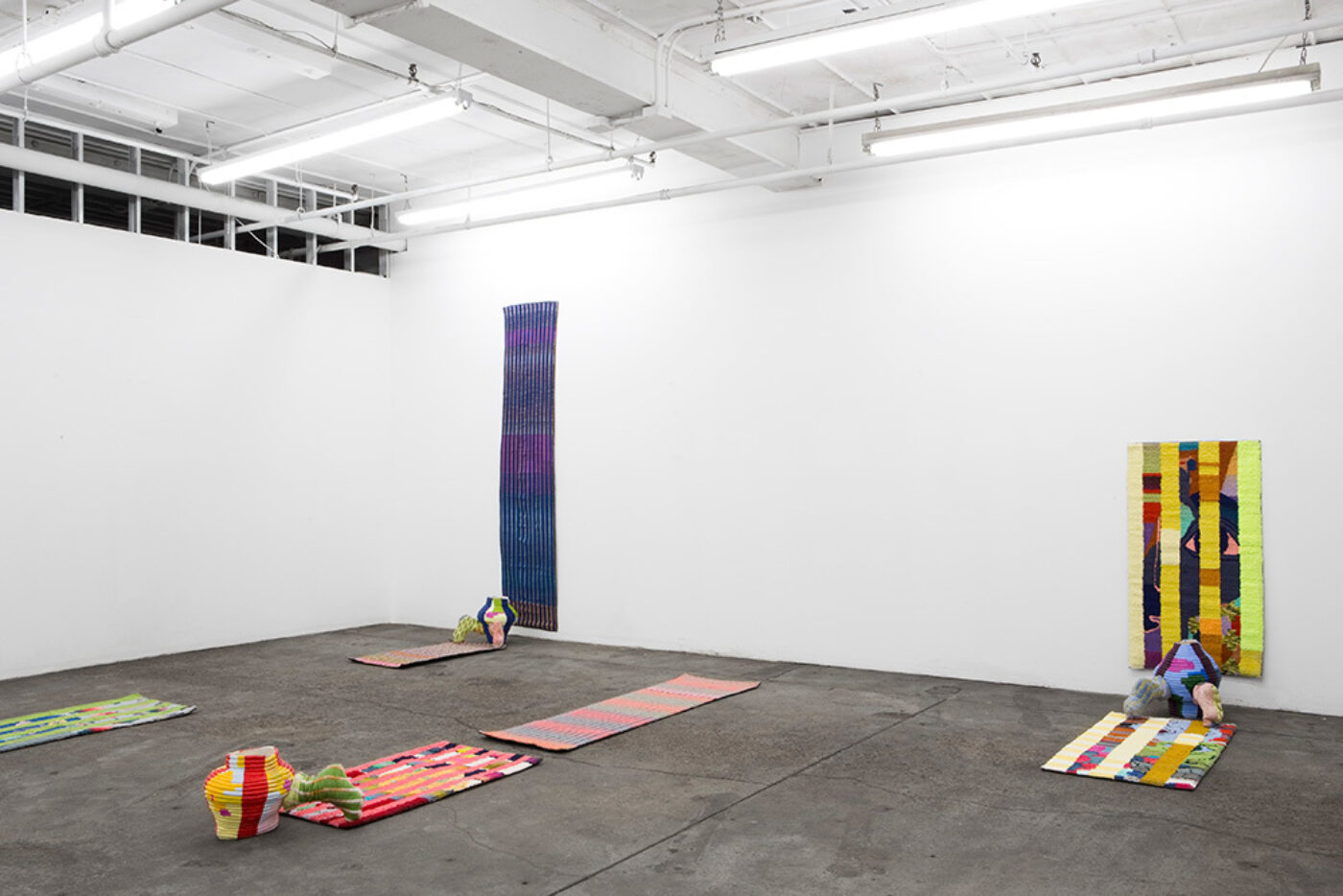 I've been crushing out on fiber and performance artist Sarah Zapata for a while. Her color explosive weavings and shaggy sculptures feel like speculative and propositional monuments orienting our thinking toward imagining another and other worlds. Zapata's investment in fiber materials and techniques—processes often disregarded as merely "women's work" or skilled labor—engages her queer and Peruvian identities and explores the way personal history intersects with cultural forms. I met up with Zapata at her studio in Red Hook, Brooklyn, to talk about her solo exhibition at Deli Gallery, Of This World Rather.
—Jeanne Vaccaro
Jeanne Vaccaro Your new solo show builds on your fascination with ritualization and embodiment, but seems to depart from earlier work in important, formal ways. Can you tell me about the exhibition?
Sarah Zapata Of This World Rather explores a lot of different amalgamations of spirituality, ritual, guilt, labor, and bondage. So much of my work and life is about me processing my own guilt, and I wanted this show to be an experience not only for me, but for the viewer. Textiles have such a transformative quality that speaks to labor and luxury and protection. With these pieces, I wanted to really examine what that looked like if the viewer understood the struggle and darkness that can exist in my work. It is easy to get lost in the beauty of objects, so I wanted to take that attraction and assign a narrative of the bondage one feels in dealing with guilt and self-doubt. Guilt is a means of societal control, and because many queer people have grown up in religious situations, it can be overwhelming trying to understand how to move forward in that pervasiveness.
For me, reading is always the first step in preparing for any new work. I went to Peru this summer to visit my family and research this new work. The main book I read was Ariel Goldberg's The Estrangement Principle (2016). Reading this while traveling alone made me feel that I had a friend with me, but also helped me see how fruitless the term "queer" can be and how it can also be a sign of privilege.
JV I like how Goldberg converts gossip into criticism by going around "collecting the phrase 'queer art'" to see if it coheres into an organizing aesthetic or social logic. The collective preoccupation with queer art and the world building that motivates it can be so important, but at times feels self-important and limiting.
SZ I feel as if the label "queer art" is something very tricky. "Queer" has become so commodified, and the term is thrown around so carelessly at times. I like to think about queer in the way that José Esteban Muñoz uses it in Cruising Utopia: The Then and There of Queer Futurity (2009). Being queer is a sort of envisaging of the future; the present is not a time for us. Queerness is an ideality. We as queer people are never to settle for the pleasures of here and now; rather, we are constantly working toward a new reality. I think that's why I'm so attracted to working in installations: it employs the use of fantasy. I want to create these otherworldly experiences in order for the viewer to access ideas of potential and futurity.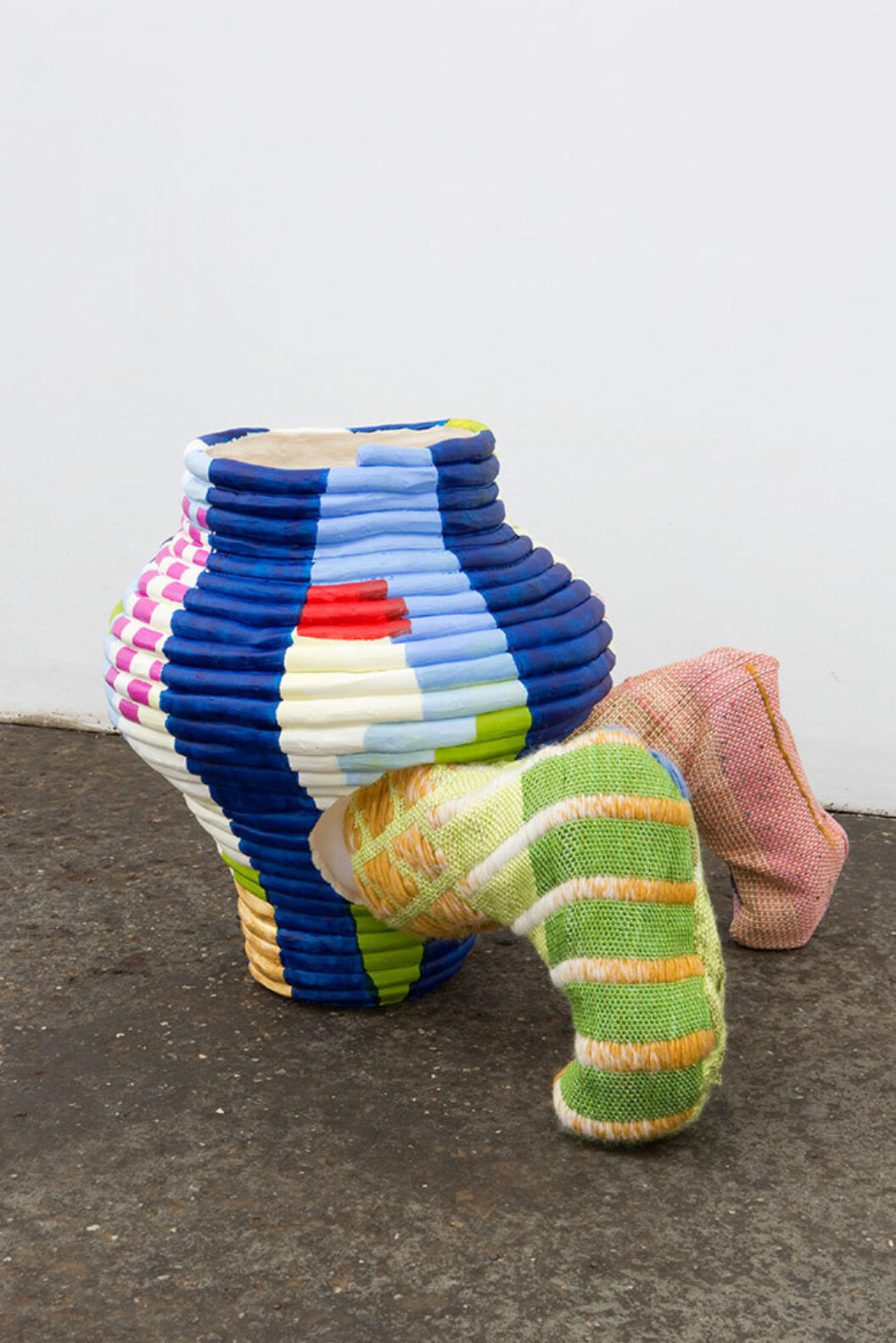 JV I love how you connect the embodiment of faith and spiritual experience with tactile and material experience.
SZ Textiles and religion having very congruent lineages: they're both very important aspects of human existence. Humans have innately questioned why they are here for as long as they have needed to clothe themselves. The intricacies and patience needed to hand-make textiles speak to devotion, and there is biblical text outlining that. In Psalms, there are verses about the good woman who works with her hands and with wool, and that is how she celebrates her faith. Textiles are incredible signifiers of one's experience. I remember reading that rugs did not come to South America until after Spanish colonization. Rugs from these countries are so ubiquitous now, but it's interesting to think of them as an erasure of the politics of power and change. They are seen as a symbol of tradition, but rather are indicative of how tradition survives and changes through colonization.
JV You're interrogating a system of visual codes that marks some bodies and practices as abject, criminal, and outside.
SZ Stripes are the most visible element running through each work in the exhibition. There is biblical text that says one should not wear a cloth made of two, so from the medieval period onward, the stripe has been a way to designate poor people and outcasts of society. The Devil's Cloth: A History of Stripes and Striped Fabric (2001) by Michel Pastoureau outlines the history of stripes, including the American flag's stripes as a sign of rebellion and the jail stripe as a marker of prisoners. I'm so interested in the history of Christianity because it sets many of the foundations for current societal norms. As an evangelical wing becomes militarized in the United States, it's important to me to understand its inconsistencies and incongruencies.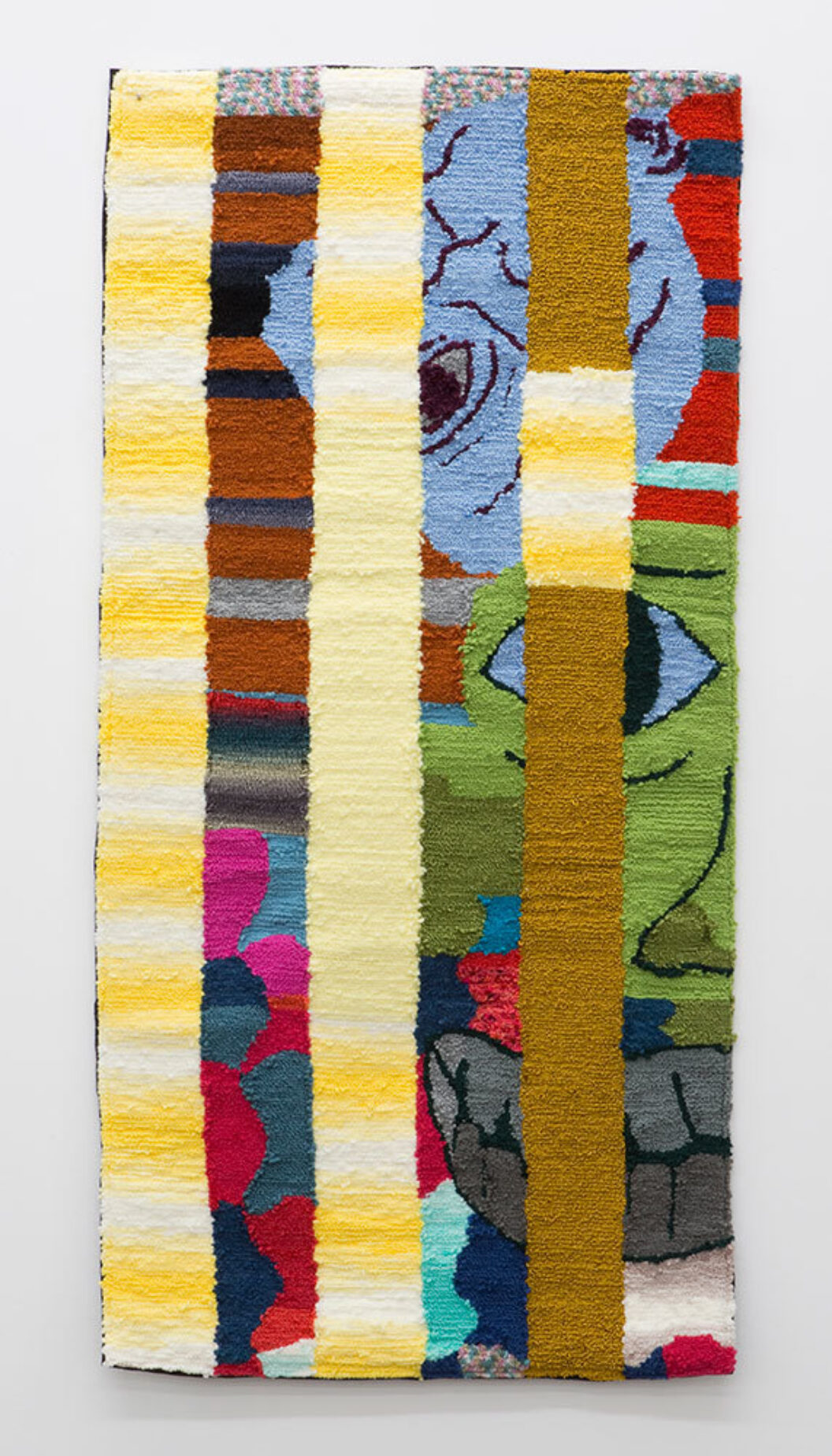 JV You don't usually work figuratively, but I see faces woven in the rug pieces. It's not exactly representational, because stripes break into and separate the faces.
SZ I've been wanting to work representationally for a while, and that's specifically why I started working with the tufting gun. For these pieces, I wanted to express different narrations of guilt. There are so many different manifestations of guilt, but the ultimate factor in that emotion is control. By fracturing these faces I wanted to show this lack of completeness that one experiences. Faces represent presence, justice, severity, anger. The images were sourced from a museum I visited in Lambayeque for a royal tomb that was discovered in the 1980s and which was filled with incredible metal depictions of trophy heads and faces. I wanted something that represented a sort of anti-hero society, retained this intensity, and also existed as amorphously gendered.
JV The labyrinth you're constructing is a pattern and structure that shares formal components to a weave: it is a plan for a space that is visualized and mapped before the design is enacted into a physical construction. How do you devise your plan for a space? I'm thinking about how much you will constrain or enable bodies to move in and around the work.
SZ My practice will always come back to weaving. Though a structured process, there is so much abstraction that can be done on the loom. It is a technique that demands patience and meditation. Weaving is such a calculated endeavor; it has continually taught me discipline and understanding. In beginning a new work, I like to think of adorning the space, and then think about how exactly to construct each piece. While every work changes formally, the construction of each object rarely deviates from the plan. I'm a Capricorn, and I like order. What led me to labyrinths was thinking about spaces that are activated by human presence without physical touch. I like to work in these interactive installations because of that polarizing feel: you never know how the viewer is experiencing the narrative or who they are, but you're in control in this way. These pieces are set; then the work is never kept together again.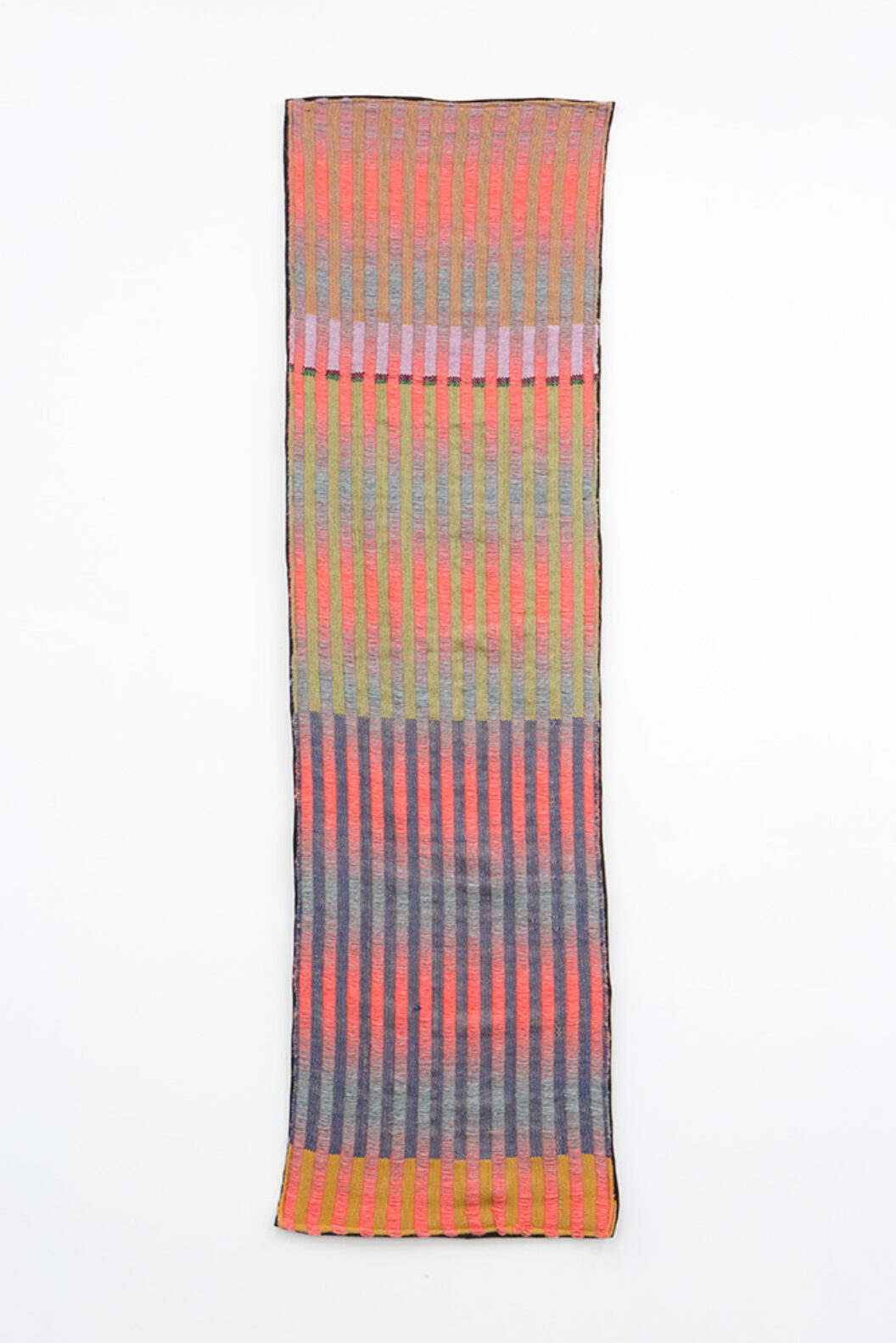 JV You're working in ceramic for the first time, emulating a coiling technique you've used with fiber and substituting in clay. What made you want to work in this new medium, and how do the sculptures relate to the floor weavings?
SZ Ceramics are something I've been interested in for some time, but this show really gave me the opportunity to explore them fully. As I mentioned, when I was in Lambayeque this summer, I visited the museum for the tomb of Sipán with its examples of Moche ceramics and metallurgy. The ceramics were very inspiring to me, and a lot of the imagery on the rugs are from that excavation. It made a lot of sense to expand into ceramics for this show, and I loved how it also spoke to earth, and a grounded sensibility.
JV Working in fiber can be meditative but it can also be isolating and physically taxing. How do you organize your time while you're working, and how do you take care of yourself?
SZ Time is the ultimate currency, and there's a saying that weavers need calendars not clocks. I hate wasting time, and try to take advantage of every moment. I rest when I can, but I love to work. I feel very thankful for every opportunity and experience, and I constantly remind myself that I'm able to live a life I never even imagined I deserved.
Sarah Zapata: Of This World Rather is on view at Deli Gallery in New York City until April 14.
Jeanne Vaccaro is a writer and curator. Her book in process, "Handmade: feelings and textures of transgender," considers the felt labor of making identity, and was awarded an Arts Writers Grant from Creative Capital | The Andy Warhol Foundation.