Discover MFA Programs in Art and Writing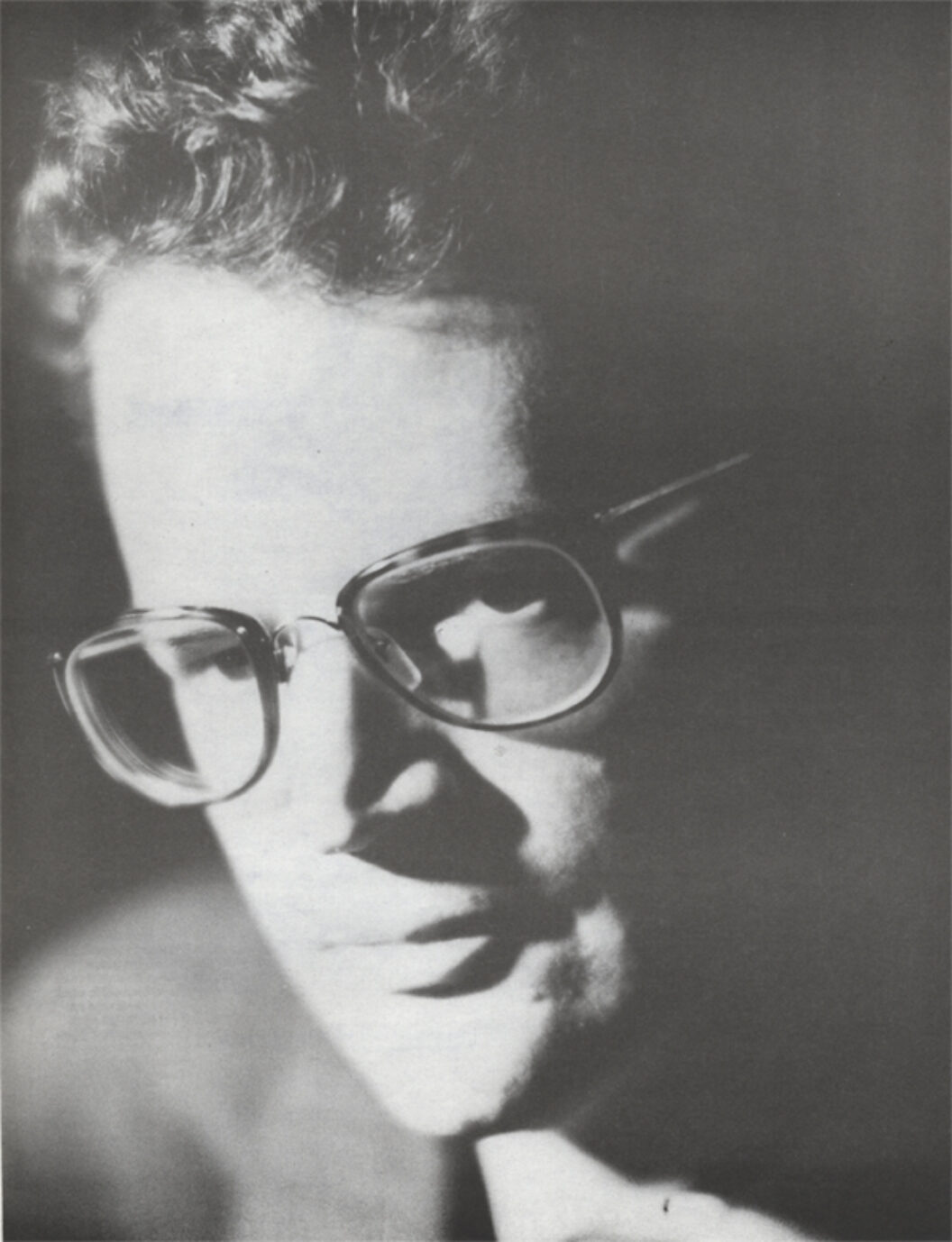 Fashion and Surrealism was a concept that was on everyone's mind last winter in New York, yet it emanated from an exhibition at a tiny, noncommercial gallery attached to an educational institution on Seventh Avenue. Fashion and Surrealism moved to the Victoria and Albert Museum in London in July and lives on as a handsome book, published by Rizzoli. The Gallery at the Fashion Institute of Technology is unique in many respects, firstly that it is an exhibition space wholly devoted to fashion. In its exhibitions it poses complex questions about fashion and often presents lines of thought that are at odds with the bias of the school curriculum, which is weighted heavily towards the pragmatic considerations of the marketplace. In 1986 the East Village Show celebrated the work of avant-garde downtown designers who had either dropped out of fashion school or had not bothered to go at all.
The Gallery takes a nurturing role, explaining fashion, putting the themes and motivations of designers in focus, and providing a context for contemporary fashion. The Gallery takes on many of the tasks which in other branches of design and the arts are provided by criticism within specialist publications. Although fashion magazines seem to overpower everything else on the newsstand, they are by and large devoted to simplistic questions of wearability and general market trends and concepts of good taste. Like a child's reader, fashion magazines have large colorful pictures and not too many words.
Richard Martin, who has been Director of the Gallery for eight of the 13 years that it has been open, aligns its purpose and its collection with that of the Museum of Modern Art, suggesting that even when the Gallery considers historical fashion that it puts a 20th-century spin on it. An exhibition of tartans, currently showing, takes tartans up to contemporary times showing the Vivienne Westwood tartan bondage pants (worn by the Sex Pistols) and a beaded tartan Galanos ballgown alongside ancient plaids.
The Gallery is adventurous in the style of presentation of its exhibitions. It illuminated the thematical concerns of surrealism in a lavish and witty way, which included jewelry and hats in the shape of food items being presented on a table setting, as a banquet. Rei Kawakubo, who designs men's and women's clothing and furniture under the Comme des Garcons label, specified the abstract herd-like placement of ghostly mannequins in one corner of a totally white room for the Three Women show, which celebrated the innovations in cut, construction and materials made by her and two designers from other eras, Madeline Vionnet and Claire McCardell. Richard Martin joined the Fashion Institute of Technology as a lecturer in art history and takes to his position as director of the Gallery, a preoccupation with aligning fashion with art and culture of its times.
Jillian Burt Did the concept of fashion as we know it now really exist before there was the freedom of choice that people now have in dress?
Richard Martin The idea of fashion itself, as opposed to clothing, is really a product of modern consumer society. All the arguments can be made about the history of the department store, the rise of ready-to-wear, the emergence of designers, the haute couture—all of that seems to me to suggest that the idea of fashion as an aesthetic choice is a process of selection that is a phenomenon of the last hundred years or so.
JB So attitudes of morality play an important part?
RM Very much so and as you know studies suggest that in the 19th-century morality, ideas of modesty, ideas of convention, were the most important things about clothing. Those issues about clothing have become lesser or different in the 20th-century and we have so many true design and aesthetic decisions about clothing that I think were not decisions prior to the era of fashion.
JB In considering morality and concepts of sensuality in clothing it's interesting to compare that recent collection of John Galliano's that reflected upon French Empire dressing, the muslin dresses that were doused in water, which were far sexier than any of Azzedine Alaia's skintight minis.
RM I think that Galliano is a good example of the clothes that we will be showing in our historical mode show, in the fall of 1989. It will appear to be a survey of fashion—from ancient Egypt probably up to the present. But in fact, everything will have been done in the 1980s and the idea is that it's a play on historicism and what I'd like to suggest in that exhibition is that history is such an evident force with contemporary fashion designers, as it is for artists, as it is for architects; that they're really demonstrating their acuity to history, picking up in some cases almost entire garments, in other cases, motifs out of their knowledge of history and using it in a contemporary way. Indubitably fashion designers have always done this to some degree, often with a kind of negative connotation about it being a knock-off. In this case I think it's very much the idea of appropriation that we have in contemporary art. In a certain sense, we're playing with historical ideas in that show and we're doing it from a 20th-century perspective. And I probably imagine that all of our exhibitions emanate emotionally from a 20th-century perspective that even as we show historical material—something like the Tartan show for instance—leads finally to a 20th-century room which comes up to Geoffrey Beene and Bill Blass and Vivienne Westwood and Stephen Sprouse, so that even when we are concerned with history, it's not that objective sense of history as being embodied objects in the past, but it's history in some way inflected by the present. We are looking back for those Empire dresses by Galliano but there's not many of them remaining.
JB So is Galliano the genuine scholar that he seems to be?
RM Yes, in the same way in which you have Sherry Levine, as an artist, working with historical examples from the past. She really knows her Russian Constructivism so that when she appropriates from Russian Constructivism she's making a choice. When Galliano decides that he wants to go back to the first decade of the 19th century, that is I think a very clear decision that he is making and I don't see it in any way simply as being an artist bereft of ideas who goes back and copies something from the past because of all the consciousness that Galliano brings to his work, including the idea, in that case the dresses were going to be wetted down, the models powdered…
JB And the audience at the fashion show being drenched with talc. That collection was interesting, considering that it was at the period right after people in London were wearing absolutely anything to clubs and thinking they were the wildest things imaginable and Galliano showed that in historical times people were also going to ridiculous lengths in order to dress up to go out. People died wearing those Empire dresses didn't they, they wore them in winter and caught influenza.
RM In a certain sense that's why that clothing died out in the 19th century, because it was so dangerous to wear.
JB That's exciting, that fashion can be incredibly dangerous.
RM I like the idea of risk about fashion. The physical peril of clothing. I think that we do miss that in the 20th century, the macabre cases of foot binding to corseting, those kinds of ideas which probably in the 19th century were known to be deleterious to your health but were pursued in any case.
JB It just shows that everything that we think is risky dressing now is really just plumage.
RM That's right. And it's very much on the surface because it's not risky in any kind of really dangerous way.
JB Something that I've noticed every time that I attend fashion exhibitions is that a great number of the people attending seem to be ignoring the intellectual premise for the show and just saying, "That's pretty but I wouldn't wear it myself." I wonder, how do you make people think about fashion and not just assess everything in terms of personal taste?
RM I think that's a very real problem. And it is part of that approach that people have towards the modern period in particular. The sense of them being able to determine whether they would want it or if they like it or not, I think that's always operative in the way in which we look at modern fashion. And throughout even some of the bizarre examples of Fashion and Surrealism, one did hear that comment, "Isn't that interesting—but I wouldn't wear it" remark. It's a difficult problem because it represents the accessibility of what one does, the accessibility of clothing, the fact that we all have it, use it, in different ways. And the fact that we have to conceive of it as something beyond ourselves as well.
JB But it's not so easy to conceive of it beyond ourselves. When I was a fashion editor in Australia I used to pride myself on my objectivity and then realized that I inevitably championed the things that I wore myself: Yohji Yamamoto, Comme des Garcons, Romeo Gigli, Jean Paul Gaultier, John Galliano.
RM But don't you think that it's also—there's that standard art world problem, if you're interested in a couple of artists it's likely that you'd be interested in most of their friends or people represented by the same gallery because that it's really a body of ideas and we're all attracted towards certain kinds of personal preferences like that. The problem is are they well founded? In your case I think it is very well founded, these are the people that deal with the most radical ideas about clothing and about the nature of material as it is pressed on the body. I think that's a logical constellation of people to be interested in. Other people may be interested in traditional values and clothing you could put on a hanger. I think they're natural affinities we have towards clothing. The greatest difficulty is we do project ourselves into it and that relates to body type, that relates to something we're told about clothing long before we start making decisions on our own, as when your mother says, "Because you have red hair you should always wear blue," and so of course you always end up wearing black for the rest of your life, those kind of things.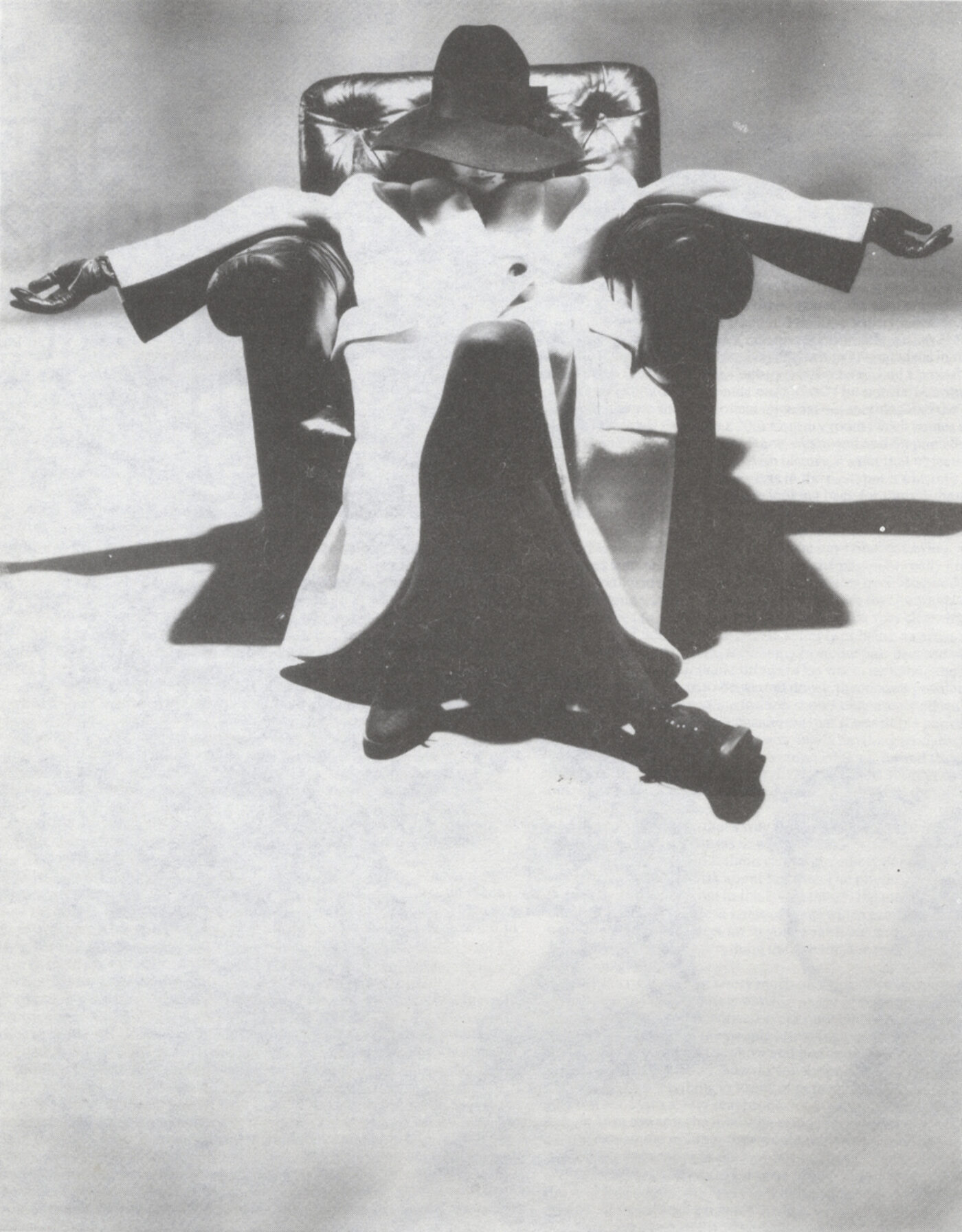 JB How do you then stand outside contemporary fashion and get a grasp on it?
RM I think in the same way in which one does in terms of contemporary art, which is not in an entirely satisfactory way. In which you're always a kind of engaged observer. You have a set of problems that traditional historians and art historians do not have and consider to be inappropriate: the whole question of becoming acquainted with the artist, seeing the artist work in the studio as well as in the gallery situation—essentially those are the same conditions under which we see contemporary fashion. I think it is a problem in getting close to the material but if we were to say, "Well, we won't deal with contemporary fashion," I think we'd be losing out on what our culture is all about.
JB I find that seeing the clothes by designers in the stores which they have designed and had complete control over—like the Comme des Garcons stores, Yohji Yamamoto, Paul Smith, Stephen Sprouse, etc.—is almost better than seeing fashion in a museum or a deliberate gallery setting.
RM I think that's true and that was the real effectiveness of the Rei Kawakubo room that she did for the Comme des Garcons clothes in the Three Women exhibition. The reason why that was an effective room was that we really gave the room to Rei and she designed the environment for the clothing. And one couldn't do that in the case of Claire McCardell and Madeline Vionnet because they're not alive. But I think even our sense of getting a sympathetic environment for these designers never measures up to the idea of a total environment. It seems to me that's one of the great contributions the Japanese have made to contemporary fashion. That fashion can have its own fulfillment in the marketing approach—the extraordinary advertising that's done for Issey Miyake, certainly for Rei Kawakubo—is a part clearly of the designer's aesthetic, the designer is involved with all aspects, not only the fabrication of the garment. I think that has been true in some earlier cases but primarily it's a contribution of the Japanese. It also bespeaks the idea that fashion as we talk about it in the 20th century, is far beyond the making of the garment and acknowledges that it's going out into the world. It goes out into a world through a shop that may be designed by the designer, through advertising that is monitored by the designer, none of this being left to chance.
JB Some of the catalogues designers do are more art pieces than commerce.
RM Yes. I have a feeling that one of these days if I drop dead the rest of the books won't mean anything, but the Comme des Garcons catalogues up there will be a great asset to some librarian.
JB I asked Yohji Yamamoto about the things of his that have been featured in museums, and he said he had no time for his work being in museums and he doesn't think it should be there. He didn't even consider it a compliment that his work was in museums.
RM This, of course, is what a lot of fashion designers say. I remember when we were trying to get some assistance from Karl Lagerfeld, it was not that they were being ungracious to us, but Mr. Lagerfeld's expressed opinion was that, "The past was the past," and as soon as he had completed his artistic activity he was no longer interested in last year's collection. He moved onto this year's collection, which is the reason why they've not had the time to archive, as opposed to St. Laurent who has an extraordinary archive and has been very interested all along in preserving a record of his design achievement. But I think the paradox is that you get someone like Yohji Yamamoto who is in fact creating an environment and the terms for how he shows his work continuously. It may be ever renewing and ever changing but he is creating the very circumstances in which his work is shown and it may be that a museum is a little bit inert as an environment for his work.
JB Do you monitor everything that goes on?
RM In contemporary fashion? Do I try to? Sure, but only out of the same kind of zeal that you have. I tend to think that this is a very exciting time for fashion editorial material when you think about the range of fashion photography and presentation in the magazines, the British magazines such as Blitz and The Face and Arena, that have such an extraordinary approach to fashion. And Italian magazines like Per Lui.
JB John Galliano's ads, which he does himself. We've been talking so much about the English fashion community and I wonder if that is because it seems that naturally English fashion has more of a place for theoretical fashion or the presentation of unwearable ideas.
RM I think that's true. I think that to some extent of the French too, people like Gaultier and even St. Laurent to a degree. We don't have as much of that in the United States because the market is much more of a mass market so that we don't expect the kinds of innovations and experiments that one has at this moment in terms of British development. In England and to some degree in France there is that ability to really deal with fashion ideas. We have very little of that in the United States, simply because we are addressing millions of people, I suppose, and the vast, vast majority of people dress in a very conventional way.
JB Was the Fashion and Surrealism exhibition received any differently in England (when it was staged at the Victoria and Albert Museum) than in New York?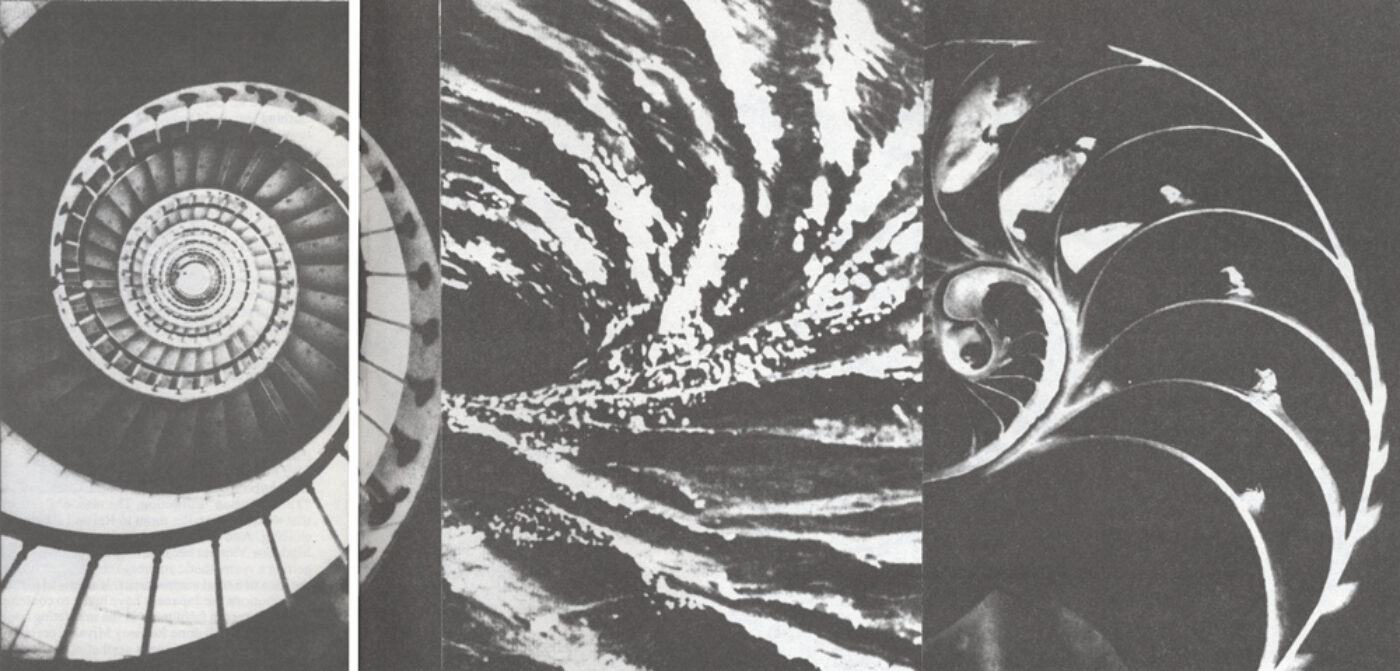 RM My impression is that it was not, although it was presented quite differently. When the Victoria and Albert presented it there was far less emphasis on the whimsical quality that was preeminent in the F.I.T. exhibition. And I think in London there was a much stronger sense of dress being presented as art objects and very few of the pieces were presented on bodies, there was a much more museological aspect. It was a more sober exhibition, I think, in London. It also assumed a slightly better educated audience than the F.I.T. exhibition. To me it was a fascinating exhibition, the V&A did a beautiful job of it.
JB I liked the way that the British designers all dressed up for the opening, around the theme of the exhibition, and it gave Leigh Bowery the opportunity to dress as a piece of very exotic furniture.
RM I've always hoped that one day the exhibition idea would come along as a way of documenting the real fashion people. Because I'm certain Leigh Bowery's clothing and the whole style isn't going to be around forever and we'll suddenly say to ourselves, all we really need to do to document the '80s is to think about Leigh Bowery.
JB He's from Melbourne, Australia from a suburb called Sunshine and was a fashion student at Emily McPherson College, I think. He came back to Australia two years ago now, when Michael Clark's dance troupe toured. He would walk down the streets of Melbourne and people would be astonished because he was dressed like a couture chicken, in enormous heels, a lime green mini, black face make-up and a silver sequined crash helmet. The Victorian government had paid for his ticket to do a little fashion show and were scandalized because some of Michael Clark's dance troupe appeared naked on the catwalk at some stage. This was a person who chose to dress like a muppet but all of these grey government officials appeared to be frightened of him. He had his eyes made up like fried eggs and yet grown men were cowering. It was amazing to watch what I thought was essentially a naughty boy having a good time, strike terror in the hearts of people who should know better.
RM We all approach fashion with our own needs—psychological subjectivity. This is true when fashion is in some way threatening. It's really a kind of emotional, visceral reaction people have when fashion is outrageous.
JB What is the relationship of the F.I.T. Gallery to the fashion community in America? Do you have much contact with the designers here?
RM In a certain sense we're really quite independent and in a very positive way. We're not dependent on designers for financial support because that comes through the college, F.I.T. I think we are often asking designers for contributions of their work and of course many designers use the collection for inspiration, historical research. The Three Women show was generated, really, by a visit a year and a half, two years, before by Rei Kawakubo who said she wanted to see the Madeline Vionnet collection. Those were set aside for her and one of the staff thought she'd probably didn't know too much and would like to see the McCardell collection. And Rei Kawakubo was crazy about Claire McCardell.
JB There would seem to be a great possibilities for thinking about fashion now, shows like that one are the tip of the iceberg, really. Theoretical fashion should be everywhere.
RM I wish there were more of it. I think that the one thing that inhibits it most is the fashion writing that is done for newspapers and magazines. It's non-critical writing that has inhibited the body of critical writing. The critical writing is beginning to emerge in book form, not in the journalistic form. Perhaps the exception to that was Kennedy Fraser, writing for the New Yorker. In fashion we really don't have the equivalent of art or architecture journals. A number of the design magazines have been willing to deal with fashion. Blueprint in London, does wonderful fashion writing.
JB Naturally the Fashion and Surrealism show would have attracted the art community to the gallery, but you told me that Rei Kawakubo wanted artists to come to the Three Women show and that there have been cases that you know of where artists have been directly inspired by what they've seen in your shows here, though artists have generally been criticized for being involved with fashion, that it trivializes their art.
RM I think that's an abiding problem for artists, that because fashion is so often thought to be less serious than art, artists are afraid that they will vitiate their own work and their own importance as artists by participating in any way in fashion. Artists will often shy away from fashion and yet when it comes to incorporating fashion into their own work—such as David Salle using sort of 1950s fashion sketches in his work—that's perfectly acceptable.
JB Business seems to control and stifle ideas in American fashion. Innovations are resisted because of supposed limited commercial appeal.
RM I think that that is a problem and it's a problem that can be got around with couture because the traditional sense of the couture is the showplace, the experimental place. Because we don't have that tradition in the United States where does one experiment? You can't experiment if you're expecting buyers from Sears Roebuck to buy thousands of copies of a dress.
JB There seems to be psychological barrier to many of the great leaps forward that fashion has made, such as the line of the clothing not necessarily following the shape of the body and the great technological feats with synthetic fabrics.
RM I think that's a tremendous problem. When people are so aware of their own bodies, who wants to deform their body, particularly if they've just gone to the gym in order to create this body that seems to be the perfect form and then to render it clearly imperfect in some way by design, now that is a difficult, difficult idea for some people.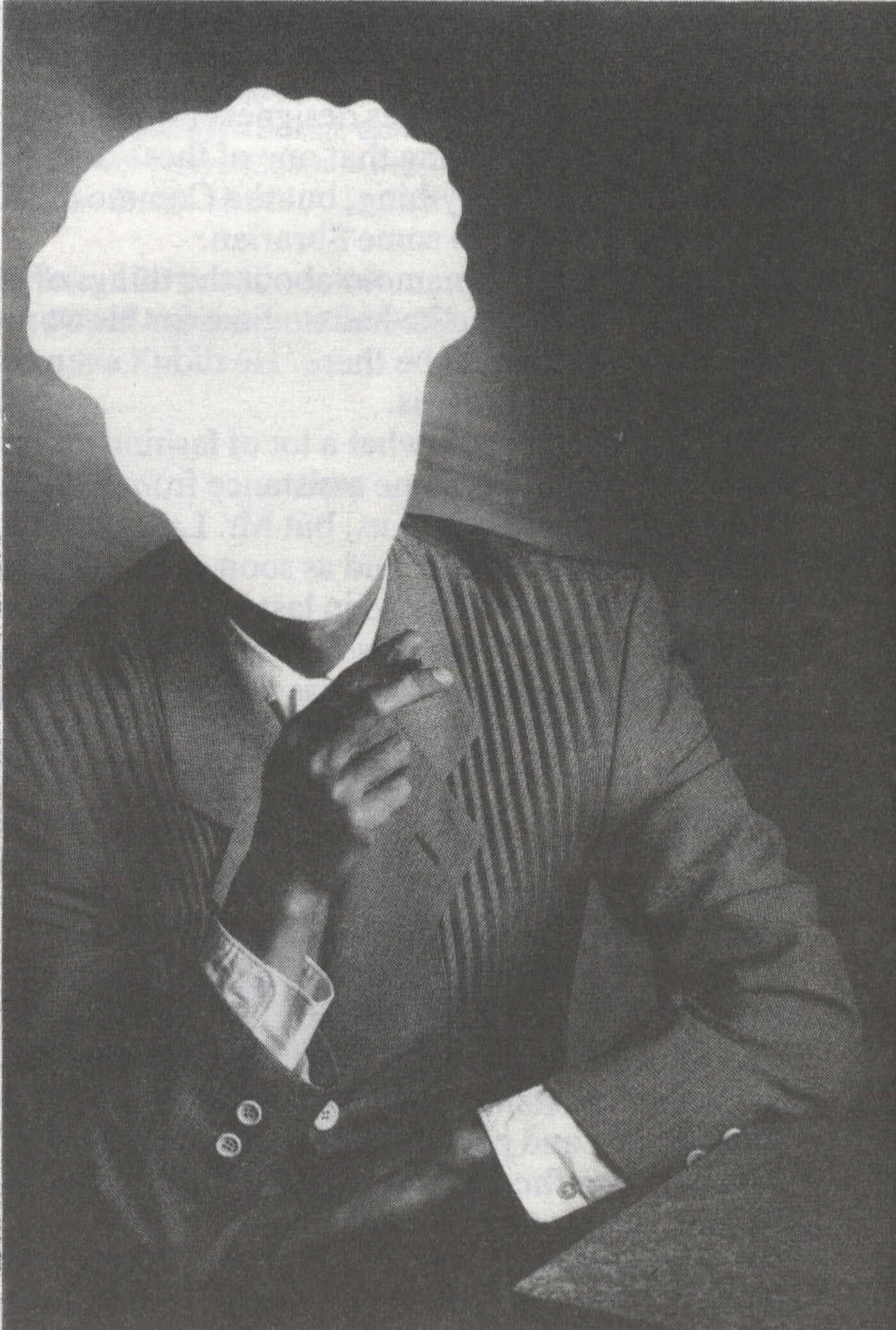 JB It's very shortsighted for fashion magazines not to endorse the new synthetics, particularly the Japanese ones, that are in some cases more glamorous than silk and cashmere and more practical and potentially more economical.
RM That was that kind of '70s idea that everything should be natural and it probably comes out of that return to nature. In the '80s I think only very, very gradually are we getting accustomed to the idea that man-made fibers may be so incredible and not like the '60s polyesters that would cling and be uncomfortable. I think you're right, that the Japanese have really got the leadership in the new synthetic fabrics that are so wonderful and so much more utilitarian. I think that they're not endorsed because fashion editors who are writing for newspapers and magazines are not really innovative, are not adventuresome. If they were critical writers they'd be willing to take up the support of synthetics. But they may be very much inhibited by the market, by what's available in their little town. It's not free writing, not true critical writing, it's only about the marketplace.
JB Speaking of that, you're now publishing books with your exhibitions—as the only form of merchandising that the gallery does. It almost seems like you develop the ideas yourself and then to get them across properly you have to write about them yourself.
RM We're hooked on the idea of doing books. In part because I think we want to have some role in the interpretive aspect of our own exhibitions and what we see as an even further outreach of the exhibitions. They are a horror to write on top of doing other things, in the collecting of photographs and getting photo rights, in a certain sense they're a nightmare. But they're essential finally, I think, to the larger dissemination of the ideas that we have in the exhibitions.
JB I think that the Fashion and Surrealism book was very clever because on the surface it looks like a coffee table book until you start to read the text. It's sneaky in a way because the photographs are very enticing and once you start reading you are aware that you're reading something of critical substance, not a fluffy little extended caption.
RM I love that concept because it really is that subversive aspect of surrealism.
JB It's a very noble idea, publishing, it keeps the intentions pure.
RM Publishing is what everyone did until 20 years ago when everyone went into the tea-towel and notebook business. I was appalled coming out of the Hockney exhibition at the Met to see the shopping bags and all that, I'm not sympathetic to that. Never.
JB I saw the opening for Fashion and Surrealism written about in the gossip pages of the newspapers and in the society pages in the British press. How much are you affected here at F.I.T. by the fact that the fashion exhibition has become the preferred environment of the ladies who have nothing much better to do than get dressed up and go out and so see all things fashion as their natural domain?
RM It would be difficult to avoid if we were a different kind of institution. There's something very liberating about the fact that F.I.T. is on Seventh Avenue. It makes it clear to us that we are not on Fifth Avenue, and there's also the rest of the institution around us that makes what we do very much part of what the students come here for, so we could never be deluded into believing that we're a kind of place for rich socialites. The Costume Institute at the Met has been exploited in that way, by its own museum. The party-of-the-year kind of thing. I think, socially, the party-of-the-year could never happen in this building, would never happen on Seventh Avenue. We have no way of doing that kind of thing and I'm very proud we don't. It would not be right for us. And with our type of exhibition that advances arguments about fashion, it means you're going to omit some glamorous things or some really good examples to prove your point. And it's never going to be that overall sweeping panorama.
JB The F.I.T. Gallery tends to laugh at fashion as well, or at least recognizes the wit in the work of Jean Paul Gaultier, etc. and is prepared to acknowledge when fashion makes itself intentionally ridiculous. Elsewhere, American fashion seems very grim and self-conscious.
RM We see very little of that wit in terms of American fashion today. I think the example that we included in Fashion and Surrealism was Marc Jacobs. He did this round funny smiling face, faces on a sweater. I think we tend to associate playful clothing in America very much with sportswear. It comes out in T-shirts and things like that. It doesn't come out in the more expensive or more formal fashion.
JB This morning when I was getting ready to talk to you I was lounging about in scruffy old jeans and socks with holes in them and I thought I had a responsibility to put on my Cary Grant suit in order to come and talk deeply about fashion with you. Does being in this job affect the way that you dress?
RM No. I wear the same clothes I've worn for years. I wear an Armani suit every day, a Perry Ellis shirt, probably a plain sort of tie every day, plain everything. I like the complete anonymity of men's clothing.
JB You don't feel a responsibility to…
RM To dress up?
JB Yes.
RM No. As a matter of fact I personally can't stand to dress up. And, I mean I've bought Gaultier, I've bought Stephen Sprouse, which I've loved buying…Matsuda, Yohji Yamamoto, I love it but I could never wear it. This doesn't affect my dressing at all. I'm too conventional.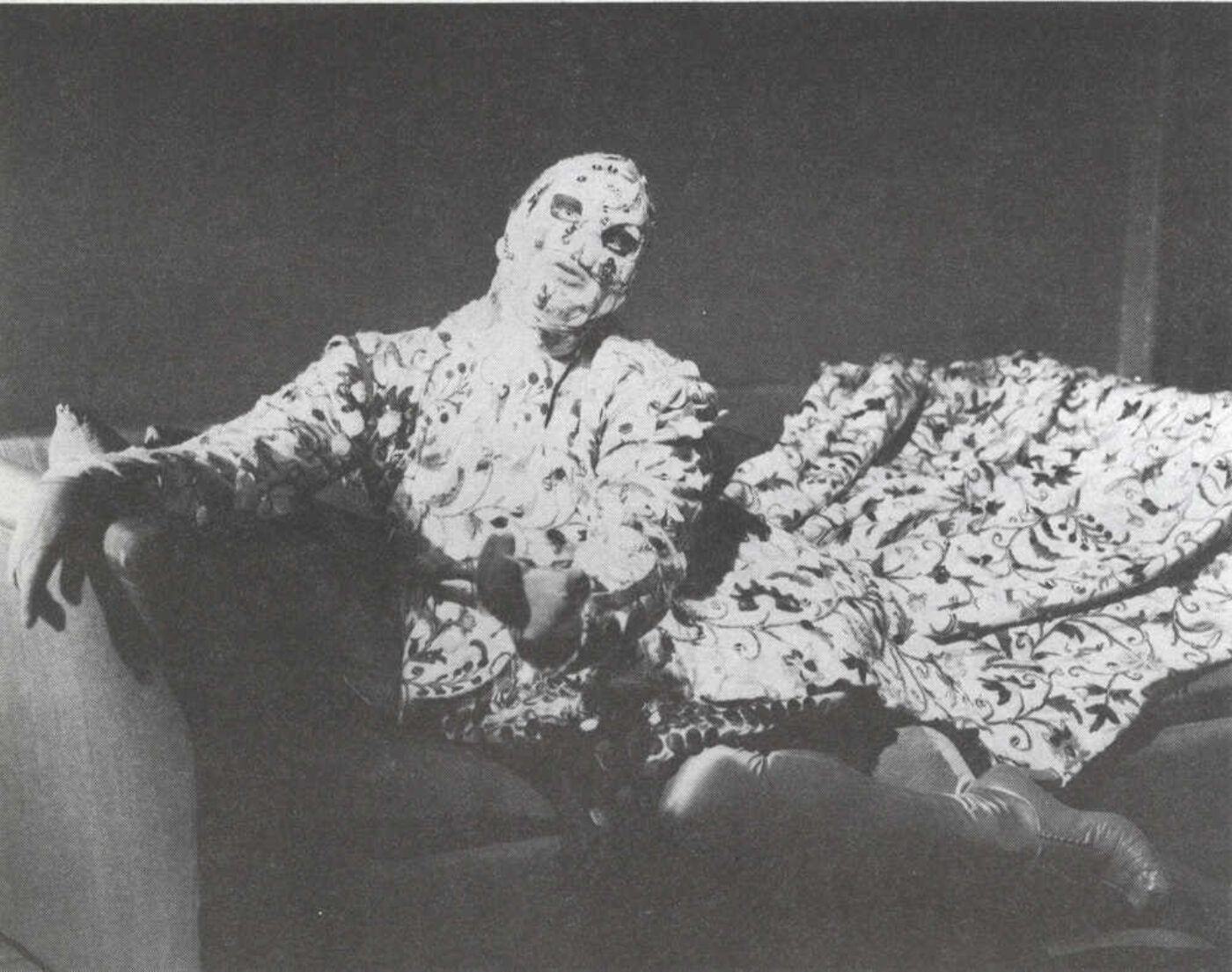 Jillian Burt is an Australian who writes on architecture and design. She is currently working on an adventure novel for children set in New York City.
Originally published in
Jon Robin Baitz, David Cronenberg, Harry Mathews, Richard Martin, Peter Ackroyd, Annette Messager, Javier Vallhonrat, Jodi Long, Christian Boltanski, and Kenji Fujita.