Discover MFA Programs in Art and Writing
Race, representation, sexuality, migration, and belonging are recurring themes in the work of video maker Richard Fung. In a career that spans close 20 years, Fung has managed to build an archive of thoughts and questions about history, memory, social exclusion, and the role of each of these in the formation and exploration of identity. Always concerned with form, focus and the (critical) pedagogical possibilities of the medium, Fung has produced a body of work that is as reflexive as it is attentive to the presence of the audience. His latest piece, Islands, returns viewers to the Caribbean to examine some of these issues.
In 1956, John Huston directed Heaven Knows, Mr. Allison in Tobago. The film was set in 1944 "somewhere in the South Pacific" and starred Robert Mitchum as a US Marine and Deborah Kerr as an Irish nun. Fung's uncle, a Chinese Trinidadian, was hired as an extra to play a Japanese soldier. Islands takes a critical and humorous look at the questions of erasure, authenticity, and representation that Huston's film invites.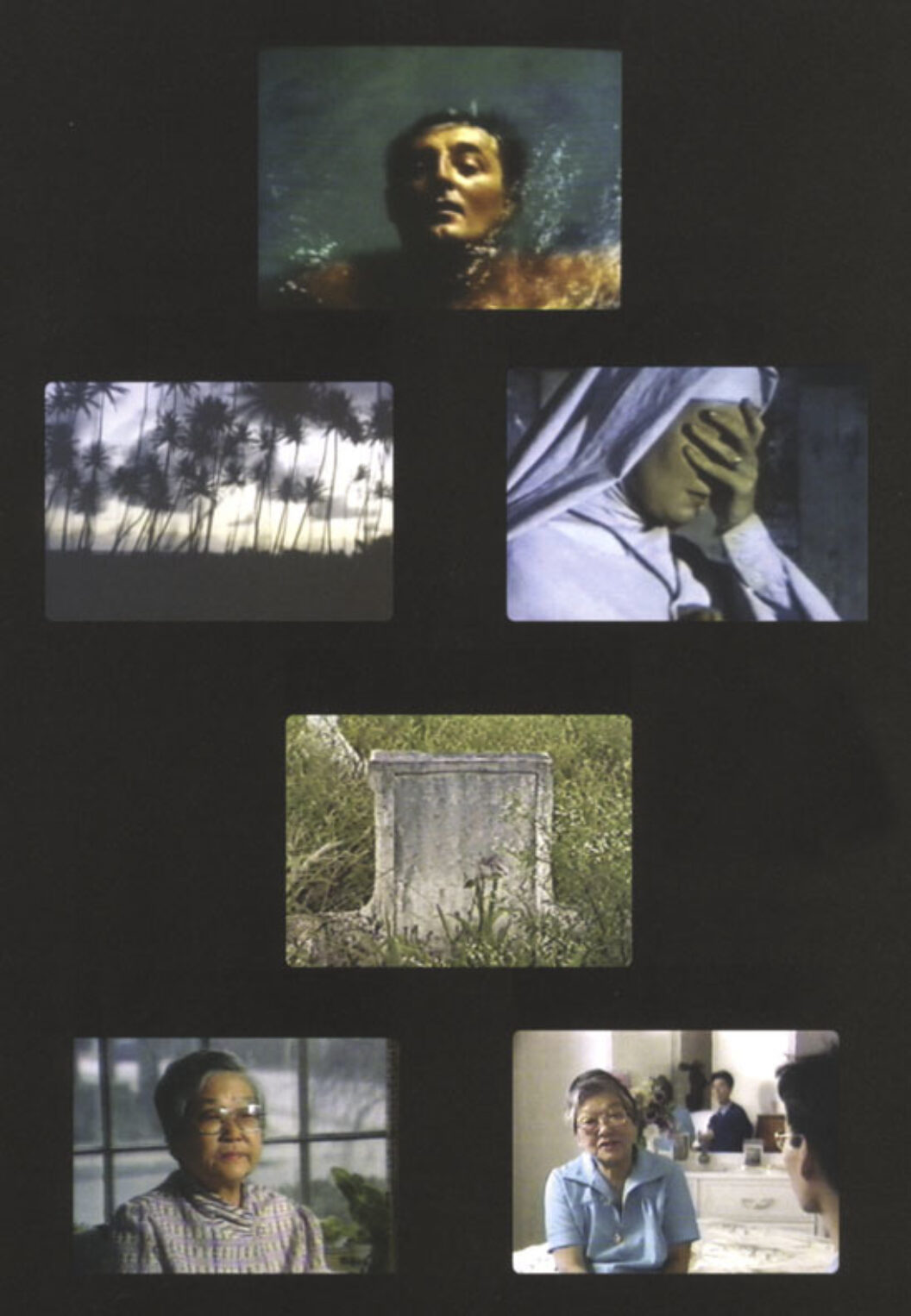 The tape begins with original, contemporary footage of windswept coconut trees along the eastern coast of Trinidad. It is a primary moment of reversal in a work that uses juxtaposition and superimposition to create a different kind of mapping—one in which territories are linked, unlinked, examined and cross-examined. Islands uses the irony of casting and location to explore broader issues of social and political economy: Fung's uncle had never seen a Japanese person—except perhaps in the movies; Tobago may seem to be miles away from the US and the South Pacific—but 12,000 acres of land in Trinidad were leased to the US government for use as a military base in 1940.
Fung's distinctive, interrogating voice—so clear in earlier works such as My Mother's Place—is represented in Islands by intertitles. It is an economical voice in which historical research and complex queries crystallize. Fung uses family as a starting point for exploring the links between biography and imperial history—but here he has created distance. It is a distance that allows the short form to truly breathe.
An experimental short, Islands is also fundamentally an audience piece. It is about modes of looking and the search for traces of oneself on the "big screen." Fung's intertitles also describe the reactions of an audience at a local screening of Huston's film. His "voicing" of the audience establishes them as arbiters of authenticity, suggesting a knowledge outside the frame that undermines representation, is shaped by it and yet in the end remains comfortably indifferent. Not a bad job in just under nine minutes.
1. Richard Fung, Islands, 2002, color video with sound, 8 minutes 45 seconds. Courtesy of Vtape. Center and bottom: Richard Fung My Mother's Place, 1990, color video with sound, 49 minutes. Courtesy of Video Data Bank (bottom left) and Vtape (center and bottom right).
Gabrielle Hezekiah is a writer and doctoral student in the department of sociology and equity studies in education at the University of Toronto.
Originally published in
Featuring interviews with Brooke Alfarmo, Stanley Greaves, Santiago Sierra, Erna Brober, Jorge Volpi and Martin Solares, and Jesus Tenreiro-Degwitz and Carlos Brillembourg.