Rhythm and Blues: Tomashi Jackson by Cora Fisher
Artist Tomashi Jackson explores the rhythms of labor and the poetic vernacular of popular culture and visuality in America.
After the 2008 crash the so-called new normal is an economy of producing more work for less pay. A question that follows the most urgent concern of survival and subsistence living is how artists can address labor without getting bogged down by discourse. One answer is to exert the body. Another is to look to the changing topos of popular culture at how we produce cultural narratives about work in daily life, in all its shifting forms. Tomashi Jackson is an artist who does both, a hybridist who grounds questions of labor and civic space in an amorphous terrain of American "vernacular." Her composite language consists of an omnivorous diet of sources and outputs: raw building materials that stand in for civic infrastructure and public space; popular imagery, from iconic photos of black poets to celebrities sourced from the Internet; R&B songs from the early 1990s; a digital screen space layered with Skype conversations, music, and cut-out images, then translated into video. Jackson metabolizes these materials and sources into, most often, an installation environment of sound, sculpture, projection and performance. The end result is neither interior nor exterior, but decidedly mixed. And it is palpably worked over with the artist's labor, hand, and her affections. Her most recent works, made in her studio at MIT, while in the ACT (Art, Culture, and Technology) program, are, in multiple senses of the term, labor-intensive.
Our interview took place on Skype, a medium she has recently been using to record her own talks and singing sessions with family and friends.
Cora Fisher In your recent work you have taken to singing while performing repetitive tasks like cleaning, mopping, and trowelling. What are some connections here between music and work—in the double sense of artwork and labor?
Tomashi Jackson Music, especially music that is lyrical, is often generative, inspiring repetitive mimicry. One night in 2011 I listened to "History Repeats Itself" by A.O.S. while cleaning the paint splattered floor of my studio. The song became intertwined with my labor as I sang it to myself over and over again until the floor was clean. I recognized a productive link between music, repetition, and my hands. I thought about how this sort of maintenance labor is meant to be unseen. I remembered that my Great Aunts worked informally as domestics in Texas and California from around 1920 until retirement.
I have been interested in the laboring figure as a transformative agent in intimate and civic spaces, specifically domestic laborers in New York City, since 2005. I have been thinking about labor as an embedded component of social infrastructure. My inquiry led me to study informal labor economies with public policy lecturer Martha Alter Chen at the Harvard Kennedy School of Government. I became curious about languages of visual art and public policy and their implications on laboring figures and space. I needed to get the whole story about the social presence of seen and unseen labor infrastructure. I learned that informal domestic labor is historically much needed and notoriously undervalued. It is labor that is meant to be almost invisible, without social protection or regulation. It is an area of public concern that is full of contrasts: cultural, racial, spatial, and value-related.
CF How do you mean, "value"?
TJ I have been thinking a lot about the definition of value, both visual and social. When writing about the work of Ad Reinhardt in the 1960s, critic Dore Ashton defined value in painting in terms of lightness and darkness. She said, "Painters cannot function without a sense of value since visibility of their image depends on the contrasts. There have been painters in history who have found this truth a tantalizing proposition. They have played with extremes in order to place the ultimate value on value." I have become fascinated by language similarities used to describe compositions of labor and imagery, in formal and informal terms: saturation, contrast, transparency, etc.
CF Music has come to the forefront of your practice since you led sing-along performances at the Easter Sunday Bruceforma 2012 and the 2010 Brucennial. How did this come about?
TJ Music has always been significant for me. My mother and I often sang popular R&B love songs together while driving to and from school and work in Los Angeles. My older sisters sang to get me to sleep. That is probably why songs have often come to me in my dreams. While living in New York, the sing-alongs initially only happened in intimate spaces with close friends at home and in the studios at Cooper Union. The songs were mostly comical and inspired by common experiences of my own and those of my friends having to do with love, subways, bodily functions, and public restrooms. They were call and response songs that the people around me could relate to. I considered the songs separate from my formal work since I didn't consider myself a performer or a musician. When the Bruce High Quality Foundation invited me to submit work to the 2010 Brucennial I decided to experiment and facilitate a public sing-along at [the performance portion of the programming,] Bruceforma. For the first time I used a microphone and a warehouse full of people sang along with me while my friend, artist Jacolby Satterwhite, danced behind me.
The performance at MoMA PS1 was very different from the previous performances. I had made a video piece using an original song about celebrity tabloid culture called Untitled: Lindsay Lohan. I first heard the song in a dream in 2010. Then the video images were taken from tabloid blogs, courtroom drawings, and YouTube. For a while I felt like it was too sad for a song for a sing-along, but with the video component it didn't require audience call and response. The video was projected onto the interior of the Performance Dome and I sat beneath it and sang live.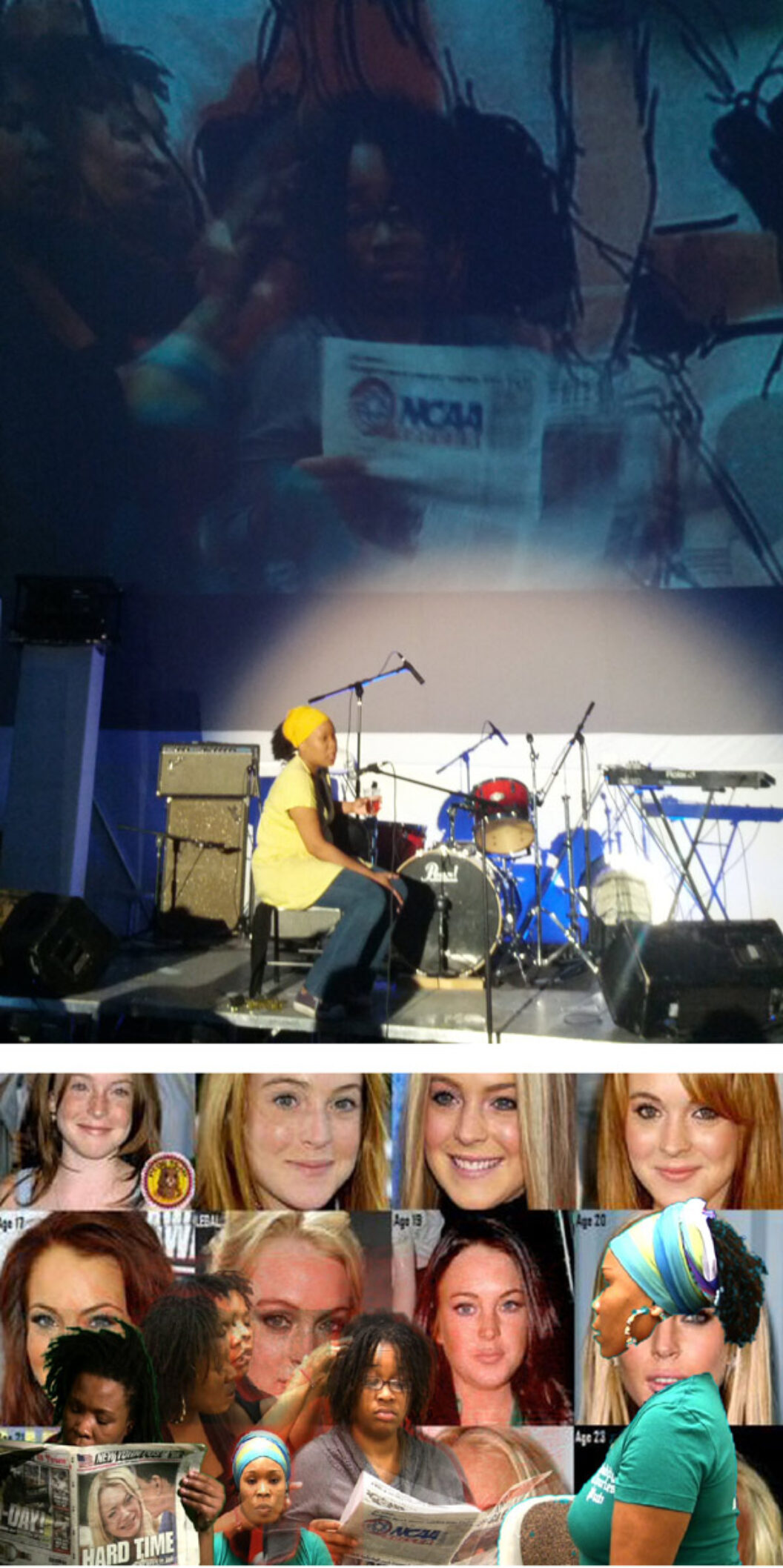 CF Is there a particular kind of music?
TJ Five of the installation pieces that I produced at MIT involved embedding '80s and '90s R&B love songs made popular by New Edition, After 7, Luther Vandross, and Whitney Houston into interactive sculptural components at low frequencies into infrastructural architecture materials like pipes and floor. Initially I recorded myself singing songs alone late at night in resonant basement spaces on campus.
CF These were songs you grew up listening to, right? So how did you make sense of this return?
TJ In an effort to resolve the implications of repetitious singing in my work I sought advice from the artist Renée Green, who urged me to begin reading In the Break: The Aesthetics of the Black Radical Tradition by Fred Moten, along with works by Toni Cade Bambara, Nelson George, and Horace Tapscott. Authors who have addressed music as coded language for unspeakable narratives of Black life like Toni Morrison, Ralph Ellison, and Édouard Glissant showed up often as I read. There was a big A-ha! I became really excited about the role of popular love songs in the work as cues for shared cultural memory and capsules for complex intimacy.
CF Did you get flack for being sentimental?
TJ Curator João Ribas really held my feet to the fire as my advisor at MIT while I was in the ACT (Art, Culture, and Technology) graduate program, urging me to address the fact that most of the songs I was appropriating were made popular by male balladeers. It dawned on me that I had done this kind of thing once before in 1998 as a first year student of the late George Kuchar at the San Francisco Art Institute. During the making of Kuchar's Tinseltown, I elected to lip sync Jackie Wilson's 1958 hit "Lonely Teardrops" as multiple shirtless art students danced around me. So music, mine and that of others, continues to show up in what I am doing.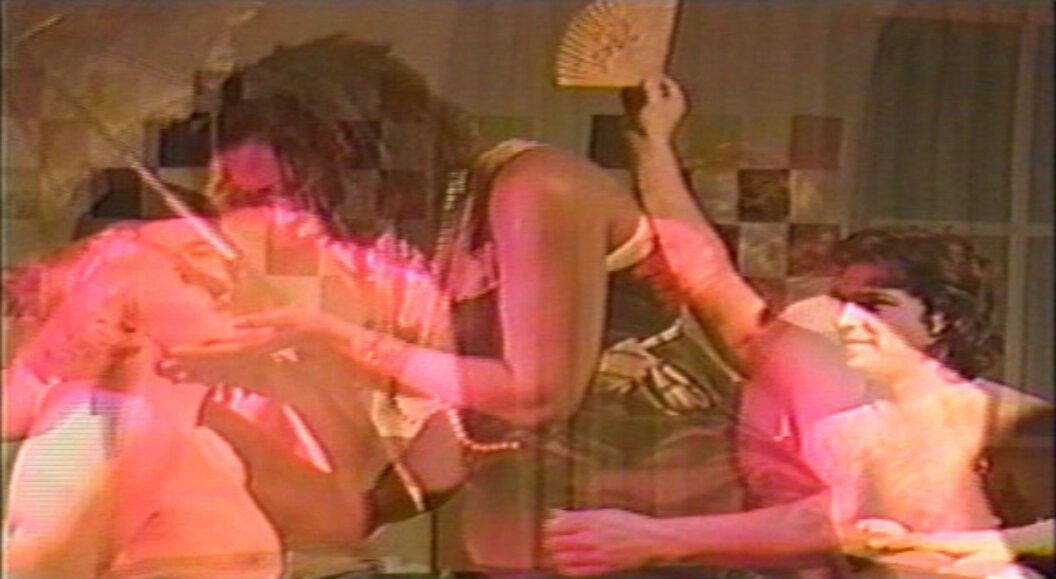 CF You were at the MIT Program in Art, Culture, and Technology (ACT). How has living in Cambridge influenced your work?
TJ Living in Cambridge has influenced my imaginings of civic space and the materials that I choose to represent ideas about public and private infrastructure. I constantly questioned what belonged inside and what belonged outside. I have been interested in floors and pipe systems as definers of interior and exterior space and use value. I was ecstatic when I found discarded hardwood flooring pulled out of an old Cambridge house under renovation and unwanted bundles of iron and copper pipes around MIT campus. I think of these materials of architecture as technological conduits and a part of my palette. I recall wondering if I could have a painterly experience with these materials and if painting and sculpture could help me unpack certain language that I found to be collapsed with definitions in visual art. I was obsessed with the word bastard for years as it relates to illegitimacy and value. I questioned what actions were necessary to reconsider a bastardized object and redefine its purpose.
CF Can you talk about Untitled: Mem Drive, a multi-layered video installation?
TJ Untitled: Mem Drive is an installation focused labor and poetry in and around Cambridge, MA in the late 1980's. The title references the historic Memorial Drive that hugs the Cambridge side of the Charles River, winding from MIT to Harvard. I video recorded myself cleaning the full length window of my studio and then collaging large laser prints of the founding members of the Dark Room Collective, that was active in Cambridge in 1989. It became an endurance exercise for me. I listened to my favorite slow jam from 1989, T.R.O.O.P.'s cover of the Jackson 5 song "All I Do Is Think Of You", as I wiped the glass and pieced the big portraits together over and over again. My hands, glass cleaner, water, and paper towels made slowly evaporating gestural marks as I mouthed the lyrics. Sound was projected through copper pipes that I embedded into a rope suspended area rug painted with trowelled concrete. One pipe projected a recording of the love song.
CF Who is the man in the video?
TJ Paul Campbell is a friend of mine who is a natural storyteller with a beautiful voice. I knew that I wanted to make a project around his voice. I asked him to sit in the sound booth in the old Media Lab building and tell me a story about 1989 Cambridge. After reading Thomas Sayers Ellis's Skin, Inc.: Identity Repair Poems in 2010 and hearing him read at Lesley University, I was reminded to look to poetry to help me with issues of language and visual translation.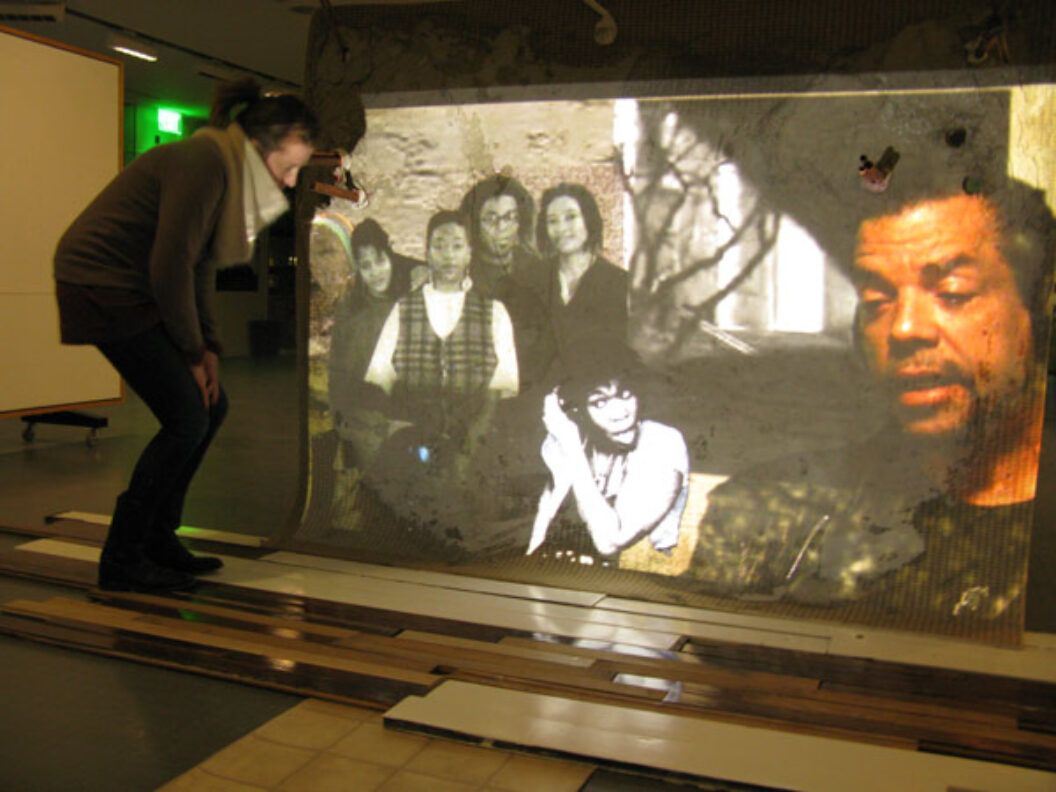 CF How did you use the essay?
TJ I asked my friend Nia K. Evans to read aloud from Brian Reed's 2007 essay, "The Darkroom Collective and Post-Soul Poetics." The essay talks about the young poets Thomas Sayers Ellis and Sharan Strange meeting at the Harvard Film Archives as undergraduate students in 1986. They eventually moved into a house in Central Square, collected books, and facilitated readings with others. The collective was described by Strange as "a way of overcoming isolation," and an opportunity to "share similar struggles with writing with other Black people at a time when European Americans still dominated most positions of authority in the U.S. poetry establishment."
CF Was there a connection between you and this collective?
TJ I frequented the same Brooklyn coffee shop as Thomas Sayers Ellis, a founding member, before I knew who he was. He lent me a book on the Negritude Poets. I didn't learn about the Collective's history until I lived in Cambridge, like they once did. I was enriched by learning about their practices as "poets who hoped to build a tradition as hybrid as that which the Jazz masters created." I made a soundtrack for the video using Nia and Paul's recordings. Paul spoke about late 1980s Cambridge area property values, patterns of livelihood migration, racial segregation of neighborhoods, labor, and music, and especially Jazz. Although he was not connected to the Dark Room Collective at all, there were interesting overlaps with the Reed essay regarding collaborative artistic production and Black cultural infrastructure.
CF So is hybridity a kind of story-telling?
TJ Poetry has been a recurring anchor during this exploration. I am drawing and painting with material that is ephemeral, tangible, and historic now, which feels right. I have looked to poetic structure to compose with my diverse palette in order to tell stories.
CF How do you think about the screen space of video?
TJ The screen is a picture plane. I think like a drawing person, a painter, a muralist. These languages are showing up in the video collages, compressing complex narratives. With my most recent installation Plain Cite Plain Site Plain Sight: Teller I was finally working inside of video as a painter and printmaker. I imagined the dual projections as drawings first. Then I made two videos in which a red ATM shell is suspended against the ebbing tide of the Pacific Ocean. One video depicts two Skype conversations (Nia with her mother and Nia with [artist] Erick N. Mack) layered on top of each other and the ocean. In the second video, I am again wiping glass and collaging portraits of poets while lip-synching a love song. In both videos, imagery is layered as if the screens were big lithographs.
I have come to embrace the failures of my technologies, allowing for glitches and hiccups that have surprised me. I think about the relationships between printmaking processes and their old, old histories of communication: the printing press and early dissemination of information, photography, film, editing by hand, and the evolution of video. The installations invite the audience to reorient themselves, to get close, to touch, and become a part of the story.

Cora Fisher is an art writer and emerging curator born and based in New York City. She is currently a graduate candidate at Center for Curatorial Studies, Bard College (2013), holds a BFA from Cooper Union, and is a former fellow of the Andy Warhol Foundation Creative Capital Arts Writing Workshop (2009). A staff writer for The Brooklyn Rail, she also contributes prose on art and literature for assorted publications, most recently to the exhibition catalog, Shaped by Time (Revolver Press).