Reza Abdoh's Cultural Compost: Negar Azimi and Tiffany Malakooti Interviewed by Sohrab Mohebbi
An ecumenical, eccentric, ecstatic, illegible, undigestable stew.

Discover MFA Programs in Art and Writing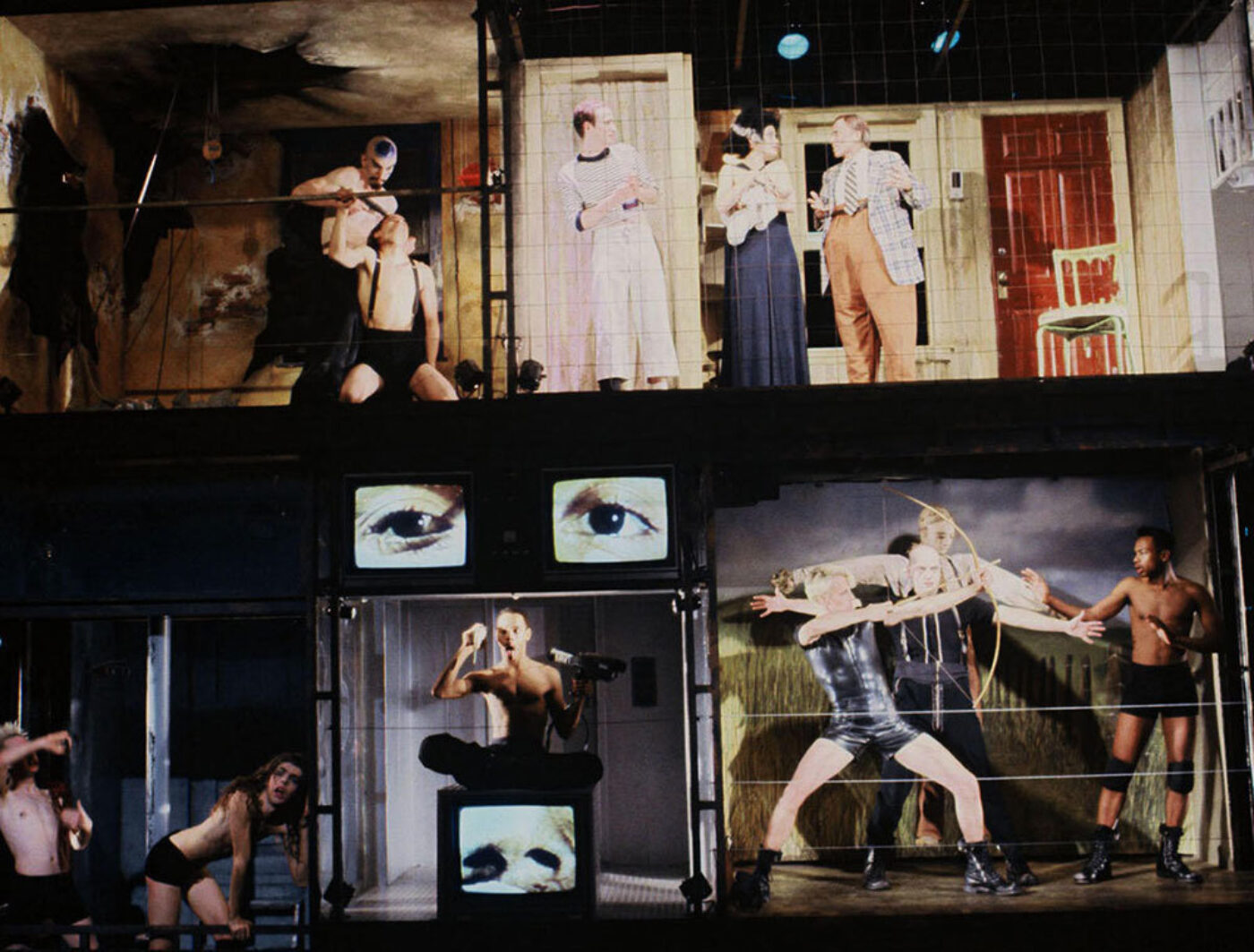 Son of a wealthy Iranian football club owner who was close to the deposed Shah of Iran, Reza Abdoh arrived in a suburb of Los Angeles, CA—aka "Tehrangeles"—in 1979 with his father and siblings. In a short span of time, Reza became a cult figure in the LA underground theater scene. When asked in an interview if he considered his works as "radical or avant-garde," Reza responded: "No, what is radical is what is in the streets, what is radical is the war in Iraq." His work countered the neo-liberal assault on life with an embodied reflexivity that firmly avoided cohesive narrative structures, simple plot lines, and continuity. His work is currently the subject of an exhibition at MoMA PS1, and I chatted with co-curators and Bidoun editors Negar Azimi and Tiffany Malakooti. 
—Sohrab Mohebbi 
Sohrab Mohebbi Let's go back to the start. Can you tell us when/how you encountered Reza's work and when you decided to work on a survey of his practice?
Negar AzimiBidoun is necrophilic. We're constitutionally attracted to marginalized avant-gardists like Reza. To begin with, Tiffany came upon Sleeping With the Devil (1990), which was as far as we know the first work Reza made after his HIV diagnosis in 1987. It's a thirteen-minute video that revisits a real-life encounter between Geraldo Rivera and Charles Manson. The work is schlocky, repetitive, bitingly ironic, sexy, tender, and visually interesting. Our interest was piqued: who was this irreverent Iranian who'd all but disappeared? From those early videos, we found our way to the theater work, which was unlike any theater we had ever seen. It should be said that few people realize that Reza authored videos, too. Getting Reza's film and video work on people's radar is really important to us and was one of the primary motivations behind working on the survey.
Tiffany Malakooti I came across Reza's name and a line about his work around eight years ago. It was like a dream for me, this really gay Iranian artist who made totally freaky work. I didn't think anyone like that existed.
SM The wall text at the entrance reads: "the work of Reza Abdoh was not made to be shown in a museum … the priority was honoring the integrity, the spirit and objectiveness of Reza's art." Can you talk about the strategies that you used to achieve this?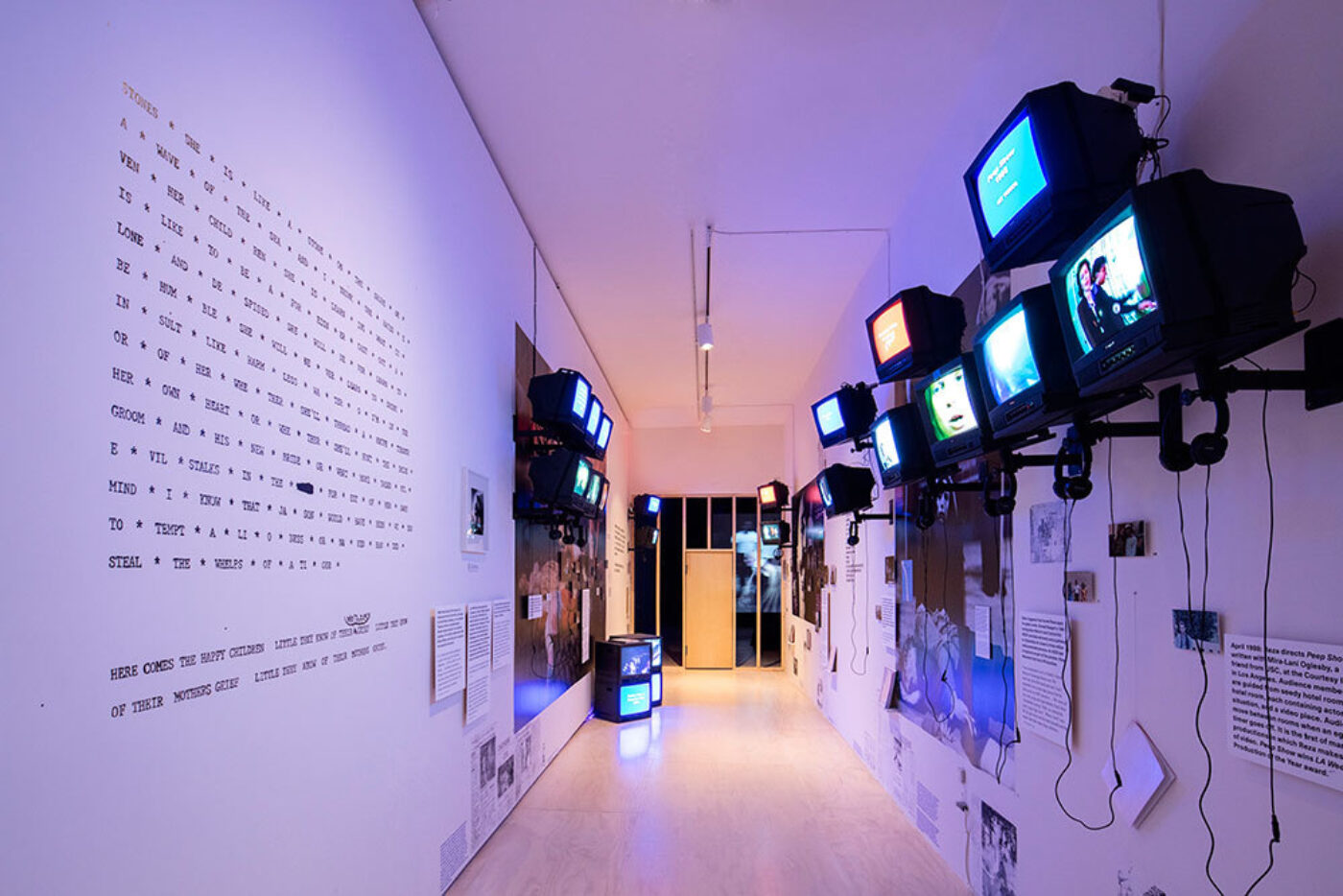 NA From the beginning we were anxious about the prospect of putting Reza in the proverbial white cube, especially since his work is so insistent on exposing and interrogating structures of power. Reza's work can—probably should—make you uncomfortable. So how to give his art its due without too much politeness or compromise? That was part of the discussion from day one. We tried to keep that tension at the forefront of our thinking as we went about putting the show together. If we were successful at all—and that's not for us to say—audiences should get a taste of the disorientation that was so central to the experience of his art. We wanted to keep the volume in the red. 
TM Reza's work is theater, so it literally was not made for a museum. We happen to be lucky enough to have video documentation of the performances, but of course this is nothing like having been there. We gave ourselves an above-average (by museum standards) amount of permission to intervene on the material in order to make the experience as true to Reza's spirit as possible. We prioritized this over some kind of ethics of institutional neutrality.
SM One of the main components of the exhibition is a very thorough timeline of Reza's life, but also of contemporary Iranian history. It's fascinating how major events in the latter had a direct impact on Reza's life.
NA Reza was an inspired scavenger. Life fed his art. Historical events, both the sort experienced in the flesh—as with the Iranian Revolution, which upended his family's life and fortunes—and the events that he would experience from afar, especially through the television, found their way into his plays. It wasn't always direct. For example, the revolution is never explicitly mentioned, but you can begin to tease out a critique of political violence at the heart of his practice. Or take the LA riots. Again, they're never explicitly mentioned, but it's probably no accident that he made his most racially hypercharged production, Tight Right White (1993), just months after the Rodney King beating and the ensuing riots. Reza was living in LA at the time and we know he was obsessively following the action. One gets the distinct feeling that anything and everything was material for Reza. He was perfectly omnivorous. The timeline is an attempt to offer up a sort of surround-sound version of the moral and political universe Reza was moving through. He died of AIDS at thirty-two, so a short history of the AIDS crisis inevitably made its way into the timeline.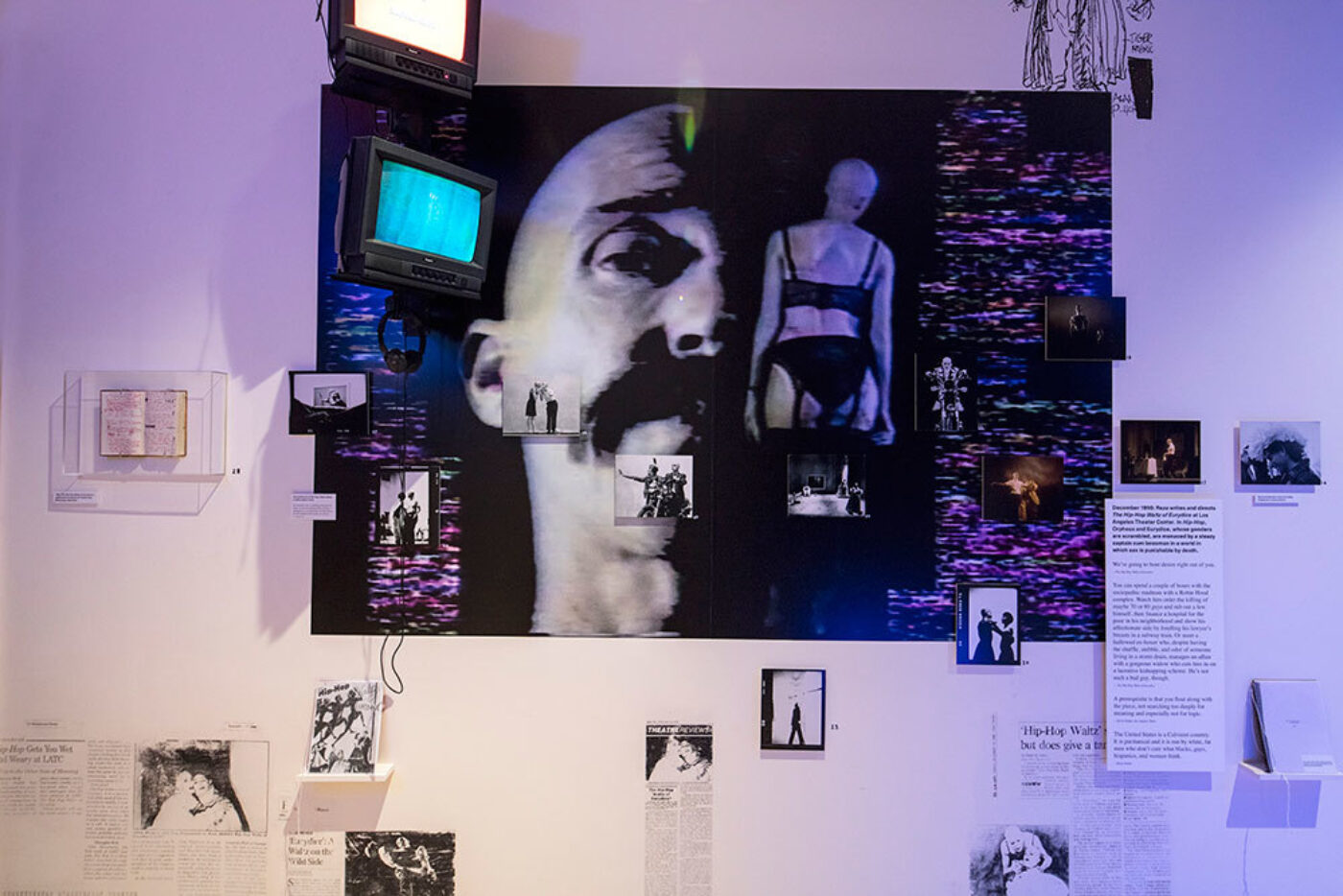 SM It seems like the prominent notions of identity and class all come from first-hand experience. Here is a stateless (Iranian in post-hostage-crisis United States), gay Iranian from a wealthy family close to the deposed monarchy, who comes to the United States poor, and works at a gas station before starting to hustle. He never separates the Reaganite class war at home, U.S. foreign policy, the AIDS crisis, or provocative theater.
TM Reza's life completely transforms within a very short period of time. Moving to the United States; coming of age; his father losing all of his wealth, finding out his son is gay, and suddenly dying—all of these things happen within a year. In a blink of an eye, he goes from his fancy boarding school in the UK with a Rolls Royce chauffeur to being an undocumented teenage hustler in West Hollywood, caring for his two younger brothers. When looking at his life in retrospect, it is difficult not to see the near overlap of all of these major events as some kind of kismet. Reza was previously aware and embarrassed of his wealth. You can still smell the bourgeois in his early work, but that sensibility begins to dissipate a bit after his diagnosis, I think. 
SM The other main feature of the exhibition is the excessive use of box monitors. Can you talk about that? At times it seems like you are witnessing a fight in a dive, while also trying to follow multiple TV channels at the same time.
NA The clunky box monitors are very much evocative of a time—Reza's time. We ordered stock television footage from the 1980s and '90s and threw them onto the monitors to conjure the televisual context that Reza was so taken with. According to Brenden Doyle, Reza's longtime partner, Reza was a TV junkie. Everything was interesting to him, from cheesy MGM musicals, to televangelist diatribes, to the trial of OJ Simpson. I always felt like watching Reza's plays must have been akin to frenetically flipping channels. His work is a rude cacophony of sounds, images, instincts. Or as you say, it's not unlike the experience of getting beat up, or watching someone get beat up.
SM Can you speak about Reza's process a bit more? At first glance one might think that it's mainly an improv theater of the absurd on steroids, but then we read the scripts included in the exhibition, and see the detail and heavy workshopping.
TM I think Reza's process was really additive; he would take things from his own life, stories his actors would tell, found materials, etc., and add them over the course of rehearsing. He was not afraid to steal. Sometimes, rehearsals would begin without any script at all, and each day actors would be given a few pages. This was the case in Tight Right White. Only after some time did the actors realize the bulk of the text was from the 1975 film Mandingo. 
Actors on Reza's productions describe the process as extremely intense. He demanded their entire body and soul, and they happily complied. His death left a big void for those who worked with him. This intensity was not replaceable, and none of them ever found that feeling again. In life and in death Reza has a really cultish aura. Even those that didn't particularly like him, when asked why they continued to work with him would respond along the lines of, "Because you couldn't make work like that with anyone else."
SM Can you tell us more about Bogeyman (1991)? It occupies a center stage in the exhibition and is one of his most revered pieces. The video documentation is bewildering, and it's intensified by the editing.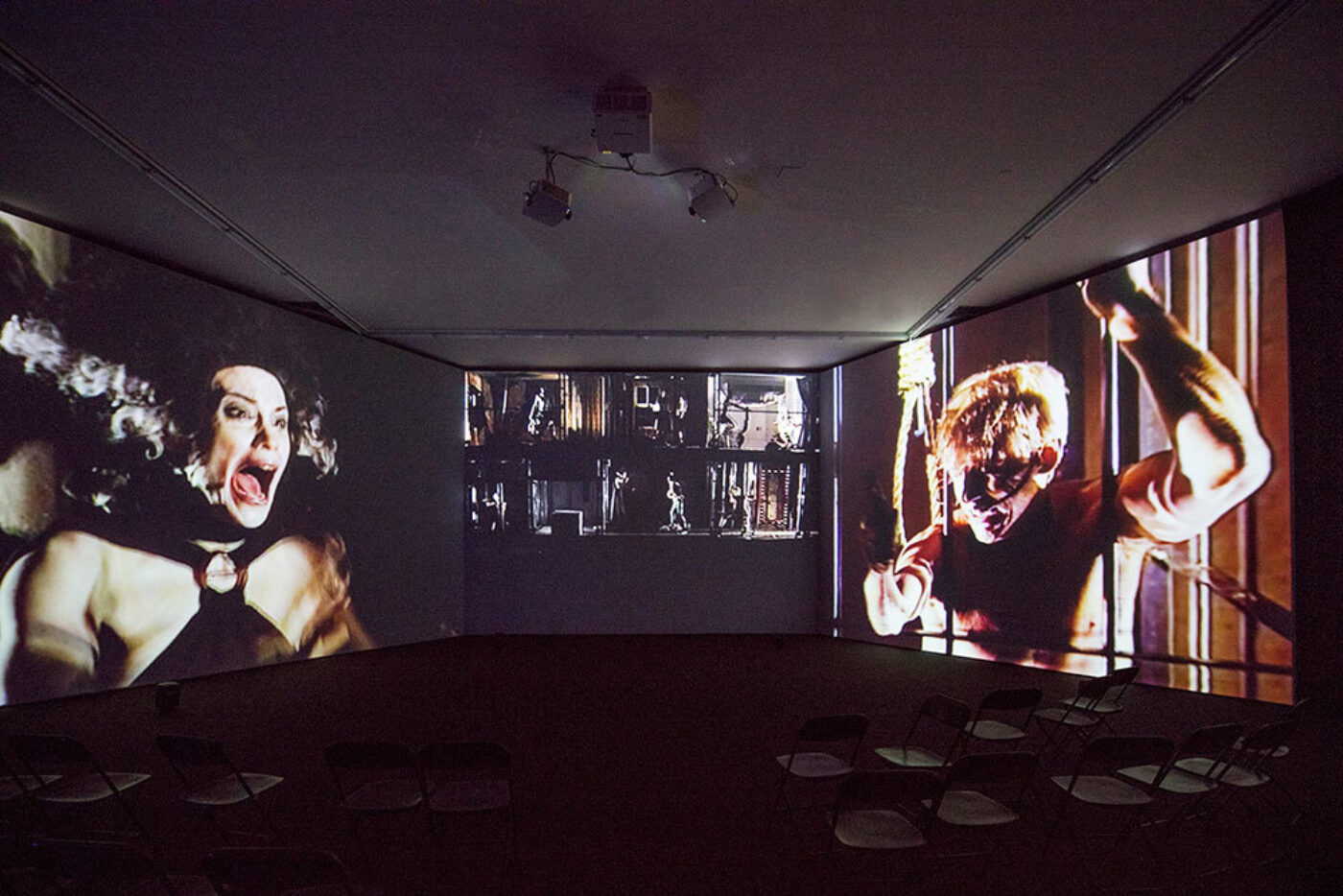 NA Every single one of Reza's plays was superlative, maximalist, the ne plus ultra; but Bogeyman is definitely an apotheosis. It embraces AIDS as a subtext in the context of an American family. The narrative, if you can call it that, is all over the place, because Reza pretty much torched narrative, but it more or less opens with a father ostracizing his gay son and proceeds from there. The set is extraordinary; the set designer, Timian Alsaker, crafted a cross-section of an apartment building on three levels that makes Godard's set for Tout va bien look quaint. At any given moment there's something happening inside one of the apartment's windows, if not in multiple. Bogeyman is operatic. Pyrotechnic. Literary. Obscene. Babak Radboy, our colleague and co-curator, worked with a team of inspired video editors to try to get as close to recreating the sensation of being in the theater as possible. This involved culling the original footage from different cameras as well as different nights and creating an immersive environment in which, occasionally, you feel like you're drowning. Or sinking. Or going up in flames. It's overpowering in the way we imagine Reza's work was. For that reason I feel like it's the bit of the show in which we get closest to evoking the texture of Reza's magic. But then again, that's just conjecture. None of us three were old enough to have actually seen Reza's work in the flesh. 
TM Bogeyman was the first of Reza's plays with a more obvious AIDS subtext and maybe his first "mature work." Subsequent works deal with AIDS as subject—and even as architecture—but even before his diagnosis Reza was completely preoccupied with death. 
SM One of the most significant characteristics of the work is the incessant use of pastiche. His omnivorous work quotes and appropriates from all over the place, and it sometimes seems like an undigested discharge of incongruence, an impossibility for anyone to swallow and process how catastrophically dystopian everything is in post-Reagan United States, in the peak of the AIDS crisis.
NA That's really perfectly put. It's an ecumenical, eccentric, ecstatic, illegible, undigestable stew.
Reza Abdoh is on view at MoMA PS1 in New York until September 3. 
Sohrab Mohebbi is curator at SculptureCenter, New York. Before joining SculptureCenter in 2018, Mohebbi was the associate curator at REDCAT Gallery in Los Angeles. He is the recipient of 2012 Creative Capital | Warhol Foundation Arts Writers Program for the blog presencedocuments. His writings have been published in Bidoun magazine, where he is a contributing editor, as well as other periodicals and publications. He received an MA from the Center for Curatorial Studies at Bard College and a BFA in Photography from Tehran Art University.