Discover MFA Programs in Art and Writing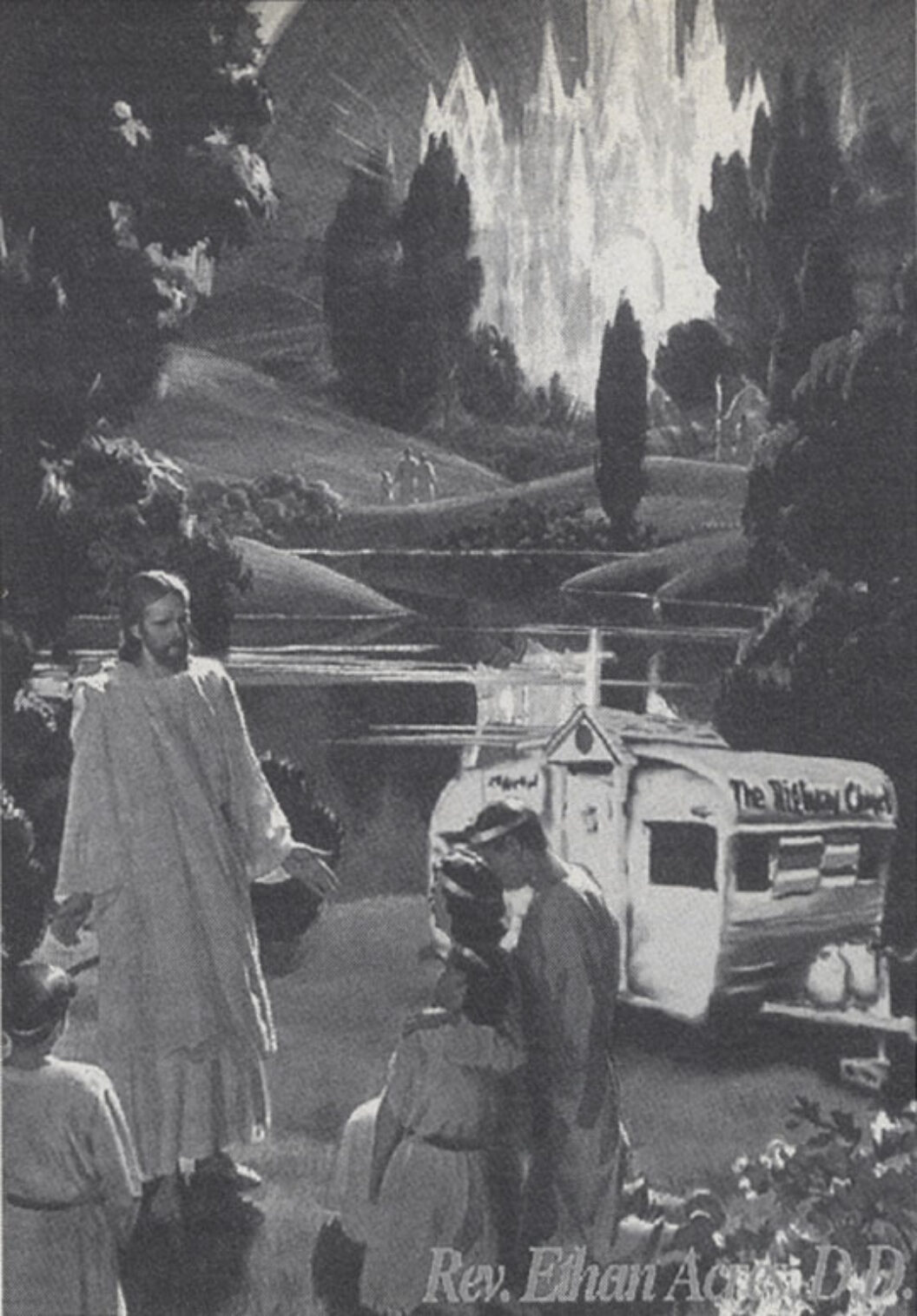 Good old-time religion and edgy, contemporary art make for odd bedfellows, but this unholy alliance thrives in the art and life of Reverend Ethan Acres. No stranger to the strange shapes belief takes in our doubt-riddled modern lives, the young charismatic preacher has already produced a compelling body of work that presents blind faith and unshakable skepticism as two sides of the same coin.
The grandson of a snake-handling mystic, and the stepson of an itinerant minister (whose prosthetic arms often malfunctioned during emotional sermons), Reverend Acres grew up in Alabama and now hails from Las Vegas. Last year he earned an MFA from the state university and, via the Internet, an honorary doctorate of divinity from the World Christian Ministries. With the help of his lovely wife Lisa, the Reverend converted a small trailer-home into "The Highway Chapel," a mobile house of worship bedecked with neocrucifixes, fake stained-glass windows, and a fiberboard pulpit. This fall, he is scheduled to bring the charming, down-home elegance of his weekly services to the Hard Rock Hotel and Casino's newly constructed chapel, where he will perform weddings and baptisms.
Acres's art has been included in many group exhibitions and a rollicking solo show at Santa Monica's Patricia Faure Gallery. Absolutely un-ironic, his computer-generated prints, motorized sculptures, and large wall-drawings demonstrate that belief is at the heart of all types of art—even those that prefer the rhetoric of truth and the certainty of critique. Shouting what most people only mutter under their breath, Acres's works declare: "Art is a religion," adding, in softer tones: "And if your soul's not in the picture, it just may be lost."
—David Pagel
Originally published in
Featuring interviews with Barry Le Va, Jane Dickson, John Lee Anderson, Lydia Davis, Judy Davis, Peter Greenaway, Roger Guenveur Smith, David Del Tredici, Alfred Uhry, and David Armstrong.