Results, Concrete: Carly Mandel Interviewed by Kerry Doran
Making chronic illness visible.

Discover MFA Programs in Art and Writing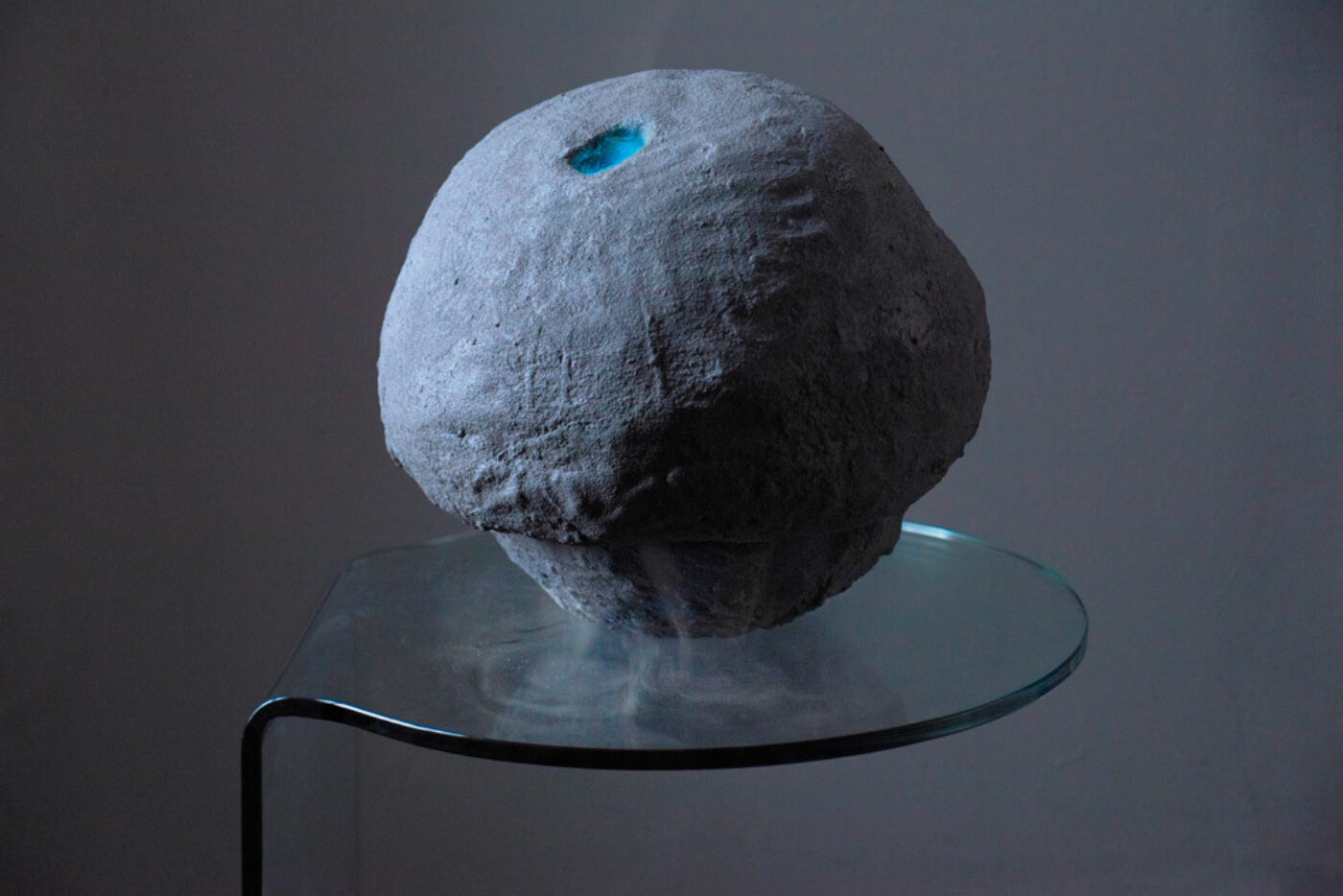 Carly Mandel's recent works give chronic illness and disability visible forms. Those afflicted by autoimmune disease, mental illness, and a host of other "invisible" ailments often present as able-bodied. This negotiation of appearances with lived reality is at the core of her work, taking shape in concrete prototypes of medical-assistive devices or irregular glass vessels.
We were introduced in January 2017 and since then have shared many conversations, in the studio and over text, email, and Gchat. The backdrop has and continues to be the eroding healthcare system in the United States; its narrative asserts that one must be able-bodied to be of value, that is, to create value. Meanwhile, "self-care" burgeons as a pay-to-play wellness industry, its moniker clearly stating what healthcare under President Trump's strange breed of populist-neoliberalism promises.
Mandel's recovery from multiple chronic illnesses and the personal narratives tied to these experiences were previously off limits in her practice. Introducing this aspect of her identity into the work resulted in a grant for Emerging Artists with Disabilities from the Kennedy Center Office of VSA and Accessibility in 2017. She has since produced a new body of work, some of which comprises her solo show, Osseous, currently on view at 77 Mulberry.
—Kerry Doran
Kerry Doran Was there a moment when you decided to bring your chronic illnesses into your artistic practice?
Carly Mandel When you're first diagnosed with a chronic illness as an adult, there is no rulebook. After I was first diagnosed in 2014, I fought the reality of my circumstances. Hiding something already so invisible became even more disabling. Not honoring my limitations pushed me to a bad place mentally and physically; my disability started to consume me. It wasn't possible to make work about anything else and have it be genuine. I'm looking to honor my reality and experiences, and my lifelong path in pursuit of recovery.
Disabled bodies mostly operate outside of public view. Vulnerable communities are excluded from history because of the near impossibility of success in a society that deems able-bodiedness and economic prosperity as most meaningful. Being disabled is a product of a non-accommodating world. If we had more awareness and understanding for different bodies and their limitations, we would see people less debilitated by illness and its trauma. It's for these reasons, too, that I began addressing my experiences in the work.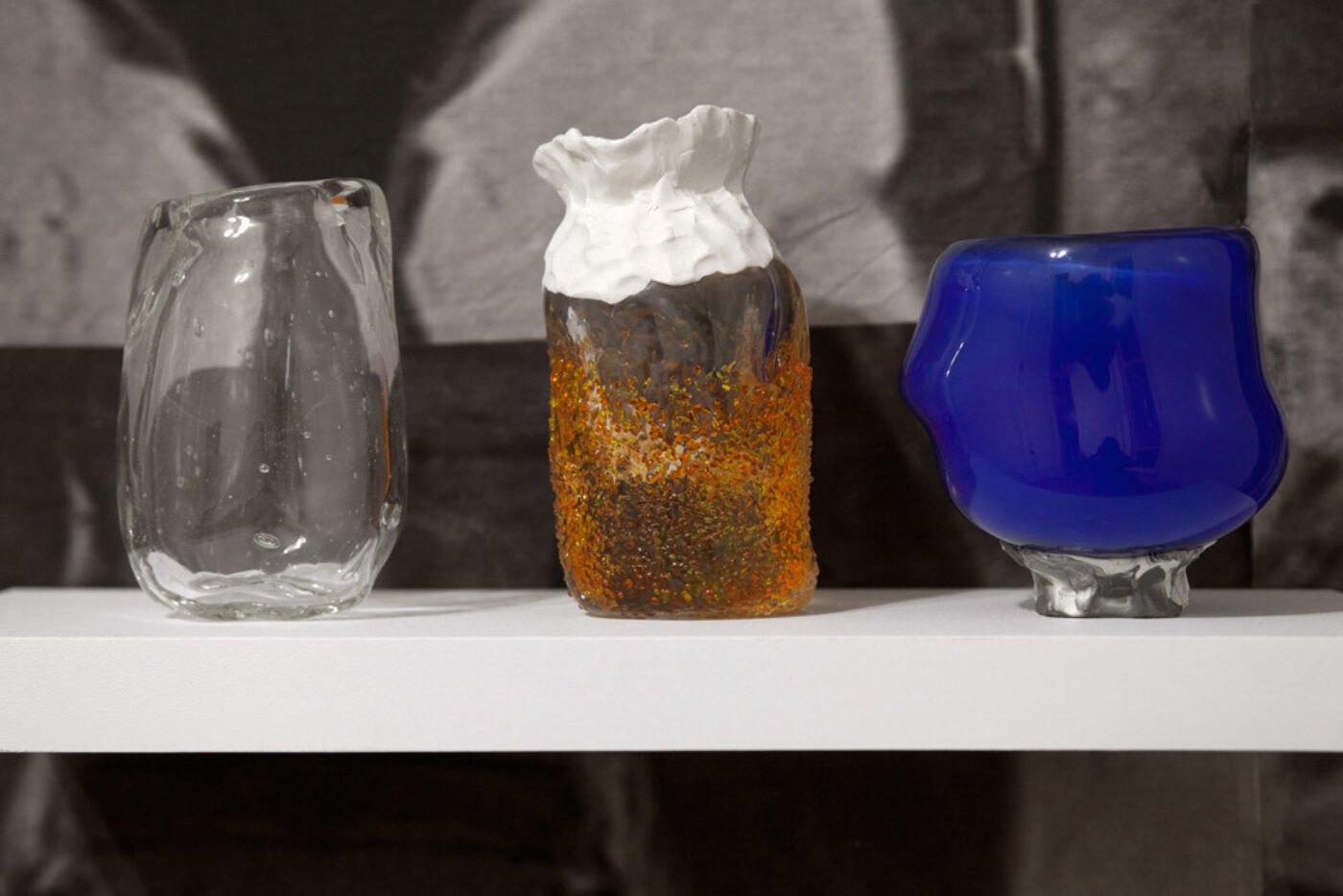 KD Which we find in Osseous, your current solo show. The title describes a thing made of bone or the process of becoming bone. Could you talk about how ossification relates to the works in the exhibition?
CM I think of "osseous" more in its relationship to fragility. My work addresses the vulnerability and trauma of bodies, which finds itself in the tension between soft and hard forms and materials. The glass works L2/L3/L4 (all works 2017) are soft and smooth while the concrete piece, Honeywell, represents the presence of assistive devices in my life. However, both materials embody fragility despite the opacity, weight, and textural differences.
The exhibition follows a recent diagnosis of a second autoimmune disease, in which inflammation causes joints to ossify. The wallpaper, C4/C5, comprises distorted images from an MRI scan. Coming into this body of work, I thought about how strange it is that my body could do this to itself, to me, without my control or knowledge.
I kept returning to "Sick Woman Theory" by Johanna Hedva, published in early 2016. Her thesis is: "'Sick Woman Theory' is for those who are faced with their vulnerability and unbearable fragility, every day, and so have to fight for their experience to be not only honored, but first made visible." This led me to the understanding that being disabled is traumatizing. Losing control of your body comes with so much shame because our culture sees bodies within disabling circumstances as less than.
KD The weightiness of the concrete humidifier feels like it reinforces that point.
CM I augment medical-assistive devices to reconsider objects that hold shame or trauma for the disabled. In other works from this year, I used sharps containers to more directly reference disabled-assistive devices. While a humidifier may not be exclusive to the disabled, it does embody a wellness device that allows for physical recovery. This bridges a gap between self-care out of necessity versus desire, bringing forth the question of neutrality in regard to assistive devices.
KD The sharps you mentioned are your own. Your blood fills hypodermic needles and an accompanying disposal bin, part of which you encase (and seal) with textured, painted concrete. You seem to be bridging another gap between the inherent humanity of these objects and their mass production. The humidifier work does this, too.
CM I enjoy the play between sterile, mass-produced objects and objects or techniques that reference the hand. For example, there's something very peculiar to me about the table on which the humidifier sits. Its material—glass—references a traditional craft, yet the hand is completely absent from the object. I find this to be true of medical spaces, too. They are made to be clean and functional, not comforting, and as a result humanity is absent. Blue lights, inhospitable furniture, mysterious devices with unknown functions––these spaces are dreamlike to me. Bodies, disabled or not, are imperfect. Seeing them in these pristine, clinical spaces doesn't add up. This is where the humor of my work comes into play, with the juxtaposition between cold, medical objects and lumpy sculptural forms.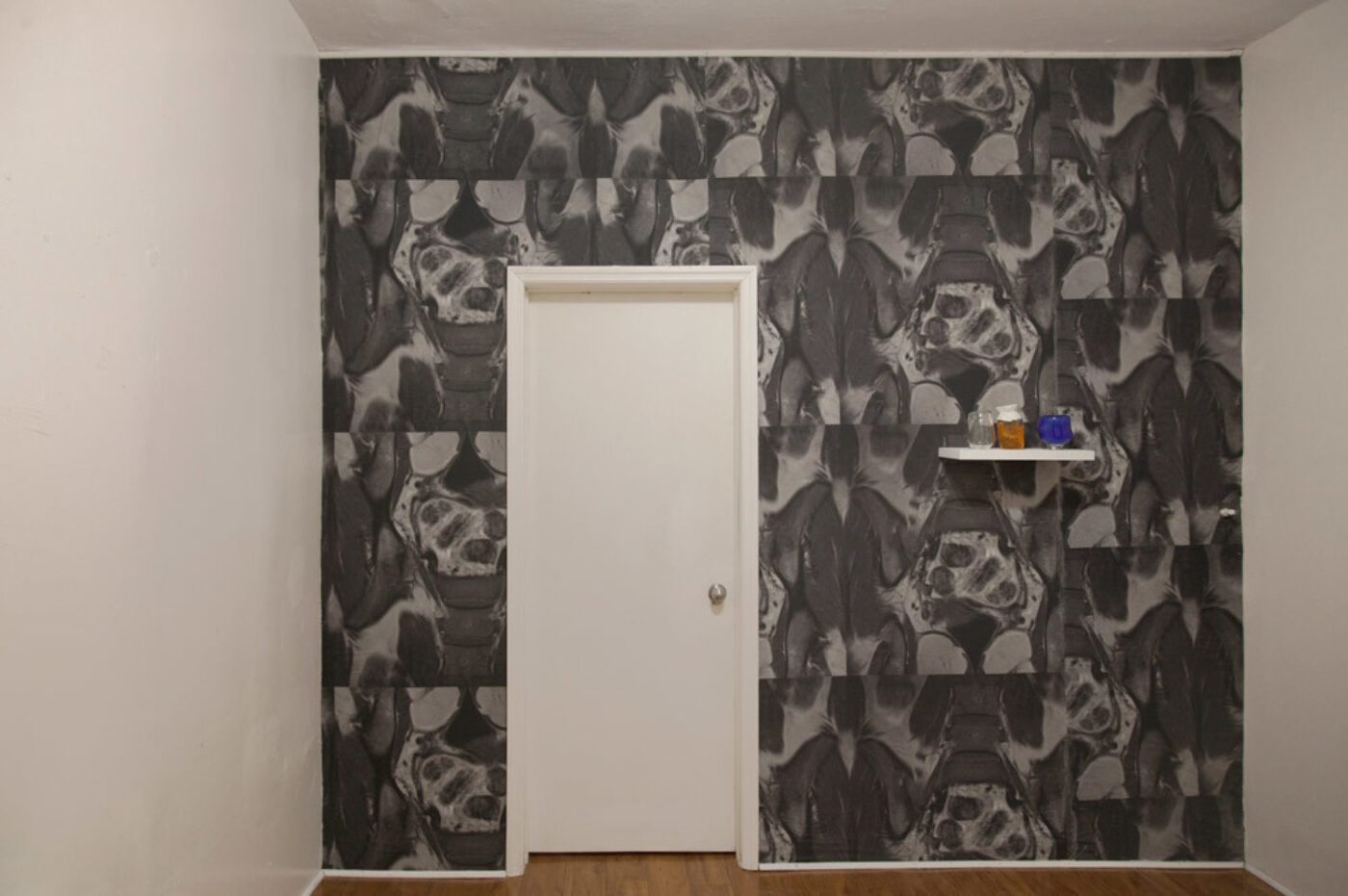 KD The materials you use require a lot of physical effort to handle and produce. There is a parallel between the limitations of your body and the labor required of your practice, essentially, the work you need to make as an artist.
CM Sculpture has always been my method of working. However, it's inherently ableist, in terms of its rigid craft methodologies and the physical intensity of its processes, for which there is little to no room for modification. Incorporating the physical––a trope for my own physical recovery––became an interest of mine when I no longer had the strength to navigate the studio in the same way. I'm having this parallel experience of doing physical therapy, which is like having a personal trainer who is aware of your limitations, to working in the glassblowing studio, where there is no room for physical inability. You do things the way a person is "supposed" to do them, the way people have been blowing glass for hundreds of years.
My older brother and I have the same autoimmune diseases, though we are debilitated in different ways. He was diagnosed first, so everything I went through in the past three years, I first experienced as a family member––I had seen it from the outside. This made it that much harder for me to accept my situation, because I felt, for a time, like disability could be a mindset. Like I could conquer with sheer will despite the fragility of my body. I realize this is a common misunderstanding that fuels ableism. This is why I'm focused on reconsiderations of narratives of illness and disability: There is a misconception about "getting well" that prevents room for outsiders to understand those who will always struggle with lifelong illnesses. I redress this by working in such a physical manner. I continue to make the work I need to make with my conditions, not in spite of them.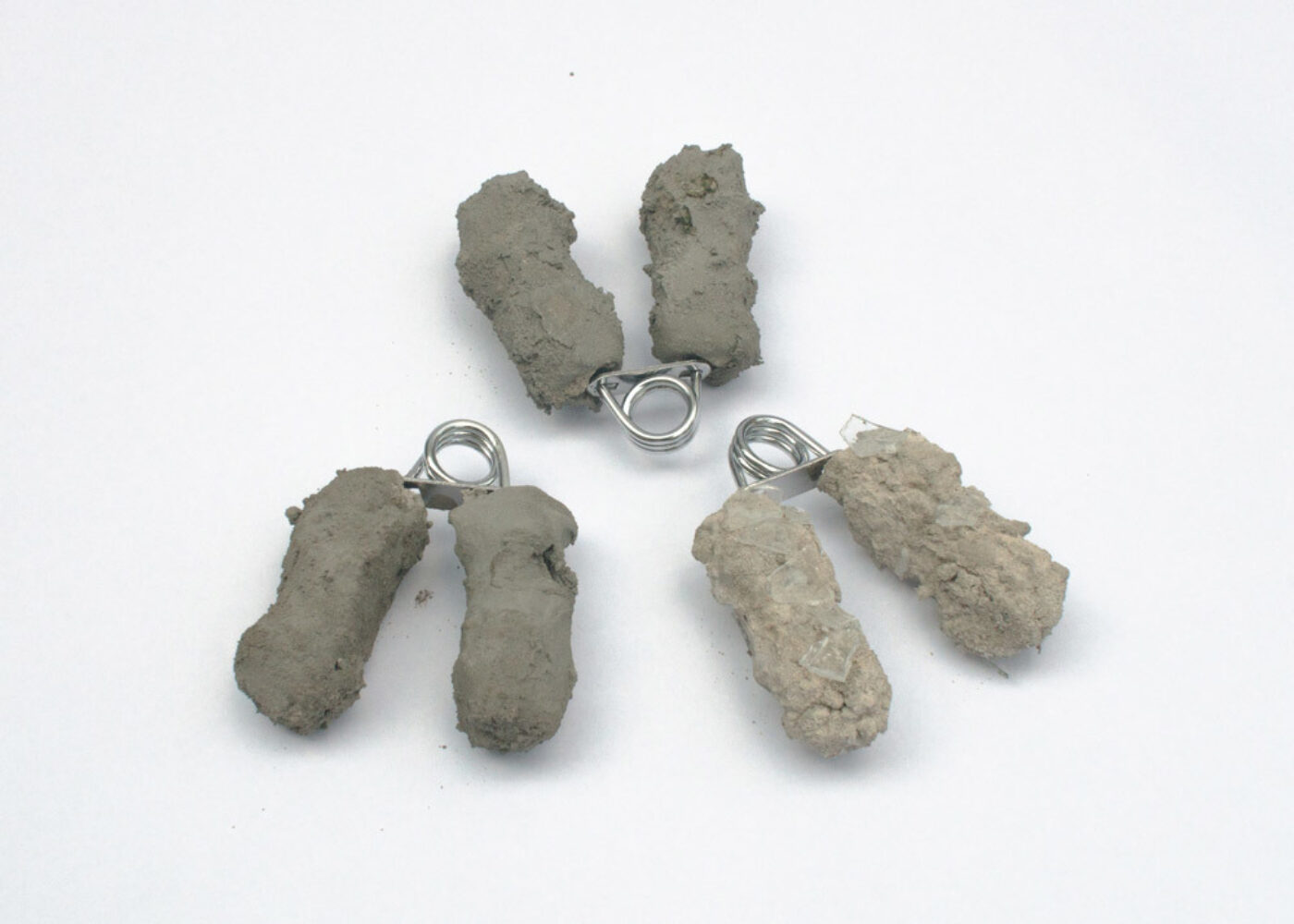 KD When we had our initial studio visit in July 2017, I was reading Kill All Normies: Online Culture Wars from 4Chan and Tumblr to Trump and the Alt-Right by Angela Nagle. She identifies microcosms of identity politics on Tumblr, i.e., members of Generation Snowflake, as part of the ecosystem that gave rise to alt-right sensibilities. You have found solace online, though, in support groups for women with chronic illnesses like We Are Canaries, and are not aiming to assert special privilege because of your condition. How would you respond to being called a "special snowflake?"
CM There are huge privileges I experience: I live in New York City, benefit from white privilege, and have this platform to speak about my practice and experience. It's important to take this opportunity to highlight that there are so many others who cannot create or speak to an audience beyond their immediate community. Their barriers are often insurmountable and deserve attention, and especially need distance from a heroic, "beating the odds" narrative. Existing in spite of, or thriving with medical intervention, doesn't need a trophy or pity; it requires respect and empathy.
The definition of "special snowflake" comes from a politically motivated group, whose agenda is based on "traditional American values." These very values exclude anyone who is not a white, middle-class man. Advocating for healthcare, access to success for all, the ability to function in public are not circumstances of being a special snowflake; it's the pursuit of human rights that have been denied to female-identifying, queer, non-white, and disabled people. I'm concerned with community, narratives of disability, and traumatized bodies in the current socio-political environment, rather than trying to assert the irregularity of self. Addressing this in my work doesn't align me with a liberal political agenda; it aligns me with an underrepresented community in art and sculpture.
Carly Mandel's Osseous is on view at 77 Mulberry until February 3. 
Writer and curator Kerry Doran is the director of Postmasters Gallery in New York, and a regular contributor to exhibition catalogues, artist books, and independent publications. Her curatorial projects have been featured in Artforum, ARTnews, Modern Painters, The New York Times, Rhizome, and The Village Voice, among others. She holds an MA from the Courtauld Institute of Art.