Restless Surfaces: José Parlá's Amistad América by Osman Can Yerebakan
A mural's ode to labor and migration.

Discover MFA Programs in Art and Writing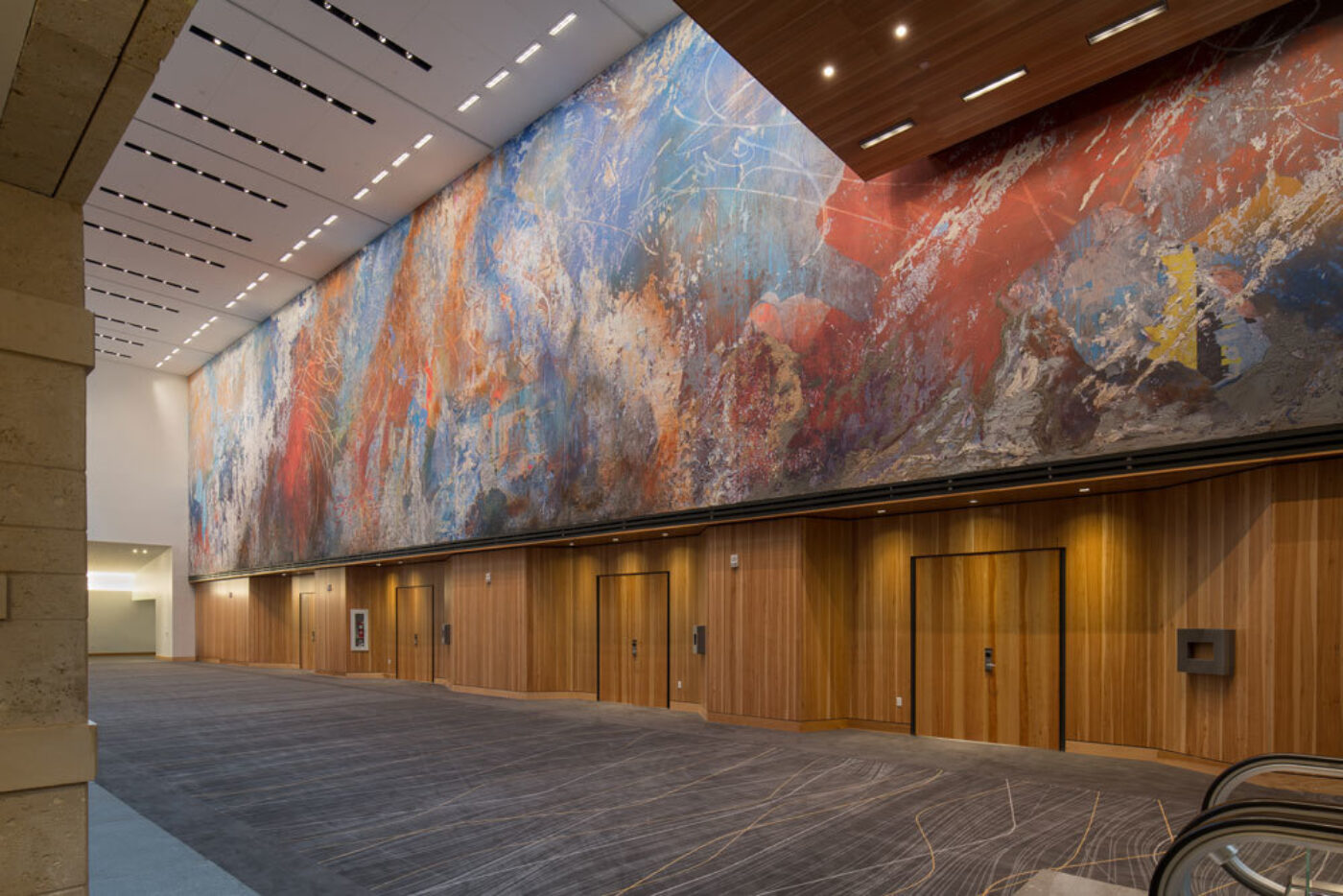 Reaching José Parlá's mammoth mural Amistad América (2018) through an array of corporate rooms at the University of Texas at Austin is a riveting transition into a territory freed from time and place within an environment decidedly conscious of its constraints. Encompassing a 25-foot high and 160-foot wide wall of Robert B. Rowling Hall at the university's business school, Parlá's mural is an ode to solidarity, labor, and remembrance. Curator Andrée Bober, who overseas UT Austin's Landmarks public art program spread across the 433-acre campus, described to me the project's immense undertaking. Completed in eight weeks with a small team including Parlá's brother Rey, who is also an artist, this dreamscape transforms the concrete wall's raw surface into a canvas with dense layers and bulges of paint populating certain areas. The panorama is colossal, declarative, and anarchistic. Art this big can only thrill its viewers, demanding their submission to its scale and impact. Its soaring left portion evokes the inside of European Gothic churches. Watching its fuming colors and bursting textures from below is like being sheltered by a sky at dawn when oranges and reds begin to appear.
Bober, who spearheads a collection of more than forty sculptures, including works by Ann Hamilton, Nancy Rubins, and Michael Ray Charles, is particularly ardent about exhibiting a work of such enormous scale and statement. Amistad América is a 4,000-square-foot permanent mural about labor that a Latinx artist erected inside a business school at the corner of Guadalupe Street and Martin Luther King Jr. Boulevard in Texas. "Parlá's painting reminds us to acknowledge the past and makes a moral appeal to respect and honor minority cultures. But it's bigger than that," she explains. "Amistad América is situated in a place that is fundamentally concerned with understanding commerce, a realm that affects our environment, our culture, our ways of being with seismic impact." In fact, attentive eyes can catch the words "Austin," "King," and "Guadalupe" written in calligraphic script amid thick layers of earthy tones coalescing with pools of blue and reminiscent of a bird's-eye view of uncharted territories. The mural offers different optic pleasures from close up and afar. At a distance, viewers can enjoy the winding lines Parlá added à la Cy Twombly at an enormous scale. A small portion of the mural by the staircase allows closer inspection, revealing solid layers of paint that coat the rough surface not unlike fabric robing an aging skin.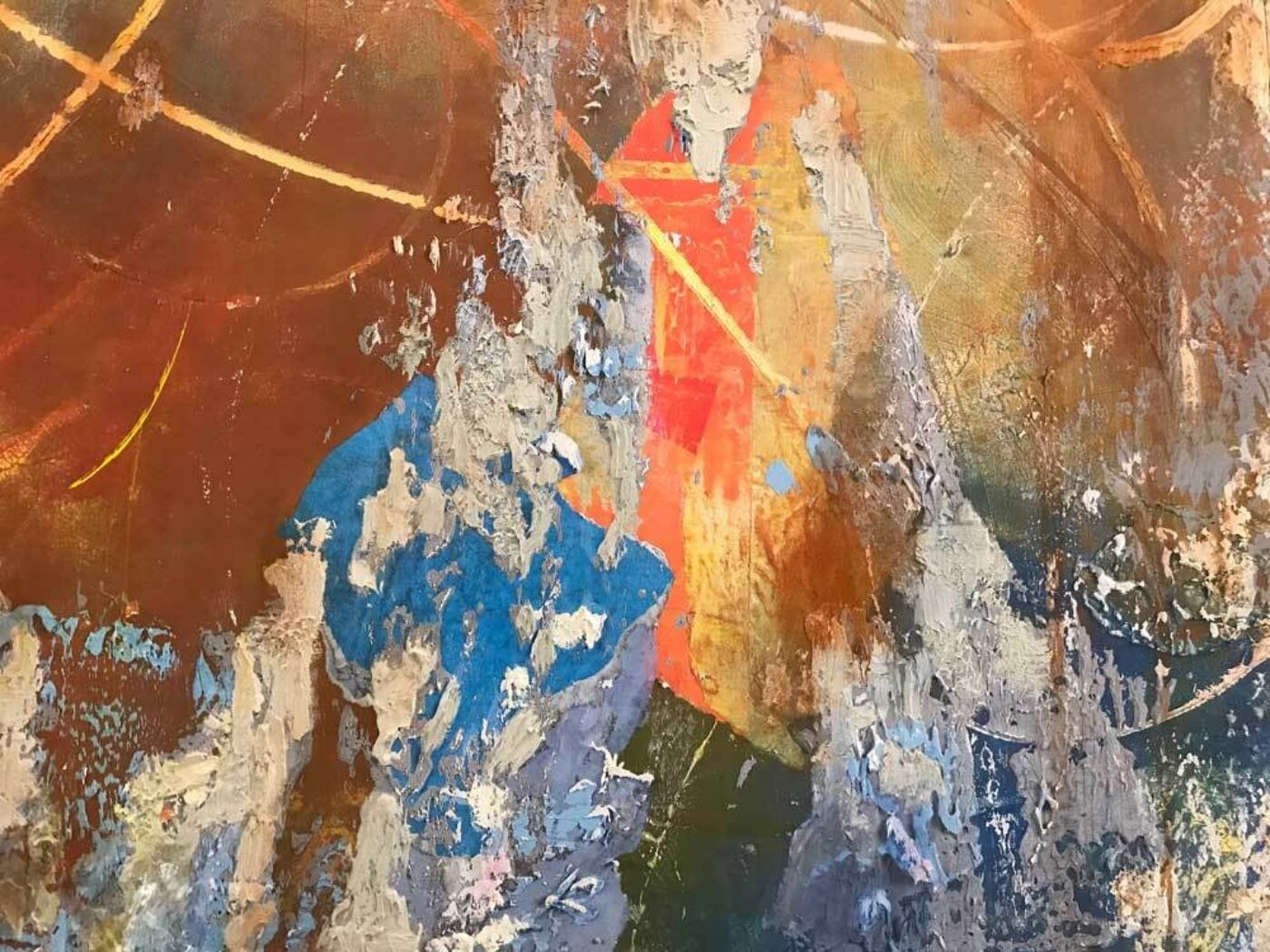 Amistad América is as topographical as it is surreal, an investigation of the legacy of barriers by an artist who has consistently asked questions about the connotations of walls throughout his career, first as a street artist and later as a painter. In a way, Parlá's mural rewinds street art, utilizing a brand new wall and adding time and weariness to it. The accents Parlá adds to the surface have ample references, from migration, to ecological decline, to political unrest. Impossibly long and unfettered lines resonate with mobility and transience; the fieriness of red and the infinity of blue assert the urgency of activism in the face of a deteriorating earth.
After a late-night walk around Austin's infamous Dirty Sixth district where bar hoppers and vagabond misfits blend, I revisited the mural to look at it under artificial light. Fluctuating thick textures revealed striking similarities to a scorched earth or some kind of otherworldly planet keeping human inhabitation at a distance with its blasted surface. My nocturnal visit, however, was interrupted by administration and labor: workers cleaning the convention hall after a conference reminded me that the area is inaccessible after 9 p.m.
José Parlá: Amistad América is permanently on view at the Robert B. Rowling Hall at the McCombs School of Business. Landmarks is spread across the main campus at The University of Texas at Austin.
Osman Can Yerebakan is a New York-based art writer and curator. His writing has appeared in New York Times: T Magazine, Village Voice, Brooklyn Rail, GARAGE (Vice), Galerie Magazine, Elephant Magazine, Cultured, ArtSlant, ArtAsiaPacific, Art New England, Art Observed, and elsewhere.