Resisting Exploitation: Sky Hopinka Interviewed by Osman Can Yerebakan
Films that combine documentary and poetics.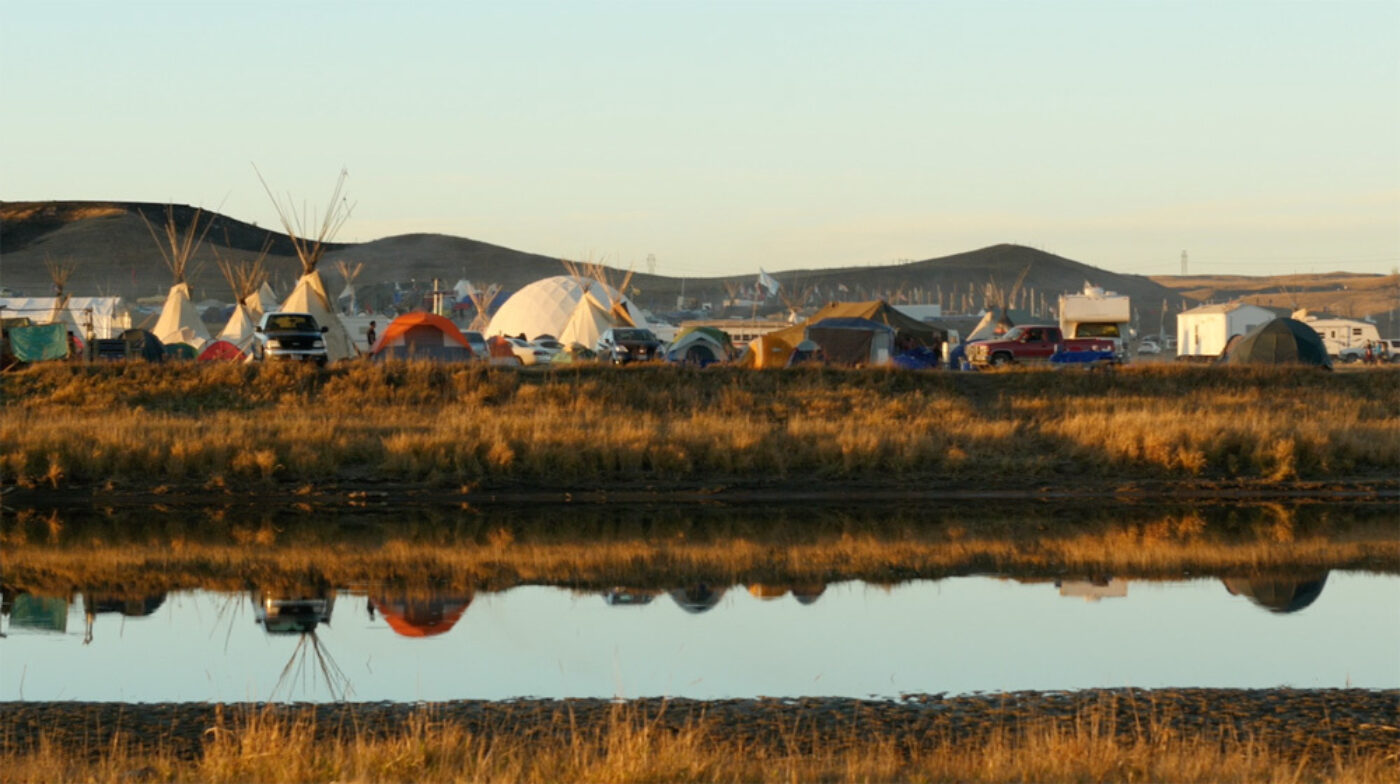 In his dream-like sequences of winding roads, cloudy mountains, and gleaming lakes, Sky Hopinka depicts his version of the American Dream. One of the most prolific Native American voices in experimental cinema, the Milwaukee-based artist filters urgent issues of displacement and belonging through his hallucinatory lens, elaborately blending nocturnal shots of Americana with introspection and activism. A selection of his recent films is currently on view at Cleveland's Transformation Station, one of the venues hosting the FRONT International, which in its first iteration spans across Cleveland, Oberlin, and Akron. Hopinka and I perched on a bench in front of the art hub located in the city's rapidly gentrifying Ohio City district to talk about visual narrative and the implications of showing his films in the Midwest.
—Osman Can Yerebakan
Osman Can Yerebakan Your films use text not only as a way to communicate with the audience, but also as an aesthetic tool with their alternative fonts and typefaces. How much are you concerned with the visual component of your texts in addition to their message?
Sky Hopinka The lineage of oral Indigenous history has been lost through schooling systems, Indian wars, and reservations. Thinking about how text is a source of information to understand different parts of our lives is surreal. Speaking of the program in FRONT with films such as Kunįkaga Remembers Red Banks, Kunįkaga Remembers the Welcome Song (2014), text appears in scrolling format, for which I was inspired by a placard I found at a museum in Green Bay, WI, in an exhibition about Jean Nicolet. Also influential was James Benning's documentary American Dreams: Lost and Found (1984) as a way of engaging with and understanding a comprehensive mode of communication beyond the typical subtitle. I use text in repetition with consistency; it relentlessly occupies the screen. These histories are sources of information defining who Indigenous people are, but the question is: How do we claim ownership over this information? I try to be very intentional with the font and typeface.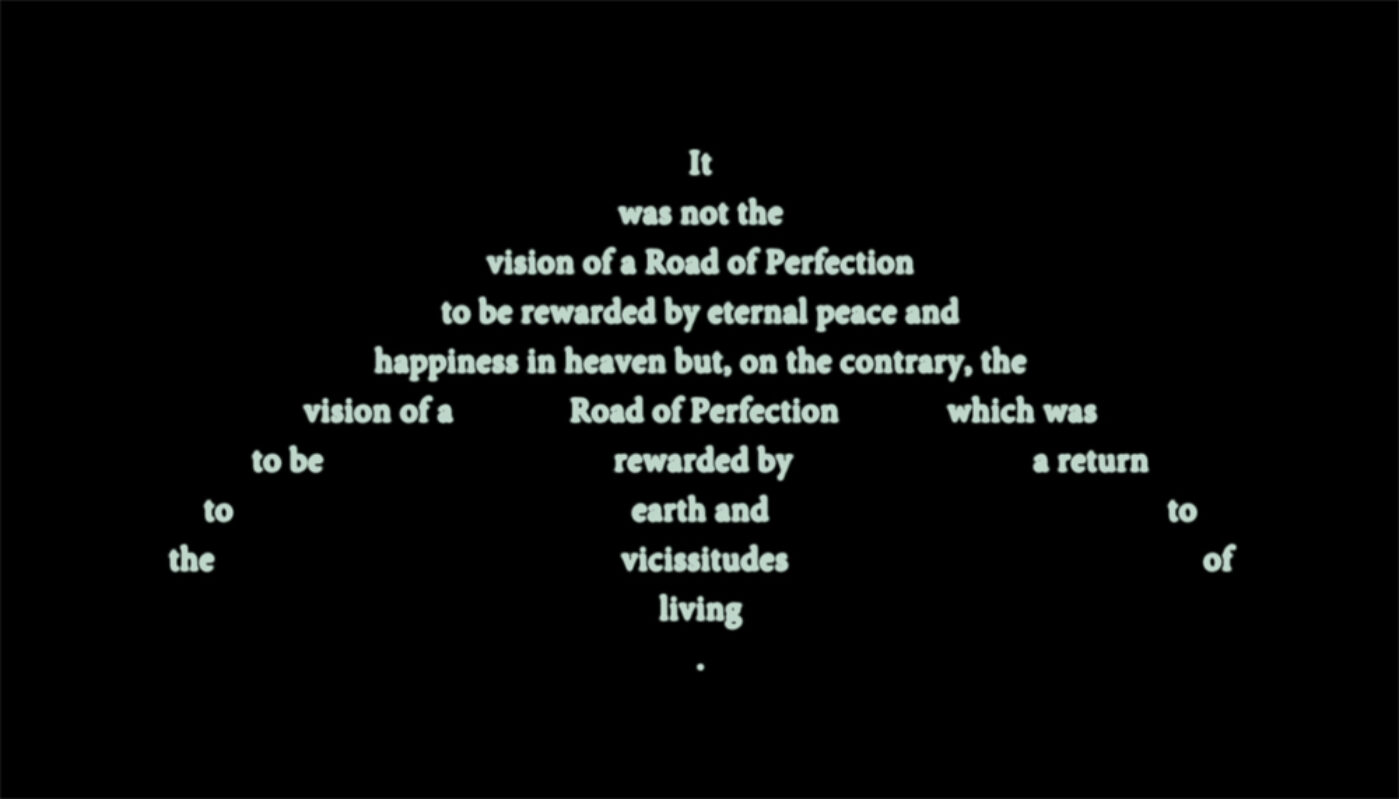 OCY There are also alternative spellings of words in Jáaji Approximately (2015).
SH That's the International Phonetics Alphabet (IPA), which is a tool used by linguists to document and map out languages. They're also used by tribes and linguists to create a writing system for languages that don't have one. My familiarity with IPA began with my language revitalization work, while getting to know alternative writing systems. In the video, I am using this language as a way to connect with my father. The text in Fainting Spells (2018) is handwriting my friend created as a nod to Benning's American Dreams, which has scrolling text. The text is placed in the center of the screen in both films, becoming an image itself more than just carrying a message. I have a video, not shown here, titled I'll Remember You as You Were, Not as What You'll Become (2016), in which I use poem-like calligrams in the shape of objects. I utilize Paul Radin's anthropological text from the 1900s about my tribe and put that in the shape of Effigy Mounds, which are giant earthen mound structures my ancestors built in Wisconsin. Anthropologists and archeologists argue over the idea of who built them: either a pre-historic tribe or a present-day tribe. The question of who has ownership over this land is a political issue—they claim my tribe is too primitive to have built them, which is racist in different ways. The idea is to use text to form another image in regards to what the Effigy Mounds are and what they represent.
OCY You're also interested in layering images to create a hallucinatory impact. I know you have referred to poetics in previous interviews and talked about creating poetic images. How do two seemingly opposite ideas of being documentarian and poetic work together?
SH There is an idea I found in an Eliot Weinberger essay, in which he uses the term "ethno-poetics," as opposed to ethnographic, for things that cannot be pinned down or explained through traditional forms of documentation. I think about how I can express those parts of my relationship to my identity and culture without being overly didactic. All those layers are still there—not to confuse the audience but to add more information. More information means more complication, I believe; but I'm interested in the idea of complication without confusion, and how relationships between different elements can generate emotion.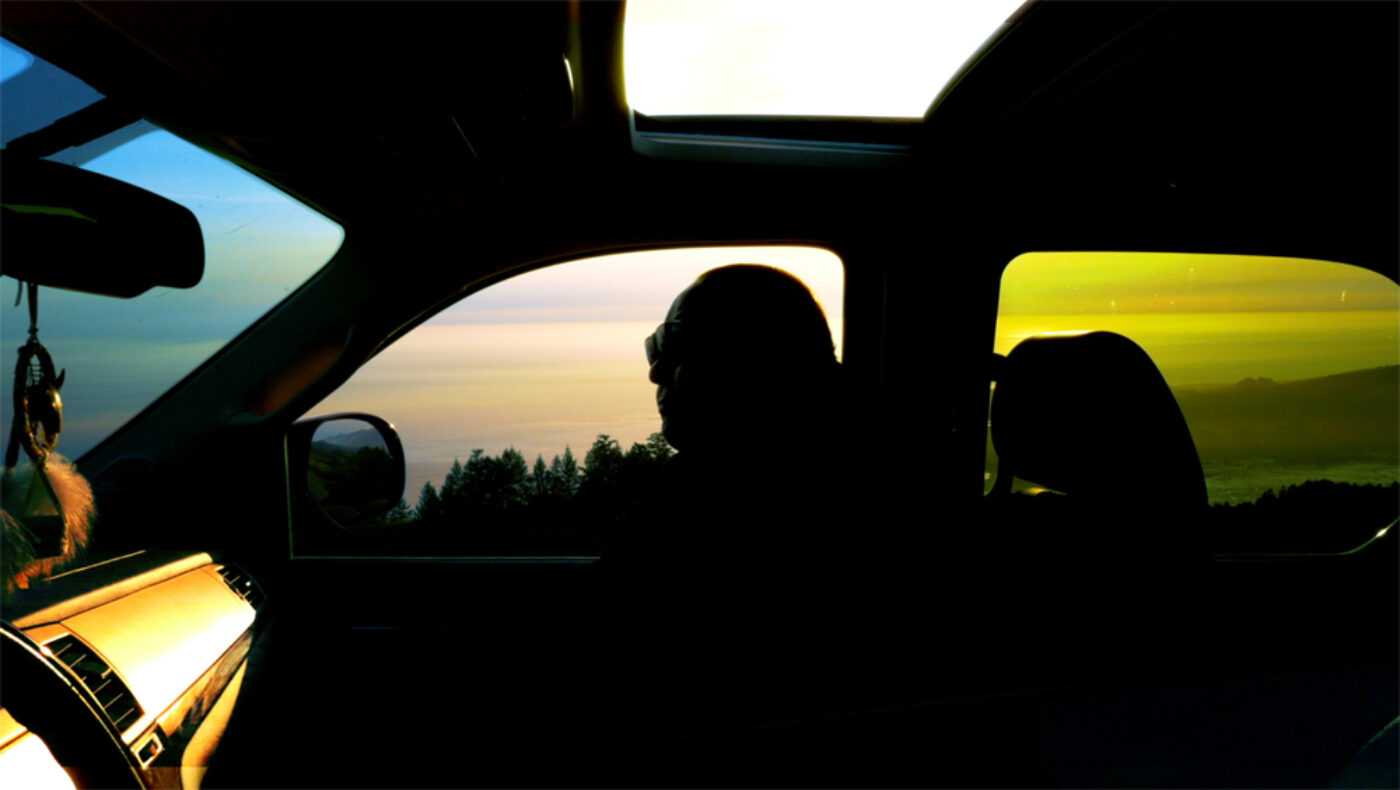 OCY Most of the films you're showing in FRONT were made before the triennial. How do you feel showing them in a different context alongside more than hundred artists?
SH I like showing my work outside of spaces they were intended for. I am showing at an art space with a theater here in Cleveland. Seeing other artists I admire and respect showing with me is great, and I am curious to see how my work falls into conversation with their ideas about American identity.
OCY At her opening speech, FRONT's Creative Director Michelle Grabner said, "Cities are American," not to mention that the triennial is titled An American City. Did you look into the history of Cleveland as part of your research before selecting the films you're showing? The city has a complicated history, starting as a wealthy urban project and more recently becoming a partial ghost of those days.
SH The title of my film program is American Traditional Warrior Songs, which signals a certain approach to ideas of identity and Americana. As much as I am confounded by the idea of being American in addition to being Ho-Chunk and Pechanga, I am still part of this landscape. I talked to a lot of people about whether Cleveland is in the Midwest or on the East Coast. I've lived in the Midwest for the last twelve years, and moving there in the beginning was a strange experience—my tribe is from Wisconsin, so it was also a homecoming for me. Thinking about the term Rust Belt and ideas of class and wealth, I begin to look into where this city fits into that landscape and my work fits into the city.
OCY There was a game last night between the New York Yankees and the Cleveland Indians. Seeing the title and the mascot last night on the streets, I thought about our meeting for this morning.
SH People are trying to change the logo. The name of the chief in the logo is Chief Wahoo. Another logo people have been trying to change is for the Washington Redskins, which is a racist expression embedded in vernacular, everyday English. The argument is always about these names actually honoring Native people, but, no, they don't.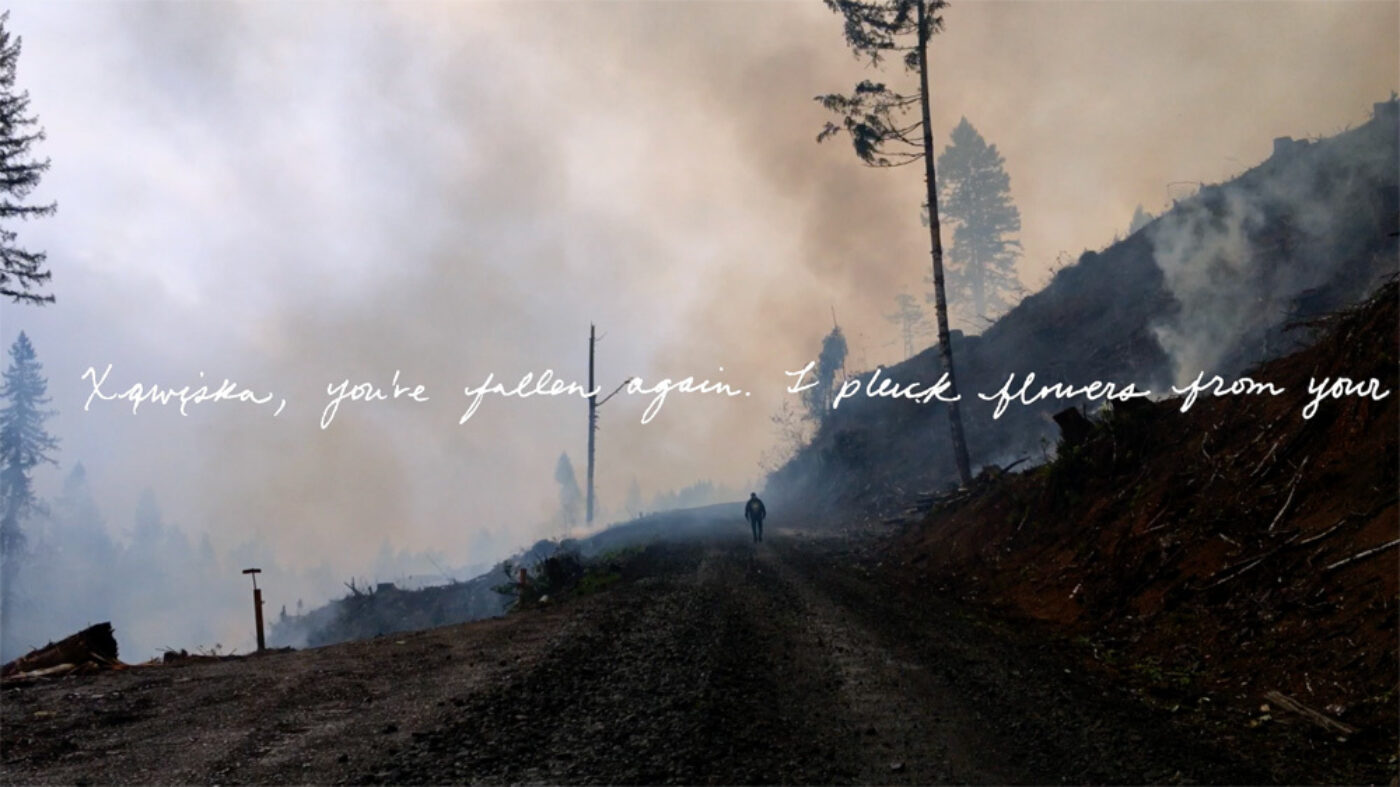 OCY There is a sense of demureness in your narratives. Characters are contained and reserved about their emotions and stories.
SH It goes back to the resistance to explaining everything, including trauma and tragedy. Cinema has traditionally been based on explaining as much as possible. I am urged to offer propositions for what Native cinema can be outside of exploitative modes of storytelling for a general audience that has no access to or interest in Native stories. This approach generates ways to show the audience how I occupy the space without having to explain everything, and hopefully they can see that there is something to feel and understand beyond the visible. That, for me, is more generative than talking about every single part of the narrative.
OCY Can you describe working with family members in your films? Is this a meditative way of building familial bonds but also looking into yourself?
SH I believe I will continue working with my family. In general, I like working with a group of people I know. I am concerned with how people are represented, and the last thing I'd want is to have my work exploit my friends or family. By making sure they participate in the projects, I can see their reactions to my work. Working with people I know is as difficult as it is convenient in terms of breaking out of set patterns of my relationships with people in professional settings. Moving outside our normal relationships oftentimes leads to new topics about our bonds. For example, going through recordings with my dad was a way to have deeper conversations about other causal topics—the recorder became a bridge between us.
Sky Hopinka's work can be seen in An American City: FRONT International: Cleveland Triennial for Contemporary Art at various locations across Cleveland, Akron, and Oberlin, Ohio, until September 30. His films will be screening at Transformer Station in Cleveland on September 29 at 3 p.m.
Osman Can Yerebakan is a New York-based art writer and curator. His writing has appeared in New York Times: T Magazine, Village Voice, Brooklyn Rail, GARAGE, Galerie Magazine, Elephant Magazine, Cultured, ArtSlant, ArtAsiaPacific, Art New England, Art Observed, and elsewhere.