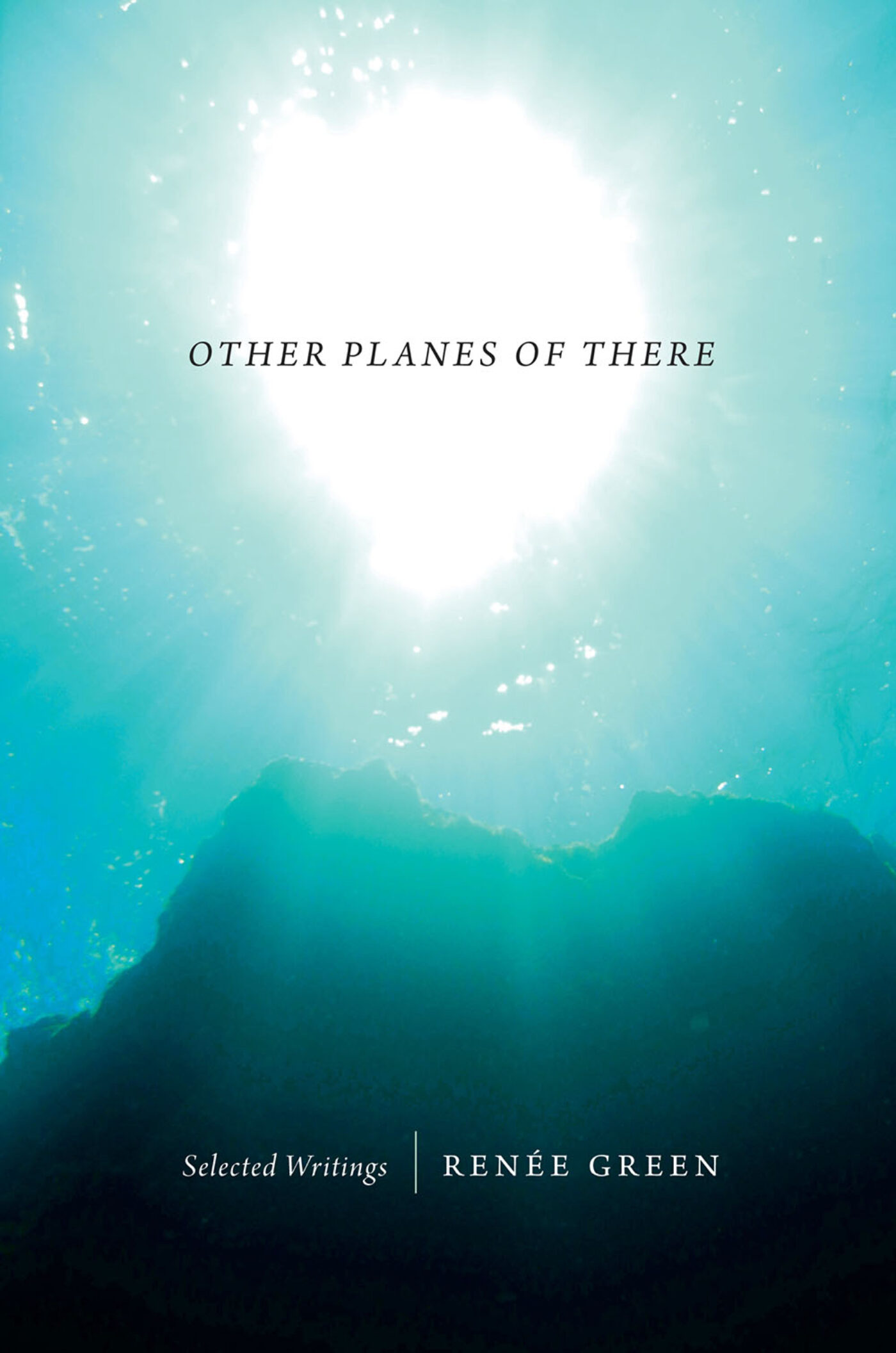 Duke University Press, 2014
Renée Green's collection, Other Planes of There, which spans over twenty years of the artist's career, holds an alluring sense of return for me, offering a kind of fossil record of an evolving debate among progressive artists and cultural critics. It becomes clear that this discourse—which concerns the role of art in cultural politics, the reemergence of submerged cultural histories, a movement beyond institutional critique, the curation of "globalism," and the correlation of ethnographic and aesthetic practices—haunts the archive of contemporary art.
What also becomes clear is that Green's work presents a kind of counter-archive within this discourse. It does so through the range of practices that it bears witness to, as well as by the ways that she tends to contextualize and document in the present (not unlike the auto-ethnographer, whom she makes frequent reference to) and invites collaboration and dialogue with her contemporaries. Anticipating the artist's expanded function—the various "turns" of the 2000s—Green wears many hats, acting at once as a curator, archivist, events organizer, and independent distributor (a role she calls "free media agent").
There is a curious time sense in this book, which has been organized so that we may regard the ways that research, criticism, documentation, and various aesthetic processes feedback with one another, cultivating modes of meta-discourse. Motivated by occasion and deposited mostly in European art catalogues and periodicals—raised and educated in the United States, Green has lived much of her life abroad—her written texts have a sense of emergency and accretion. In this way, I am reminded of Robert Smithson's and Adrian Piper's writing, much of which, in a similar manner, continuously recalibrates their sociopolitical, ethical, and epistemological positions in tandem with their aesthetic output.
Intermittently, Green evokes what she calls "negotiations in the contact zone," a phrase she borrows from scholar Mary Louise Pratt, which forms the axis of her 1991–94 symposium by the same name. Contact zones mark encounters through which the relationship of self and other, official and unofficial knowledge, margin and center, become productively ambivalent. Like Trinh T. Minh-ha and other contemporaries working in contact zones through their critical writings and visual works, Green labors tirelessly against common sense (for instance, her interrogations of the terms politically correct and site specificity) as well as against a categorical compulsion of the art historian (for instance, Hal Foster's chapter, "The Artist as Ethnographer," from his 1996 book, The Return of the Real, which she takes to task). The result is an important resource for those seeking to understand what has happened in progressive art discourse for the past twenty years. Other Planes of There also offers a model for how artists might situate their work through a critical, process-intensive writing practice.
Thom Donovan is the author of The Hole (Displaced Press, 2012) and Withdrawn (Compline Editions, forthcoming in the fall of 2015). He coedits ON Contemporary Practice, edits Wild Horses Of Fire, and is the coeditor of collections by Etel Adnan and Robert Kocik.
Originally published in
Featuring interviews with Rosa Barba, Soon-Mi Yoo, Agnieszka Kurant, Tatiana Bilbao, Alejandro Zambra, Tom McCarthy, Matana Roberts, and Barbara Kasten.