Never Tell Them Your True Name: Remembering Ursula K. Le Guin by Monica Uszerowicz
"Resistance and change often begin in art."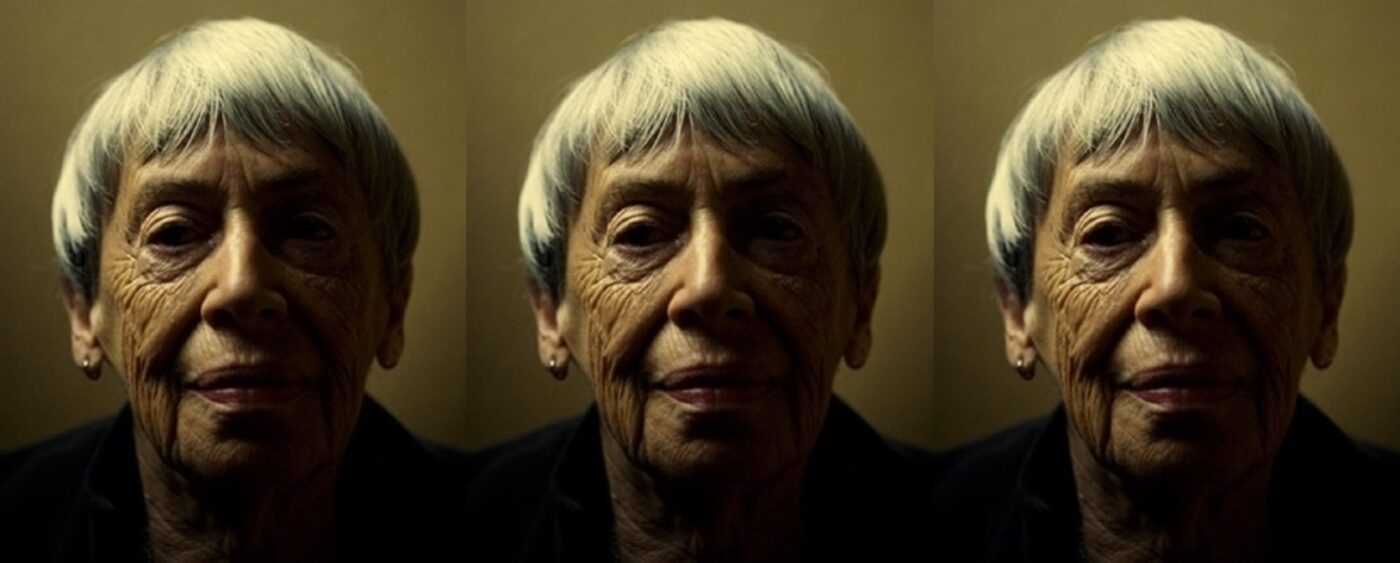 In A Wizard of Earthsea, Ursula K. Le Guin's 1968 novel and the first in the Earthsea cycle, Ged is our protagonist and the grandest sorcerer in his land. Toward the end of his bildungsroman journey to adulthood, he defeats the shadow creature he'd earlier unleashed upon the world—unwittingly, in a fit of petulance, then of desperation—by calling the creature its true name: Ged's own. In a Jungian moment of accepting and merging with his shadow self, Ged is saved.
True names and the mystical strength of language were early themes of Le Guin's, who died this week at eighty-eight. Le Guin, the incredibly popular science fiction and fantasy writer, was born Ursula Kroeber in Berkeley in 1929. She authored over twenty novels, seven collections of essays, and over a hundred short stories, often removing the clear divisions between villainy and goodness and between macho heroism and stark evil that had been standard in these categories. Instead she favored nuanced stories of understanding and sacrifice.
Before Earthsea there was the "The Rule of Names" and "The Word of Unbinding," two short stories published in Fantastic that set up the concepts for the Earthsea realm. At the beginning of "The Rule of Names," a schoolteacher reminds her class, "You never ask anybody his name. You never tell your own." The true name is sacred; its revelation is emblematic of deep trust. Words thwart and create equilibrium. Language is linked to power.
I came to Le Guin's work to experience a temporary escape from the loneliness of adolescence, its cruelest and most commonplace underpinning. I did not read purely for the love of reading, but because I needed to; words, like a lasso, wrangled my wandering imagination into single file, aligned it with a specific distraction that soothed my isolation like a balm. I didn't feel so hopeless as Ged's cosmic gaffes unfolded into parabolic lessons about universal balance and the self-acceptance to be found there. In a 2008 reading at the Washington Center for the Performing Arts, Le Guin described Ged's growth: "He's going to blunder his way into magic. He's going to have to learn it by doing it all wrong, which is mostly how we do learn things, right?"
I didn't recognize the subversive and tenderly radical qualities of Le Guin's oeuvre until later, when I revisited A Wizard of Earthsea in the midst of a depression and at the urging of a friend. When you're a child the real-life implications of Le Guin's imagination— the genderless Gethenians of The Left Hand of Darkness; the violent, earthly colonizers of the planet Athshe in The Word for World Is Forest— aren't immediately apparent. You do not know you're reading visions of kinder futures or warnings against Western-imperialist hubris. As a teenager I didn't know about her feminism, nor her blithe dismissal of the labels assigned to her chosen genres and the expectations of the publishing industry. I knew only of her empathy. It was growing up—an act I could undertake, perhaps, because of Le Guin—that led to my realization these qualities were inextricable from each other.
That was in 2014, the same year she won the Medal for Distinguished Contribution to American Letters at the National Book Awards. Her acceptance speech was as lambent and magical as one of her stories, and it elucidated the ability of fantasy and fiction writers, of poets and visionaries to "imagine some real grounds for hope"—to decimate and heal the ills of capitalism by way of dreamed-up alternatives:
I think hard times are coming when we will be wanting the voices of writers who can see alternatives to how we live now and can see through our fear-stricken society and its obsessive technologies to other ways of being, and even imagine some real grounds for hope… We live in capitalism. Its power seems inescapable. (Pause.) So did the divine right of kings. Any human power can be resisted and changed by human beings. Resistance and change often begin in art, and very often in our art, the art of words.
Amanda Craig of The Guardian wrote that A Wizard of Earthsea, a story in which the protagonist is so unlike other heroes—dark-skinned, emotionally complex—is "the most thrilling, wise, and beautiful children's novel ever." This is true, but I think what can be gleaned from Le Guin's work is just as useful for adults, especially those of us seeking, however quietly, to dismantle the institutions that have damned us to suffering, to improbable solutions devoid of imagination and color, to the calamitous idea that power belongs to the very few and very fortunate.
"It is no secret," Ged says, shortly before facing the shadow. "All power is one in source and end… My name, and yours, and the true name of the sun, or a spring of water, or an unborn child, all are syllables of the great word that is very slowly spoken by the shining of the stars. There is no other power."
Monica Uszerowicz is a writer and photographer in Miami, FL. She's contributed work to Hyperallergic, Vice, The Miami Rail, and Avidly, a channel of the Los Angeles Review of Books.