Reimagining the Materials of Painting: Eric N. Mack Interviewed by Olivia Gauthier
Balance and harmonies through difference.

Discover MFA Programs in Art and Writing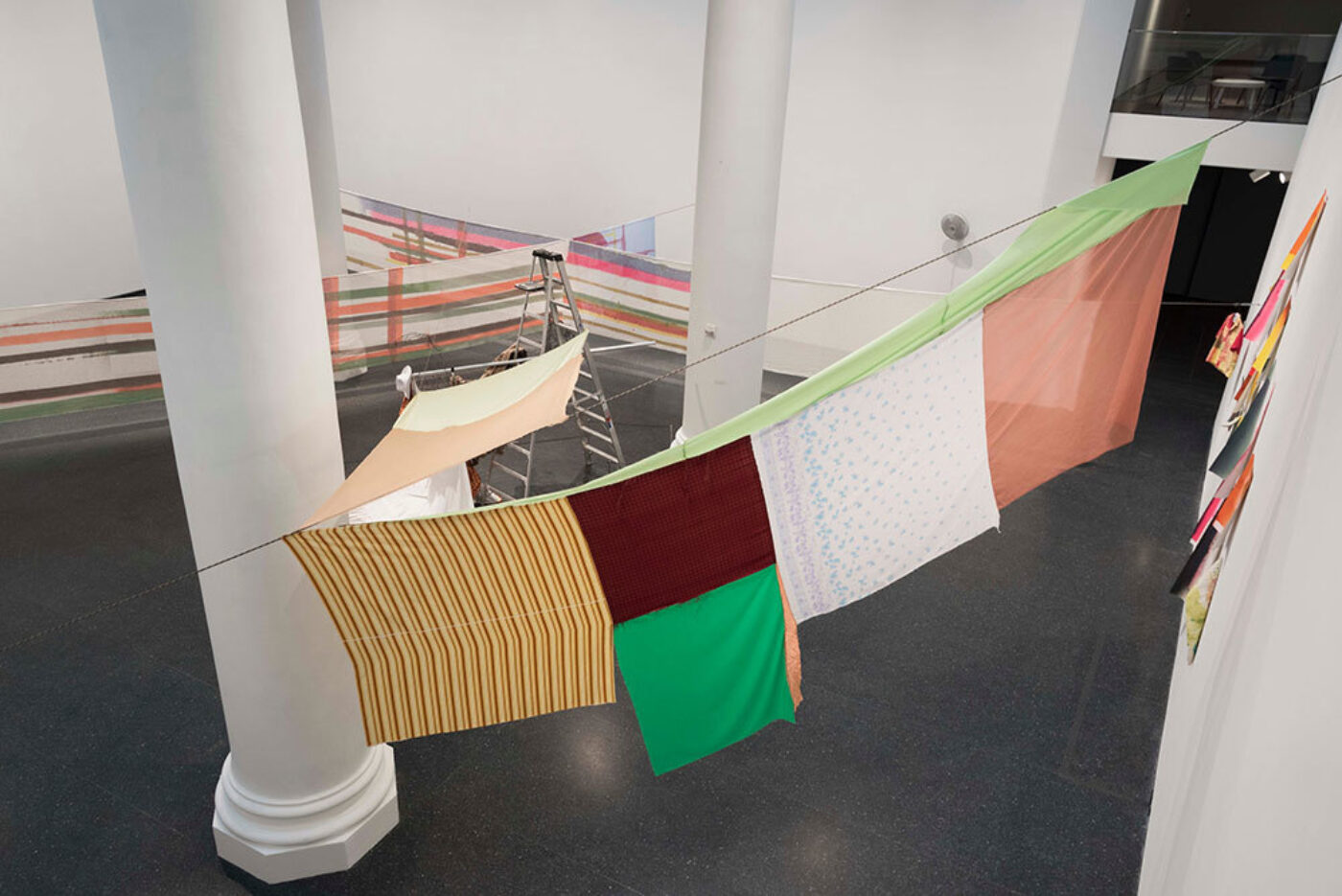 Eric N. Mack's exhibition Lemme walk across the room is an immersive installation that brings together the artist's interests in the language of raw materials, in slippages between the spheres of fashion and fine art, and in economies of desire and luxury. His multifarious body of work takes an expansive approach to painting by probing its boundaries through deconstructivist techniques that use alternative materials for the surfaces and supports of the "canvas." Foregrounding materials such as domestic fabrics, industrial objects, cutouts from fashion magazines, and button-up shirts, Mack's art questions assumed knowledges concerning the aesthetic value of certain materials by utilizing common objects in order to call attention to their innate formal qualities.
—Olivia Gauthier
Eric N. Mack We're sitting here in Beverly Hills, a destination of luxury. My work really has to do with questioning the structural integrity of a luxury object and how it does or doesn't create shelter and how it can stretch.
Olivia Gauthier That was something I was very much thinking about with your work in the Brooklyn Museum installation, especially Tessuti Raponi (Ciao Milano) (2018), the piece that drapes diagonally across the walls.
EM It's named after the fabric shop where I bought the fabrics in Milan, which is kind of a family chain. I would gather fabrics from their shops across the city and develop a color palette that felt like it possessed its own memory. It definitely had its own light and texture. It needed to be weightless and also to allow a kind of canopy structure and begin to function within the dimension of architecture.
OG Ciao Milano is so simple at first glance, but it begs many questions as to why you are juxtaposing these materials and composing these different shapes, sizes, and textures. I'm very interested in the way you are sourcing materials because there is such an intentionality to them.
EM There is a lot that has to do with metaphors in painting that I think about, like absorption and how when paint is applied to a canvas it becomes one with the surface; it fuses.
OG So you are seeing textiles as an extension of painting, where the fabric is dyed, and it becomes an object we might mistake as singular.
EM Or you think about the colors and the subjective choice or meaning around what you are drawn to. The basis of my work has to do with a kind of balance between transparency and opacity, and thinking about the balance of weight and weightlessness. There is something in the relationship between the ready-made fabric and the use of dye, how the materials are weighed down by the gesture or the mark. There has to be a reason for the selection of the fabric, and I have always felt that in painting you are bringing out the intention within the materials. Ciao Milano operated in accumulation from left to right compositionally. It was not so much about cutting it down and making further fragments or motifs but allowing for those things to spatially create difference within vibrations of color. The work is very atmospheric; it uses a neon green that ends up being emblematic of a specific time. In contrast with a home-decor floral that reminds people of their grandmother, the neon feels more contemporary.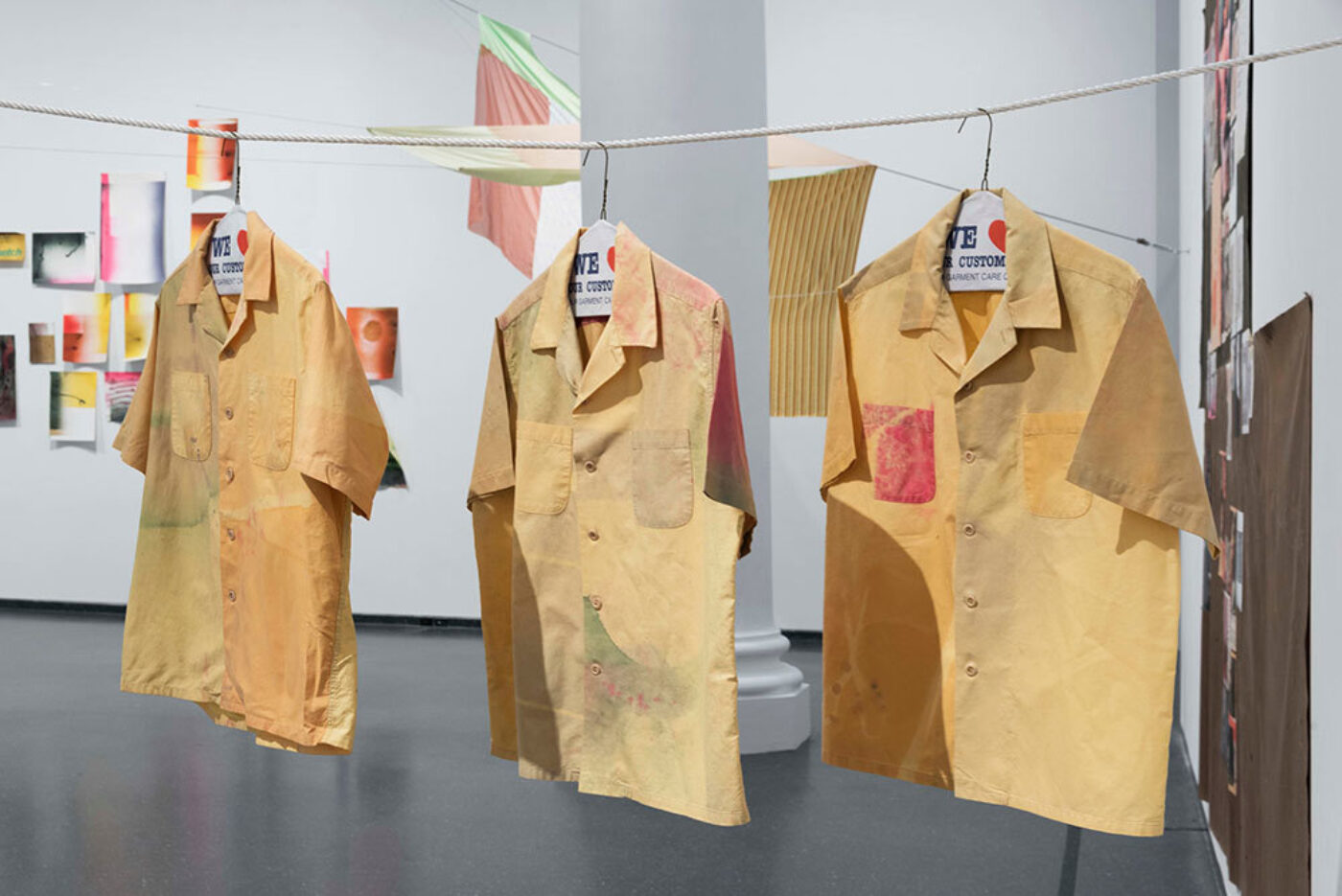 OG What was the significance of sourcing the materials from that specific shop?
EM It was mostly about a means of translation. I don't speak Italian, so I began to see fabric as a language of desire. Also the fabrics were already swatched in fragments, were already remnants. There were these bins I sorted through, and it was a process of seeing all the color relationships. Rather than going to an art supply store, I wanted to be there and not have the agenda of making a garment but of organizing fabrics within their own kind of language. It was a way for me to recognize myself in the city and make something to process the space around me.
OG There is a deep relationship between fashion and fine art, especially painting; and you're kind of collapsing these false boundaries in your work.
EM I think fashion has always had to do with a construction of desire, which painting has too. The challenge is just that—to see how the shirts will feel when put through the same process as painting. The shirts were made by seamstresses, and they made the decision as to how the painting would be cut up, what would be salvaged and what would be remnant; so the composition was left up to them. So all the painting details collapse into a work that becomes a readymade. And at that point it becomes about distribution. Does it go to the collection in the closet? I like the slippage between one's clothing collection and art collection and the hierarchy between one's closet and the more austere art collection that fewer people have. All these points of value matter. The mood board Tartan Film Strip from 1987 till Recent (2019) really came from looking at my sister's wall as a teenager who collected all these images, and it becomes a materialization of how we now experience Instagram. Like the death of printed publications, it ends up being a distruth to material and images that are consumed so quickly.
I used to work at McNally Jackson Books, and I began thinking about what it would mean to use real luxury if I had complete access to any material I wanted, and what would it be? I started to think about the drama of the editorial and the construction of a look and creating an atmosphere and a mood.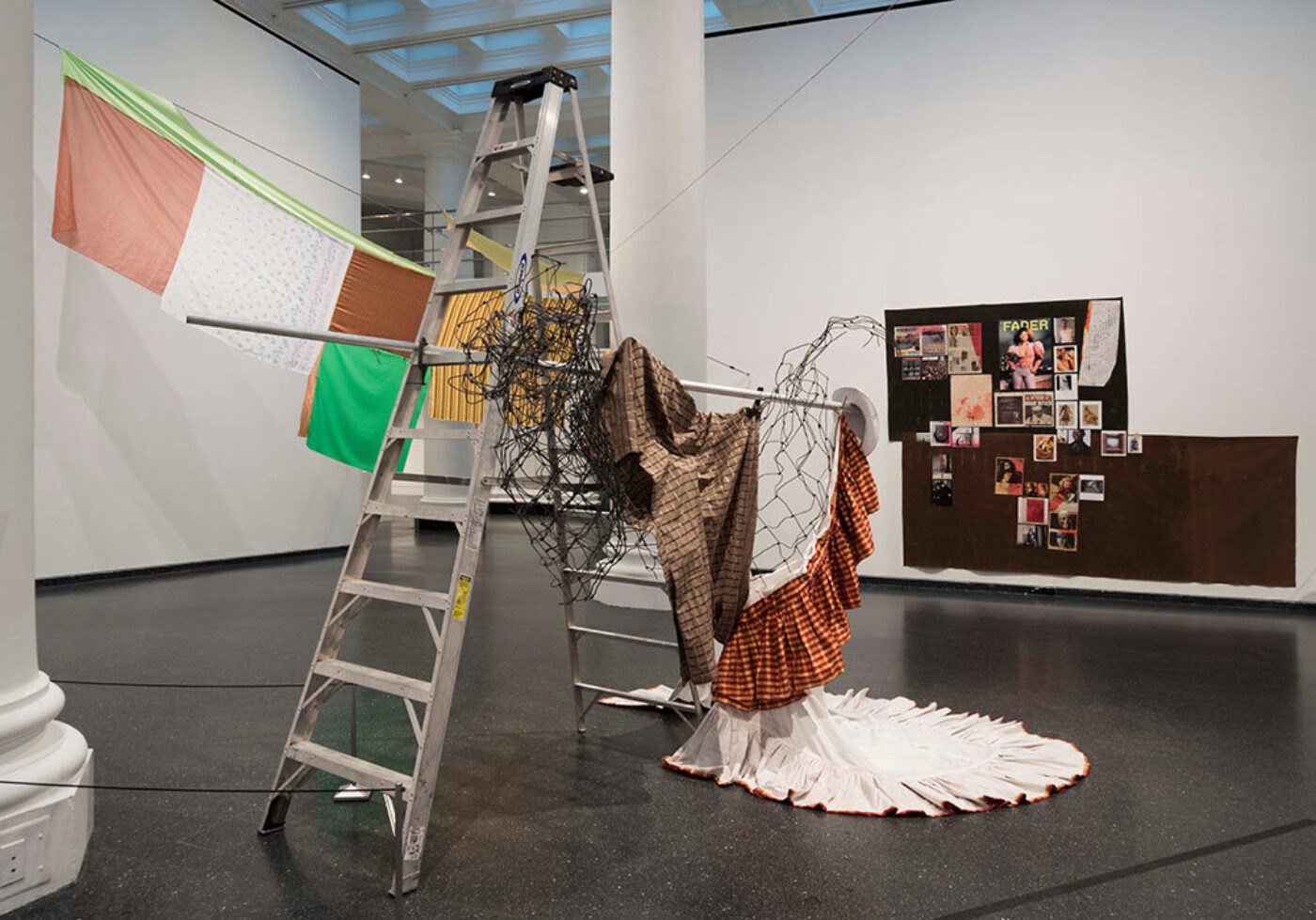 OG I think we really see these ideas in The opposite of the pedestal is the grave (2017). It has a humanoid aspect to it because of the hat and the bed skirt that evokes a sort of ball gown, although we can recognize it as a bed skirt.
EM I made that during the Rauschenberg Residency. The ladder was sourced from the Rauschenberg studio. I took a trip to the scrap-metal yard where Rauschenberg used to go. It was a really magical place, and is where I found that particular metal fence. The fence itself is like a grid made tangible, and I tried to isolate its movement by covering it and using that surface area to create a canvas. It is also skewered with an aluminum pole that allows it to hang on the ladder that ends up being the pedestal to the work. I thought about this piece as really related to a "total look" as if I were a stylist for this work. This allowed it to be really exaggerated and present a drama of everyday materials. Like, the bed skirt has this kind of Southern vibe to it and a kind of bizarre edge to it. I really respect stylists and see them as a version of sculptors, really attuned to the form of things. With the cowboy hat, I was thinking of Solange and some of her looks. The hat becomes the exclamation point and the end of the sentence. It has an assemblage sense to it and a radical take on fashion which has to do with how things are shaped, styled, and formed to tell a story that is at first about the body and then culture.
OG That work also has a precariousness to it. I wondered at first how all the objects were supporting each other. It also brings in an interesting parallel between the more "feminine" bed skirt and "masculine" cowboy hat, which made me think about how fashion is often divided between women and men.
EM Absolutely. I mean, in the last two years Galliano made his first men's couture line, which seems to speak to the desire for that market to be geared to men. This is an example of how the market leads conversations in fashion, and not really for the better, because it is in the structure of how clothing is sold. But there are spaces for transgression because of that, and there are moments for genderbending or unisex and androgynous strategies to come into the model. So I am thinking about those gestures and the ways in which the economic structures are divided or intersect.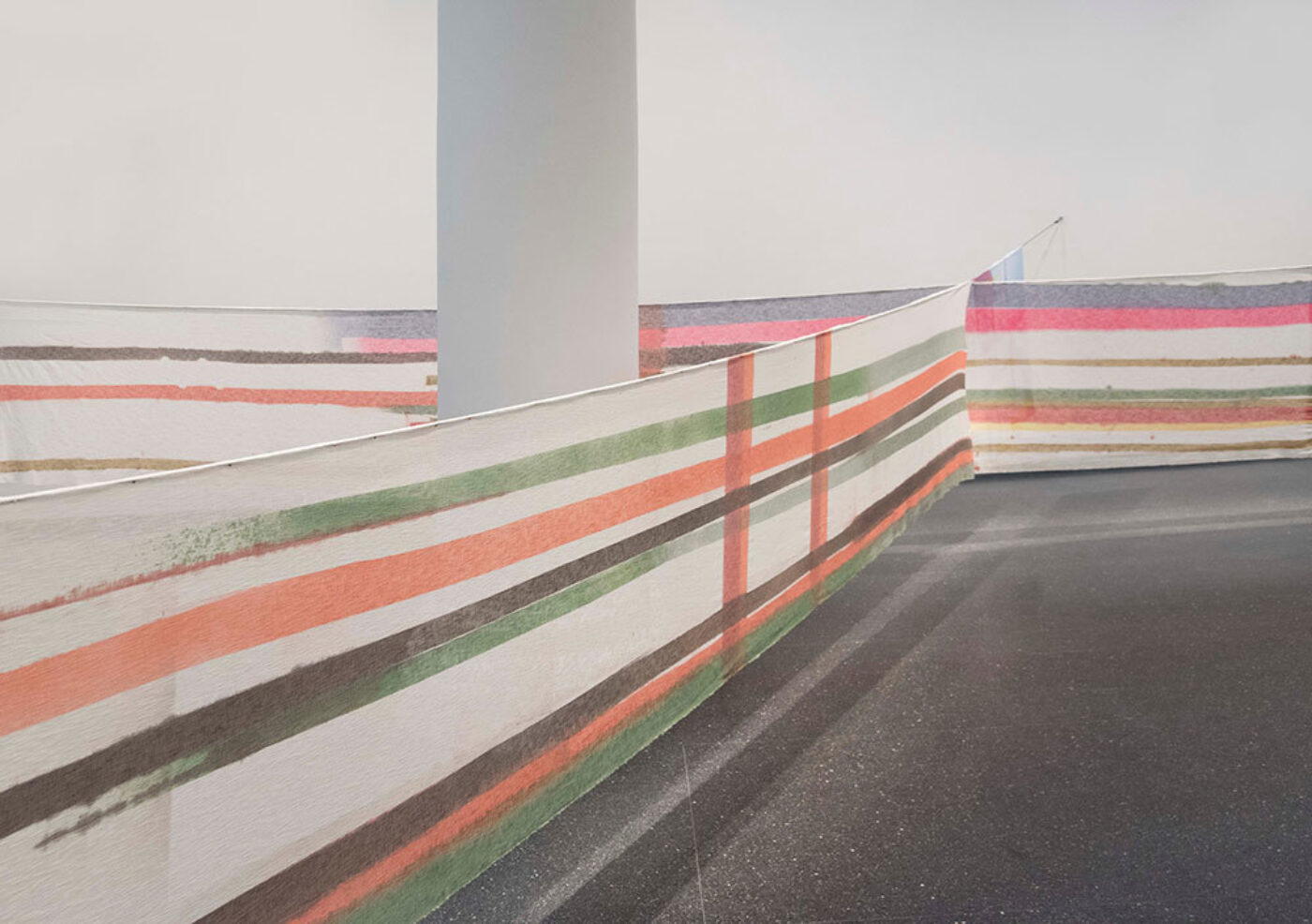 OG Though the objects aren't meant to be wearable, they do evoke bodily experience, especially Seat Pleasant (2019), which intersects through the museum gallery and is installed low enough that viewers have to navigate through the space around it.
EM It's hung with straight pins directly through the rope in even intervals that create stability for the piece. It is dainty in a way. The gestures of the work are strong, but it is delicate; and there is a conversation occurring about craft and the drape of the fabric that has a more domestic meaning. It took some convincing in terms of installing the work and how stable it will be. The work threads itself through the space and creates an intersection, and I want the collision of where the lines meet to be a point of rupture that will change the viewer's perspective. It was important that the fabric is transparent and hangs at the height of an average person so that it interrupts the space and points of view.
OG The work also billows from the fan in the gallery, and the fabric moves as clothing moves with us.
EM Yeah, I think it is navigated through a sense of feeling and observation; that's an important point of communication. I have to balance all of these things and approach another more felt form of architecture within the space. When I first started to work on the exhibition, I was asking people what their experience was with the museum and what they wanted from an exhibition. I also recorded my own experiences with exhibitions that really felt personal. Being able to think about how to perceive space measured to your own body but also feel like there is room for the work and its viewers to breathe; it's almost a call and response between being tender and closed off or being generous and not giving enough.
Eric N. Mack: Lemme walk across the room is on view at the Brooklyn Museum until August 4.
Olivia Gauthier is a writer based in Los Angeles.