Regeneration of the Real: Jane Benson Interviewed by Danni Shen
Challenging the nature of things.

Discover MFA Programs in Art and Writing
Currently on view at the Tang Museum in Saratoga Springs, New York, is a set of Jane Benson's Faux Faux fake-plant works, now also a permanent installation at the Cincinnati Contemporary Arts Center (CAC). The CAC recently held a survey exhibition entitled Half-Truths of the U.K.-born artist's geopolitically immersive and research-based practice that spans across sculpture, institutional critique, collaborations with musicians, digital media, and technology. As the title Half-Truths suggests, Benson's practice begets fragments of possibilities, which when reassembled become wholly manifest.
—Danni Shen
Danni Shen As part of your ongoing Faux Faux series, Happy Faux Flora was first shown in the site-specific exhibition New Views for the 2002 reopening of the World Financial Center and Winter Garden in New York City. Museums are another animal when it comes to institutional space, public or non-public. Has the direction of this body of work changed for you since you first began showing these pieces post-9/11, and now within the museum context, such as currently at the Tang?
Jane Benson The Tang's Faux Faux (Lobby Life) is quite modest in scale compared to many iterations of the Faux Faux work and is part of a larger installation that traveled from the Contemporary Arts Center in Cincinnati. As you mentioned, the first and largest was made in 2002. A year after the tragedy of September 11th, I was commissioned by the Lower Manhattan Cultural Council to make a series of unabashedly fake flora for the lobby of the World Financial Center. I hand-cut the leaves of thirty artificial trees and plants into unnatural, geometric shapes with the aim of creating a more reliable translation of the misleading nature experienced daily in the urban context. I was concerned with challenging the existing nature of things within the current political context; everything had been blown wide open, and getting to the truth through a myriad of falsehoods was, as it currently is, an urgent pursuit. The unnatural shape of the leaves was also meant as a critique of immigration's unnatural selection process following 9/11.
The museum does indeed define a different context for the work. Or at least I hope it does; as museums become more corporate, these boundaries are being blurred in the United States more than anywhere. But still, there are no kitschy, artificial plants in museums, just a long relationship with nature through art. On one level, if I can flip things around even more, Faux Faux (Lobby Life) engages as a cubist-like still life, but in the future tense, as in: In the future plants will uproot from fertile ground as a survival mechanism. The cutting reduces the artificial plant to fragments of itself, severing it from the familiar in order to embrace a new interpretation or future reality for the fake.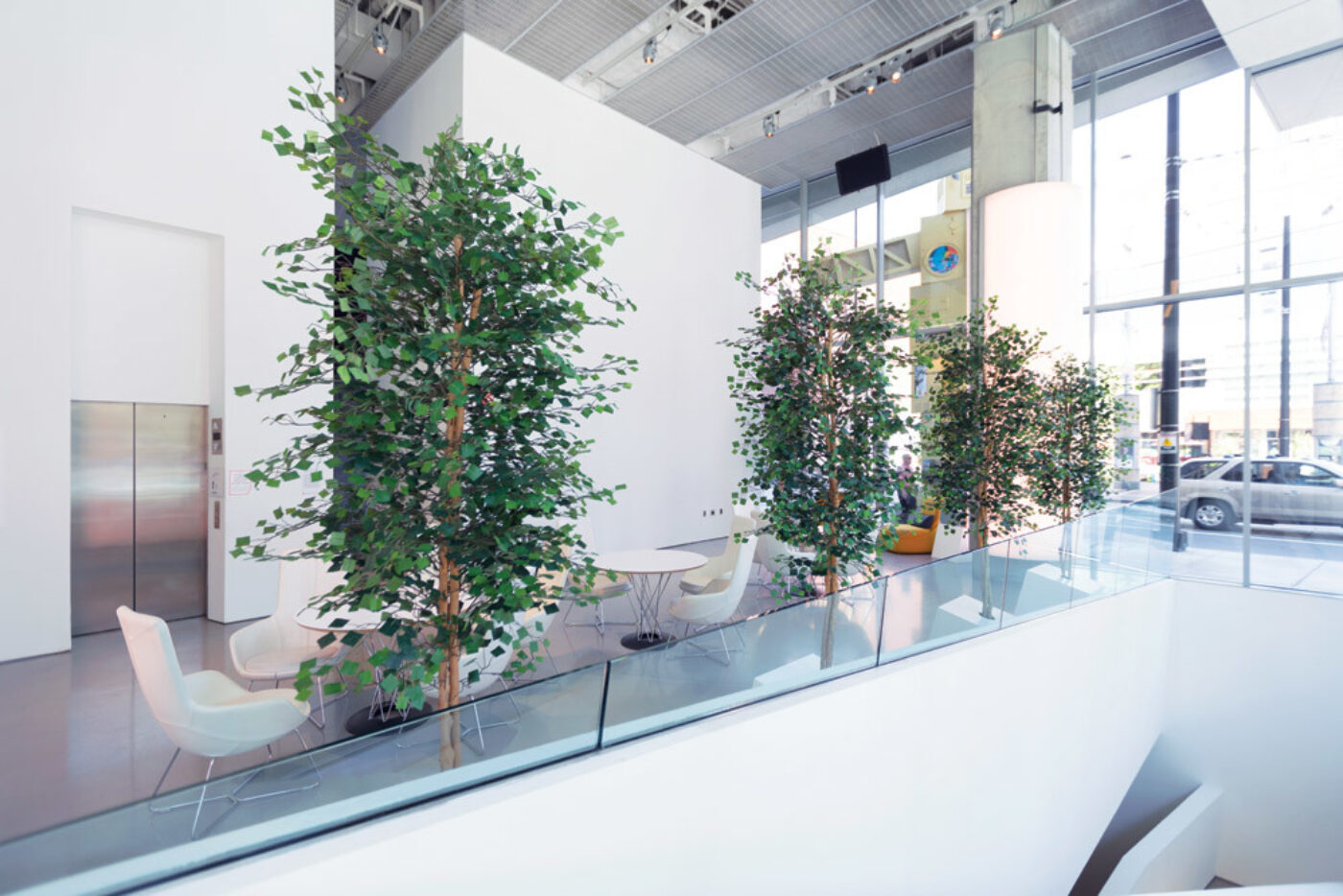 DS Is there specificity to the "plant type" you are using, i.e., culturally? Plants are as much migrants as humans are. For example, the four "ficus trees" at the Tang?
JB The ficus is the most commonly used tree in urban indoor spaces. Because of this universality, I've worked with the ficus for multiple interventions into public space. And once modified, the plants speak to a type of "new universalism." I like what you say about plants being migrants as much as humans. This is something no one has addressed before and was an integral part of my thinking for the sculptures in A Place for Infinite Tuning that gather the remnants of the transnational exchanges of Finding Baghdad, for example. These works map a fractured global geography, mapping terrain that meanders between the real and the unreal, something that's also explored in the Faux Faux series whose plants are rootless and a symbol of placelessness. Also important to my thinking is the idea that these modified fake plants are, in a sense, extraterritorial entities; they both belong and don't belong because they're no longer seen as fake or real. The ficus is native to Asia and has been naturalized in the United States. There's a parallel to the phenomenon that as an immigrant I find myself reconfiguring and translating my identity to assimilate to my surroundings. Similarly, when the Faux Faux work is sited in the environment of the art museum, where unnatural geometries are omnipresent, the tree is translated into a new form that casually and comically mimics its surroundings. Faux Faux changes the passerby's focus by asking viewers not to rely on an illusion for comfort but rather a relationship with their immediate surroundings. By making something fake or synthetic feel even less convincing, I aim to create a more "authentic" rendering of the illusory nature we experience.
DS How many works are in the entire series so far since the first Happy Faux Flora?
JB I've lost count. The Faux Faux series is my only body of work that's had a life spanning more than a decade, and I'm continually returning to it as a conceptual marker for my work. The series is concerned with displacement or, perhaps more precisely, re-placement by way of recategorizing the fake plant. Thus, twice removed from their original context, the plants are literally reinvented. What happens when the fake aligns with the fake rather than real? What happens when something other than the current political framework exists?
I became preoccupied with this question back in 2002. Whilst repairing the "trees" during the New Views installation, the curious passerby would ask me what I was doing with a glue gun pointed at a plant, and our conversation would begin. "So they're fake?" they would say, relieved. "And they're fake ficus trees?" "Yes," I would add. But a turning point came as soon as I continued with, "They are fake trees cut to look fake." This, to my surprise, upended any sense of stability the visitor had and the reply, "So what kind of trees are they?" came back. It was as though when the fake met the fake there was nowhere to go, nowhere recognizable, and a whole new category had been created that required reengagement. This was the catalyst for the next fifteen years of work.
DS Are there plans for the works to expand into airports, hotels, shopping malls, and other public spaces and countries?
JB This may sound odd, but there's part of me that imagines all fake trees will, one day, be unabashedly fake trees. Not necessarily my work, but that the contextual framework will have advanced to the degree that society no longer needs simulacra.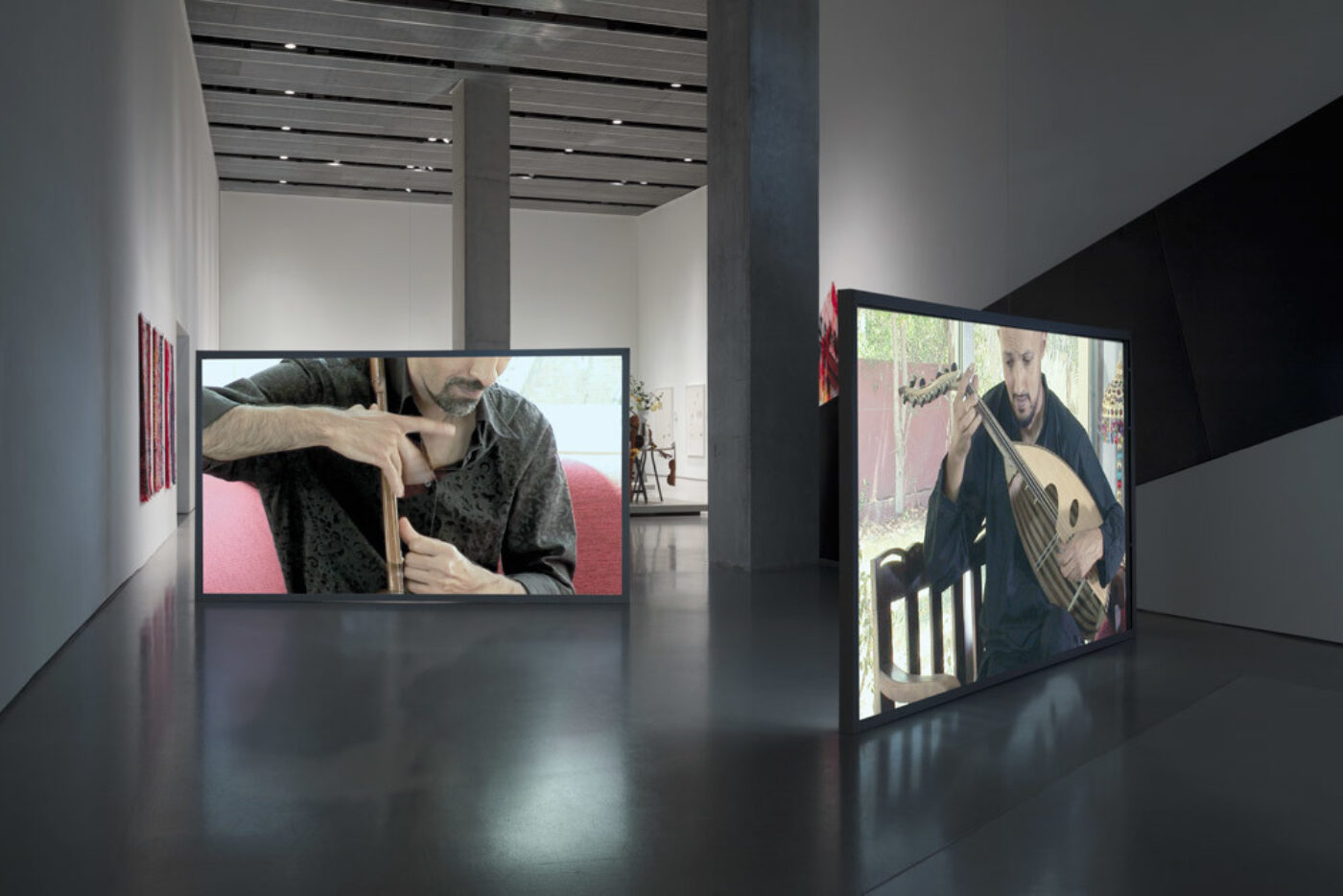 DS An essay in your upcoming monograph Half-Truths by Nico Israel entitled "re" casts an umbrella to talk about your work as re-petition, re-iteration, re-presentation, re-translation, etc. Sara Reisman has written on your practice as "speculating on an unknown future." In Excerpts from New Views: World Financial Center, Nuit Banai further concludes that "the unimagined possibilities in the 'everyday to come' will only emerge through the destabilization of current systems of knowledge that administer the body and the space it occupies." I'm interested to know more about this idea of the "future" for you and how reimagined worlds can affect, or as Banai describes it, "destabilize," the "everyday to come."
JB Thanks for piecing all of that together. Yes, I think of the work as reflecting on the fissures that define contemporary ways of being. And for this reason destruction is always my initial gesture when it comes to destabilizing how the "everyday to come" may be defined. I shred flags, bifurcate string instruments, and excise text from books; however, these methods of destruction are used specifically as strategies of regeneration—opportunities to reassemble, redesign, and reinvent existing entities. Destruction is not a means to an end but to a beginning, a reinvention or retranslation of form and meaning.
I believe that challenging existing meaning now, in the current political context, is more important than ever; we have to question everything. A few years ago I made a series of short videos that continued my exploration of split instruments and replacement sound. The videos capture various duets as two musicians attempt to re-create titles, such as "Crossroad Blues" and "She's Lost Control," from Rolling Stone magazine's top one hundred guitar songs of all time. The musicians I worked with are professional improvisers, chosen for the very reason that the change of pitch and unique timbre created by the split makes them difficult to play; nothing sounds familiar. Thus, my collaborators had to relearn how to listen to play. During rehearsals one of the musicians said that he suddenly realized this is the first time he'd really improvised in years, recognizing that he'd developed habits and preconceived expectations during performances that limited and controlled his performance, robbing it of all the qualities of true improvisation. The split guitar, on the other hand, is a guitar, but didn't sound like a guitar, so he had to learn how to listen and respond from scratch. Through the realization of the work the musicians learnt how to re-listen. This reaction is more than I could have hoped for as an outcome. I'm trying to utilize destruction as a means for cracking open perception, introducing fissures of imagined evolution, and provoking a change in the categories of the "everyday to come."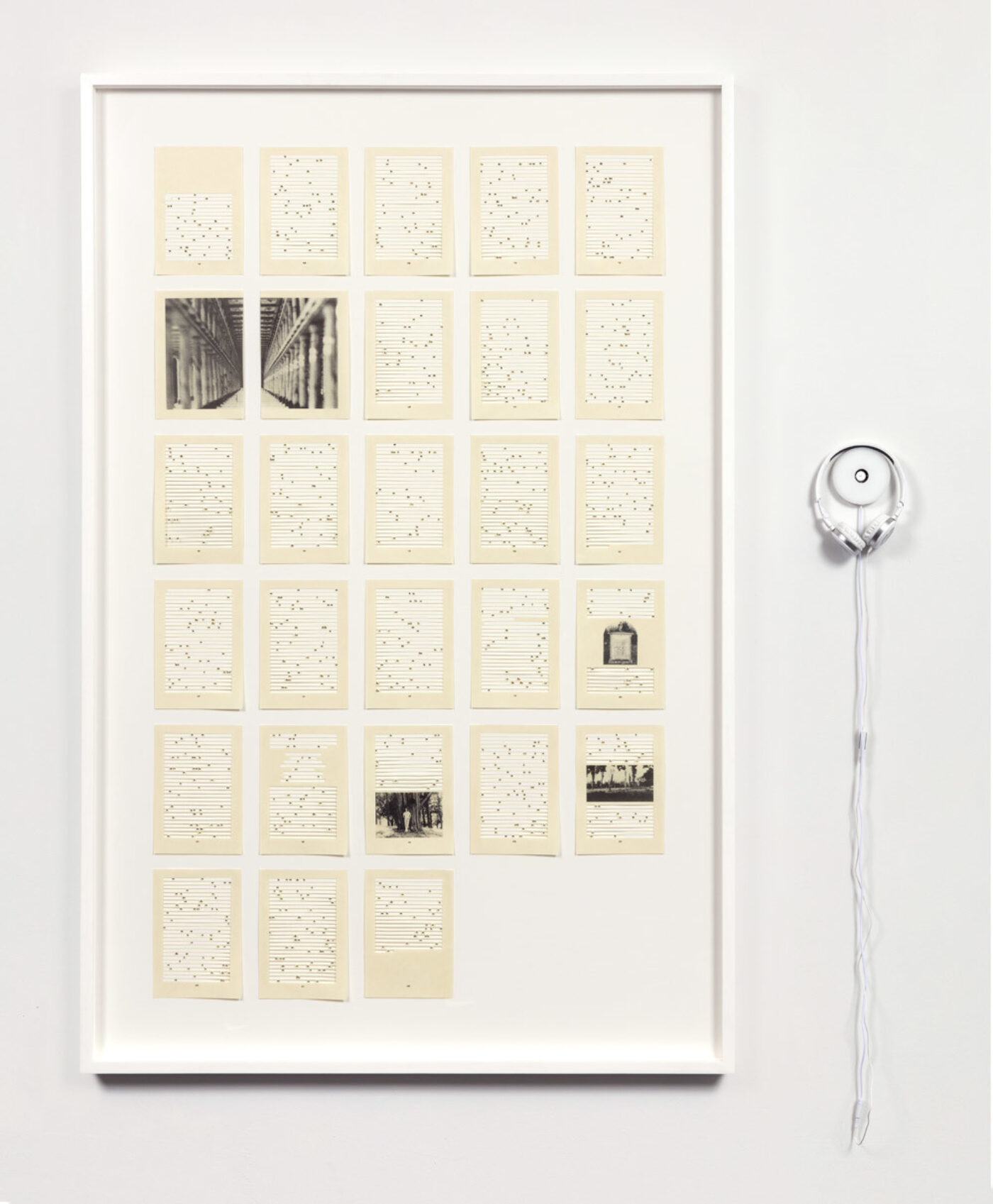 DS What's on the horizon for you?
JB I'm working on an excised text piece using the feminist texts of Scottish suffragette Mona Caird. She wrote such brilliant works as The End of the Patriarchal System. By excising all text from the essays, except for the syllables do, re, mi, fa, so, la, ti, I'm unearthing a score the tone of which captures the repressed history of women. Caird was a fierce feminist who lived on the peripheries of society because she was a woman and shared ideas beyond the borders of her time. I'm embedded in her work because as an immigrant and a woman I'm in a constant state of displacement. I'm also dyslexic, something not often thought of as empowering forms of exile; however, for me dyslexia functions far beyond my inverted relationship with language and positions me outside a quintessential translation of reality. My language is not my language. Thus, as a dyslexic woman immigrant my commitment remains to re-place, re-map, and re-engage accepted cultural standards, classical forms of categorization, and archetypal structures—in short, to work assiduously against reality.
I'm also really happy to be able to say that Skira is publishing my first monograph, which is coming out soon.
Jane Benson's Faux Faux: Lobby Life is on view at the Tang Museum in Saratoga Springs, New York, until April 22. In conjunction with the exhibition Half-Truths, curated by Steven Matijcio, the Cincinnati Contemporary Arts Center is co-publishing with Skira a monograph on Benson's work. 
Danni Shen is the Curatorial Associate at Empty Gallery, a black-cube space dedicated to time-based, non-object-oriented, interdisciplinary practices as well as Asian diasporic artists and communities, physically located in Hong Kong. She is chiefly based in New York, where she was previously the Curatorial Fellow at Wave Hill and is the Spring 2018 Curator in Residence at Residency Unlimited, where she was also a Guest Visitor in 2016 and 2017. She is a contributor to various publications including Hyperallergic, Rhizome, Two Coats of Paint, and SCREEN界面, and guest curates for OUTPUT, a digital-art platform based in Shanghai.