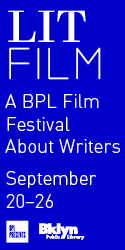 Saturday night
I'm on the 8:40 PM local
to New Rochelle
and points North
I'm running away
with my woman
running away from
El Barrio, New York City
Fast playing games
symbolic names
Slick Rick
Big Money Gee
Hey you!
Who me?
Yeah you.
On the green—walk
On the red—don't walk
Stop! Freeze! Don't run.
Cuz you might get shot
for looking like
the wrong Black man
And whatever you do—
please
please
don't sniff dope three days in a row
Train is ready
steam whispers
a slow drag
out of Grand Central
through dark tunnels
where foot-long rats
swim in puddles
of left-over rain
Tanisa
my woman
lays her head
on my shoulder
I'm suppose
to be here
I'm doing the
right thing
The iron horse
will gallop
out of the hole
on 96th Street and
Park Avenue
We never see
how the rich live
with gardens
in the middle of
the street
Doormen hailing taxies
for poodles
in the rain
Soon we'll see
where I'm from
I can never forget
this panorama
of the other Park Avenue
sounds like a million hands
clapping in guaguanco time
Elevator in my stomach
where I stash
all my secrets
is rising
I'm thinking about
getting off
on 125th Street
so I could dive
in between those hands
The streets
can kill you
It's true
Clanging cuchifrito pots
compassionate curses
my muses
are calling, baby
I got to go
Forget our weekend
in New Rochelle
Sunday bagel brunch
sleeping in
after loving
all night
Home is where I like
to find myself when
it's cold
110th Street
History of El Barrio
and salsa
street legends
manteca* bombs
many a bad motherfucker
done laughed and cried
ran and died
in the dark arms
of this street
life and death
boricuas en Nueva York
celebrated with
this song
forever
para siempre, mami
para siempre
116th Street
LA MARQUETA
We don't need books
My culture
is in the aisles
of bacalao
culantro
ajecito
sofrito
mi pana
I stretch my neck
to see
if I see
mi panas
Carlito and Mark
walking to cop
a bag
of Purple Rain angel dust
A dripping leak-leaky bag
to tranquilize our
souls
time
confusion
heartbreak
Is that me
I see
looking for
a familiar dance
to a warm beat
writing a sad poem
a mad song
because the guns
we play with
don't squirt with water or
make simulated noises
Tanisa is asleep
she might be dreaming
if it wasn't for her
my girl my woman
my wifey
my main flame
my baby
always and forever
with a smile
from Harlem
moreno Harlem
same beat
like my Barrio
soul y salsa
if it wasn't for her
I would be standing
on the corner
thinking about
the world
drinking black berry brandy
keeping a hustler company
with stories from
back in the days
             Things ain't like they
            use to be…
125th Street
Harlem, U.S.A.
I'm ready to jump off
before the doors close
have a nice day
And if this poem
is too long
I don't give a fuck
because my heart
is beating
I'm alive!
My muses are calling, baby
I could tell Tanisa
that I got to take care of
business
She'll look at me with
sleepy eyes
soft voice says
            I am your business …
Apollo Theater to the West
Willis Avenue Bridge to the East
A river waiting
at both ends
Poets and dead gangsters
living at the bottoms
Nothing for me to do
but jump
or turn back
cuz it's not time
I clench my teeth
for strength
close my eyes
kiss my woman
careful not to wake her
Doors close
steam whispers
a slow drag
away
I'm running away
with my woman
and I can't turn back
The night is no longer mine
A businessman
in a blue pinstripe suit
reads the Business Section
of the Sunday Times
Big sales
tall tales
lies
lies
making the world spin
on its head
He glances out the window
shaking his head
in silence
no prayers
just happy
not to be homeless
looking for home
in a glass pipe
a Harlem shadow
Hope the market
stays healthy
says I
in silence
But I wouldn't bet on it
like I would bet on a
black boy
dying tonight
The businessman is happy
he don't live
in Harlem
like the kid
sitting next to him
who's running away
running away
with his woman
Willie Perdomo is a writer living in East Harlem. In the fall off 1992 his work will appear in the anthologies In The Tradition (Harlem River Press) and New New York (The Nuyorican Poets Cafe Press). He was featured in a recent PBS program, Words in Your Face and he has completed his first volume of work, Where A Nickel Costs a Dime.
Originally published in
Featuring interviews with Richard Tuttle, Television, Anna Deveare Smith, Jessica Stockholder, YoYo, Donna Tartt, Gregg Araki, Ron Vawter, Lillian Lee, Fabian Marcaccio, and Robbie McCauley.