Reflecting Uncertainty: Will Ryman Interviewed by Osman Can Yerebakan
Rendering an absurdist dinner party in stainless steel sculpture.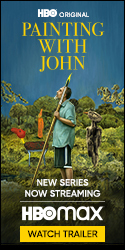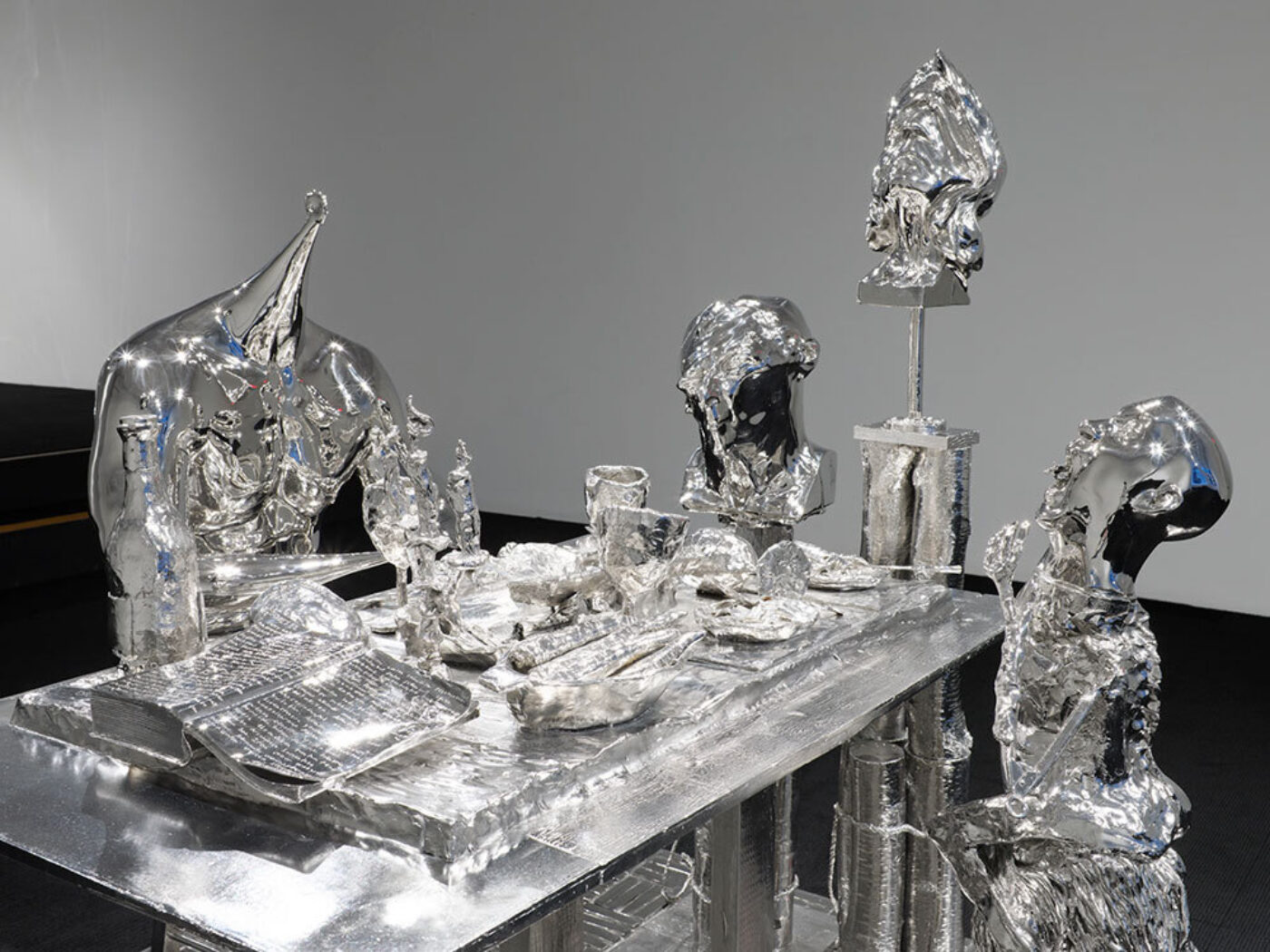 Will Ryman recently read The Plague for his book club. "The story is, of course, haunting to revisit at the moment, but it's incredible how those guys' thinking was timeless," he said about Albert Camus and the whole cast of Absurdist thinkers. In the center of his current exhibition, Dinner III, at TriBeCa's CHART gallery is the eponymous installation that vividly captures Ryman's fascination. Cast in stainless steel from his clay sculptures and found objects, the sculpture is an erratic dinner table where relish is overshadowed by agony, uncertainty, and downfall.
The absurdity maneuvers between the installation's four human-esque figures and a sphere that rests on a long thin pole. "They are each in their own search for an answer," Ryman told me as we slowly rotated around the poetic disarray. There are dogs made out of thin-rolled clay noodles who anticipate a few bites to drop, but the humanoid figures are also engulfed in their own ache. The spread is a typical dinner affair with meat, root vegetables, and wine in long-stemmed glasses, but anticipation for the dessert seems slim. The guests are caught in their internal tumult, expressed in Ryman's dense gestures over soft clay, later transformed into sturdy steel. Sitting together doesn't make the tragic group a party—they're estranged and detached while still carrying human features. The head of the table, however, is an alien—a spherical shape on a pole with a book in front of it rather than a meal. Its spotless reflectiveness renders it a crystal ball without its fortune-teller.
—Osman Can Yerebakan
Osman Can Yerebakan The dinner table is a recurring theme in your work. This third iteration, however, coincides with the unparalleled case of social distancing. How has the meaning shifted with this display?
Will Ryman The dinner table is a great narrative to bring different characters together and is also a timeless topic. As both a playwright and artist, I can form them as tableaux within a stage or a gallery. A dinner table is a blank canvas to cover with different scenarios and characters. I started to think about this third dinner table two years ago, and I initially built around twenty characters. I later dwindled them down to four figures, all seated around a table but mentally distant from one another. I have always been interested in Absurdist texts and have written plays in which the language was made-up with words that did not mean anything. The meaning was left open-ended within the rhythm and timing of the dialogues. Here, the book sitting open in front of the sphere-headed figure has phrases from some of these plays—but they tail off to nonsense.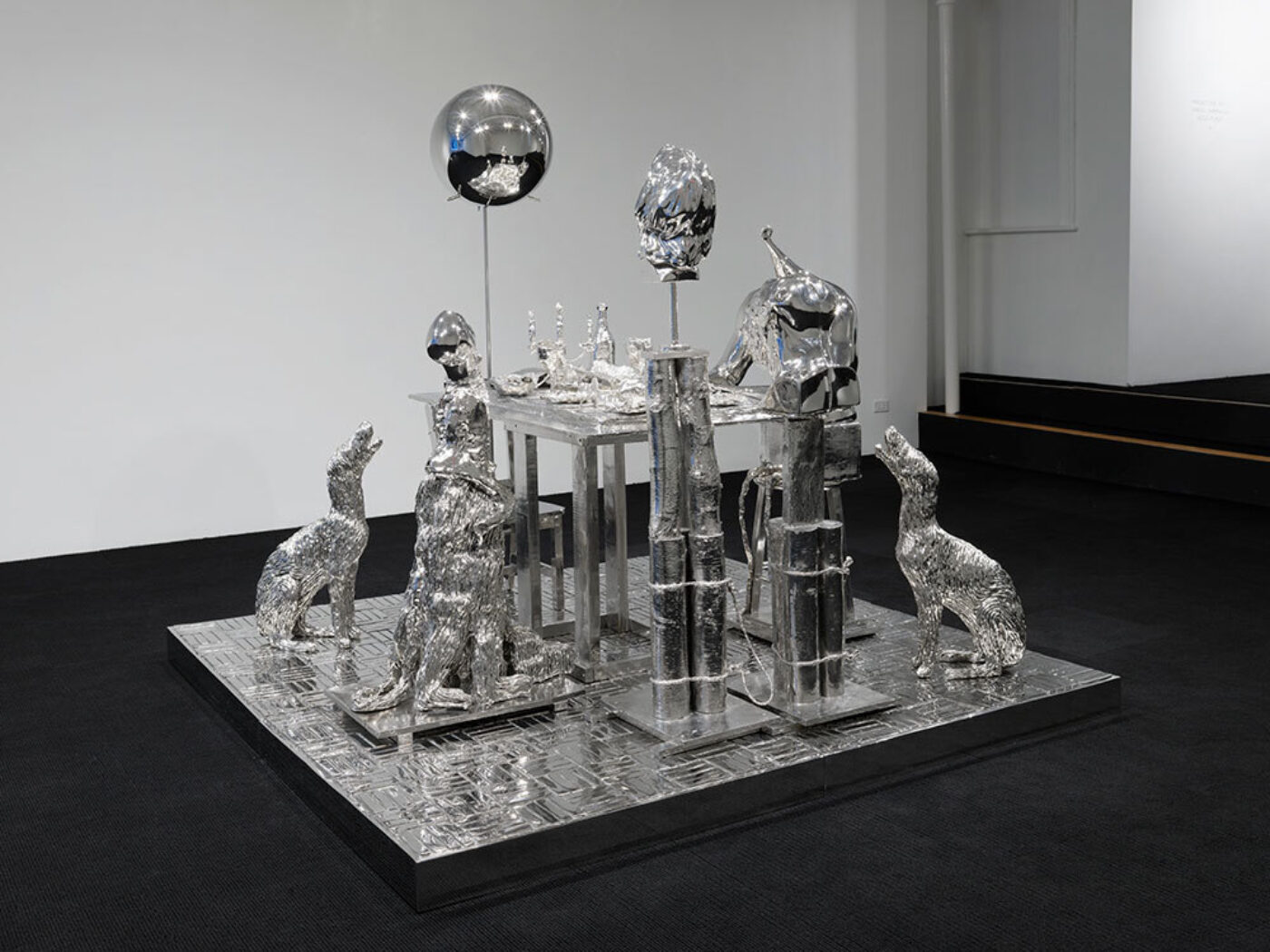 OCY This reminds me of the myth of the Tower of Babel and how the search for an answer brings chaos.
WR Or The Chairs by Eugène Ionesco, in which a man and a woman eventually kill themselves after realizing the answer they were in search of about the meaning of life is illegible. The characters around this table are helpless and fragile in the face of chaotic uncertainty. The distortion in the air is reflected on their also distorted figures, with disproportioned limbs and faces. The only wholesome element is the globe, or the sphere, which also perfectly reflects the viewer like a mirror, while other reflective surfaces show their onlookers distorted, similar to themselves. In this case, the globe is the high power with the book open in front of it, but that status is questionable as well.
OCY Let's walk between the character and details you sprinkled around, such as the food or furniture.
WR I cast my own torso for one of the figures and hand rolled clay for its extremely thin legs. The hands are also mine but 3D-printed in a tiny doll size. This figure has a regular-size torso, but underneath the table it has absurdly small legs and feet that make it impossible to walk or clutch anything. All the other figures, including the rotting food, are cast from clay sculptures I formed based on memory as opposed to an intention to replicate reality. I grew up in a house with parquet floors and remember removing its tiles as a child. The floor here is a reference to that memory. I cook a lot and used one of my kitchen tongs as an irrationally thin arm for one figure. The dogs are entirely from hand-rolled clay, which helps me grasp various textures of steel even in details. My earlier sculptures were mostly ghostly figures, with loose connotations of the human body. I've always been interested in this in-between formation of sculpture.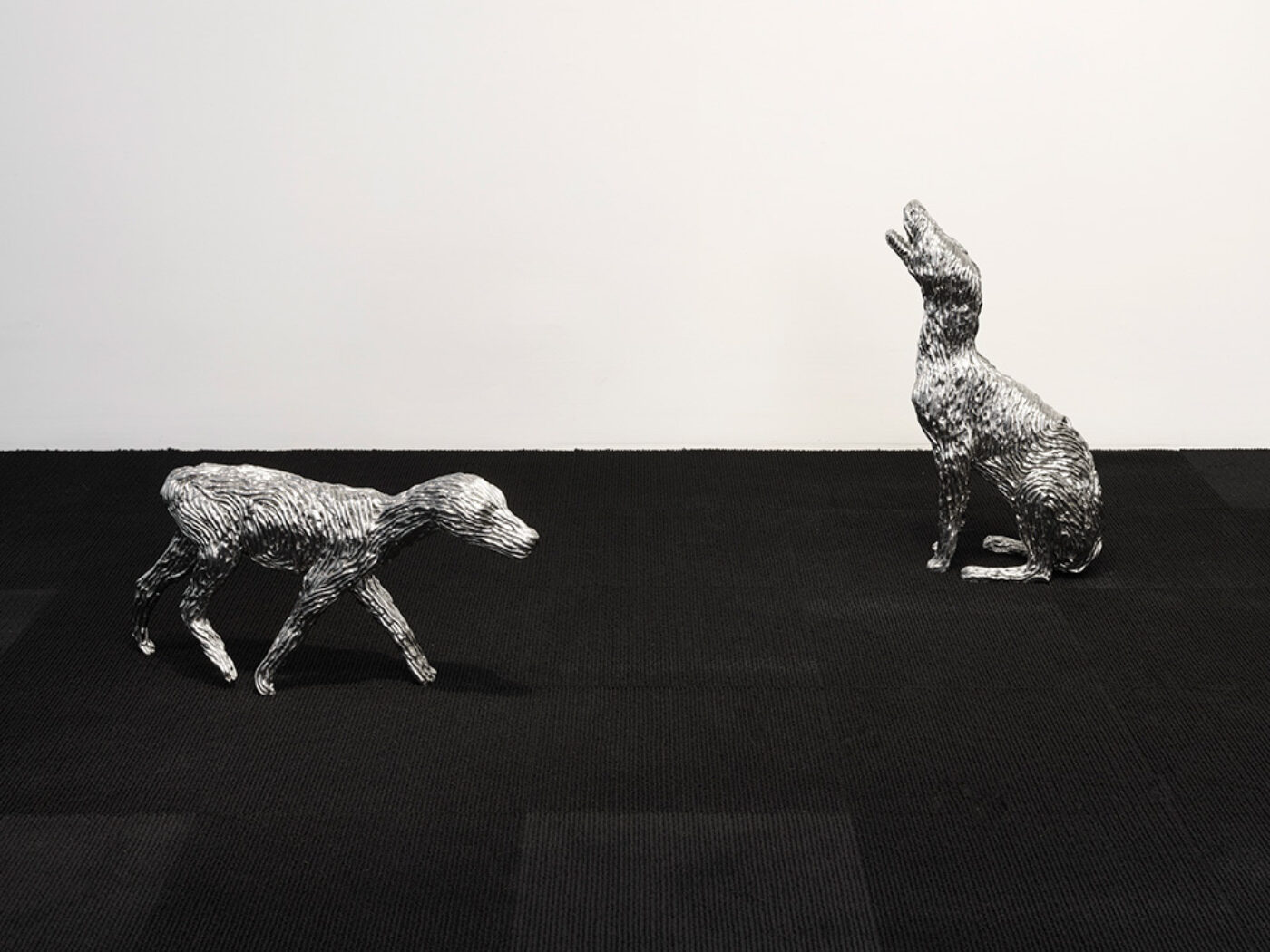 OCY The viewer stops by this engagement as an uninvited guest in the middle of a chaotic moment. We are, however, reflected on every aspect of the sculpture. Might we be the answer they're looking for?
WR In addition to looking at sculptures of George Segal and Edward Kienholz, James Joyce's Finnegans Wake was a text I constantly went back to during the creation of this piece. The whole installation is a peek into my mind, which makes me feel vulnerable. The uncanny is reflected in the variety of surfaces and textures. The contrast between the smoothness of steel and my hand gestures on clay pull the viewer into the figures' unease. Your face and body morph and fluctuate with each step. The manual traits over the soft clay are transferred onto the sheen of steel which helps convey what maybe I cannot articulate with words. If I could, I wouldn't do any of this, anyway. (laughter)
OCY Would the installation look completely different if you'd envisioned it after March?
WR I created my first dinner table sculpture in 2004 and later in 2010 entirely with junk I had collected from the street, and during each iteration the universe was in a different chaos. I will probably make another one at some point, and that next one might capture this moment. Maybe it will be a table with no guests, or there will be a single person sitting alone. In this sculpture, they're at least physically together while they might be mentally detached.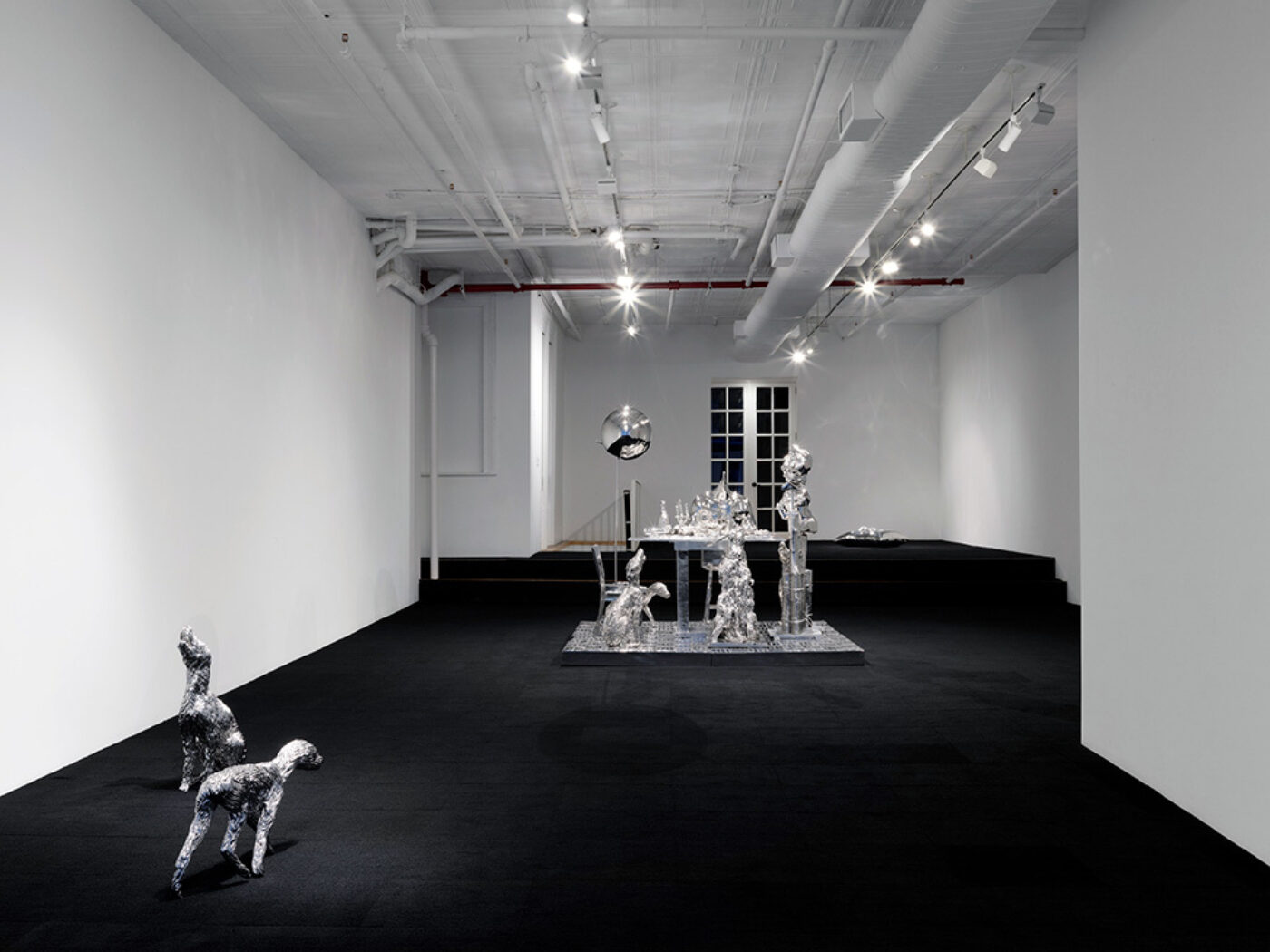 OCY Let's talk about what is outside the dinner table. You placed a dog sleeping on a pillow a little farther than the feast and covered the entire gallery floor with black carpet.
WR The dog is sleeping distant from everything happening around the table. Formally, it helped me convey the contrast I'd like to achieve between textures and production methods. The pillow is perfectly smooth and reflective while the dog is made out of thin clay I rolled and let find its own form. The former is found, the latter handmade, and both are cast into the same material. The contrast also continues with the dog's peaceful state as opposed to the crowd over there.

My initial plan was to cover both the floor and walls to create a black box theater effect and move completely away from the typical white cube gallery. I realized black walls would compete with reflections over the steel and diminish the mirror quality, so I focused on the floor instead. I placed the installation considerably away from the gallery entrance to provide viewers some time to slowly approach the work and discover it with each step.
Will Ryman: Dinner III is on view at CHART in New York City through November 21.
Osman Can Yerebakan is a curator and art writer based in New York. His writing has appeared in T: The New York Times Style Magazine, Paris Review, Artforum, Brooklyn Rail, BOMB, Observer, Vulture, New York Magazine, Wallpaper*, Elephant, ArtAsiaPacific, Village Voice, Harper's Bazaar Arabia, L'Officiel, Flaunt, Galerie Magazine, Cultured, and elsewhere.