Reciprocating Gaze: Jordan Casteel Interviewed by Cassie Packard
A painter discusses her approach to making portraits.

Discover MFA Programs in Art and Writing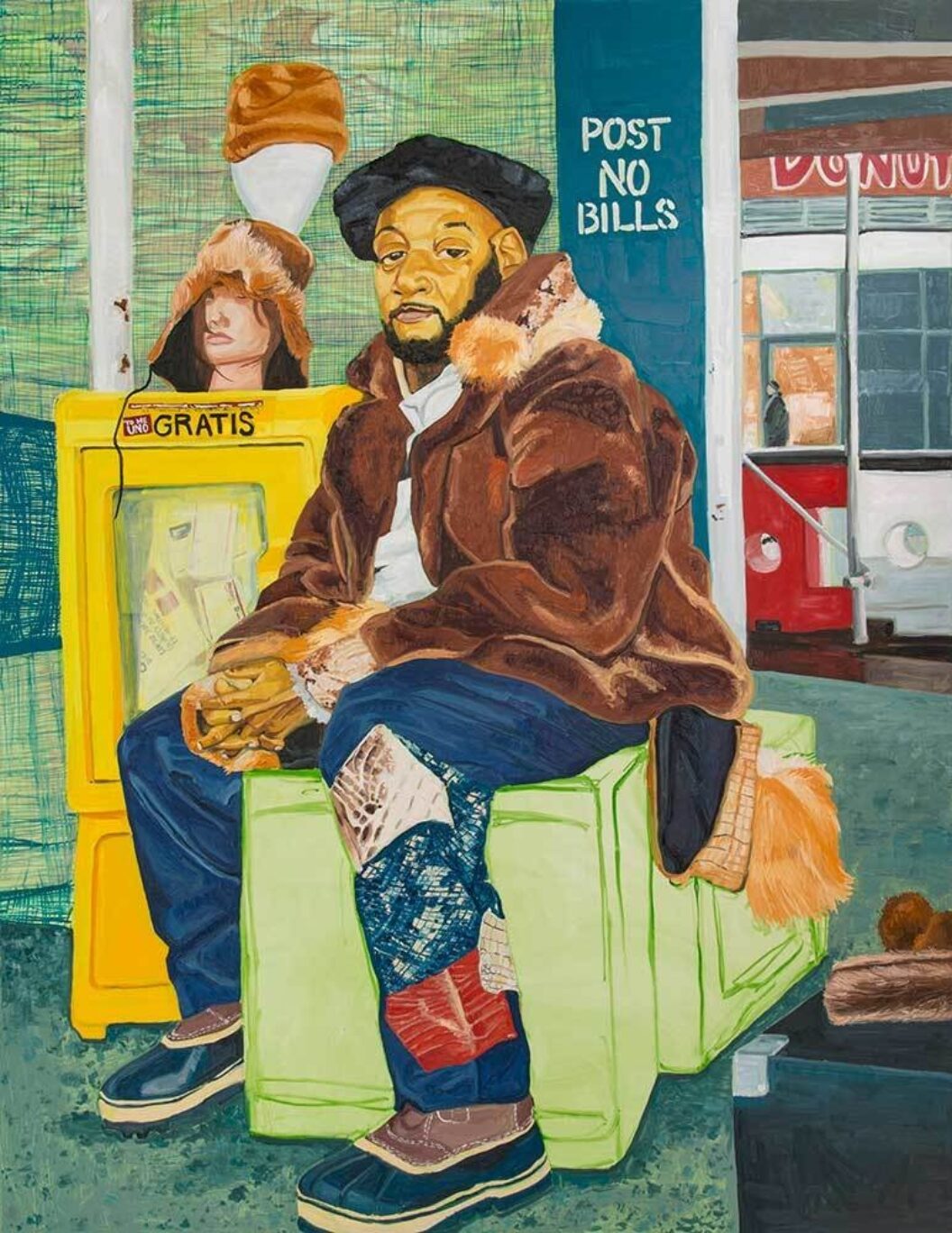 Harlem-based portraitist Jordan Casteel was once told that she was, in fact, a landscape painter. Landscapes, particularly of the urban variety, indeed feature into her work. But her practice is built around other, less overt landscapes: the psychological landscape of her sitters; the social landscape of her communities; the landscape, as she puts it, of her life. Masterfully skewing perspectives and intuiting luscious, fierce colors, Casteel paints her neighbors in Harlem, her fellow subway riders, and her students at Rutgers University–Newark. Her strikingly intimate portrayals of the black body have begun to receive widespread acclaim. The thirty-one-year-old artist's first solo museum exhibition, Within Reach, which contains forty paintings made over seven years, is currently on view at the New Museum in New York City. (The New Museum is temporarily closed due to the coronavirus, but the exhibition can be viewed online.)
—Cassie Packard
Cassie Packard What led you to start making art?
Jordan CasteelFor as long as I can remember, I have had a proclivity for making. As a kid, I was fascinated with the colors of the rainbow, hot-glue guns, and paint. While my road to becoming a "painter" wasn't always linear, I felt the most at peace in these moments of making, and there was a point in my life when I fully acknowledged that fact and took the risk to see it through.
CP You were a sociology and anthropology major for the bulk of your college years. How have these modes of thinking about people and populations informed your practice?
JCSociology is the study of human behavior. It is a formalized way of seeing and experiencing the world that parallels the way I am inclined toward seeing. In my early college years, I was trying to find the language to explain the way I was already engaging with the world. Throughout my entire life I have found myself drawn toward making sense of my environment. These environments have shaped who I am—in particular, the people who have occupied those spaces with me and have transformed my understanding of community and family. Through painting, I have the opportunity to honor the landscape of my life and all the people who have played a huge part in it.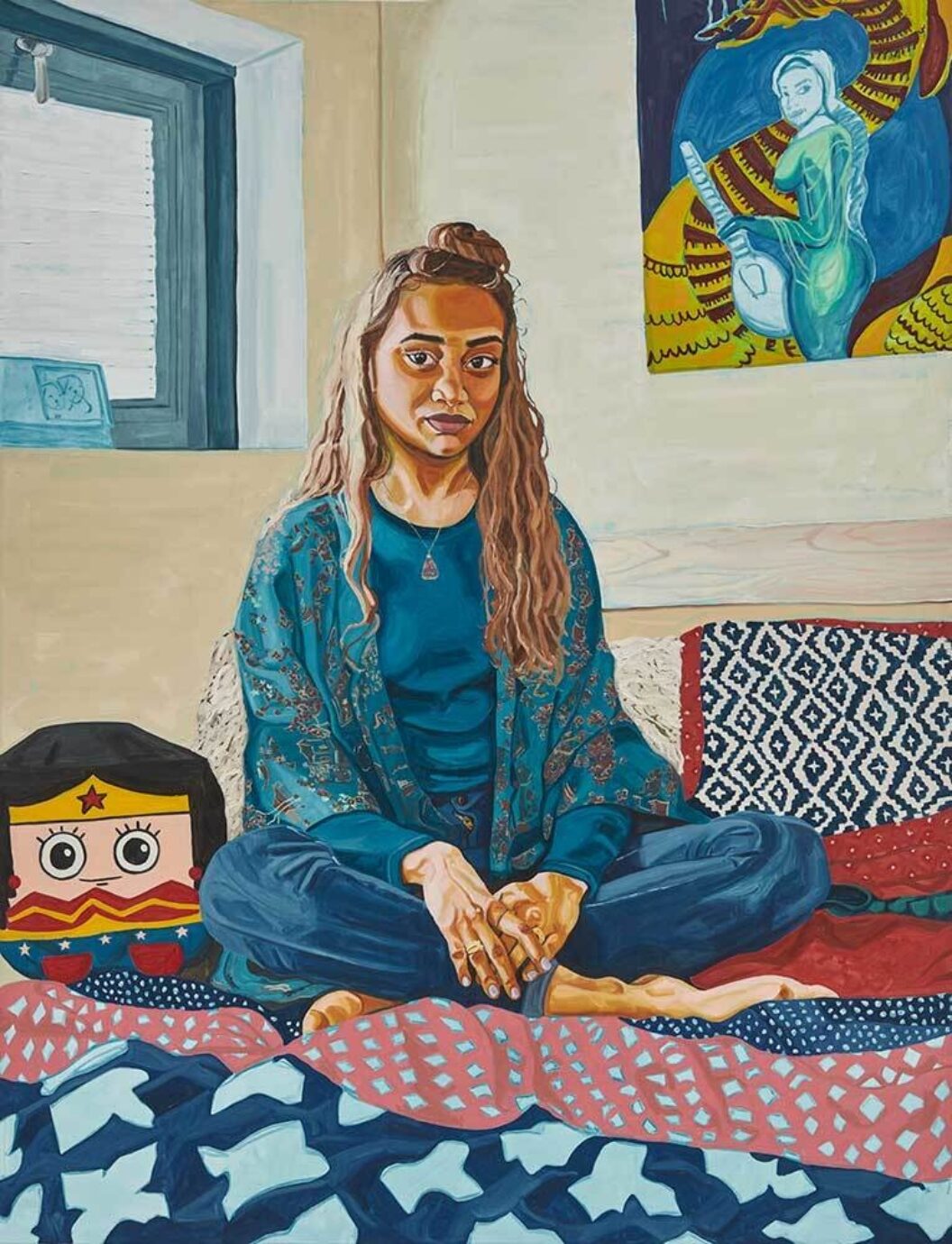 CPYour paintings portray people from the communities in which you work and live: your peers from graduate school, your neighbors in Harlem, and, most recently, your students. What drives you to select subjects from these pools?
JC Authentic relationships that can be nurtured through proximity.
CPYou take snapshots of your subjects and paint using the photos rather than live sitters. What is the impetus behind this choice? I'm wondering if the photos might add to the sense of intimacy in your works. In a way, you're encountering one another as two people, as opposed to a person and an artist.
JC That's exactly right. I am meeting people where they are, as opposed to asking them to enter my space. Early on in my practice, I recognized that there were going to be power dynamics at play that I needed to be cognizant of and work to dismantle. There have been many decisions I have made to work against those traditional structures of artist and sitter, but using photography as a tool to capture the moments I share with people was one of the first things I committed to. The camera allows me to be mobile, creating a fluid exchange between myself and the person I am engaging with.
CPI've noticed signifiers of gentrification in your Harlem portraits: a wall papered over with advertisements for Arizona Iced Tea, or a construction site with graffiti reading "HARLEM NOT FOR—SALE FIGHT—BACK." Are you actively exploring the gentrification of Harlem in your paintings?
JC The seeds and blossoming of gentrification in Harlem are literally written on the walls and pavement of the community. Through the act of painting, I am able to slow viewers down enough to see the language and signals that are right in front of them. I am often surprised by how much language presents itself in my work by proxy to the people who use that language on a daily basis to protect and honor themselves in their communities. I am not saying anything new or different than the community itself has been saying for generations.
CP You often work on a grand scale. Can you speak to the role of scale in your painting? Is it politically coded? I'm also interested in your use of cropping, as with the tight crops in the Subway Series paintings.
JC Every artist is faced with questions about composition and scale. My question is: As a black woman artist, does the intent need to be deemed "political" in order for the work to be meaningful? From the inception of a painting until its completion, I am making decisions that will inform how I want the works to be consumed, perceived, and experienced. How can I use scale to reinforce my investigations of color, line, subject, and space? Given the temperament of today's art world, I have grown to understand that the reciprocal nature of my work between painter, subject, and viewer allows for political interpretations or messaging, often superseding conversations of style, technique, and composition. While I remain open to all inferences, I think intent is often left out of that equation. For me, I am thinking about my body in relation to the bodies I am painting. These life-size, sometimes larger-than-life, portraits are about engaging with my community, or my landscape, with mutual respect. They're about people. Maybe the term "political" means something different to me.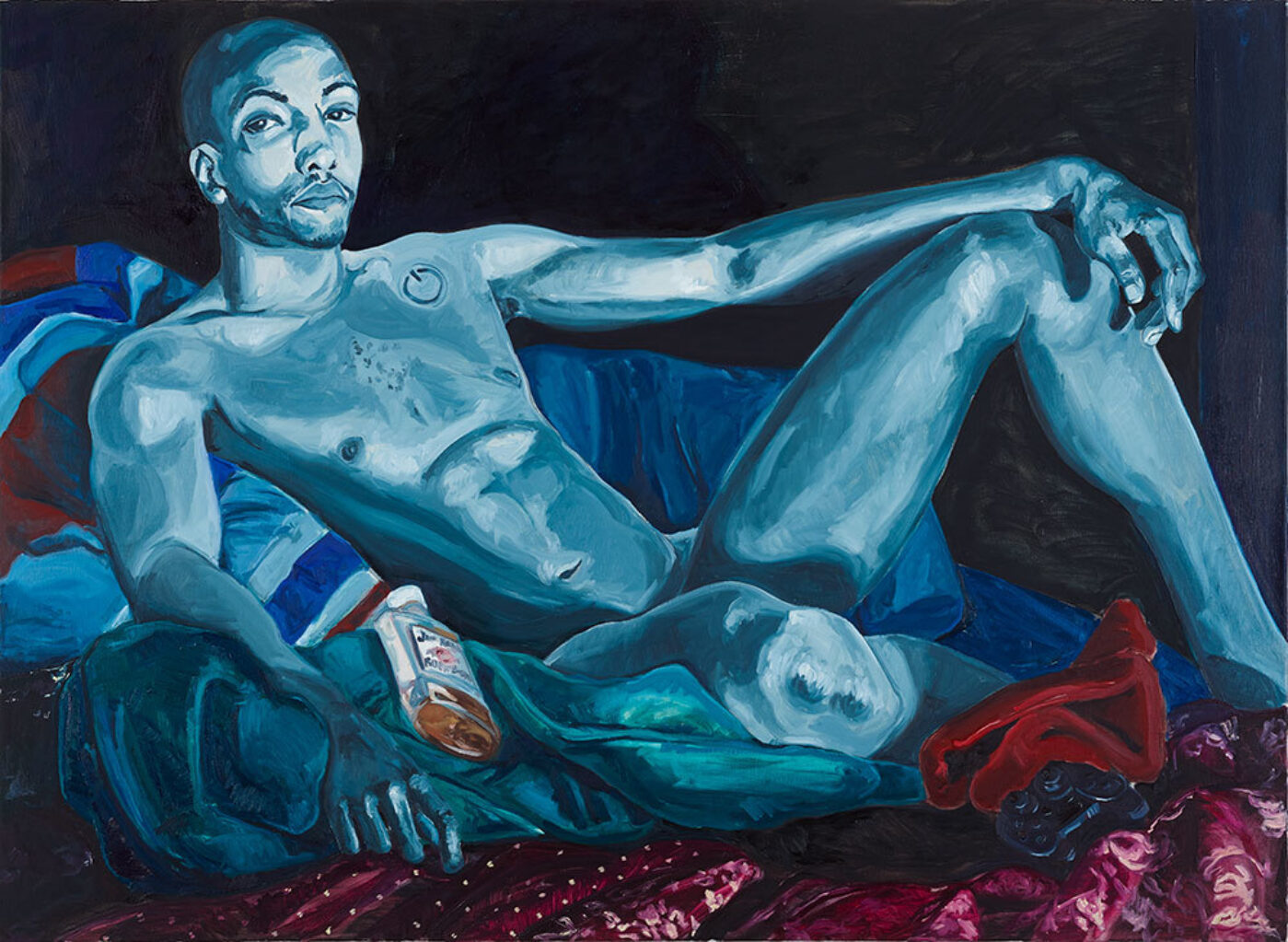 CP In your 2014 painting Jerome, a blue-tinted, nude man reclines on a heap of blankets indoors. I was struck by his pose, which feels so evocative of traditional nudes: Titian's Venus of Urbino (ca. 1534) comes to mind, as well as—particularly when you factor in Jerome's direct gaze—Édouard Manet's Olympia (1863). How do you position your paintings in the long history of portraiture?
JC It is through empathy that we gain an understanding of the lives of others. Portrait painting throughout history has allowed us a certain vantage point. There is always a story to be told, and those I am sharing are pushing against—and building upon—a history that often negated the value of black and brown bodies. I cannot ignore the history of portraitists who have come before me. Within my practice, the composition is a very collaborative experience. For example, in the painting of Jerome, his bedroom was the space in which he chose to be represented. He was intentional about the environment and objects around him.
CP I'm curious about the role of the gaze in your work. The subjects' eyes so often meet our own.
JC Activating the gaze has been an integral part of my practice from the very beginning. After spending hours upon hours alone, nurturing the paintings to life, there is a point at which I have to let them into the world. My job is to make sure that the painting is protected and the people represented within the frame are actively present wherever they go. Their direct gaze is a critical part of the reciprocal relationship I am trying to foster between the painting, the person represented, and the viewer.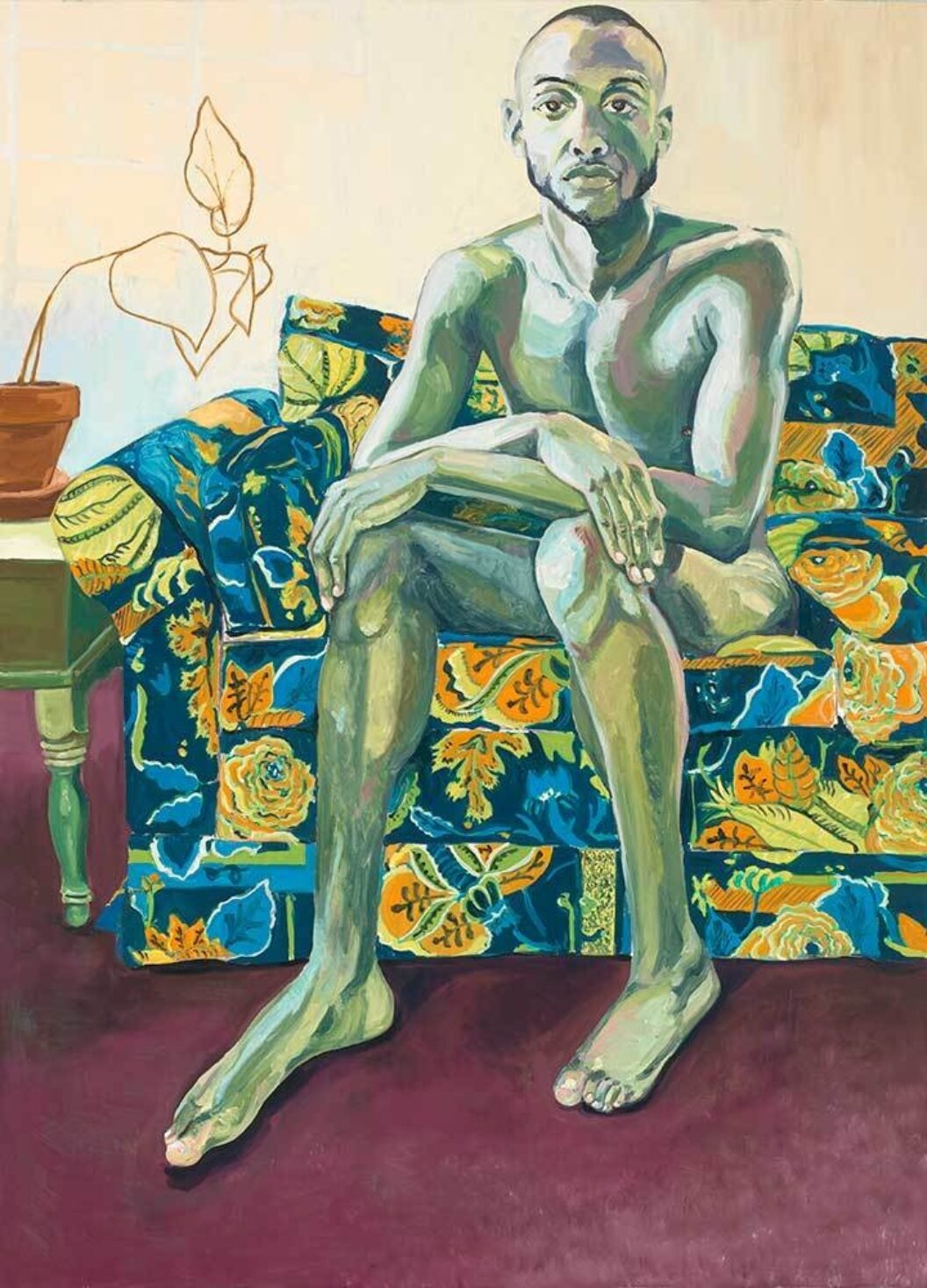 CPYou frequently paint images of men, albeit through a woman's lens. The men in your paintings read as somewhat vulnerable and gentle. Can you speak to your work's reframing of masculinity, and black masculinity in particular?
JC I spent the first few years of my practice focused on representing my relationship to black men as a black woman. Although women were not physically represented in those early works, my hand, labor, and engagement could not be ignored—although it often was. As my practice has grown and developed, I think a lot about how we prematurely gender people in an effort to make sense of our relationships to one another. What changes for the viewer if they know the subject or artist is a man or woman? It is our ability to see people as they are that I am most interested in as well as answering some of those questions in the least prescriptive way possible.
Jordan Casteel: Within Reach is on view at the New Museum in New York City until May 24. (The New Museum is temporarily closed due to the coronavirus, but the exhibition can be viewed online.)
Cassie Packard is a writer and cultural critic with bylines at publications including Artforum, frieze, and VICE, and is a contributing writer at Hyperallergic with a weekly column. She was previously a Researcher at Hauser and Wirth in New York City.