Rebranding the Orange County Museum of Art by Hannah Stamler
Content is only as good as its container.

Discover MFA Programs in Art and Writing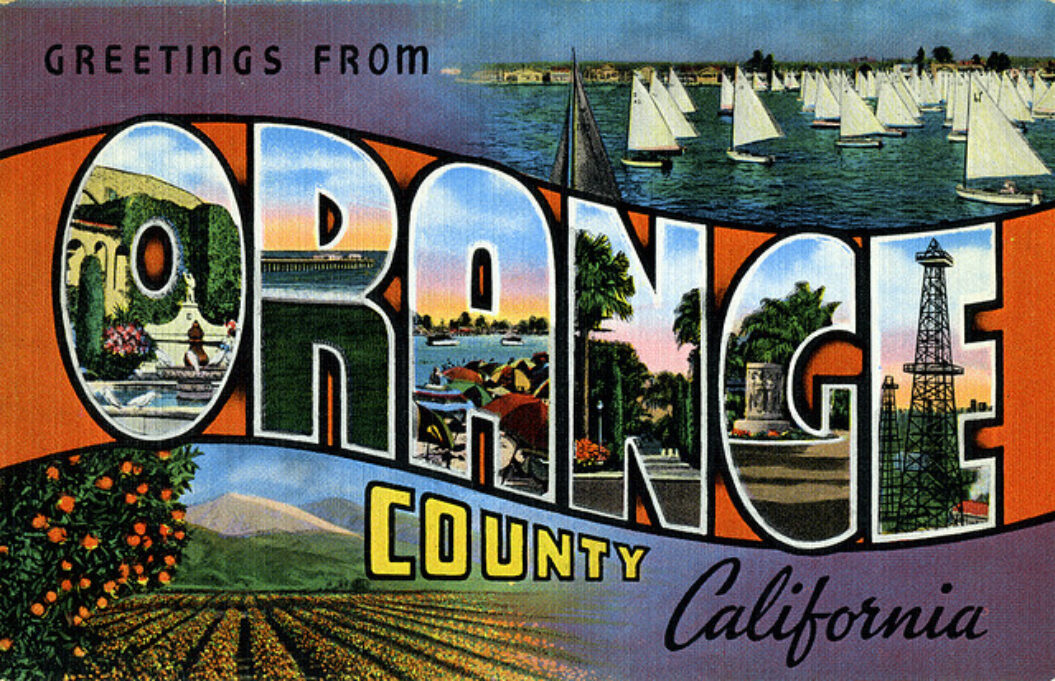 "This isn't just a place to live, it's a lifestyle."
—Promo for season 1 of The Real Housewives of Orange County
Few places in contemporary America have done a better job branding life than Orange County, California. The region just south of Los Angeles has become synonymous with a certain So-Cal vision of ageless, botoxed affluence, thanks to television shows like The Real Housewives of Orange County (the franchise's inaugural series), 2000s teen drama The O.C., and MTV reality spinoff Laguna Beach.
Orange County's character, both televised and real (it's one of California's only Republican strongholds), makes it an unusual setting for a museum with internationally recognized contemporary art programming. Yet, since 1977, the year the Newport Harbor Museum (as it was then known) moved to its current building, the Orange County Museum of Art (OCMA) has been mounting exhibitions that are sharp and sometimes risky. The museum gave daredevil Chris Burden his first survey in 1988 and promoted the early work of artists like Catherine Opie. It launched the California Biennial, now the California-Pacific Triennial, a showcase of Pacific Rim art, and plays host to traveling exhibitions like Alien She, the ode to Riot Grrrl currently on view. The museum has also been quick to poke fun at the irony of its location, co-commissioning Kutluğ Ataman's video piece Paradise (2006), an exploration of the reality TV-spurred mythos of Orange County as nouveau paradise.
Faced with behemoth commercial galleries—growing in size and influence—and globalized museum franchises, OCMA has proven that midsize museums outside major art capitals can survive and stay relevant by specializing in regional art, and by staging unexpected and thoughtful exhibitions, sometimes through partnerships with smaller-scale institutions (the case with Alien She).
But with the recent announcement that OCMA fired five curatorial staff members, including chief curator Dan Cameron, it seems the museum is seeking a new vision of relevance. The layoffs come on the brink of an expensive planned relocation that will move the museum from Newport Beach to a new, larger home on donated land adjacent to the Segerstrom Center for the Arts––a self-described "campus" that includes a concert hall, theater, restaurant, and arts plaza, framed by a commissioned Richard Serra sculpture.
Breaking ground at Segerstrom, which OCMA must do by 2017 to retain the land, has some benefits. The new location increases street visibility, a purported issue with the current building, and provides the opportunity to design a space that can accommodate OCMA's permanent collection, too big to display in full at the Newport Beach location.
It feels ominous, though, that a museum with a reputation built on curatorial prowess would announce a new phase in its history by purging its curatorial department, leaving OCMA with only fourteen full and part-time gallery staffers, as reported by Carolina Miranda in the Los Angeles Times. Indeed, according to a follow-up article, the move will herald a curatorial shift that places emphasis on OCMA's permanent collection. OCMA will also highlight its modern, 20th-century holdings, and increase its number of modern art exhibitions—this new modern art focus seen as at the root of OCMA's mission to "enrich the lives of a diverse and changing community through modern and contemporary art." No mention is made of a curatorial approach for the permanent collection galleries, but with no real curatorial staff on hand, one worries that there will be little innovation and that periodization will play a major role.
A new Thom Mayne–designed building (its cost estimated at $50 million), a spot on a startup-reminiscent arts "campus," a push for safer, crowd-pleasing shows that, Miranda writes, the museum hopes will "draw in more visitors as well as more donors," and a spotlight on museum-owned art: sketched out, the plan for OCMA sounds less like a transition and more like a rebranding.
The notion of brand and branded content in the internet age-museum isn't so farfetched. As Mike Pepi noted in his essay "Is the Museum a Database?," the encroachment of the digital sphere into museum experience has transformed material artworks and collections into content: "Patrons transform the museum's physical assets into digital assets—uploaded, downloaded, visualized, shared, and digitized. Museums of various stripes now adapt to 'users' who treat institutions not as a storehouse of physical objects but rather as a data set of image files."
Major American museums, notably the Metropolitan, have capitalized on this impulse by digitizing and openly publishing some of their holdings. Increased access, on the surface democratizing, belies self-serving aims, and is ultimately as useful to museums as to the public. In the case of the Met, it makes "iconic" works of art globally available under the Met moniker, reinforcing cultural ownership and institutional importance far more than anonymous Google-circulated jpegs. Not just limited to academic forms of content circulation, American institutions have also encouraged social media engagement in galleries, asking visitors to use museum-approved hashtags and often reposting or responding to their comments and photos. Few museums declined to participate last January in the second-ever "Museum Selfie Day," a celebration in earnest of a concept first, and ironically, introduced by the accelerationists at DIS as #artselfie.
While all forms of museum engagement can help promote exhibitions, from a branding perspective, nothing increases the longstanding value of a museum more than the worldwide recognition of its permanent holdings. This is nothing new. Museums have always been measured on the worth of their collections––the rarity of objects, number of masterpieces and "treasures," and overall collection size. However, never has visitor engagement (or user engagement, to borrow the language of the database) been so crucial to maintaining the status of works of art. Digital content in the museum relies on actual works for their source material, but these concrete objects require the help of nebulous content—"likes," uploads, and shares—to keep them trending, and give museums a quantitative means of proving their relevance.
Given the current museum climate, it's unsurprising, then, that OCMA is eager to show its permanent collection and to show off its better-known modern works—a bid for content relevance over the gratifying, but ultimately limited (and less solvent), relevance of critical acclaim from newspapers and art magazines. Building the value of OCMA's works is but one endgame of displaying a permanent collection. It also guarantees more future art donations, and in turn, more future donors with a vested interest in the museum's survival. As Miranda notes, "few collectors want to hand over works to an institution that is unable to put them on regular display." Never mind the fact that the museum has no curatorial staff to vet potential acquisitions. What good is a new expensive building void of enough content to fill it? The idea of bigger is better—so prevalent in the museum world today—seems, unfortunately, to have informed not only OCMA's choice of architectural wrapper, but also its revised sense of collections priority.
Since it hasn't been displayed in full, the overall quality of the OCMA permanent collection is hard to comment upon. More importantly, though, it may not be so relevant today, as older, more reverent modes of spectatorship—standing in the peaceful thrall of a painting—are overshadowed by the fragmentary search for experience. Museumgoers' increased desire for experience and interaction with art, and a healthy dose of irreverence, can be productive. In some cases, like at OCMA, it can challenge curators to think beyond staid methods of art historical display, and help to shake the canon or newly mediate it. In last year's exhibition The Avant-Garde Collection, for example, Cameron used a selection of works from the permanent collection as a vehicle for examining past understandings of what "avant-garde" may mean and retroactively acknowledging works that, since their creation, have "slipped from view […] awaiting future scholarly reassessment." A current show presents visitors with recent acquisitions that possess thematic similarities to the works in Alien She and the art of Fred Tomaselli, also now on view.
Highlighting individual pieces from the collection in specialized shows, and using them to illuminate temporary exhibitions, is a refreshing and smart way of fostering engagement with art history. This is especially true at a smaller and newer institution like OCMA, whose collection, though strong, is unlikely to match that of a large institution like, say, the Getty. In adopting a flatter mode of curating, OCMA risks overreliance on sleek setting and visitors' penchant for selfies to activate the works displayed. The more visible museum setting may promote increased traffic, but, one wonders, of what nature? The location at Segerstrom threatens to transform OCMA into but one of many zones of entertainment; the permanent collection––formerly used as a testing ground for new art constellations––threatens to become mere house content in the service of brand creation that will attract future art donors.
An outright denial of the merit of displaying OCMA's permanent collection is perhaps too cynical. A regional museum's job is to preserve local art and culture, and also, to acquire works deemed important for the edification and enjoyment of the community. But in a museum of limited means, does preservation and acquisition necessitate permanent exhibition? As Claire Bishop points out in the book Radical Museology, contemporary art institutions, when first popularized, distinguished themselves by opting to display temporary shows rather than build a permanent collection.
In this sense, OCMA has, albeit by accident, become a highly contemporary type of museum. Though OCMA has long wanted to move buildings and show its permanent collection, decades have proven that excellent curating can happen under space constraints, indeed, perhaps because of space constraints. (And there are fewer of these now than in the past, thanks to a modest 1997 expansion of the Newport Beach building.) Why change a model that has proven successful and is important to museological debate? And why do so at the risk of—if construction or fundraising goes awry—losing such a vital institution?
"This isn't just a place to live, it's a lifestyle." The distinction between "content" in its original and its internet-inflected sense is difficult to articulate. It seems mirrored, however, in the distinction between "life" and "lifestyle"––the latter not existence itself, but the performance and projection of it. In firing curatorial staff to affect a move and signal a new collections focus, OCMA seems to be angling not just to become a brand, but a lifestyle brand. Is this what we really want for the future of American museums?
Hannah Stamler is New York–based writer whose work has appeared in Frieze and Modern Painters.