Discover MFA Programs in Art and Writing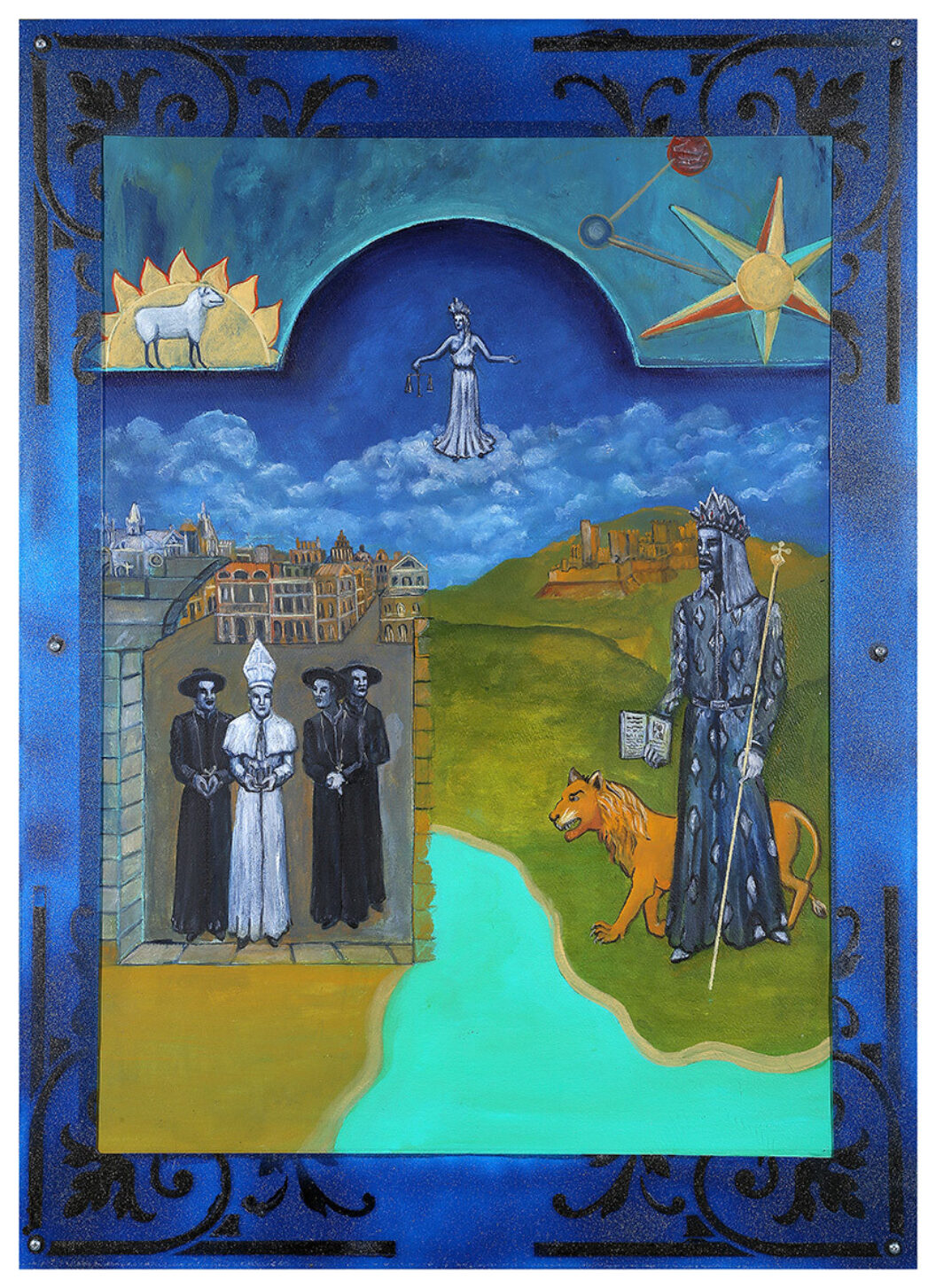 It was a warm spring day in Havana when Spanish authorities recklessly searched the home of José Antonio Aponte, eager to implicate his role in a slave uprising. In what became known as the "Aponte Conspiracy" of 1812, a group of assembled slaves and free people of color set fire to several sugar mills, the first step in their plan to overthrow the plantation system. The government swiftly ended it. Aponte, who reportedly organized the rebellion, was a free black carpenter, military activist, and—it was soon discovered—an artist. The nature of his subsequent interrogation was less about the rebellion itself than his mysterious "Book of Paintings." The tome, authorities discovered, contained sixty-three drawings, engravings, and collage cutouts: Biblical scenes, black men as kings and warriors, lush, detailed landscapes—black histories and futures, imagined and real. 
The book was meant to inspire and incite—Aponte referred to its mid-page battle scenes as blueprints for his co-conspirators' uprising. It was also intended to educate: the book, Aponte explained, was a gift for the King of Spain, a guide to the depth and autonomy of black culture—why enslave the powerful? The interrogation lasted days as authorities demanded the meaning of each image, after which Aponte was hanged and decapitated, his head placed in an iron cage as a warning against similar rebellions. The Book of Paintings was then lost to history.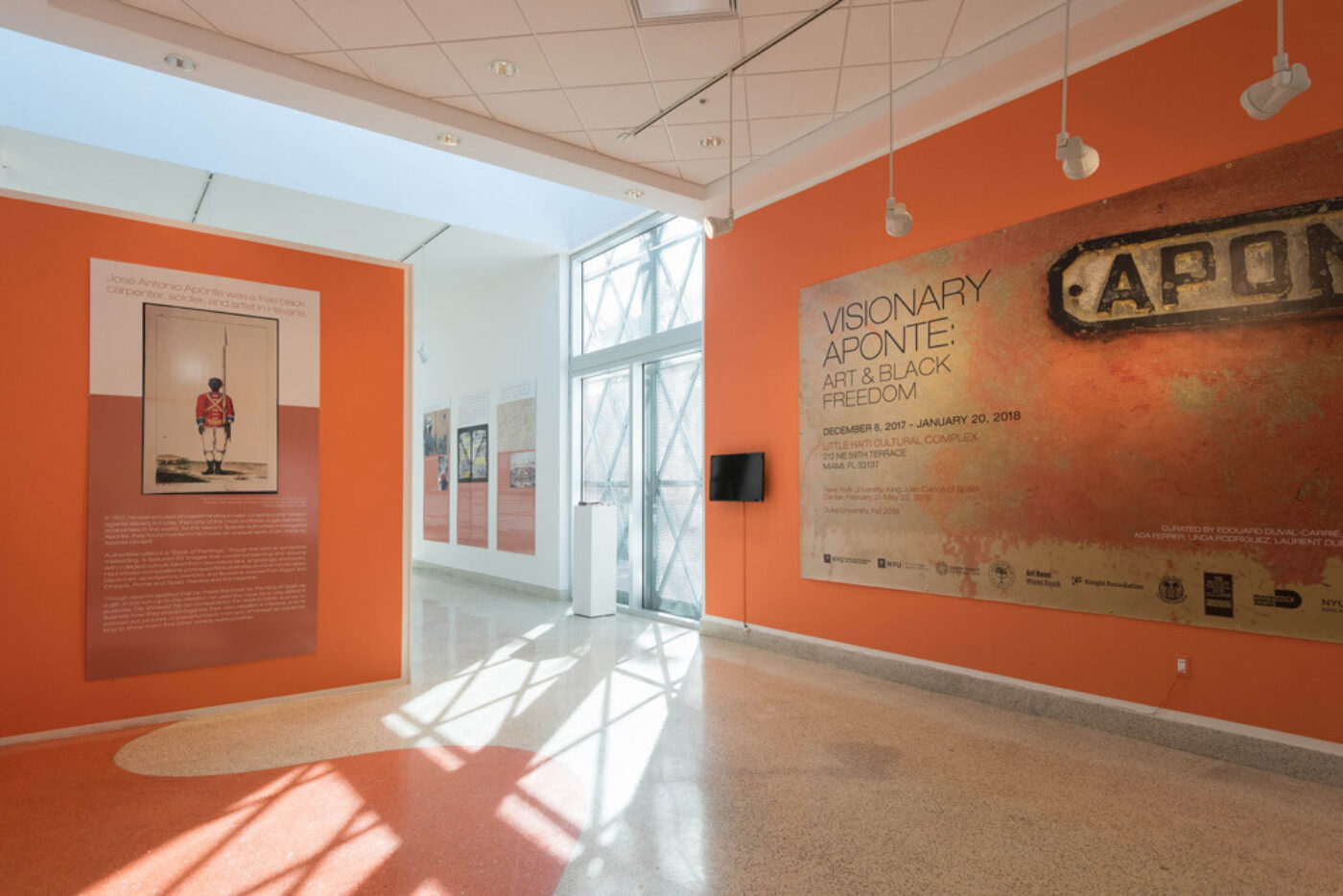 The artists in Visionary Aponte: Art and Black Freedom, an exhibition on view at the Little Haiti Cultural Complex in Miami, FL, are all of Caribbean descent, and have reimagined Aponte's book, page by page. (The show will soon travel to New York University [NYU], followed by Duke University.) Édouard Duval-Carrié, Tosha Grantham, Ada Ferrer, Linda Rodríguez, Laurent Dubois, and Marie Vickles are co-curators; Ferrer, an author and professor of history and Latin American studies at NYU, dedicated a chapter in Freedom's Mirror: Cuba and Haiti in the Age of Revolution to Aponte's story. She helped create Digital Aponte, a web portal that includes Aponte's full interrogation, documented and translated. It also includes Aponte's detailed descriptions of the imagery in the Book of Paintings, an elliptical list of occult symbolism, such as: Lámina 1 ("sheet 1")—"God, mirror, creation of the world, sun, moon, stars, Garden of Eden, Adam, Eve, Nile River, Ganges River, Geon River, Eufrates River"; Lámina 57—"Polinia, memory," etc.
That the Visionary Aponte exhibition retells history not from the perspective of the victor is one of its best components—the other is its pliability. A few artists reimagine the images literally. Collages and drawings by Renée Stout, who worked with Láminas 44b–45, include a table of contents to describe the images that follow: the first is "Mars with Blood," a blood-red version of the planet so saturated it still looks wet. Others embody Aponte to tell his story. José Bedia's Júbilo de Aponte, 2017, describes Aponte's experience in characteristically massive hieroglyphic panels; in Leonardo Benzant's sculpture, The Tongue on the Blade: Serenade for Aponte and All Those Who Have Vision, 2017 (part of a larger series by the artist), colorfully beaded netting encases a soft, amorphous cloth—a kind of glyph come to life. In Nina Angela Mercer's video, Invocation for José Antonio Aponte: Lámina 26, 2017, she speaks to Aponte directly. "Spirits!" she yells, caressing a seashell. "Come on through!"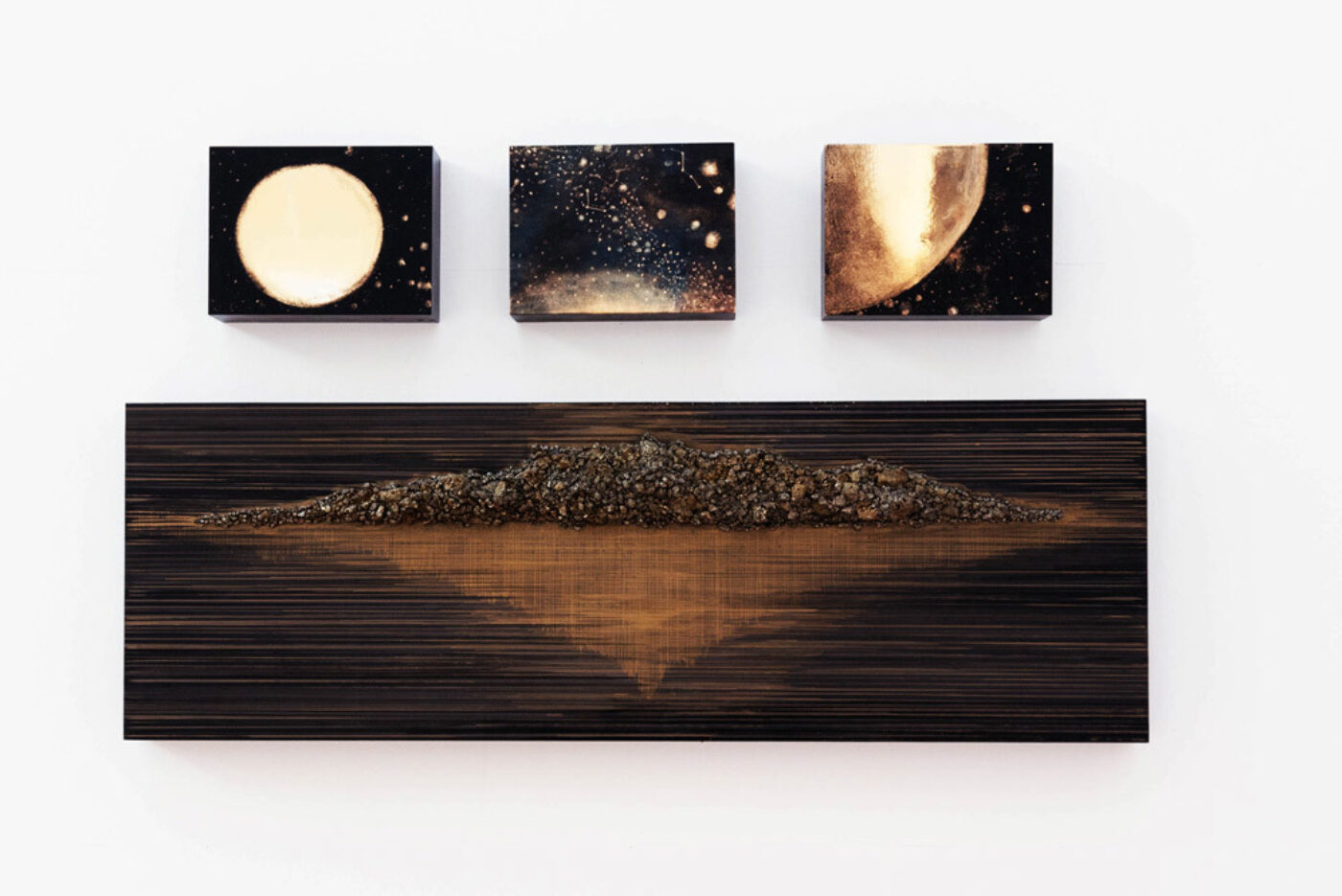 Visionary Aponte's location in Little Haiti is emblematic of the exhibition's dialogue between artists and ghost, the living and the dead, one island and another. "The conspiracy had clear ties to Haiti," Ferrer told me over email. "One of the leaders took on the name and persona of a Black general in the Haitian Revolution, and pictures of Haitian leaders were found in Aponte's house." When I visited the exhibition, Vickles and Duval-Carrié—a painter who is Haitian-born, partially Puerto Rico-bred, and both co-curator of and artist in the show—noted the significance of its placement, its near-vocal assertion of Cuba's rich black history. Later, he said, "The book is gone, a mystery—like the Holy Grail."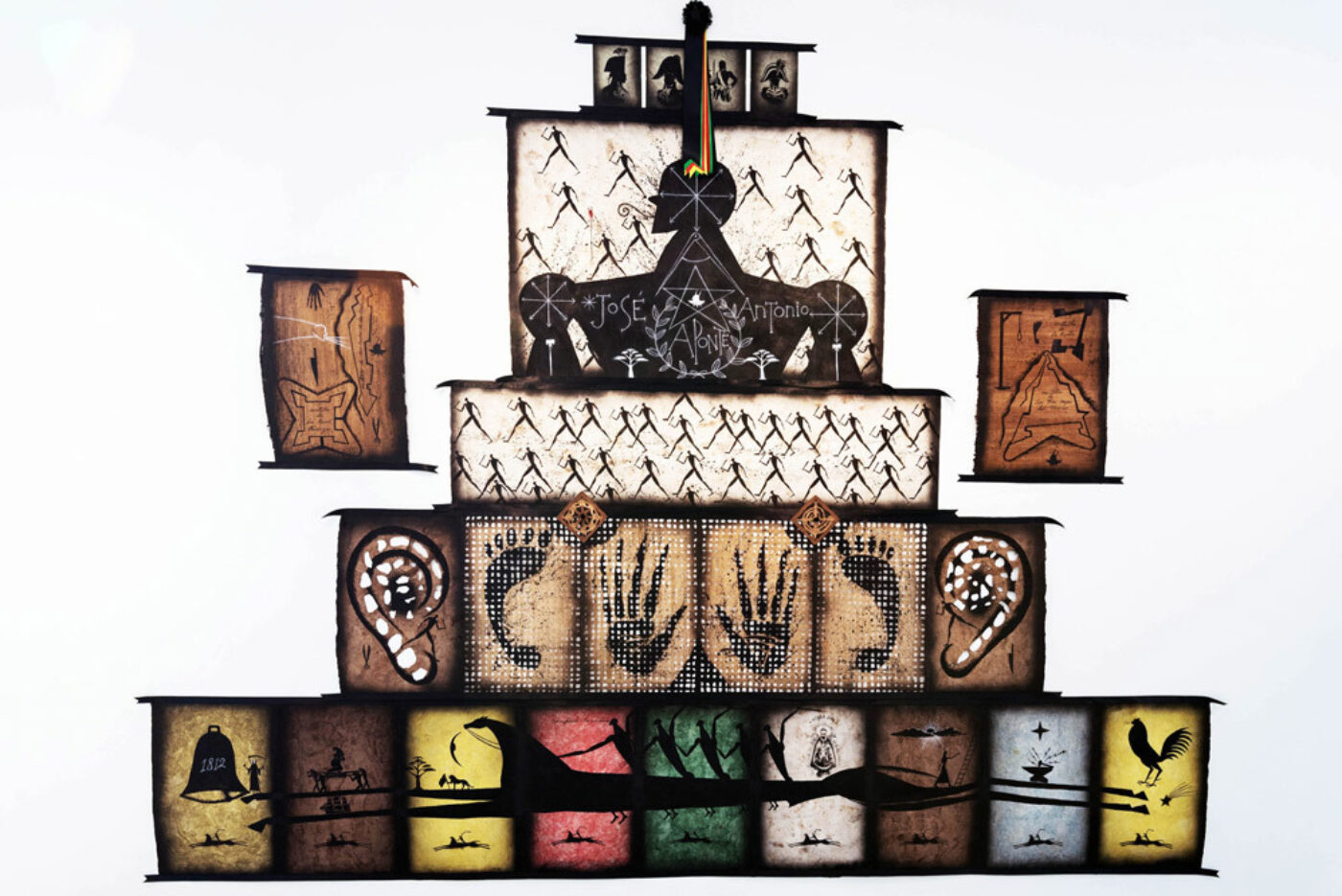 He's not incorrect. But erasure through colonialism is far more deliberate than the magical disappearance of a relic. The Holy Grail is a probable myth turned reality; Aponte's Book of Paintings is a reality relegated to myth. Of all the crimes committed by colonizers and their ilk, this is, perhaps, one of the most insidious: condemning the descendants of their victims to a strange reality, one in which they must employ magical thinking—a personal and collective mythos—to better understand their forcibly eradicated histories. What else is there to parse through, to comprehend, if not carefully constructed stories? Rendering Aponte's work visible, Visionary Aponte breathes the man into reality, too.
Visionary Aponte: Art and Black Freedom continues at the Little Haiti Cultural Complex in Miami, FL, until January 27. It then travels to the King Juan Carlos I of Spain Center at NYU from February 22 through May 22.
Monica Uszerowicz is a writer and photographer in Miami, FL. She's contributed work to Hyperallergic, Vice, The Miami Rail, and Avidly, a channel of the Los Angeles Review of Books.