Discover MFA Programs in Art and Writing
The fashion photography of Raymond Voinquel is little known compared to his work as the finest still-photographer and portraitist to the stars of a golden age of French cinema. For over 40 years, he collaborated with the greatest directors in France: Marcel l'Herbier, Jean Cocteau, Abel Gance, Max Ophuls, Marcel Carné, and Sacha Guitry; the latter called on Voinquel for every one of his films.
It was at the beginning of Voinquel's career, around 1935, that he first tried his hand at fashion photography, using it as a means for experimentation, drawing directly on his negatives, or being the first photographer in France to take his models out of the studio and into the streets. He went back and forth between his work in fashion and cinema, his goal always being to transform the given into dream-like images. And even though cinema and fashion may seem very close, a photographer split between these two worlds is a rarity. It didn't take long for Voinquel to abandon fashion and dedicate himself entirely to his first love: the cinema. He threw himself completely into projects as soon as they were thought of by writers or directors, and was at times responsible for the meetings between them and the stars; he was thus the catalyst for the advent of certain films. Had he desired, he could have gone much further in fashion, imposing his talent and his ideas so modern for the time, but he was undoubtedly not stimulated enough by the prospects of the milieu, too often worried about preserving a conventional image, with room for innovation allowed only to the couturiers.
His obsession with the cinema permeates all his work; his landscapes at night look like sets in a studio and his train stations might be confused with film stills. It is artifice, the seemingly real which fascinates Voinquel.
Raymond Voinquel Photography is anything and everything today, any old shutterbug! Amateurs are lovely but let them prove themselves before publishing such trash. I'll tell you why I gave up fashion: because it became so horrible! When I started working in fashion, around 1935, it was another world. I worked with Hoynigen-Huene and Durst, not as an assistant, but as a team, working together, exchanging ideas. And I worked a little for Bazaar, not much. One had to be very snobbish to work for Bazaar, like Cecil …, Cecil Beaton. Unfortunately, not much of my work remains from that period; at the time was really involved and completely absorbed in the cinema. Between films, I would jump back to fashion work. At that time, fashion was not greatly respected and this really allowed one a great deal of freedom. You could do the most marvelous things. One Spring day I took off in a truck for the forest of Fontainbleau with 200 meters of white tulle, and a 17th-century Portuguese bed.
It was extraordinary … I believe it was for Bazaar. I can't quite recall. We set up the bed under a magnificent old oak tree, and the sunshine through the leaves made the light like lace. We spent the entire day on the one photograph. The propmen had to keep climbing the trees to control the tulle so that it would fall, flowing continuously like waves, over and over again. The girls were like exotic birds in a cage. You can't do that today! I took girls out onto 17th-century rooftops! And if you think that was easy in high heels. I was the first to take a model outdoors. During the war no one wanted to let me out with women in evening gowns … (laughter)
Samia Souma Blumenfeld did it in 1939.
RV But I did it in '35.
SS Did you know him?
RV No, but I admire his work.
SS Did you see the recent Beaton exhibition here?
RV Yes, but I was very disappointed by it. I know his work very well and the best was not shown. I don't think he really knew how to photograph women; his photography of men are much better. And he was not very good at lighting; he didn't know how to balance his lights. The balance is very important.
SS How did you learn to master lighting?
RV At the Louvre. There is no better teacher than the likes of Tintoretto, Caravaggio, Georges de La Tour, Delacroix … I can cite them all. Photographers today haven't a clue about culture. They never go to museums and their only reference to lighting in their work is from television! Certainly not a reference! When I began working in cinema, one had to spend years as an apprentice to learn how to light. The minimum age of a cameraman was 40. What is light? It's seeing.
SS Did you ever use flash?
RV I can't stand it! It flattens everything. Maybe to light a background, okay, but otherwise I think it's awful.
SS How did you light your landscapes and train stations at night?
RV Long exposures, quite simply.
SS Always in large format?
RV Yes, always with a large format camera, 8 × 10. The resolution is much better than something like, say, 35mm, for example. The minimum is the Rolleiflex.
SS Did you begin your career as an assistant?
RV I only worked for about two months with Roger Forster. I even managed to save some pictures he didn't want to print because he thought they were under- or overexposed … which can be very interesting. A beautiful photograph can also be an accident. I like accidents. That's how I learned, accidents, and instinct, au pif, as you say in French. The pif is here [pointing to his nose]. The "pifometer" is the most exact light meter you can have for photography. When I started working as a photographer in the cinema, I had no idea what an F-stop was. So I just didn't move it throughout the entire film, and the pictures are beautiful. That was on L'Aiglon. [Then, pointing to his collection of photographs] That portrait of Delacroix is by Nadar. His son, Paul Nadar, gave it to me. And that's Baudelaire by Carjat. And I have a beautiful seascape by Le Gray. [Leafing through a copy of BOMB magazine and seeing a painting by Eric Fischl] Oh, I thought it was a painting by Terrasse, Bonnard's nephew. That's very funny! He must have seen some of his work. It's not bad.
SS At the time you were doing fashion photographs, how much freedom did you have in the choice of the models and the clothes?
RV I tried to have the most freedom possible but it wasn't always easy. I worked a lot with Bettina; she moved so beautifully!
[Jacques Fath's house model who was engaged to Aly Khan.] Otherwise, I had to make them move; I posed them myself. Often their hands were so awkward; I can't stand inelegant hands! As a designer? I adored Balenciaga.
SS And today?
RV Today it's awful! You have "great designers" turning out horrors. Yves St. Laurent is one of the rare exceptions who keeps up his standards of quality. I can't stand Cardin.
SS Did you work in advertising?
RV Never! I didn't like it because everything was imposed on you. It was bad enough with fashion editors and art directors; how I used to fight with them! You had to do such and such a picture because of the layout or the theme; everyone wanted to sign their name. They used to crop my pictures … it was awful! Can you imagine someone cutting up a painting? I can't stand the idea of cropping pictures without permission.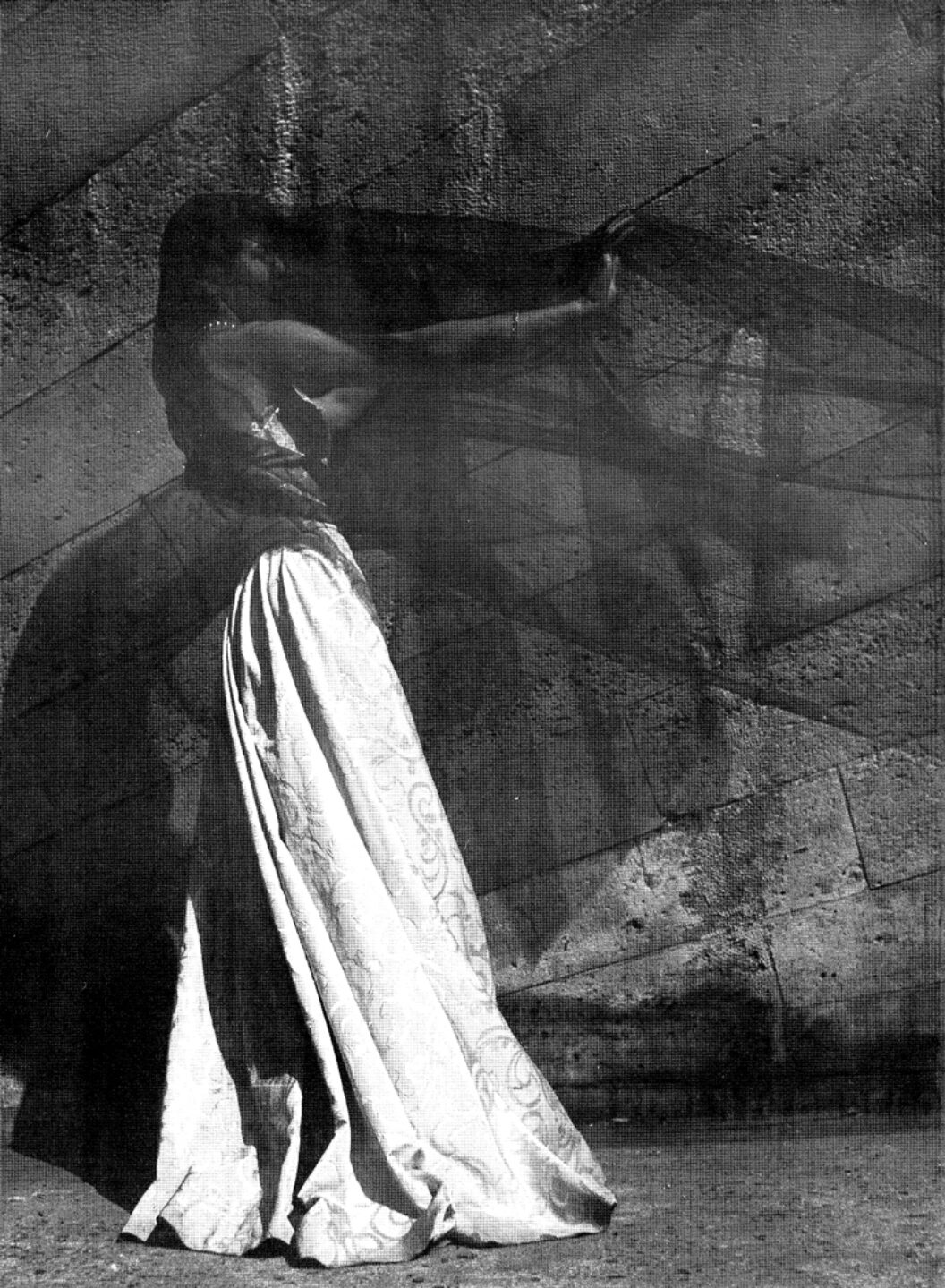 SS May we look more closely at your work?
RV Here, you have Martine Carol. I have a whole box of Martine. The background for this fashion photograph is the back of a set. I didn't like the decor they wanted me to photograph so I just turned it around. This is the English Ambassadress. And here are the boys of the world, not always what you'd imagine them to be like! Ha! Ha!
SS You were influenced by painting in your fashion work?
RV It depended on the picture, the girl, the dress. Take Watteau for example: nothing better for the mise en scene and the quality of fabric. Look at this photograph of Mistinguett. She was 76 years old then. Arletty, who I adore, and Danielle Darrieux, my favorite. And this is a portrait I like because it's lived in. That girl has an aura. It was Marie-Antoinette in La Dubarry. [He pulls out a photograph of a Peruvian mummy.] And this is a self-portrait! (laughing) You know they just kept it preserved in a paper bag! And this leopard was the star of a film called Maléfices. What a marvelous animal! I took him strolling around Paris on a leash, and did some pictures of him with Juliette Gréco at her home. He kept disappearing and suddenly you'd see this enormous beast leap at you. Later we found him snuggled up on Juliette's fur-covered bed, so we did the picture there, in the light of day, like Nadar … ha! ha!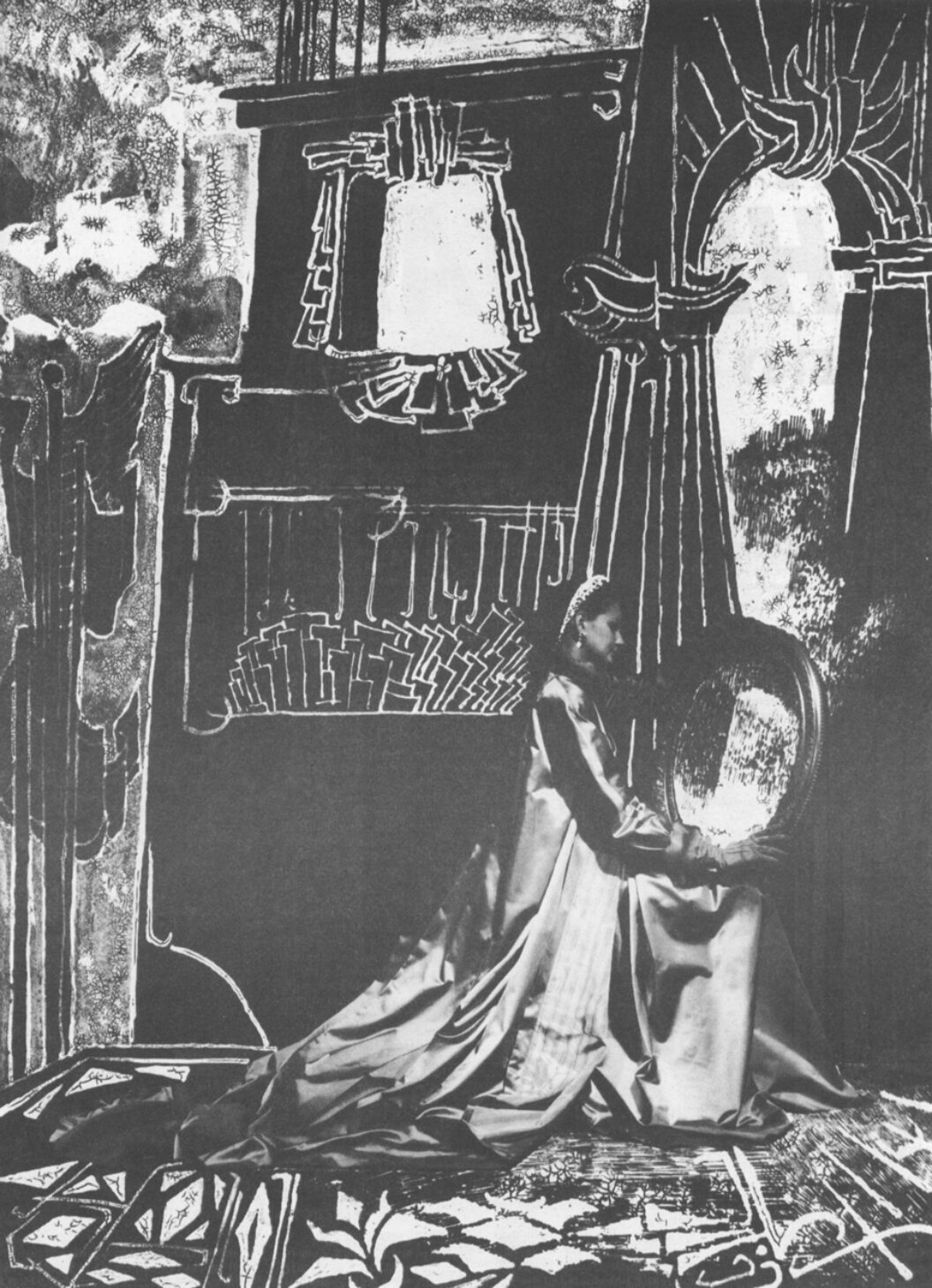 SS And you made films too.
RV I did one on Gustave Doré, his life and work. Unfortunately they made me cut it from 90 minutes to 60. It ran for three months at the Ursulines [one of the oldest cinemas in Paris] in 1952. Gustave Doré is someone extraordinary who has not had the recognition he deserves. In America and England he was much better known than here. I also made a short documentary film on Norway called Le Bout du Monde (The End of the Earth). And another film, not uninteresting, on Saint Louis, which ran with Cocteau's Orphée. His life through statues, landscapes, and chateaux from the period. [He takes out a medallion of Saint Louis on which is engraved:] "Time stand still! You are so beautiful." Goethe in Faust, not bad for a photographer, no? Time must stop.
Originally published in
Cindy Sherman, Dario Fo, Bruce Weber, Lisa Fonssagrives-Penn, and Raymond Voinquel.