On the generational bridge that is Raoul Walsh's 1942 boxing film Gentleman Jim.

Home of the Bill T. Jones / Arnie Zane Company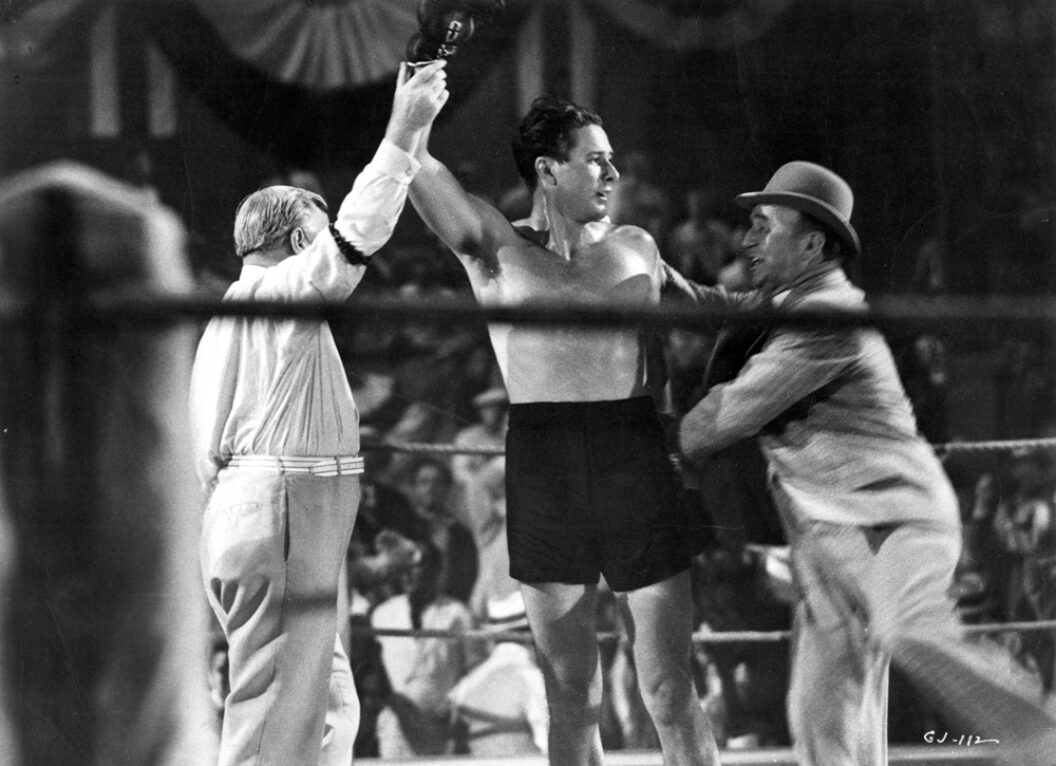 My dad and I both love Raoul Walsh's Gentleman Jim (1941). That's about all we agree on when it comes to movies: I'm still trying to convince him that Night of the Hunter is a masterpiece, and he continues to pay good money for the type of British entertainment in which a community of retirees puts together a dirty calendar to save the local library. The schism is not a question of deeper experience—dad once played ping pong with Stanley Kubrick, then accompanied him to a screening of Paths of Glory—but different needs. What I'm looking for is what I call "lifting identification," a recorded perception of something I know in my bones that leaves me feeling stronger for the fact that it has been put on screen. I haven't asked dad what he's looking for, but I suspect he doesn't have anything against spending two hours—better yet, ninety minutes—lost in a story. The great Hollywood movies meet both our needs by speaking to the heart and letting the brain do the work after the fact. They sweep you up. And no one is better at sweeping you up than Raoul Walsh, pulling you from one scene to the next in a single camera movement, setting your pulse inside a sequence with flawless montage, and regularly dunking you in a cacophony of Irish voices.
The Walsh mystique has stumped generations of critics with a style anything but showy and enough turkeys to supply the nation for a few Thanksgivings. Yet the masterpieces speak for themselves: High Sierra, with Bogart as the ultimate tragic gangster; The Strawberry Blonde, with James Cagney and Olivia de Havilland in a sweet love story that singlehandedly redeems the horrid label "feel-good movie"; Pursued, with Robert Mitchum in the creepiest quasi-surrealist Western; and White Heat, with Cagney again as the ultimate psycho gangster. Gentleman Jim stars toothy, shiny Errol Flynn in a bullet train biopic of the showman-boxer "Gentleman" Jim Corbett. Here, Walsh gets to display his mastery of the organized bustle of the crowded studio set in recreations of San Francisco streets and boxing matches from the era when men jousted in striped tank tops and underwear. Walsh generally avoided isolating two characters for an intimate scene, but he thrived when staging intimate moments within a crowd. The boxing scene was his playground: two individuals locked in conflict amid hundreds of howling people. Walsh's camera moves from the boxers' feet to audience reactions to wide shots of the whole room with clockwork efficiency, eschewing the sensory overload of reverberating punches and splattering blood but drawing you into a rhythm as graceful as Gentleman Jim's footwork. As Jim's feet flutter across the ring, the blows sound like darts landing on corkboard. Walsh doesn't need bombastic sound or slow motion because his chop-chop organization of space and the various impulses at work in the audience (the proud father, the reluctant inamorata, the stunned Olympic Club members) have zipped our focus into line.
Gentleman Jim is a democratic cinema, moving fast, yet taking time for asides, details, and a gallery of mugs only an actor's director could love. It probably reaches dad and me most deeply because, by telling a great story of dissimulation like Huckleberry Finn or The Great Gatsby, it portrays the American ethos that you can be whomever you want to be if you say so. That ethos has led dad from Brooklyn to the Grand Duchy of Luxembourg and me from Luxembourg to Queens.
As for scrawny Jim Corbett, the son of a modest Irish livery driver, he sweet-talks and swift-foots his way from being a bank clerk to a legendary boxer. Jim's brilliant deceptions make this a story of metamorphosis rather than rags to riches, yet the joke is that everyone has undergone the same change—it's only a matter of how and when. The wealthy members of the august Olympic Club that Jim schmoozes his way into at the beginning of his career all own up to their past as slag heap miners. They just aren't eager to let anyone new up the ladder. In this America, class is a question of luck manhandled by brains. A man's fate is defined by character. In Jim Corbett's case, that's the ability to scheme himself in and out of any situation, but also to never lose track of who he truly is. A gentleman, in Walsh's ethos, is not a man in tails, but one who sticks to the values formed before the dissimulation.
The film's emotional peak has nothing to do with its love story, but rather with the final conversation between Jim and John L. Sullivan (Ward Bond), the heavyweight champion Jim has uncrowned after a long undefeated reign. Walsh slows the pace to a crawl to mark the moment's importance and hushes the raucous victory party to let us appreciate that Jim—an irksome peacock with a set of sparkling teeth—is a fundamentally decent man. The understanding between the two fighters is not a perfunctory gentlemen's handshake, but a misty-eyed acceptance of one generation giving way to the next. Which may be another reason Gentleman Jim is a good picture for fathers and sons.
Gentleman Jim screens at BAM Cinematek on Friday, March 14, in the Under the Influence: Scorsese/Walsh series.
Nicholas Elliott has been New York correspondent for Cahiers du Cinéma since 2009 and is Contributing Editor for Film at BOMB. His translation (with Alison Dundy) of The Falling Sky by Davi Kopenawa and Bruce Albert, published by Harvard University Press, was recently shortlisted for a French-American Foundation Annual Translation Prize.