Discover MFA Programs in Art and Writing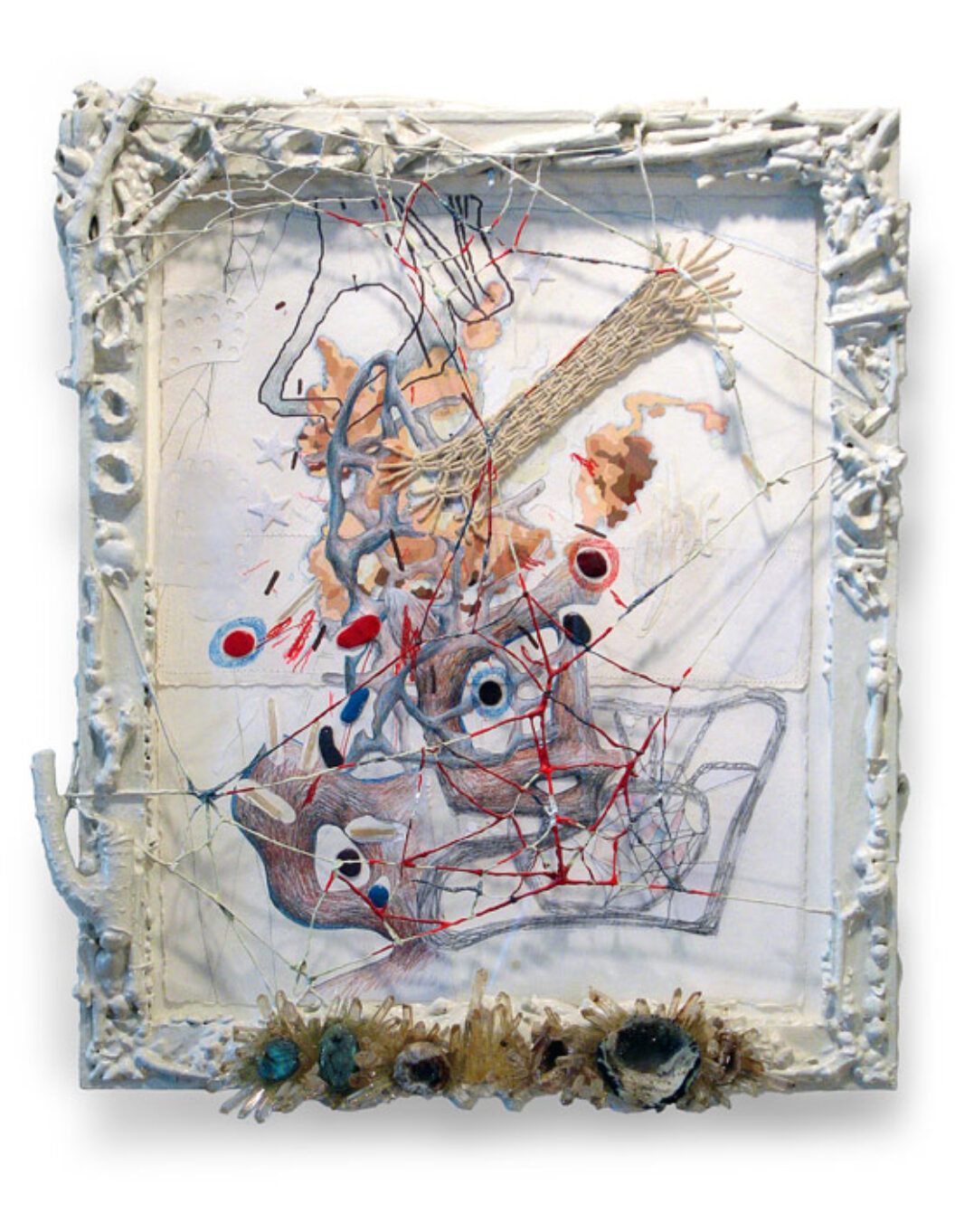 His magnum opus installation Heaven on High includes Moonshine Garden, a hand-sewn quilt of the Confederate flag irreverently positioned on the floor, twisted white-washed sculptures rising above it. These ghostlike apparitions invoke the sleep of reason as they seem to contain the secret vapors of a distilled racist and violent past. Part of the same installation, the painting Cross depicts a withered tree supported by wooden beams; spiderwebs and grotesque-green manifestations hang down in front of this radiating vision like the ecotoplasm of lynchings. More Confederate flags wave in the background, nightmare echoes of horrible histories.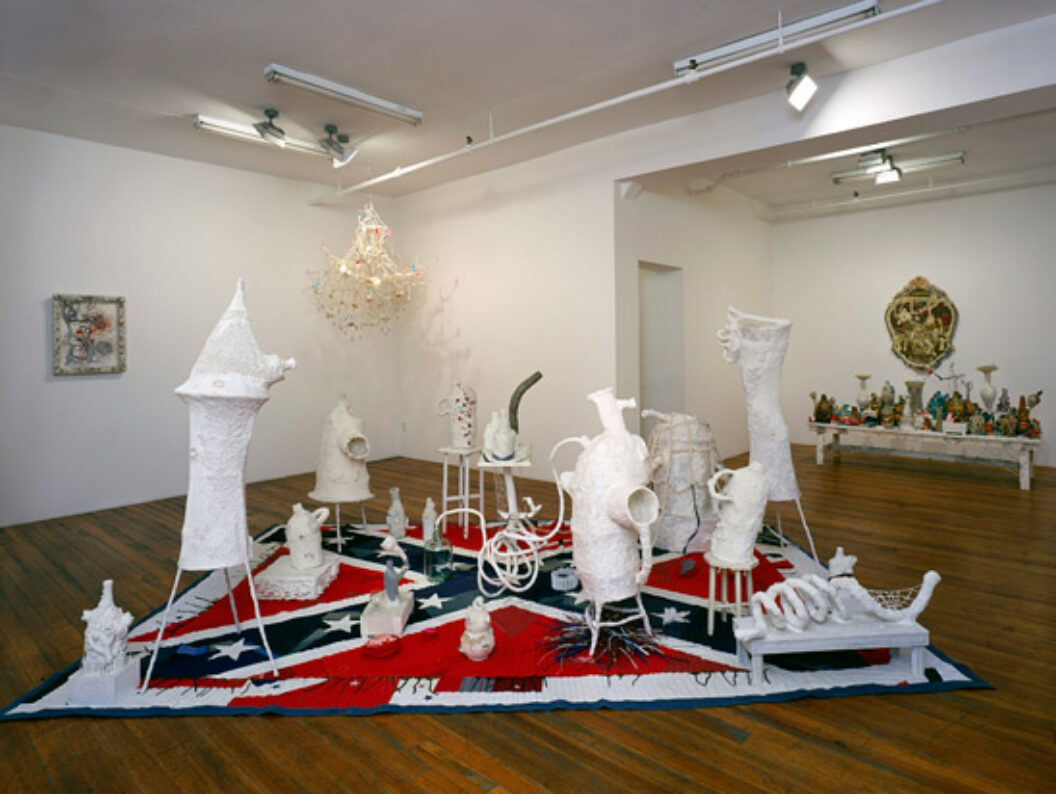 Along the side wall, dozens of bottles and jugs in Spirit Jars rest on sewn fabric and paper pulp encrusted with rocks and other detritus from Wray's teen years in North Carolina. Updated from the ancient American reliquary art form, once used to mark the gravesites of slaves, the piece becomes a eulogy, an elegiac sermon rhapsodizing a lost youth and culture by manifesting its sentiments as the sediment of rescued memories.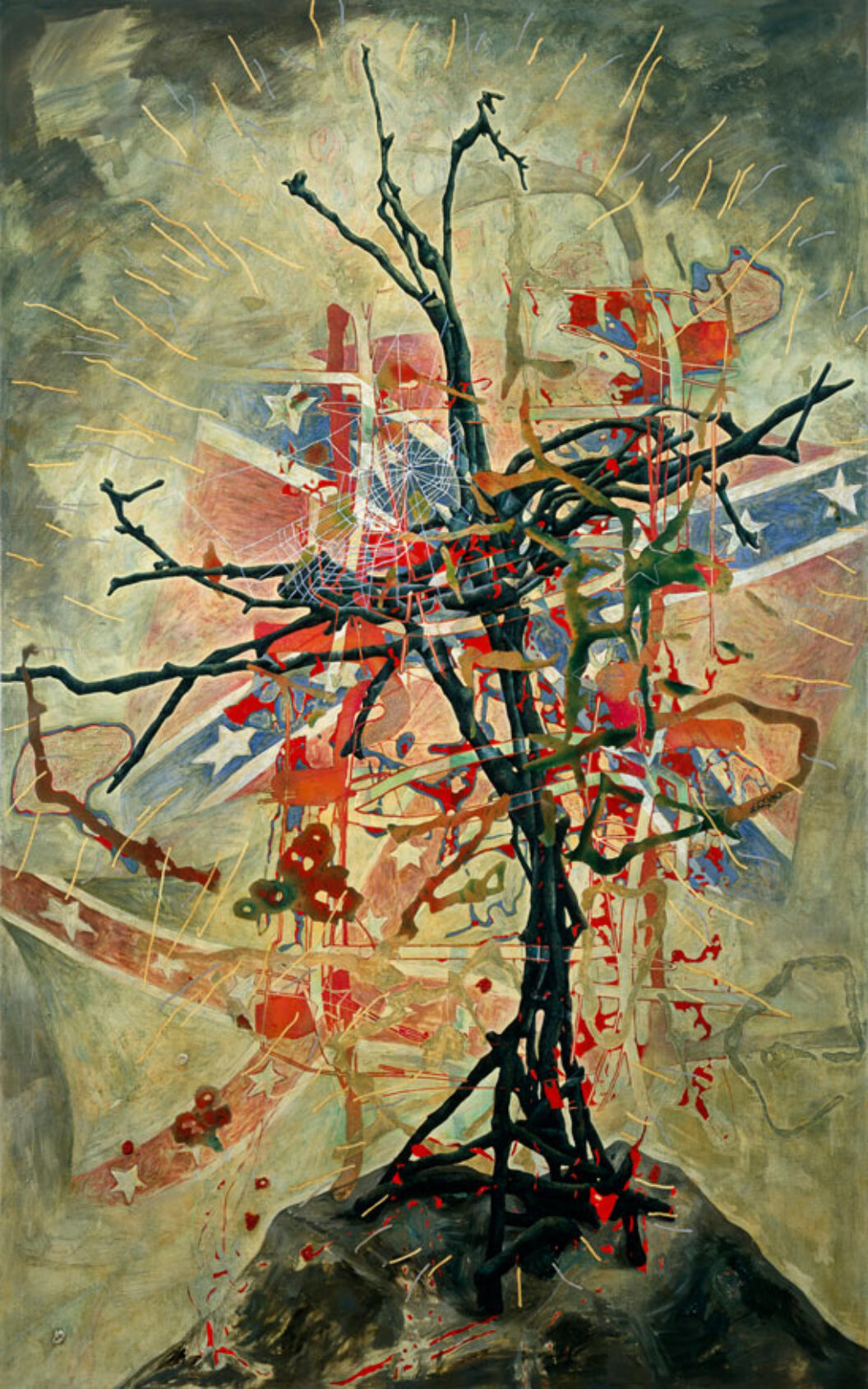 The paintings are based on the sculptures, and vice versa—each becomes a hybrid of touch and texture, surface and space, emotion and desire. Wray first paints and draws his own sculptures from observation directly onto the canvas, also rendering them on paper and from computer printouts that later get matted, stitched and crocheted on top. The imagery of branches, flags, faces, and wizened forms in the paintings breaks apart what is seen in the sculptures, both literally and symbolically, morphing them into their own exquisite optical space. The interior language of emotions that Wray's work articulates transcends the paintings' aggravated surfaces, pushing them into other realities.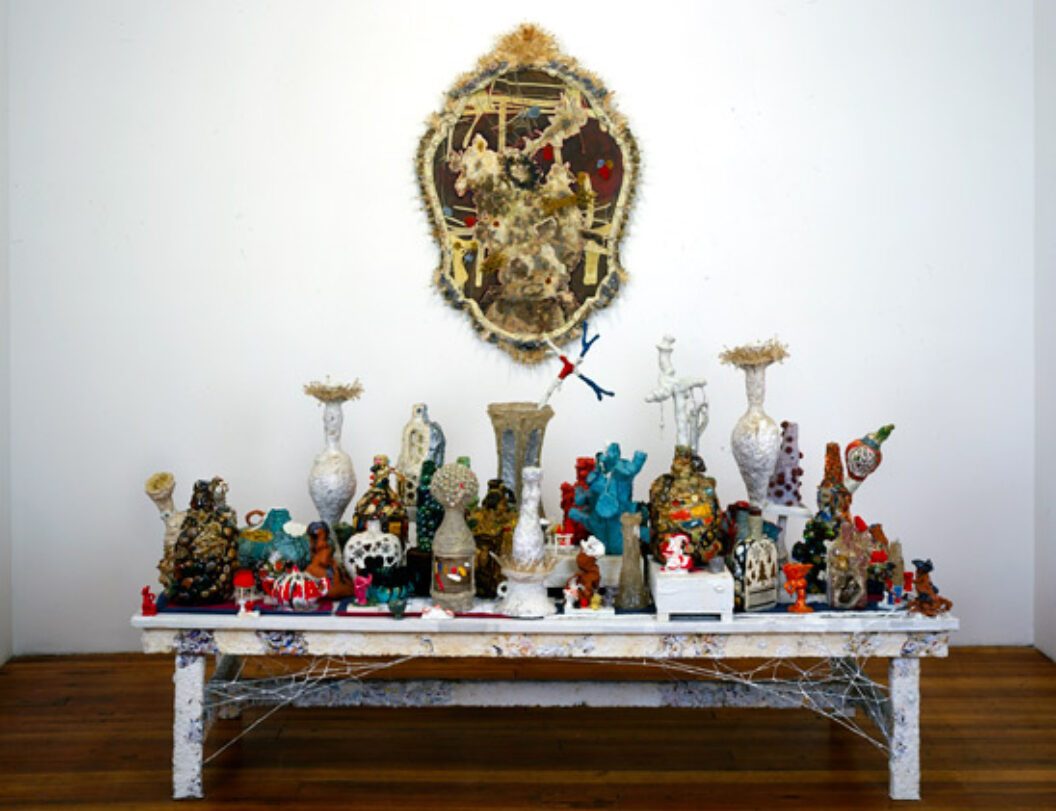 The sculptures, because of Wray's extravagant, reverent devotion to their creation, have a life of their own as talismans. Whether they assume the shape and light of a chandelier or simply cohabitate with other sparkly and spindly uncanny beauties on hand-made pedestals, they live and breathe as exotic, fetishized icons. Ultimately, the paintings are sculptures too, in that they are scarred, built in, built out, and up. And the sculptures can be like paintings, with colonized surfaces that pull out and make present weird optical planes that, upon scrutiny, open into other worlds. The viewer sutures the disparate elements together in observation, completing Wray's strange and stunning union of returned repression and aggregated sublimation. The result is an aesthetic garden of the imagination made palatable, real, and synaesthetically sublime.
Keith Mayerson is an artist living in New York.
Originally published in
Interviews Dana Schutz, Harrell Fletcher, Tacita Dean and Jeffrey Eugenides, Frederic Tuten and Bernard Henri-Lévy, Lynne Tillman and Paula Fox, Judd Ne'eman and Janet Burstein, Charles Atlas, and Marsha Norman and Adam Rapp.