Discover MFA Programs in Art and Writing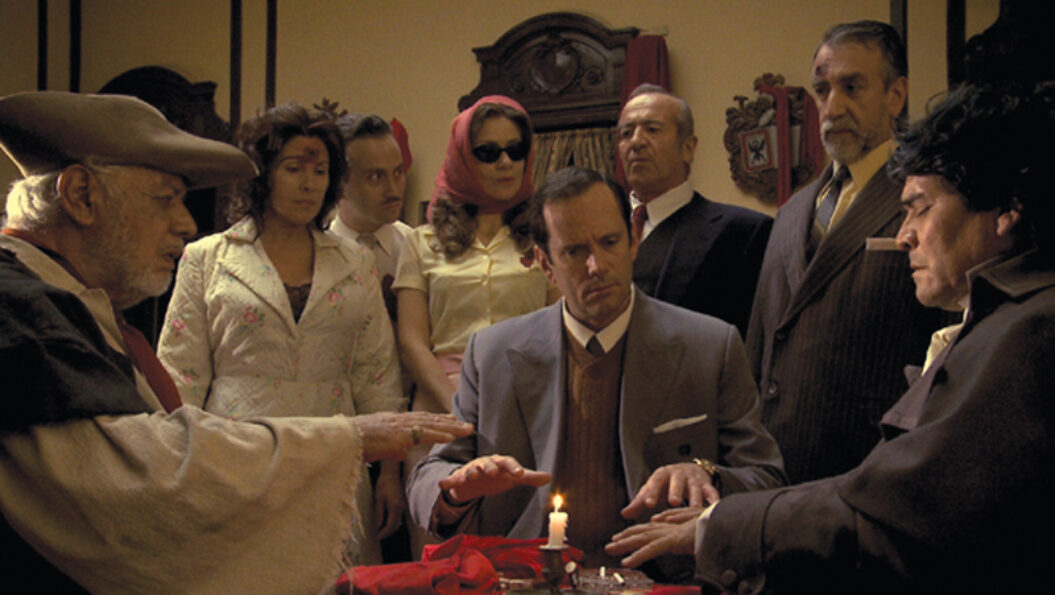 To classify Raúl Ruiz's final film as a late-style work would be an obvious yet misleading claim. Consider Adorno's gnarly late-style adjectives: "furrowed," "ravaged," "devoid of sweetness," "bitter," "spiny." Night Across the Street is none of these things. Contra the notion of a mature, i.e., "catastrophic" subjectivity, the film does, in fact, surrender itself to "mere delectation." What it does not surrender to is mere comprehension. During production, Ruiz was aware of the fact that he was dying (he passed away from a lung infection last August). He told his collaborators and crew numerous things—but apparently revealed next to nothing about what the project they were working on ultimately meant. The recent North American debut at the New York Film Festival felt like a coded public message. It was, in effect, a profound last laugh from beyond the grave.
Sergio Hernández plays Don Celso, a man who's an antiheroic lead and, in a few oblique ways, a Raúl Ruiz analog. He's an absentminded office worker on the verge of retirement, and that impending change has thrown his mind into a state of distraction. Idiosyncratic items that may or may not be linked to this condition but that propel the narrative include a series of childhood flashbacks starring famous "friends" (Beethoven and Long John Silver); a fixation on the word rhododendron; and, most vexing, a paranoid fantasy involving imminent death by assassination. Don Celso attends what appear to be poetry classes, but they seem to have as much to do with acting poetic as they do with studying poetry itself. He and his fellow students, during lectures, are required to sit at their desks with their eyes closed.
Almost every image from Night Across the Street is somehow off-kilter. Prominent colors, never garish, have an otherworldly glow. Interior and exterior light sources seem to come from the wrong directions. Backgrounds betray breaks in continuity and time periods. Camera movements are deliberate but not always linked to action and sometimes draw the eye away from the actors and into poetic details. (One could ask, "What's with all the boat imagery?" Just as Don Celso asks, "What is a port without ships?") Strategic use of either a modified lens or a postproduction effect occasionally splits the frame so that extreme close-ups and deep focus compositions can occur seamlessly and simultaneously. Ruiz, in this film, is as much at play with his own art as he is with his own death.
During one flashback, a preteen Don Celso introduces Beethoven to something the 18th-century icon had never experienced: the inside of a movie theater. As they sit and watch a seemingly unrelated parade of images on the screen, the composer asks, "Why do you come to the cinema if you don't even know anything about the film you've just seen?" "We came to have fun," the boy replies. "Not to learn anything."
Chris Chang is contributing editor to Film Comment and contributing editor to BOMB.
Originally published in
Featuring interviews with David Lang, Oscar Murillo, Rude Mechanicals, Cristian Mungiu, Mark Z. Danielewski, Fanny Howe, Alix Pearlstein, and Tony Feher.