Putting Interiors on Exteriors: Chip Thomas Interviewed by Amelia Rina
Wheatpasting portraits on the Navajo Nation.

Discover MFA Programs in Art and Writing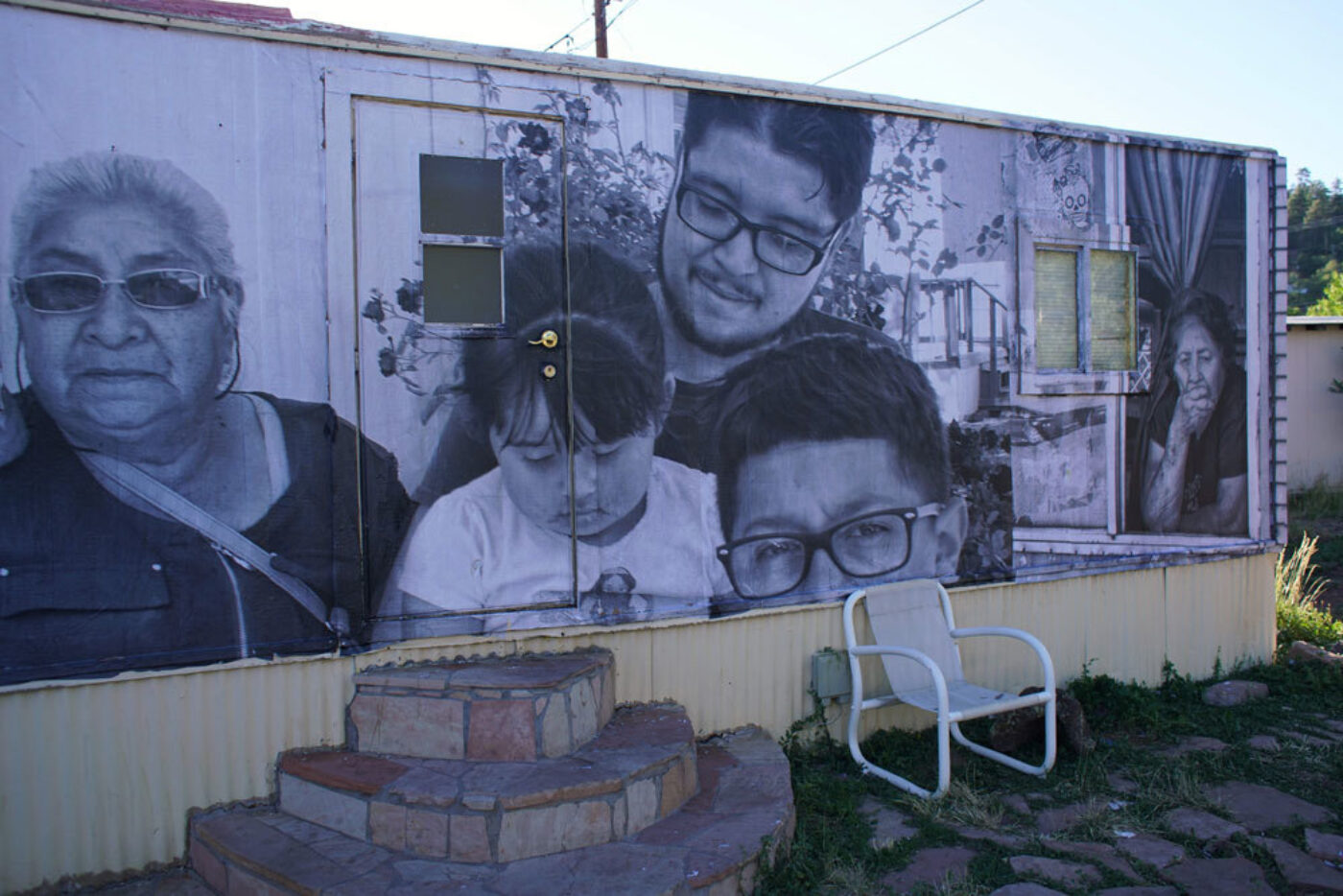 To truly excel at one activity is an accomplishment for anyone. Some people, however, dedicate their lives to approaching the world from several different angles. Chip Thomas is a superlative example of the latter. After narrowly escaping a youth spent in military school, Thomas went to a Quaker Junior High School in the North Carolina mountains. This early exposure to pacifist thinking stayed with him through his years in medical school, punctuated by trips to New York City to experience the '80s street-art scene, and his eventual medical residency on the Navajo Nation. Now having lived there for over three decades, Thomas combines the healing drive of his medical practice with the creative force of his art to produce large-scale wheatpaste photographic installations on buildings throughout the reservation and cities across the United States. The images feature local people, many of whom face economic hardship and social prejudice. Thomas's installations act as a tribute to the local culture and a defiant declaration that the resilient community deserves respect and visibility.
—Amelia Rina 
Amelia Rina Can you talk a bit about your background and how you ended up on the Navajo Nation working with the local community?
Chip Thomas I finished medical school in 1983, which the federal government paid for through a program called the National Health Service Corps. At the end of my training I had a four-year obligation to pay the government back with time, as opposed to money, and I chose to do time here on the Navajo Nation about two hours north of Flagstaff, AZ.
AR Was photography your first entry point into your art practice? When did you start making photographs?
CT I'm not formally trained. I'm from North Carolina originally, and I was going to start junior high school in 1969, the same year the public school system desegregated. My parents were concerned about the amount of violence that I would face, and I ended up attending a small Quaker junior high school. I first used a darkroom and a camera at that school when I was about thirteen.
When I came to the Navajo Nation, it occurred to me that I had never taken the time to study photography. I knew what I liked and the style that I gravitated to, so with the help of photographer friends in Flagstaff, I started teaching myself darkroom techniques. I built a darkroom my first year here in '87, and as frequently as possible I would go out into the community and attempt to shoot in a documentary style, telling people's stories.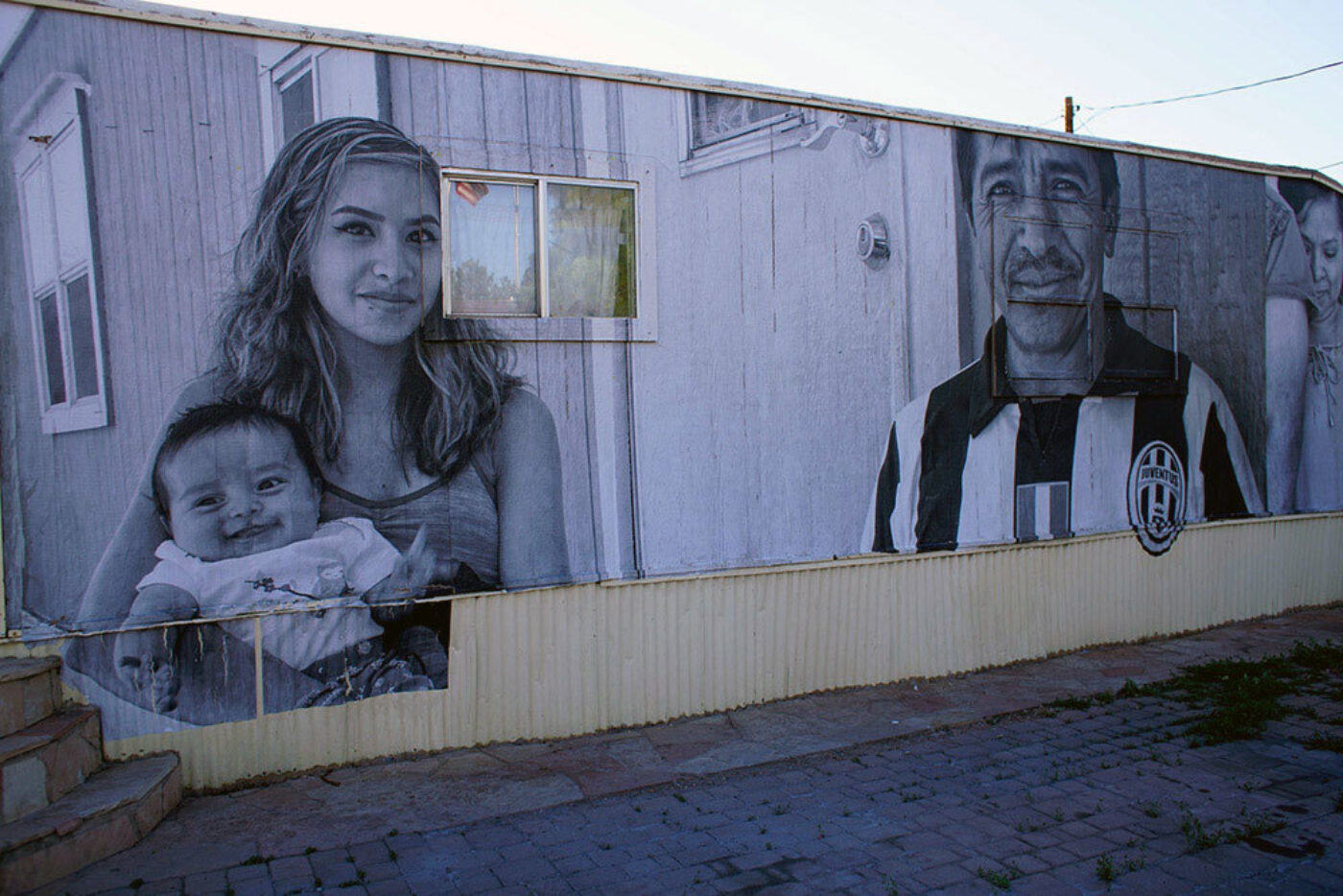 AR Can you tell me about your recent installation in the Arrowhead Village and how that started?
CT My interest in the situation started a few years ago when I heard that Northern Arizona University was trying to buy the property where the trailer park is, which is zoned for low-rent housing. The university wanted to develop the area to build more student housing. I don't know the series of legal maneuvers that happened to prevent the university from getting that land, but I think a different person purchased it and decided he wanted to get it rezoned. The new owner gave the residents of this community six months to vacate the premises. Apparently they were given an extension of another two months, and during this time an activist group in Flagstaff called Repeal Coalition was working with residents to attempt to block the sale and rezoning. 
With those efforts failing, they went to the city council and asked its members to make money available to residents to help with their relocation. The problem is, many of the people living in this community are undocumented and don't have the necessary paperwork to receive a large cash payout.
As an alternative, Repeal Coalition has been hosting fundraisers so they can pay people cash, and they approached me with the idea of doing an unveiling as an opportunity to raise awareness about the issue, but also attempt to raise money for some of the families.
AR Besides the obvious trauma of being forced from your home, what specific challenges are the people in Arrrowhead Village facing?
CT The most unfortunate thing about what's happening to this community, which consists of about fifty-four trailer lots, is that a lot of the people who live there are related in some way, which makes them available to take care of one another's kids and/or help with transportation to and from work. With the displacement, people are concerned that they aren't going to see family members as frequently.
AR The images you've been posting are so moving. Besides being beautiful photographs, what makes them particularly affecting is the fact that you're putting the interiors of these structures—the people who live there and their stories—on the exteriors, so that they confront the people who are trying to evict this tight-knit community. You force viewers to at least acknowledge the humanity they could otherwise ignore. 
CT I think you nailed it. My goal is to convey a sense of the community and humanity of the people who were in this space, and who are frequently overlooked. The entire time I was installing work, I was saying to the tenants and to anyone who stopped by that I just wish there was something more that we could do—something more than just show the people who are here. I don't think there's anything more that can be done at this point in terms of stopping the process; it's already well underway. But, ultimately, if people are touched by the stories, then perhaps if a situation like this comes around again, more people will be involved at the city council level to oppose the dissolution of the community.
I would like to see people just appreciate our shared humanity and think about each other a little bit differently.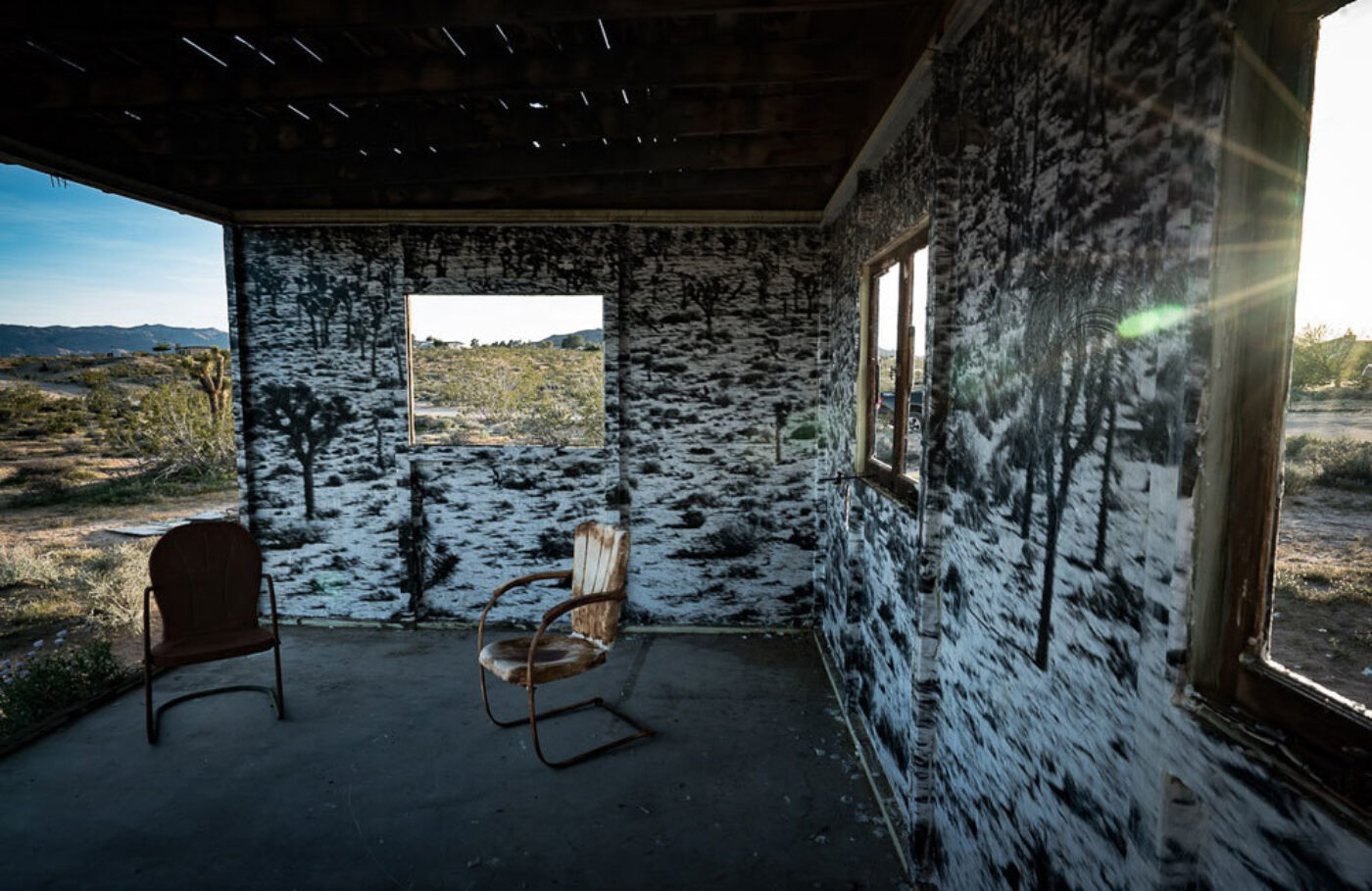 AR Right. Instead of being willfully blind to what's happening to other people.
Something I want to talk to you about is the lack of cultural understanding about indigenous and Native American culture. I grew up in the U.S. and was educated here, but I'm regularly amazed by how little I know about indigenous North American culture today, considering that we live within the same borders, even if those borders are superficial and their implementation started the oppression of indigenous people. What are the misunderstandings from outsiders that you encounter most often?
CT The question that I get asked most frequently is whether it's true that indigenous people have a gene that makes them process alcohol differently such that they are more inclined to drink, which is a myth. Another is the perception that there are no more indigenous people. People think they're all gone, so it's okay to use representations of them as sports mascot, for example, and/or to dress up like them or a Westernized stereotype of them for Halloween.
Indigenous folks are very much still here. I can't remember the exact number of federally recognized tribes, but it is quite large. And there are also tribes that aren't federally recognized. The Navajo Nation is 27,500 square miles, which is larger than the state of West Virginia. It's home to about 170,0000 people. The majority of the elders, people sixty-five and over, still speak Navajo, and many speak only Navajo. I've lived here for thirty-one years now, and I still have to bring Navajo-speaking nurse assistants into the exam room several times a day in order to translate the encounter.
AR I think that's a huge misunderstanding shared by most people outside of the various indigenous nations: that not only are there a lot of indigenous folks, but there is also a deep and diverse culture.
Another thing I wanted to talk to you about is your widely varied interests. You're an artist and a physician; you cycled from the top to the bottom of the African continent in nine and a half months.
CT I got a Guinness world record for that trip: the fastest crossing of the African continent lengthwise.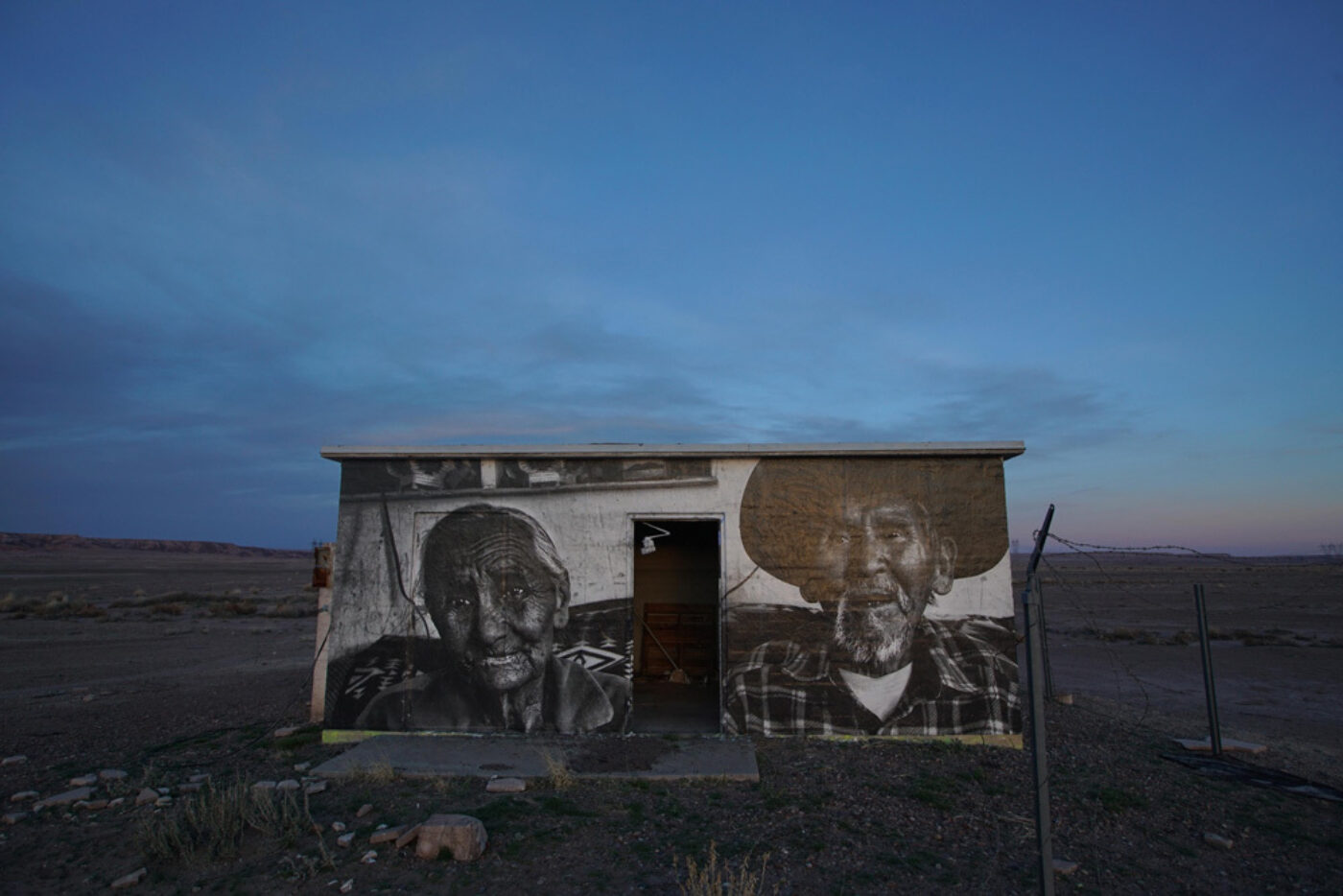 AR Right! That's amazing. You also have several different artistic projects that have been active for years: you have the identity Jetsonorama, your work with the Painted Desert Project, the JustSeeds Artist Cooperative, and your photography under the name Chip Thomas. Tell me about how these divergent parts of your identity relate to each other. Do they cross? Are they all one?
CT The answer to that question is yes. It all goes back to my experience at the Quaker school, which really talked about consistency in one's life.
The Quakers focus certainly on a spiritual practice, but in one's work and in one's politics they strive for a consistency of not only belief but of action. A lot of the action is based on recognizing that we have a shared humanity. There is also the emphasis on voluntary simplicity. There's a bumper sticker that summarizes this nicely that says: "Live simply so that others may simply live." It is with that thinking that I attempt to navigate the world. In my clinical practice as a physician, when I see patients, I'm attempting to create an environment of wellness within the individual. My medical practice is a healing art.
Working and living here is fascinating because, in truth, the Navajo people should be the Saudis of the United States. By that I mean, on the reservation there are four natural resources that are being exploited for energy, plus there's water in aquifers. There's coal, oil, natural gas, uranium, and the water. But, because of the way the contracts were written for those resources, rather than being the Saudis of the United States, the Navajo people are among the poorest people in the country. Twenty percent of my patients still don't have running water or electricity, yet there's coal, oil, natural gas, uranium, and water in aquifers.
With these demographics about the reservation come some social challenges. I point this out to say that when I wheatpaste in the community, I'm very much aware of who my audience is. I live between Monument Valley and the Grand Canyon, so there are a lot of international tourists who pass through seeing the work, but I really do see it as a conversation with the people here on the reservation. The ultimate goal of all my activities is to create an environment of wellness within the community.
Chip Thomas's work is on view in the group exhibition Lazy Stitch at the University of Colorado, Colorado Springs, until July 21. He has ongoing installations on the Navajo Nation, as well as in Santa Fe, NM; Joshua Tree, CA; and at the Penland School of Crafts in Bakersville, NC.
James "Chip" Thomas aka "Jetsonorama," a native of North Carolina, moved to the Navajo Nation in 1987 to work as an Indian Health Services Physician, where he continues to work and live. Since then he taught himself black-and-white photography and worked in his homemade darkroom until teaching himself how to make large-scale photomurals in 2009. He founded the Painted Desert Project and is a member of the Justseeds Artists Cooperative.
Amelia Rina is a critic, writer, and editor currently based in Brooklyn. She is BOMB's online visual arts editor.