Pushing the Conversation Forward: Dyani White Hawk Interviewed by Sheila Regan
A museum exhibition of interdisciplinary work by an Indigenous woman artist.

Discover MFA Programs in Art and Writing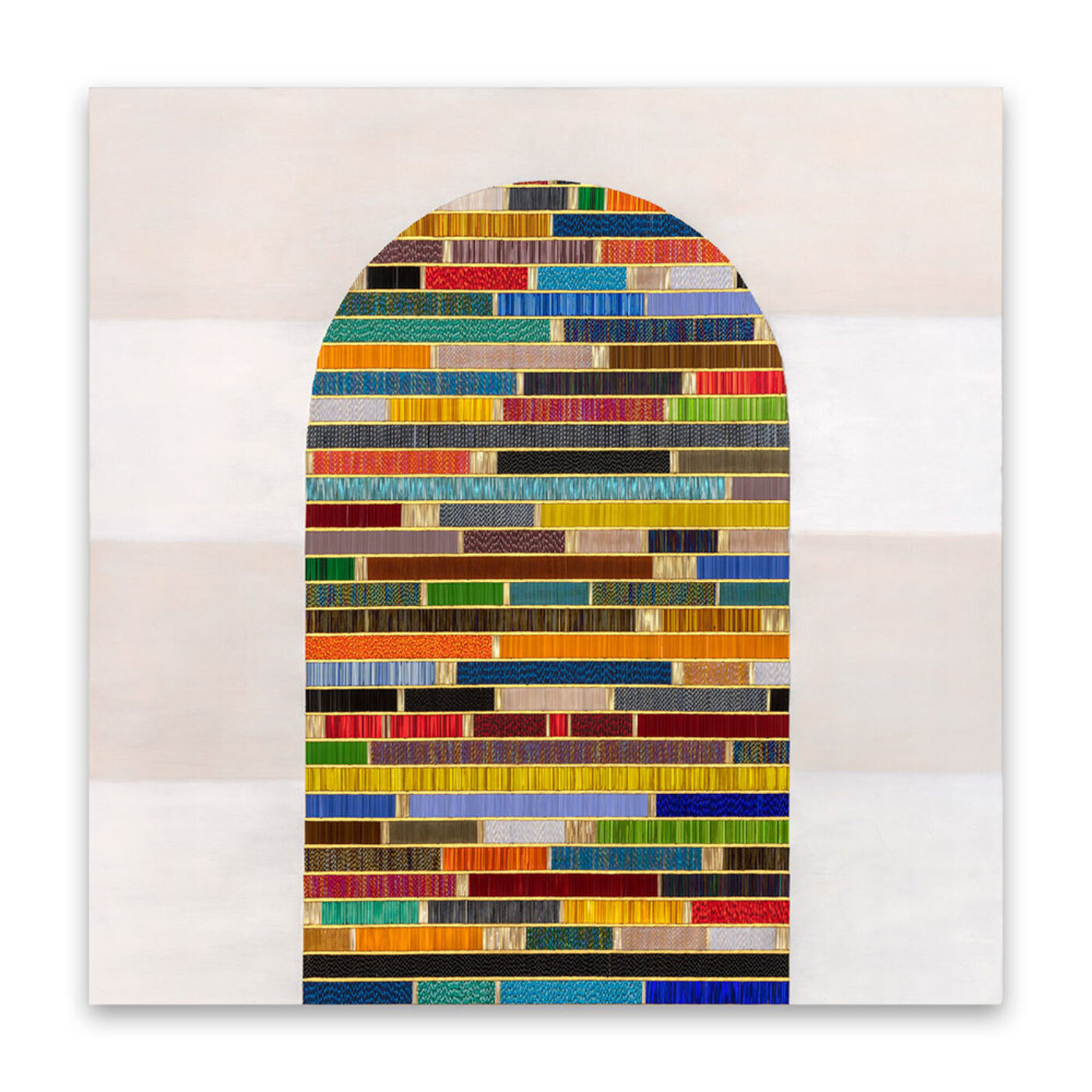 She Gives, the current solo museum exhibition by Dyani White Hawk (Sičáŋǧu Lakota) at the Plains Art Museum in Fargo, North Dakota, highlights current concerns such as the Missing and Murdered Indigenous Women epidemic while weaving in the Lakota notion of "Mitákuye Oyás'iŋ," which roughly translates as "we are all related" or "all my relations."
She Gives is immersive both in the way that White Hawk brings images of Native women into the center of the space and how she foregrounds the sound of different Native languages, spoken by Native women, throughout the gallery. White Hawk also showcases her enthralling technique of combining bead and porcupine quillwork with painting and printmaking. In works that are immaculately detailed, White Hawk offers an important conversation with the present moment.
—Sheila Regan
Sheila Regan The photographs of Native women in your I Am Your Relative (2020) installation are so powerful. How did that piece come about?
Dyani White Hawk I had been asked to speak at a fundraising gala for Global Rights for Women two years ago. I recruited friends and family, and I made T-shirts that said, "I am more than your desire. I am more than your fantasy. I am more than a mascot. I am ancestral love prayer sacrifice. I am your relative." I asked each woman to come up and introduce herself and say her name, her passion, what she does in an effort to try to further humanize each of them as individuals, as women, as contributors to our society, and as contributors to their communities.
The photographic installation for me serves a similar purpose. The audience walks into a gallery and is faced with this lineup of photographs that are life-size. You're forced to reckon with their humanity. It's in the middle of the space as opposed to on a wall so you get a fuller, rounder presentation of their humanity. The whole concept of "I am your relative" is rooted in a Lakota philosophy and understanding of our relatedness. It's a guiding value and how we treat one another and all life.

SR We're in the midst of the Black Lives Matter movement, resistance against ICE, and the mascot discussion. Does this work resonate in new ways for you?

DWH I don't know if it resonates in new ways so much as more people are thinking about those topics that are already embedded in the concept of this work. The original performance piece was put together two years ago. We assembled the photographic installation this year, and this is the first installation of it, all of which preceded the murder of George Floyd.
These conversations are not new; it's just that for those of us whose communities are so directly linked to these things, you can't help but keep having these conversations, because they're necessary and needed.
My work is centralized in a Lakota worldview and a Lakota woman's perspective, but I hope that people see and understand it's not solely about Native women. The concept is about recognizing our relatedness as human relatives. All of the things that we're facing right now are all completely intertwined. They can't be separated. Missing and Murdered Indigenous Women is tied to the issues of Black Lives Matter and ICE. They're all byproducts of this nation's history. So you can't untangle them.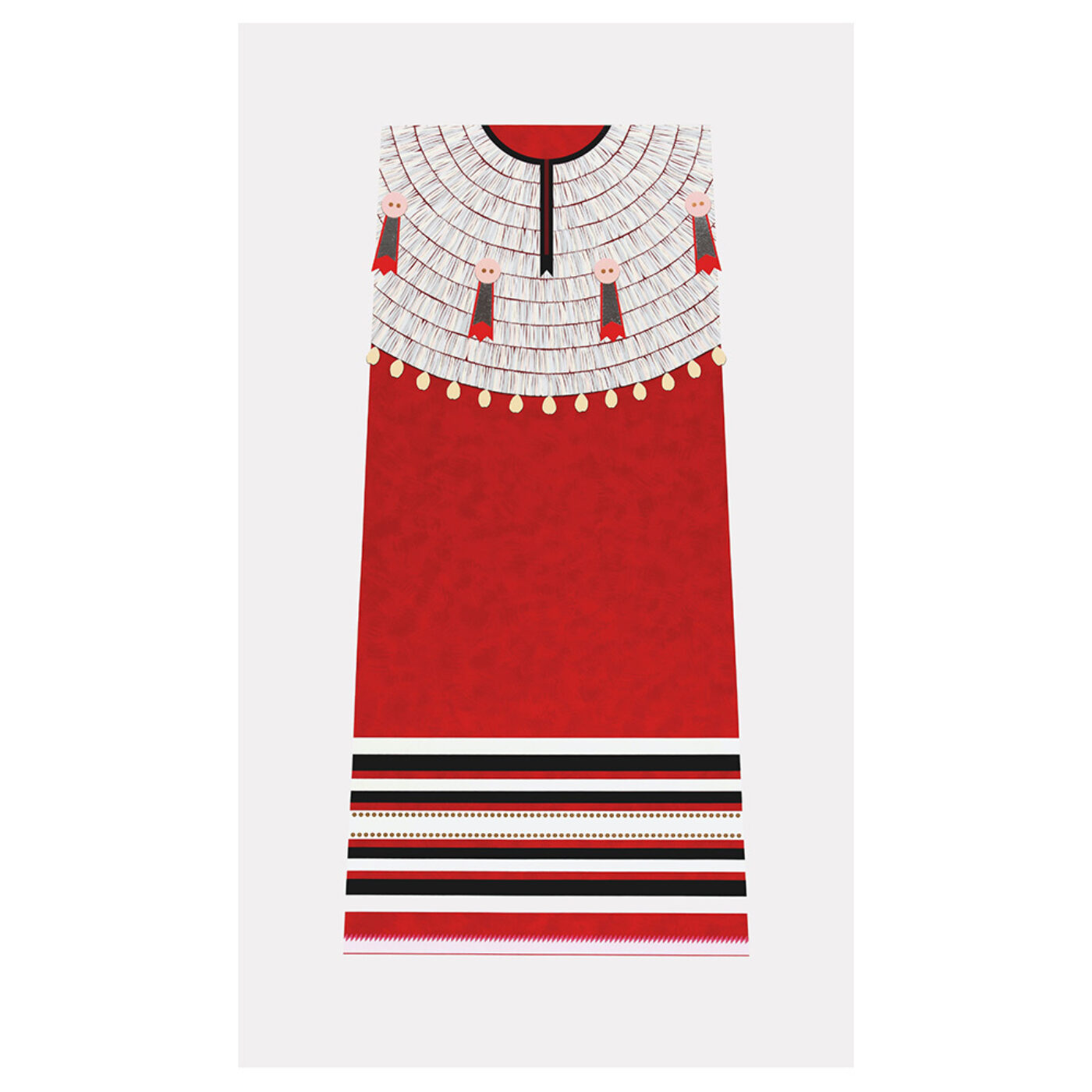 SR It seems to me that in some ways the Listen (2020) installation, made in collaboration with Razelle Benally, which features videos of Native women speaking in their own language, is related to the political nature of the I Am Your Relative photographs in that these women are claiming space. They're demanding to be heard in a way, even if the listener can't understand the words. How did you come up with the idea for that piece?

DWH It comes from a series of questionings. For myself, one of the biggest obstacles as a Native artist is dealing with the mainstream art world's lack of understanding of Native art. When I or any other Native artist have curatorial visits, or exhibition opportunities, or fellowship opportunities, oftentimes for somebody to begin to understand the work we have to provide an entire history lesson before we can even get into the depth of the conversation and the content of the work right now. That is exhausting, and it creates barriers. I thought, What if I could provide an experience that would give an opportunity for people to come to a realization that there is a tremendous gap of knowledge most folks don't even know they're missing? The gap is so large they're not even aware it's there.
SR The four prints in the exhibition collectively titled Takes Care of Them (2019) appear to make a feminist statement.
DWH Yeah, that's definitely a part of it. My mom's a Navy veteran, and she traveled with the Oneida Nation color guard for a while. It's an honored role to carry the Eagle staff, and she was the first woman in their color guard that was asked to do that. For me, this series is also about extending that recognition beyond those that are doing active duty and recognizing the ways that women protect our communities, nurture our communities, lead our communities, create our communities, and create within our communities.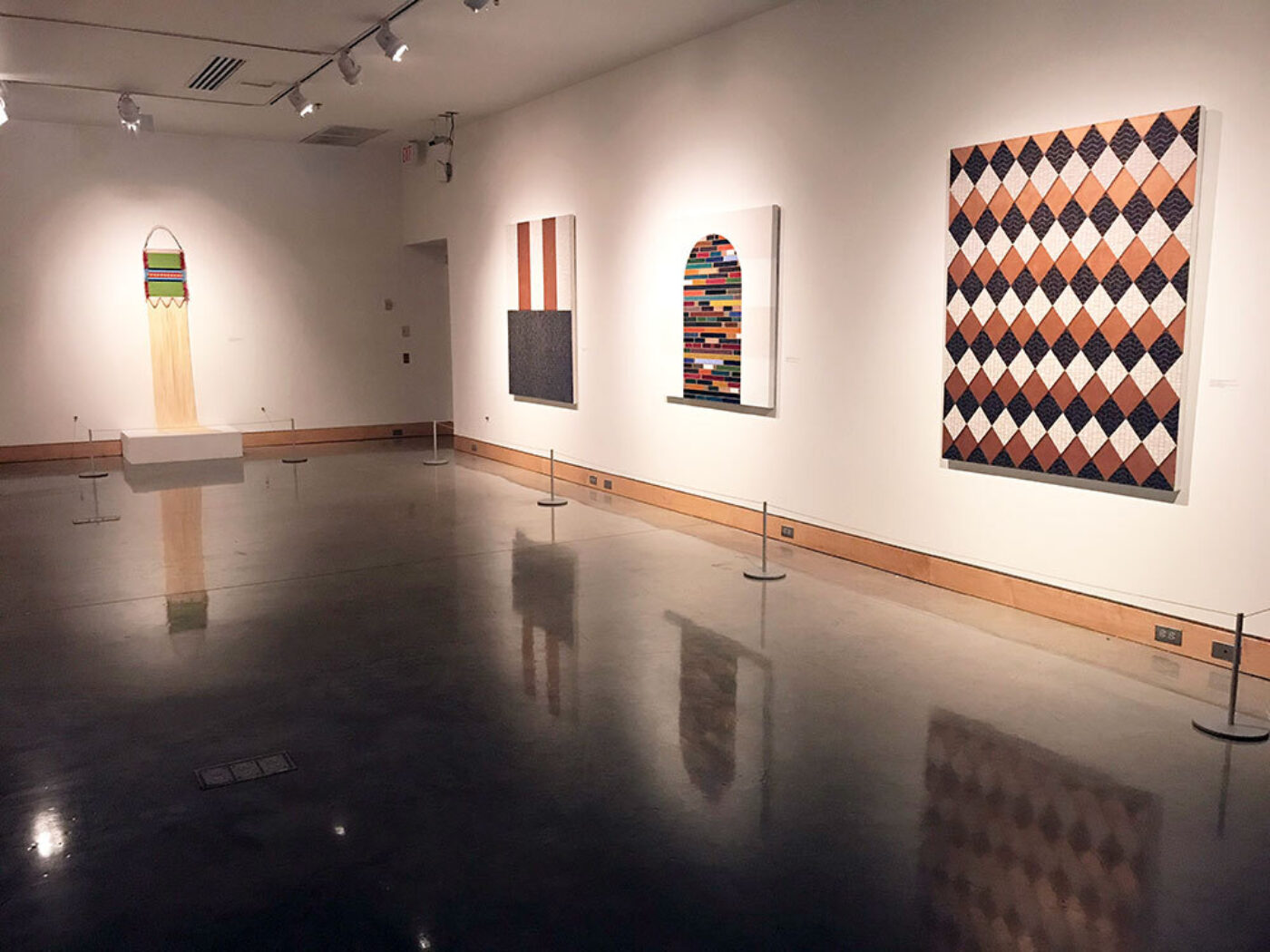 SR I've been fascinated by your practice of taking beading and quillwork and transferring them to painting and printmaking. Can you share a little bit about that part of your work and how it has evolved in your practice?

DWH In tribal colleges, my painting practice was supported, as was my beadwork and quillwork practices along with other Lakota forms of making. I didn't have to justify that. Then I got to grad school, and I got accepted into the painting department of a giant university. I thought I had to paint, but I started really missing beadwork and quillwork. So I started experimenting. I did this large, sixty by ninety-inch triptych in which I brought quillwork into the painting. I hadn't seen anybody do quillwork in a painting before then; maybe somebody out in the world had done it before, but for me it was new. It took me a really long time to do it—months, which didn't fit an academic calendar. I had to figure out a way to bring all of that content that's embedded in quillwork, all the conversations that are in there, the kind of nurturing that it is for me in my own soul and my own practices; I had to figure out how to still bring all of this but make it faster, which introduces value-system conflicts. Eventually, I made a painting in which I incorporated representational imagery of porcupine quillwork; this was much faster than actually doing the work. Everything kind of spiraled from there.
Native arts have never been stagnant. Native artists have always brought in new materials, whatever new materials are available at the time; and they're constantly incorporating them into established practices. Lately, I started moving this process off the canvases and into three-dimensional pieces. I was drawing from Lakota art forms like my dance regalia or my children's ceremonial regalia.
These newer works, Carry 1 and Carry 2 (both 2019), are kind of harkening back to the functional objects. They're not functional in the fact that Carry 1 is way too big. I would never dance with that with its obnoxiously long fringe. Same thing with the Carry 2 piece. It's a copper vessel and a copper ladle, and it also has this crazy-long fringe. It is not a functional object. But they both point to the history of functional artwork. They're meant to push back against rationales that have been used to put Indigenous art and art by people of color and women into separate categories, into separate galleries in the museum. There's art with a capital A, and then there's all that craft over there, quilts by women or all that. There are all these rationales as to why it's not high art.
One of those rationales is the idea of function. If something's functional, it's not conceptual, which is a really narrowminded viewpoint. In my opinion, all art has a function, even if it's supposed to be just highly conceptual work. And that's its point; that's its function. Its function is to create a conversation; its function is to push back against the last generation's values; its function is to move a conversation forward. These pieces are really meant to kind of push back against those conversations and encourage people to think a little more deeply.
Dyani White Hawk: She Gives is on view at the Plains Art Museum in Fargo, North Dakota, until October 3.
Sheila Regan is a Minneapolis writer. She has written about visual art for Hyperallergic, Artnet News, First American Art Magazine, C Magazine, Broadly, Grok Nation, ArtAsiaPacific, and American Photo Magazine. She also writes about dance for the Minneapolis Star Tribune.