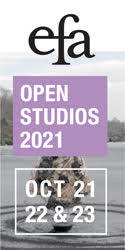 *
The blank
moon sheds
it clothes
all over
my lawn
then melts
into the shallow
bath of itself
        *
Longing
flushed
with wine
perambulates
the garden
knocks
on my door
loosens
its shoulders
and opens
        *
The blue
heart breaks
and pools
on the floor
        *
Night lays
my body down
in the heart
of the house
and begins
its bald
ministrations
        *
Gold
on my eyes
I lie
on the ribs
of the stone boat
which floats
in full-bodied
silence
toward
the island
of reeds
        *
I bear
in mind
the heft
of the tongue
and articulate
the slenderest
of figures—
nostalgia
for the bed
of singing
grasses
        *
—Sidney Wade is spending the year in Istanbul. Her second collection of poems, Green, will be published in April in the James Dickey Series of Contemporary Poetry by the University of South Carolina Press.
Originally published in
Featuring interviews with Gillian Wearing, Mona Hatoum, Jim Lewis, Dale Peck, Maureen Howard, John Sayles, Steve Earle, Martin McDonagh, Victor Garber, and Alfred Molina.