Discover MFA Programs in Art and Writing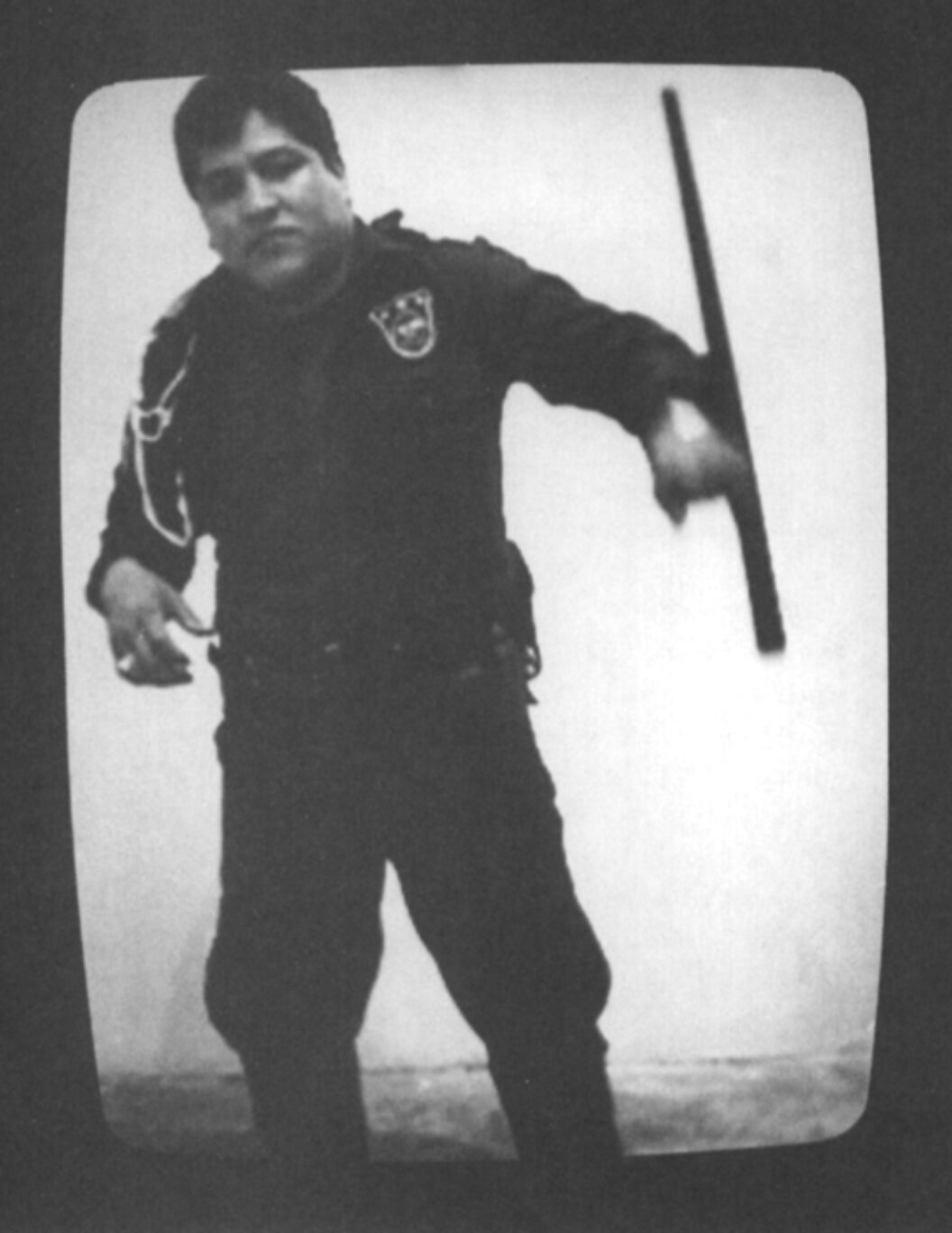 Anyone living in Mexico City knows that policemen not only epitomize official corruption, but are also noted actors and emitters of unsurpassable oxymorons and redundancies. Their most memorable command, oríllese a la orilla, is also the title of Yoshua Okon's latest exhibition at the Centro de la Imagen in Mexico City. Untranslatable into English, a Mexican policeman's command to "pull over" in Spanish is like ordering someone to "descend down" or to "corner oneself to the corner." Despite being the most feared and repudiated of Mexican authority figures, there's something irresistibly comical about the way these policemen speak and act, as virtuously displayed in Okon's exhibition.
Born in 1970, Yoshua Okon considers humor the only tool for dealing with some of the harsher aspects of his native Mexico City. For his multichannel video installation, subtitled Money Will Make the Dance, he bribed policemen to perform in front of his video camera, exposing the blatancy of their willingness to put more pesos into their pockets. The resulting videos feature, among other things, a couple of cops following an unseen dancer, trying to synchronize their dance steps to a silly tune; another pair telling knock-knock jokes; and a disturbing character displaying his prowess at waving his nightstick, boastfully grabbing his crotch every so often. Projected onto the walls of the museum, the law enforcers' magnified faces appear at times as pathetic caricatures, and at other times show an odd resemblance to the faces of Olmec governors depicted in colossal pre-Columbian sculptures.
In the same way that abuse of power obscures notions of legality, Okon's installation blurs the line between reality and fiction. The viewer is left to wonder whether or not some of the scenes in the repertoire are staged, particularly those of cops taking actual money, and then cops arresting the artist. Authenticity is beside the point, however; even if it were all staged, the mere notion of hiring cops to act like corrupt policemen for an art piece reflects the hyperbolic complexity of the Mexican megalopolis.
Ever provocative, Okon's work has had political undertones in the past. One of the first videos to bring him to the forefront subtly alluded to global culture by showing a Mexican hairless dog fucking a dainty French poodle. Another piece displayed a literally endless stream of bureaucratic logos accompanied by a voice-over acknowledging the copresenters of something the viewer never gets to see. Yet Okon has done much more than simply criticize obsolete institutions, and has devoted much of his creative energy to the reconfiguration of an art scene in Mexico City that had limited ties with the world's contemporary art circuit during the 1980s. With fellow artist Miguel Calderón, he cofounded La Panadería Gallery in 1994 in order to expand the opportunities for emerging Mexican artists who, like himself, were utilizing unconventional media. Located in La Condesa, a residential neighborhood in downtown Mexico City, La Panadería has remained one of the most vital places to see emerging art. It has an ongoing exhibition program, residence exchanges with artists and curators around the world, and frequently hosts performances, screenings, panel discussions and raves.
Fortunately Okon has reserved a lot of his bustling energy for his own projects. Oríllese a la orilla is solid proof that he has mastered the art of combining irreverence with insight. One of the videos in the installation shows a policeman yelling at him, "a privileged kid with a camera, who, ever protected in his illusory environment, understands very little about real needs, about life." Commanding him to stop shooting, the cop calls Okon a güero (meaning "blond," a term frequently used in Mexico to signal class and race more then hair color) and blames people like him for ruining the country. By displaying this footage alongside that which simply mocks authority figures, Okon makes it clear that he's receptive to the policeman's point; the issues he's dealing with deserve more then one interpretation.
—Mónica de la Torre
Originally published in
Featuring interviews with Damiela Eltit, Alavaro Musis, Carmen Boullosa, Gioconda Belli, Sergio Vega, Gunther Gerzso, Valeska Soares, Pedro Meyer, Marisa Monte, Cubanismo!, and Ned Sublette.