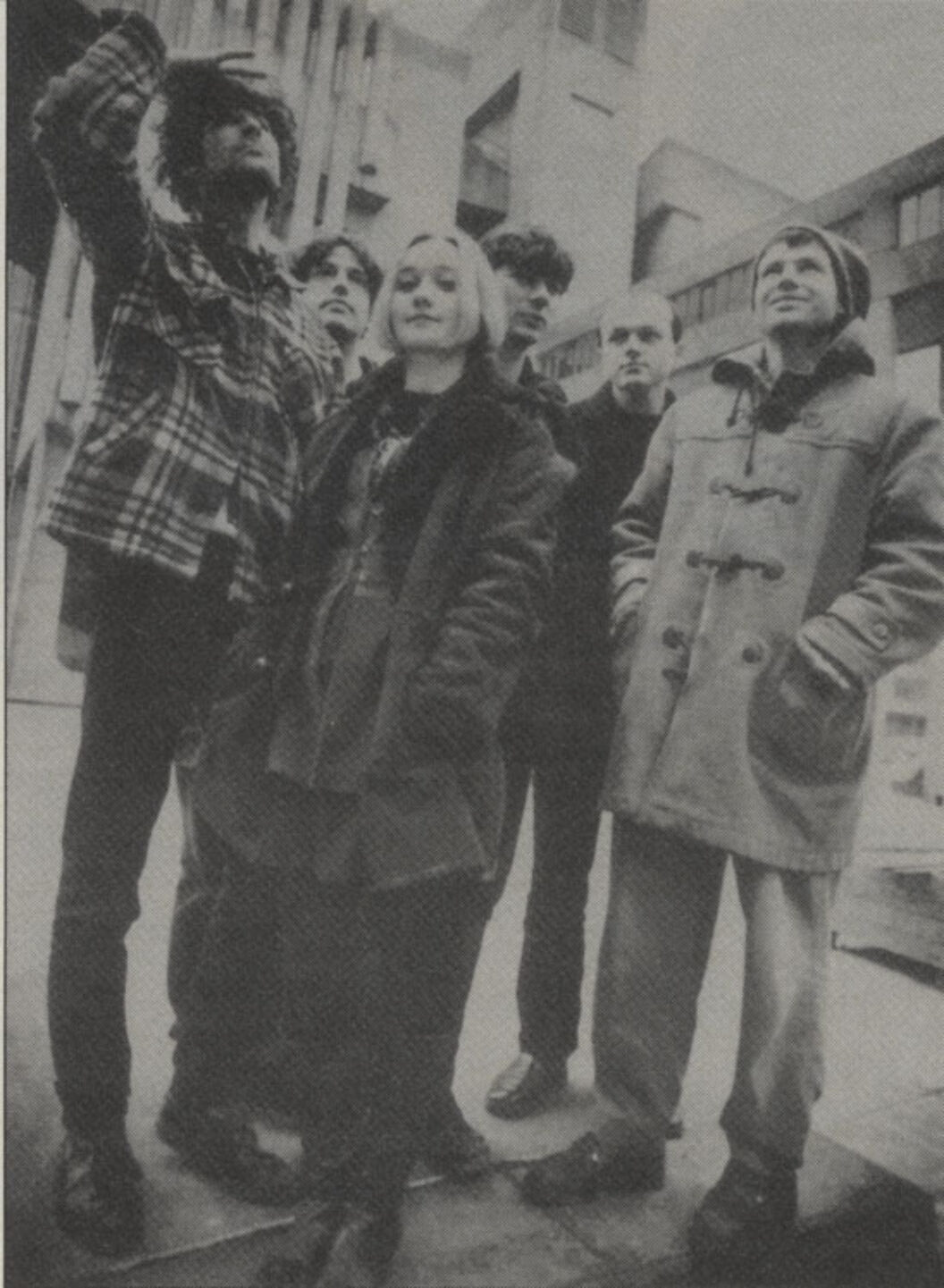 Sardonic lyrics, a vocal section that approximates flint vigorously being rubbed against stone, a formalist rhythm section that gives Philip Glass and John Zorn a run for their money—these are the things that Prolapse is made of.
Prolapse is a British sextet with a Scottish lead vocalist. Their deeply layered songs conjure up the minimalism of Stereolab, the deadpan of The Fall, married with the break-neck speed of good old-fashioned punk rock, all neatly diced and put in a blender and turned to 11. The speed and precision with which Scottish Mick (Derrick), the lead singer of Prolapse, jettisons lyrics is like machine-gun fire with a Scottish silencer. His heavy Scotsman's cadence wraps the words in slippery rhythmic gloss making the monotonous delivery shudder with intensity. Linda (Steelyard) delivers perfectly synchronized counter-punches in a voice pre-pubescently titillating, only emphasized by her blond school-girl pigtails.
The songwriting consists of individual instrumental sections stitched and layered together. Mick's lyrics are spontaneous rantings (rappings), a loose stream of ideas that are never written down, but internalized, giving each performance of a song a uniqueness/freshness held together by a core set of ideas/sensations.
Chaos has been choreographed—a convincing facsimile of chaos. This harnessed pandemonium gives their music that incline of structure that keeps their sound mysterious, violent, and enchanting. Prolapse's live show magnifies many of the subtler details layered in their recorded material. Watching Mick pace the stage—clearly an animal that has been caged too long, Linda's "I killed my family" vacant stare, the building hostility between Mick and Linda are translated seamlessly into the overall one of their symphony.
–Tim Nye
Originally published in
Featuring interviews with Jasper Johns, Tobias Wolff, Laurie Simmons, Sapphire, Scott Elliott, Brenda Blethyn, Craig Lucas, Suzannah Lessard & Honor Moore, Peter Dreher, and Richard Einhorn.