Procedural Musings: Rachel Beach by Lynn Maliszewski
Lynn Maliszewski talks with artist Rachel Beach, tracing Beach's preoccupation with transitions in perception, from the sculptural disorientations shown at Like the Spice Gallery to her upcoming residency at the Lower East Side Printshop.

Discover MFA Programs in Art and Writing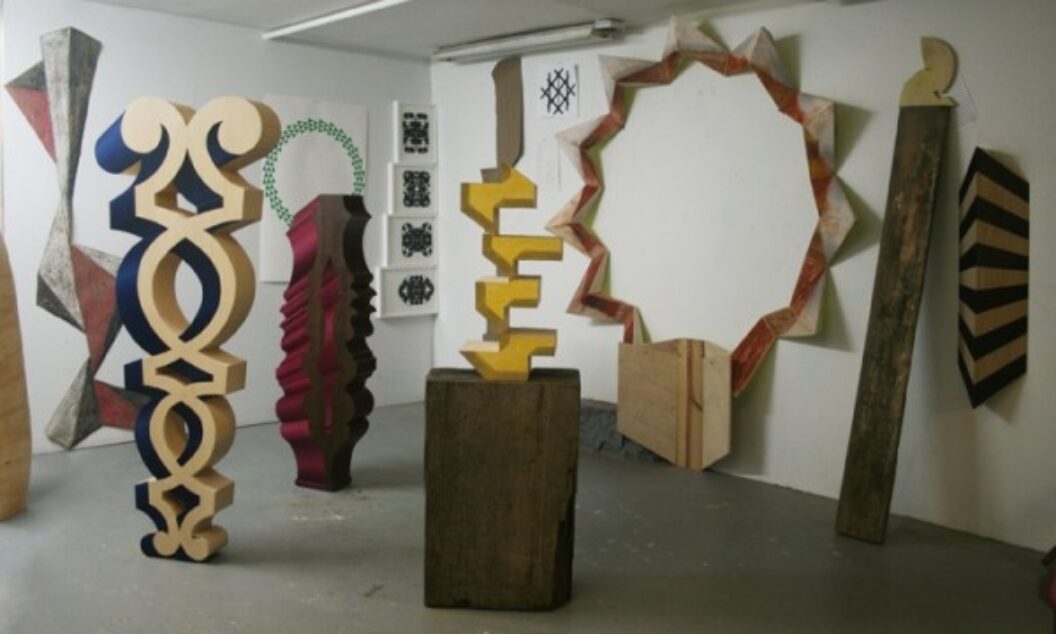 Rachel Beach's sculptural disorientations summon a befuddled reality of elegant twists and turns. Letters, a series of compact wood cutouts shaped like book-ends or segmented architectural details, were the first pieces of hers to pique my interest at Like the Spice Gallery in autumn of 2009. A striking wood veneer disguises their plywood interior; luminous carrot-orange, aquamarine, and indigo gradations are painted on the frontal face to simulate a transition to the perimeter of the object. The letters appear symmetrical despite incongruity; the visual orientation is one of deceit.
Beach force-feeds the viewer with unforgiving ease, encapsulating the clash between vision and understanding. She has produced both free-standing and hung sculpture that thrives upon this conflict. Most recently, she was accepted into the Lower East Side Printshop residency program, and is currently working on a new extension of her preoccupation with transitions in perception.
Lynn Maliszewski How is your residency at the Printshop going?Rachel Beach I'm taking it on two tracks. One, which is the reason I wanted to work there, is screen-printing on the wood veneer. I've used a snake pattern screen-printed on wood veneer in and out of its negative space. In a [second] pattern I designed, I was thinking about feathers. I wanted a symbol, or language, or just a generic mark; I want it to be between those things. All my new work is kind of coming around to this idea of a relationship between logic and structure, something factual or mathematical or geometric versus something that's a little more mysterious, or something that seems maybe mythological or spiritual or transformative. Logic versus a mystery may be best, something you can't put your finger on. This abstract [feather] pattern works for that reason.
My last body of work is a lot more self referential, having to do with the structure of monuments and ideas. I was way more interested in the edge of an object, how objects work in the world, how perception works, how we see, and how our brain works versus how something physically is, and the line between those two things. I'm still interested in that, but they're becoming more complex, appealing to wider ends.
LM Your earlier work suggests the Victorian, the ornate, but without the delicacy or daintiness of the period. Your newer work leans toward harsher angles and extreme geometry. Are these new works coming from a different place?
RB The surfaces [of the new work] have all sorts of strong, geometric forms with airy ideals. The basic units of ornament come out of geometry. It's always halfway between representation and abstraction. It's not depicting something, yet it's familiar in the way that representation is. It blends back and forth. It does exist on the edge of things, where the wall meets the ceiling, or on a doorway. It always marks this line of transition. I was obsessed with the edge of things. The Medallion series is based around the negative space, the cutout window and edge, this transition between an image and object, coming and going, all those things.
LM What is the foundation of the new work?
RB Value is one of the things that I've been pulling forward into my next body of work: how people try to find the meaning and create meaning and how objects become meaningful. I've been thinking about Stonehenge, or Easter Island, markers that people use to mark important found meaning. I think ornament has been one way that people do that. There's a whole class and power dynamic. I did a series of paintings in the past based on artificial fingernails and the little abstract patterns. I was thinking about how an image becomes generalized and disseminated to a mass amount of people, and then those people take that imagery and use it to express their own individuality. I'm thinking more about a search for actual, personal meaning and value. It's not necessarily superficial that you would find comfort and meaning in an object.
The [new] imagery is based on the Aztec and Inca imagery, so I wanted it to be very strong and warrior-like. The idea of a lost civilization is endlessly fascinating to me. It has that "history repeating" idea. America may be the dominant world power, but so were the Romans. I like that state of culture.
LM How has New York in particular affected your work?
RB The first thing I think about in terms of being in New York is it is absolutely frenetic and anxiety-ridden. It's in my body, I have the pace and anxiety. It feels like a want, a want-ness. You want to be here, you want to be in it, you want to participate. I am managing objects to dispel this frenetic chaos, so I feel like I'm here and I'm very precisely pulling ideas out of my head, cutting them into wood, putting them together very specifically to hold a concept and physicality that I want. It's a bit OCD, making your own little world exactly how you want it in a maniacal way.
LM Who are some of your influences?
RB My biggest influence coming up was the Minimalists. I loved Donald Judd. Frank Stella is a huge influence in terms of self-referential objects. I think I like simple forms that convey an idea. The way that the idea of this edge is seemingly very simple, it's this huge idea found in a very simple object. Minimalism was always awe-inspiring to me because of that. An object that accounts for itself is interesting. When an image is like 'Yes, I'm here, I'm an image, I'm an object'… what does that do? When objects refer to themselves or account for themselves it, in a way, exposes contradictions between the truth and fiction.
LM What's the next piece on the burner after the two currently in progress?
RB The next thing I'm doing is at Socrates Sculpture Park. I'm doing an outdoor sculpture. I think I may use some reclaimed construction beams and build a structure. This oil painted edge with the trompe-l'œil is going to be built out of aluminum and enameled. I'm excited about that. This is the first time I've done this, and I've wanted an outdoor sculpture for a long time. It's going to be a struggle.
Rachel Beach's spacious Greenpoint studio is inundated with magnified ornamentation and tweaked perspective. Sculptures sprawl across her studio, accompanied by calculated sketches and concentrated printouts of serpents and ancient symbols. Her pieces are formulated out of a conceptual, painterly ideal materialized in plywood. She has made significant advances in her self-taught woodwork, transitioning from the abbreviated Lettersseries to her most recent series, the intricate Towers and Portals. "The Boa" (2008) from herLetters series utilizes fluid shape and flattened materiality to bring forth the seam of our perception. The canary-yellow shadow on the teak veneer shapes the piece's romantic curves and serves as the most potent visual detail. It introduces the viewer to the edge only to revoke it, and thus flatten the image. The eccentric cornerstone morphs into an abnormal, disproportionate object with a fluctuating edge, exposing the mental disunity between sight and knowledge. She taunts the viewer's visual plane with subdued morsels of faux three-dimensionality.
Like a stockbroker gender-bending on the weekends, Beach's objects straddle a line between two existences, clouding the viewer's vision of truth. Her scheme is fully realized in-person where the battle between object and image materialize. In her skillful handling of paint and sculpture, Beach puts the mind and retina at odds, intensifying the feud. "Benevolent Universe (yellow & pink)" (2009) presents a ballerina-pink cloud painted on the wall. Three-dimensional gold rings, connected by wispy cutout strands of similar metallic fervor, line the bottom of the shape. The image stabilizes in volume and direction of movement and establishes a light source despite its cheeky flatness. Even more disconcerting are the actual shadows appearing upon the pink as a result of the metallic cord's protrusion from the wall. The conflict further underscores the disunity amongst parts of this seemingly cohesive whole. Similarly, "The Current Portal" (2009) effortlessly drifts between the frailty of the illusory object and the true surface area of its wide curvatures. Highlighted by a peacock-blue strip of color, the oak veneer forges an outline of a hollow amoeba. The shape appears to be a straight-on view of a dangling ribbon of delicate dimensions. Only after processing the mirage of color is the heft of the cut-out illuminated. Beach's shape-shifters punctuate her search for the edge that separates spheres of space and existence. Like the fourth dimension, it exists intangibly and oftentimes only in the moment of juggling the two visions can one recognize they exist independently. Standing in one spot, the viewer traipses between worlds.
The contradictions of the Ouroboros—an ancient symbol of a snake devouring its tail—provide a foundation for Beach's works in progress. The symbol preaches to the cyclical nature of life and the solace to be found in knowledge's sustenance. It cannot deny, however, the potential for misery in the resurgence of reappearing, unfortunate scenarios. One work in progress consists of a tower compacted into a Tetris zigzag with sharp voids of negative space. A brown snakeskin pattern on yellow paper squirms along the exterior of the piece, finding shade within the alcoves of the statuesque construction. The pattern supports the structure, prompting the eye to explore even the lowest niche, but fades into oblivion when the sculpture is viewed from either of its flat, monochrome faces. The snakeskin straddles the edge of intentions like a stripe, serving simultaneously as a construction and a pattern. In analyzing the symbols of the ancients, Beach's noble squabble with modernity comes full circle. She finds similar inspiration in Calvary Cemetery, a staple of the exodus to her Brooklyn studio from LaGuardia Airport in Queens. The sprawling graveyard opposes the perpetual energy of the New York City skyline: a juxtaposition of life and death, progress and halted tradition. Both entities, however, manage to track the evolution of their respective spaces almost completely through monuments (buildings, tombstones).
Establishing towers of meaning and portals to the past, the scene is one of elucidating comparisons. Beach's illustrious battle to uncover the "cyclical, mythological, cultural, and psychological significance" of objects is grounded in elucidating the faults of perception, space, and time.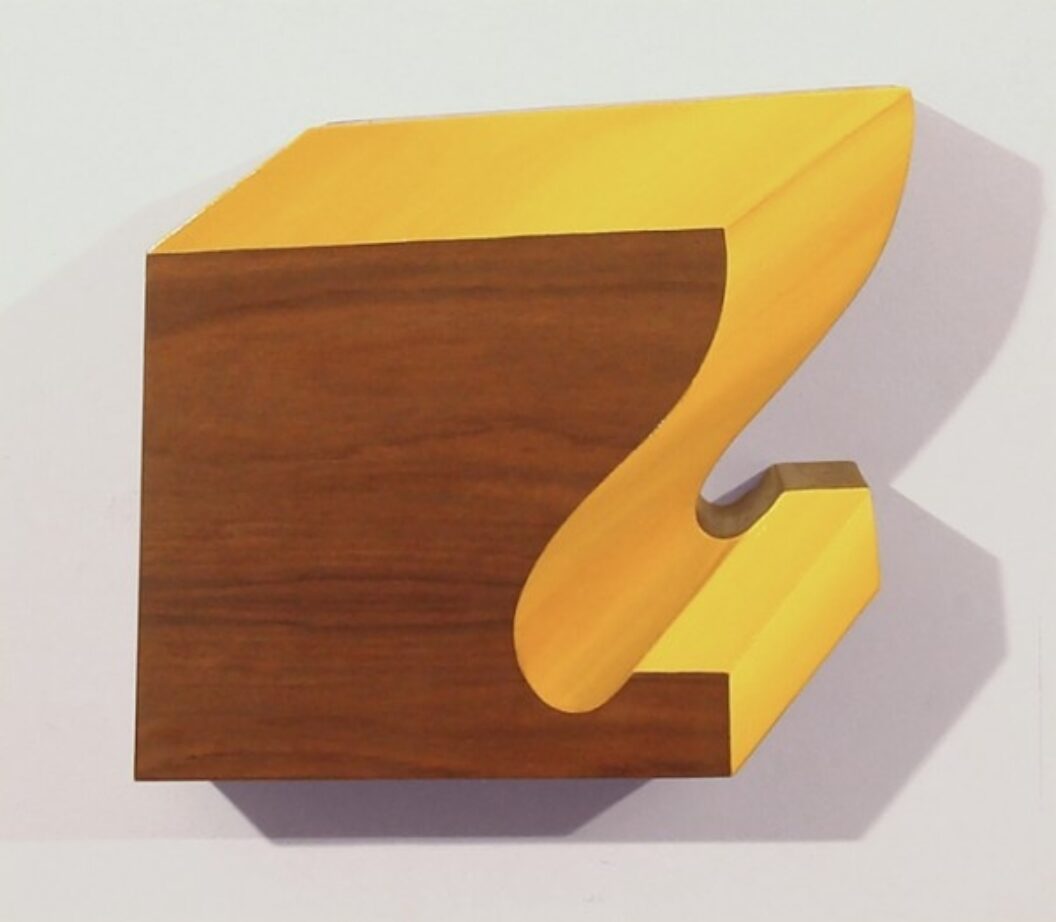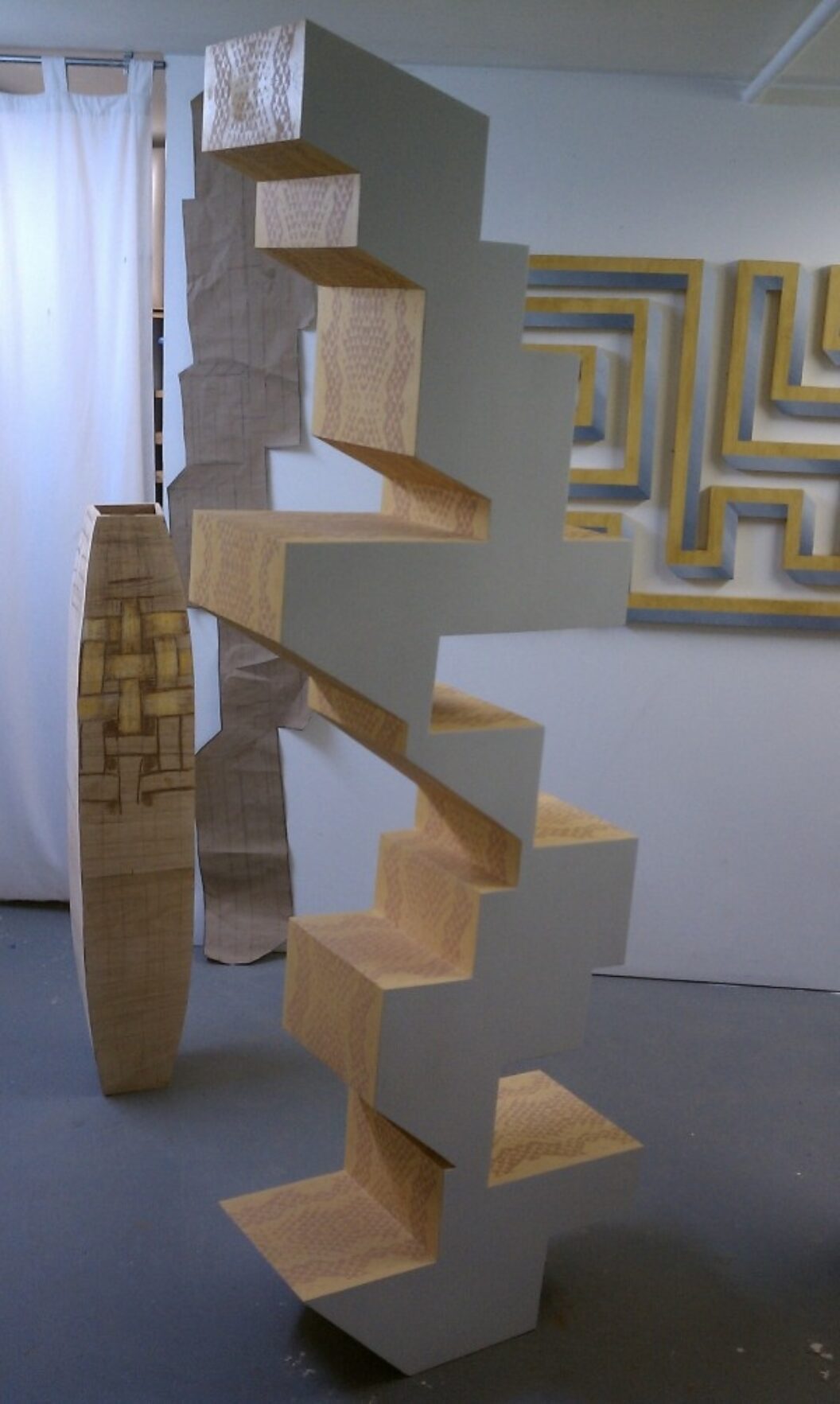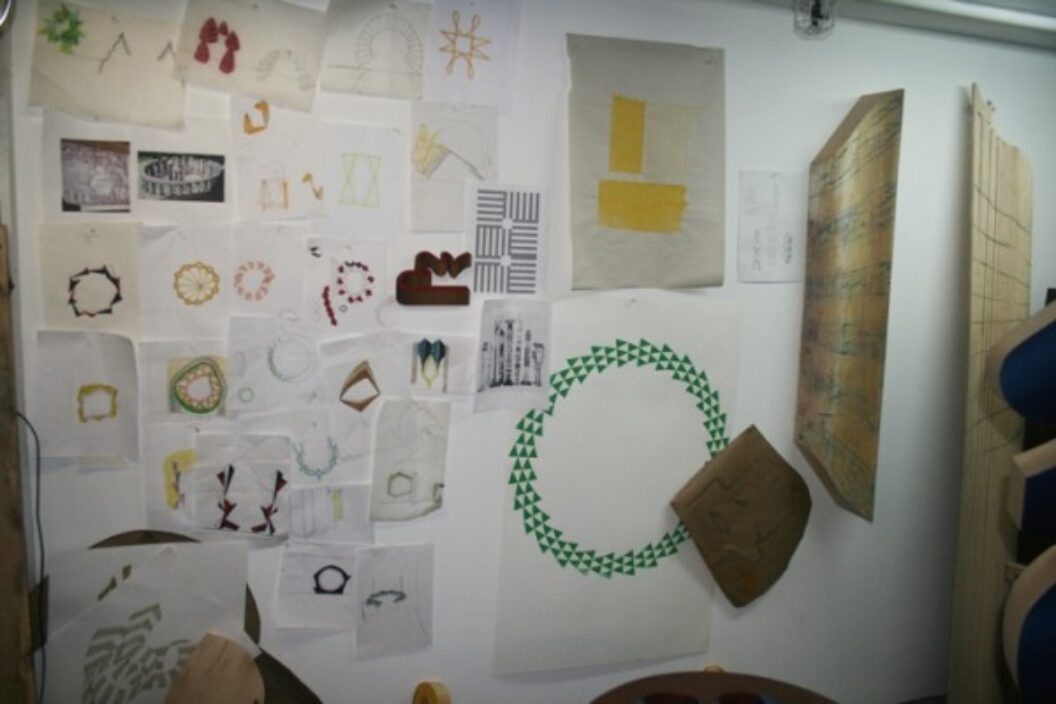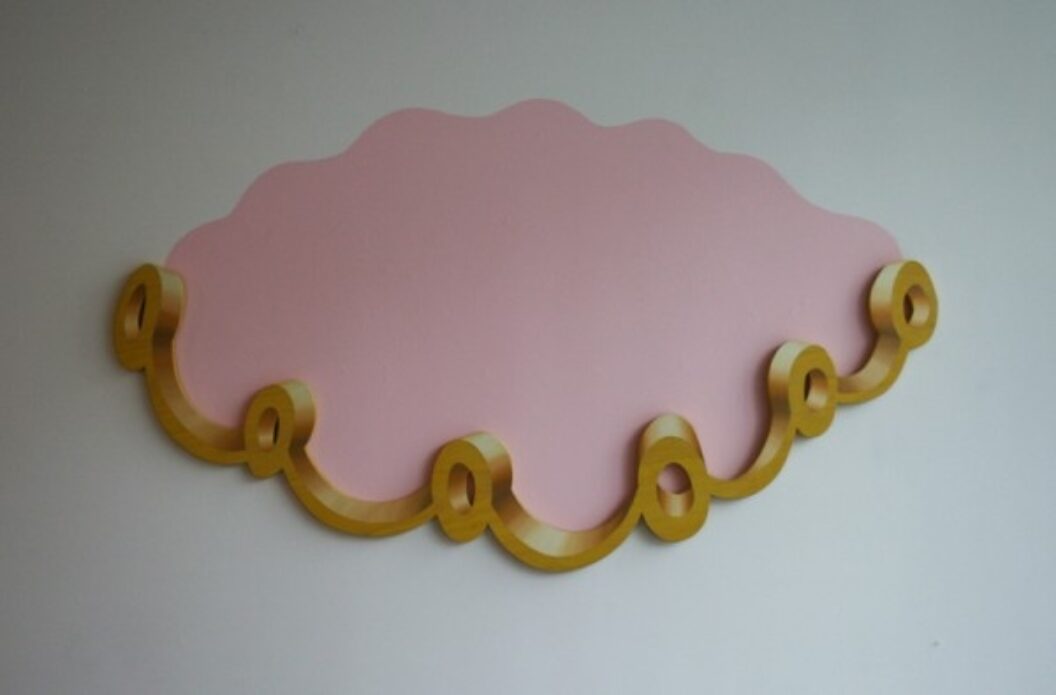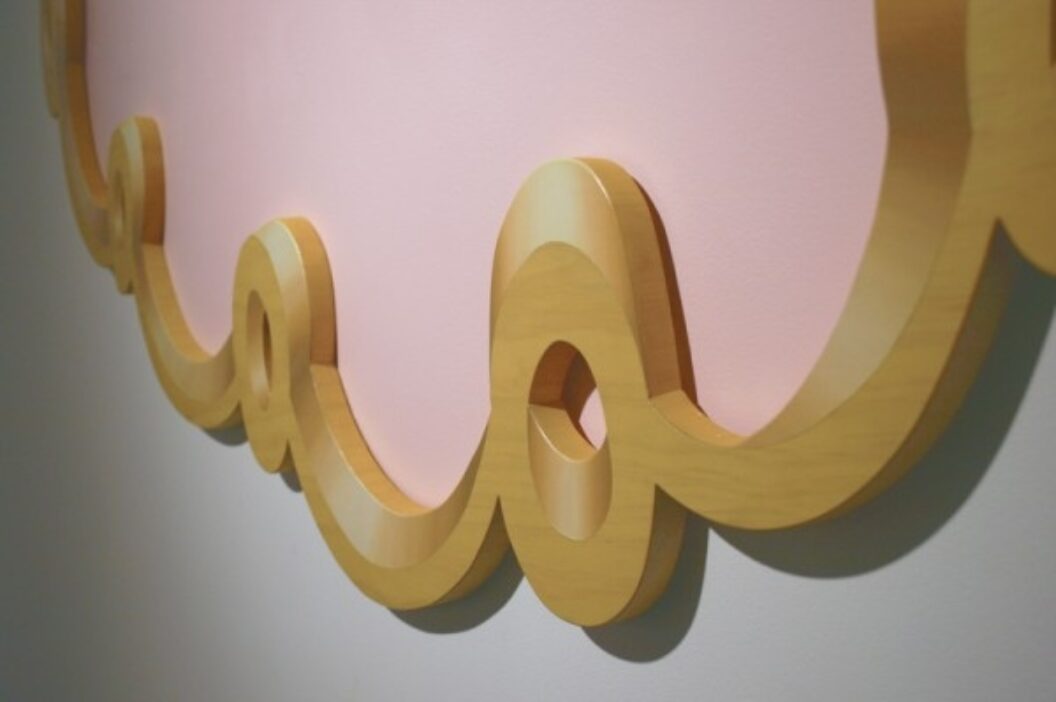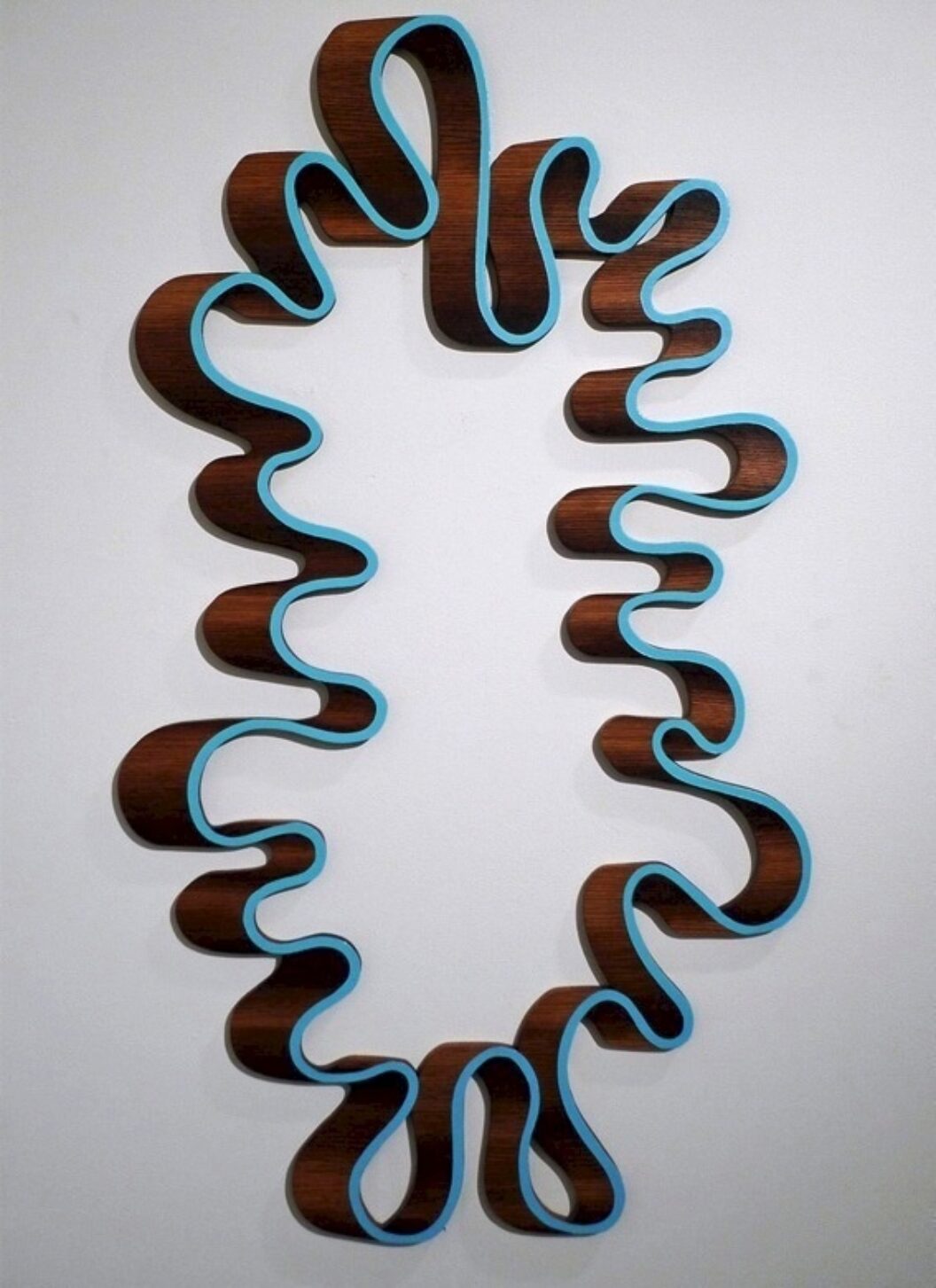 Lynn Maliszewski is a freelance art writer and aspiring collector. She writes for Whitehot Magazine, HAHA Magazine, and her own blog Contemporaneous Extension outside of her sanctioned waitressing job in the West Village. She enjoys Julian Schnabel plate paintings, micro vs. macro, and her Willy Wonka candy wall.