New York Live Arts presents
Marjani Forte
Nov 15-19
Kelsey Henderson exposes the vulnerability of eye contact in a crowd, of interest met with hesitation, of momentary synchronicity. Masha Bed (2009) bashfully contended for attention at 3rd Ward's Group Show in the winter of 2009. Reclining on the folds of her bed, Masha is stern and protective of her territory in this lucid portrait. She is relaxed and focused, hinting at impatience. The viewer intrudes upon her dream sanctuary. Inclusion in the scene isolates the viewer, confronted with the harsh void of off-white sheets against the slightest mention of her body's warmth. Henderson's portraits have always been of strangers. Pursued specifically for aesthetic qualities as they relate to her technique, her random subjects capture the emotional vibrations of superficial relationships in oftentimes full-frontal orientation. Forced and relentless, her newer nude work denies the importance of mining for personality. Since she began painting her sophomore year at the Rhode Island School of Design, her style has transcended stark brushstrokes and settled upon a softer, translucent technique. Her work is infested with the succulence of skin and juiciness of first impressions.
Lynn Maliszewski Why strangers?
Kelsey Henderson It's not who they are, but that I don't know them. It's certain qualities: if someone has really pale skin I'd be really interested in that, or certain scars, that would appeal to me. People get really hung up on the clothes in the painting and start reading the person in a different way because of what they're wearing so I'm trying to remove that aspect a little bit more. You can tell the type of person even if they're naked. When I mention it to them, I emphasize my focus on the skin, so most people are okay with that. I let them know I can work within their comfort. Some people say no and that's okay. It puts me in a very vulnerable position, asking them. I feel like I have to get over my own shyness. I'm a quiet person. It forces me to reach out to them, which is one thing I wouldn't normally do.
LM Could you walk me through your interaction with your subjects prior to painting them?
KH I usually contact them. I find a lot of people through the internet. Often it can be easier through a friend of a friend; other times it just happens that I look up their name, find their email, something. So I contact them that way if not finding them in person. I try to give them as much information as possible at first: 'Here's my website, I'm legit, I'm not weird. Is this something you'd be interested in?' I'm lucky that most of them are flattered and like the idea of it. Some are uncomfortable, and I totally understand that too because I don't know if I'd be in that situation either. Then usually the first real physical meeting is me going to their house. I have a mic and a camera…
LM So you shoot the strangers in their own homes?
KH Your mind creates images in your head, but the reality is that I'm trying to work with the people that I'm interested in, why I'm interested in them, what they're surrounding themselves with, what I find in their home to work with, those types of things. So I'll go to their house, we hang out for a half hour or something then we start shooting. I've been wanting to show more skin than clothing recently, and I always mention that beforehand to make sure it's something that they'd be okay with.
LM How did you come to decide upon this method, this methodology, in your work?
KH Sophomore year [of undergrad at RISD] was my first year painting. I hadn't done much painting before that. When I was really young I did some watercolors, but I never had used oil paint before. I didn't know what I was doing. But it felt like it clicked pretty quickly for me, I felt comfortable with it and it was fun for me. Before that I was only drawing myself. Then I started painting myself. When you're having critiques there are comments about 'Oh, this is how you're portraying yourself,' 'This is how you see yourself…' and I was like, 'No, I was thinking more about these ideas.' It became much more complex. I got overwhelmed with all the readings of it because it was my self. If you make yourself look too good, then that says something about you. If you make yourself look bad it says something else. It was this whole other thing. So for me to paint someone else it was so much easier for me to say, 'This is how I see you, this one way, that's it.' So for me it's even tough to paint people I'm close with. I haven't ever painted a best friend; I just know them on so many levels that it'd be hard. Maybe a friend that I just met… There isn't as much weighted storytelling to each person I'm painting because my time with them is pretty brief.
LM What happens when you actually start painting?
KH Paint-wise I start with the face and work down. I stick with the skin, I finish the skin first then go back to the hair…I need to paint the face first in order for me to get invested in the painting. I feel like once I create the face there's something to work towards, there's a person I'm trying to finish. I spend so much time on the paintings that I learn a lot about the subject: freckles here, that left eyelids a little smaller than that right eyelid. It's about knowing these things about the person. I don't care as much if it all looks realist; I'm not trying to uniformly handle the paint.
LM For having such a brief interaction with subjects, you paint with painstakingly intimate detail. The sterility of them being strangers, however, brings forth the implications of the person as object, as a tool of desire or purely disposable entity. What're your thoughts on this contradiction?
KH I feel like there's a real level of intimacy that happens with the person I'm painting when I start painting. I might have a stronger connection to the person in a way than they would with me. If you're in bed with someone and you're holding hands, you start noticing the little things about them. In that way I guess that's a love connection in a sense to the time, and the intimacy of me getting to study every inch of the person. So in that way it feels really intimate, in a way having a relationship with the person, because I'm getting to see that which I only have with someone I'd be dating for a while. It's only as sexual as that moment. In pornography your mind races to these other ideas, a fantasy in your head. My work is not about this fantasy of creating 'what's next' but it's just what that moment was and appreciating it for what it is, not what you think you want it to become.
LM What role did art play in your adolescence and creative development?
KH My mom was artistic, she's an interior decorator now but she had done illustrations. I grew up playing a lot of art games, like you drew something and somebody had to make it into something else. I would take drawing classes, too. I knew I wanted to pursue art more so when I was a freshman [in high school] I applied to leave and went to boarding school in Cambridge, Massachusetts. That was a hippy art school. I had a great experience there. I would teach art during the summer at a camp in Maine and then after all that I went to college at RISD. I thought about going to school in London to focus on figurative work there…It was either London or New York. I didn't like New York but it was closer to family; I had to live here whether or not I liked it. I'm a very sensitive person, physically and emotionally, so when I visited my eyes were bloodshot red from the pollution in the air. I'd get panic attacks from all the people. It was so dirty and I didn't feel safe, I felt overwhelmed. I'd say it took at least two years for me to get comfortable here, find the neighborhood I really wanted to live in, start making friends that I really care about, kind of find my own way. It's been a slow transition.
For an artist who despises doodling, Kelsey Henderson's eye for detail surges in her early portraiture. Austere lines and shades of black create contours against the diluted flesh tones of her open-ended forms. Dramatic flash lightbulbs translate onto canvas and sterilize the subject. Washed out and ghostly, they are purged reflections of themselves. Oftentimes placed against monochrome backgrounds of obscured locales, these earlier subjects come off as abrasive and fledgling. The nuances of a traditional portrait based upon the subject's inner soul and contemplations are muted. Martin (2007) divulges the crux of her passion for skin, her enchantment with the exterior. Straying from the dilution of her camera's flash, Henderson pursues a new strain of warmth and humanistic portrayal that breaks from the aloofness of her earlier work. His serene yet intent stare, lingering between punch-drunk and a morphine-drip daze, emerges as the focal point amid the embers of gestural representation in his shirt and blanket. Martin's dexterous hide liberates the image, providing the substance in the fleeting, impersonal snapshot.
In 2008, Henderson was given the opportunity to work with FLY 16×9, an online magazine that unites fashion and art through video. The three-month project proved relentlessly challenging, requiring an emphasis on Dior clothing and fashion-forward angles. She chose the model—melding the endeavor with her developing aesthetic ideals – and came to terms with her handling of oil paint. Henderson renewed her motivations to uncover "who they [the subjects] are versus what I think they could become for me." Masha Bed II (2009) was a product of the FLY 16×9 opportunity. The skin is the main event, slinking across the wrinkled white sheets. Her limbs extend like a spindly pinwheel, frozen in motion by her icy exterior defined by size and unassuming volatility. Her work with Masha elucidates her passion for imperfections and awkward angles, intermittent mentions of gravity, and life in motion. Similar to Gerhard Richter and Richard Phillips, her most recent influences, Henderson concedes to the paint's existence. It runs parallel to realism on a squiggly, refracted path like photographs that depict partial blinks of an eye or slight convulsions of movement. On her website, Henderson invites audiences into her process by disclosing photographs of her subjects during their photo shoots. Aside from Masha's (who is a professional model), Henderson's photographs distill an interaction teeming with stoicism and hesitancy.
In 2008 and 2009, Henderson completed several portraits of her subjects on their beds, instructing them to scrunch their skeleton and become the most concentrated mass of skin possible. Comically enough, Henderson announces her interest in them based solely on their skin or look, but encourages them to be themselves and shoots in their home. The finished product is a backstroke through the epidermis. The beauty lies in the intimacy of her detail, of her translucent rendering of her subject despite her emotional brick wall. She picks up on the inherent weariness and awkwardness of her subjects, who often appear aimless and subverted as a result. She elucidates intimacy in scrutiny and the detachment of physical desire.
Stephen (2010) lacks all skin and hair pigmentation and is probably Henderson's most ideal subject. A profile against a white wall, this image is a sensual tour-de-force. The most subtle fleshy hue skims along the surface of skin, starkly contrasted by shadow and contours of the body. The skin is nearly flawless, gliding over his muscles like fondant, smooth as whole milk. His ear proves to be the one hyper-realistic component that engages in a way similar to the eyes of her full-frontal portraits. It grounds the figure in reality, pulls it harshly out of her vacuum of the ideal aesthetic sample, and reassures that this is a man and not a mannequin.
On the surface, it seems as though Henderson is simply taking inventory of her generational attraction and composing memorable placeholders for worthy subjects. Her portraits relay pure technical cravings with unreciprocated familiarity. She allows herself to connect to the individual through her own conception rather than in the flesh. In constructing supple tendons and a subtly expanding ribcage, she breathes her own life into strangers. Henderson creates contorted imprints of people shaped into personalized renderings of their most pleasing qualities—none of which necessarily result from their personality, words, or past.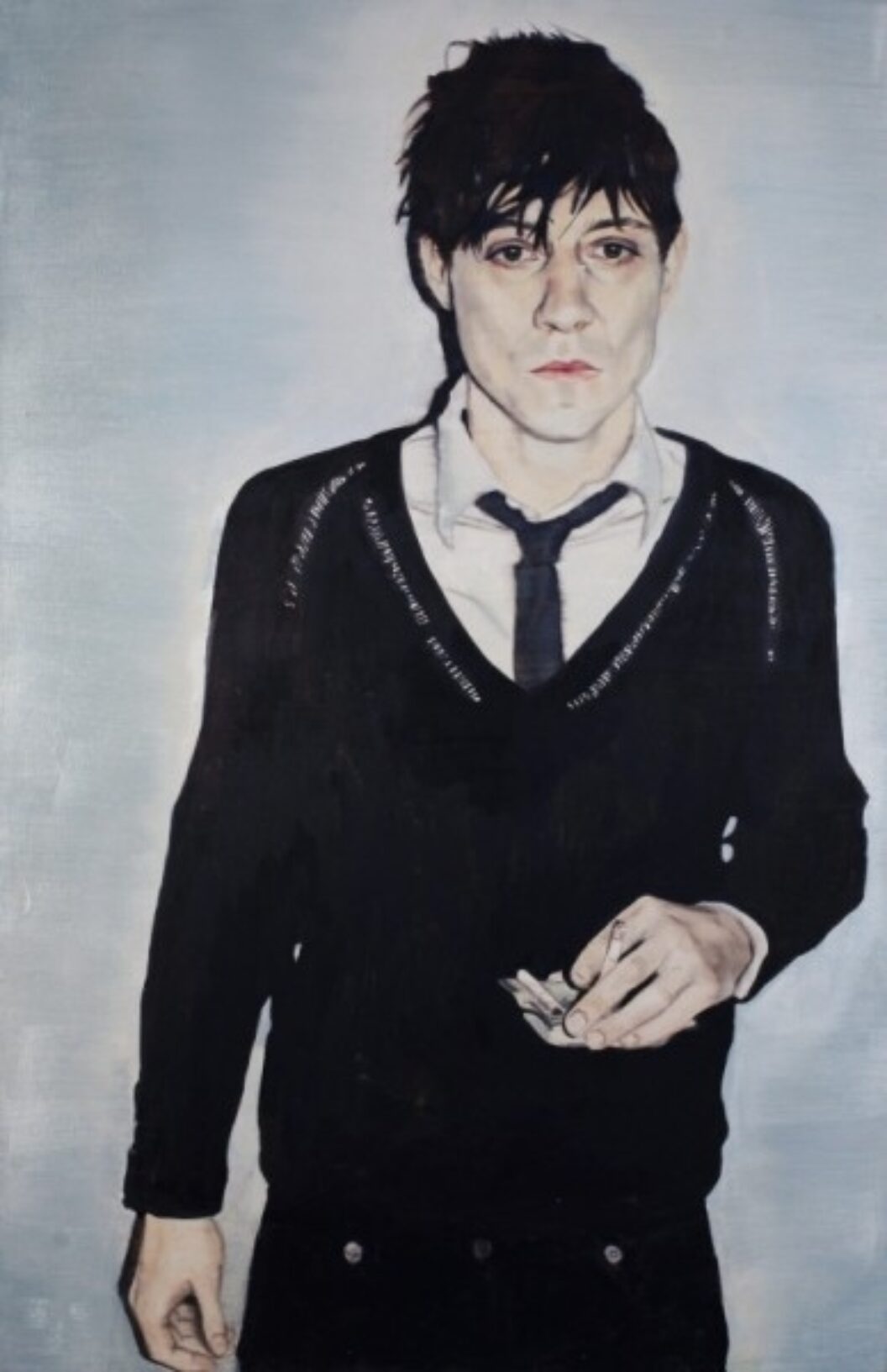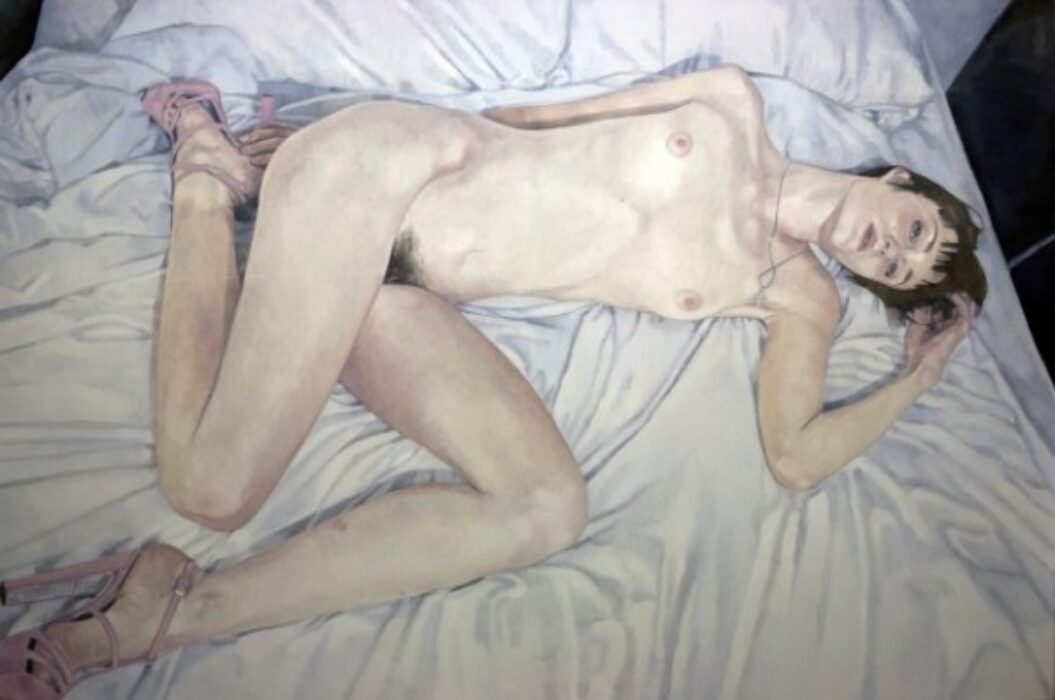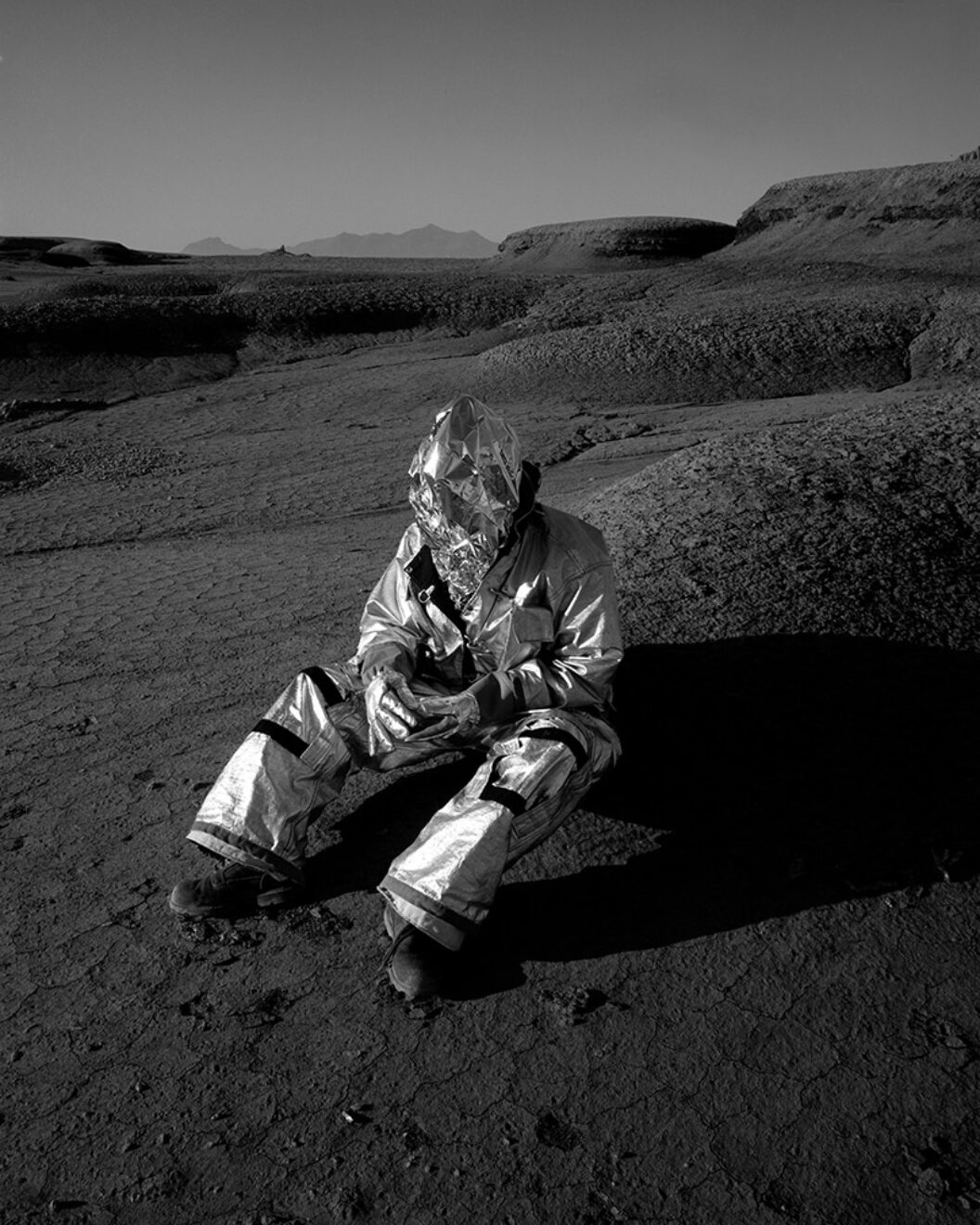 Lynn Maliszewski is a freelance art writer and aspiring collector. She writes for Whitehot Magazine, HAHA Magazine, and her own blog Contemporaneous Extension outside of her sanctioned waitressing job in the West Village. She enjoys Julian Schnabel plate paintings, micro vs. macro, and her Willy Wonka candy wall.