Procedural Musings: Hans Van Meeuwen by Lynn Maliszewski
Sculptor Hans van Meeuwen's odd fragments and modifications impinge upon the confines of any space they occupy. Summoning adolescent relations and solutions combined with innate tension, he invites viewers to revert at a whim. Lynn Maliszewski speaks with him about his process and inspiration.

Discover MFA Programs in Art and Writing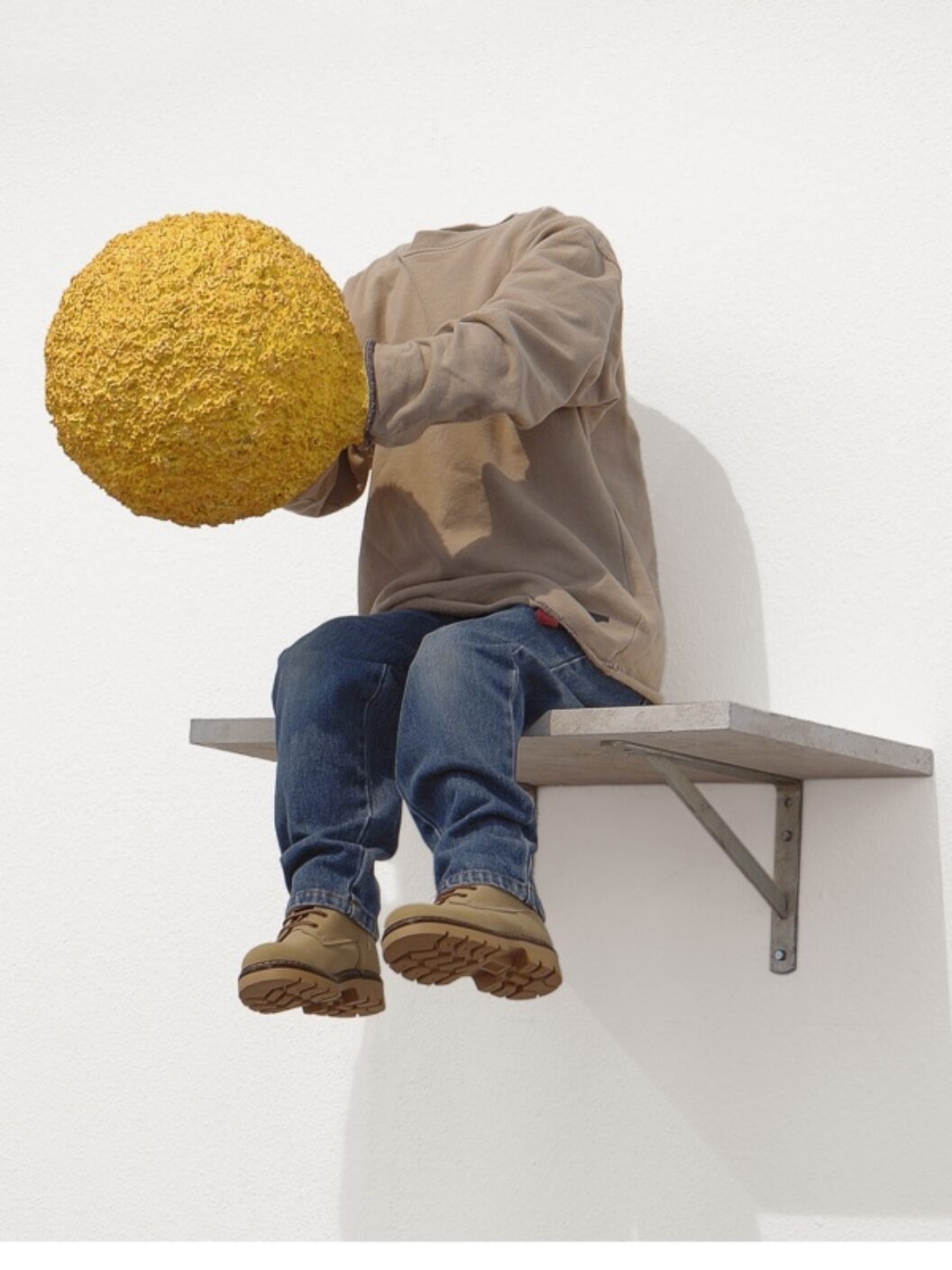 Hans van Meeuwen is a sculptor of spaces, perusing his memory for potent visual fragments. His shrunken men, A Sunkid (2003) in particular, are immediate standouts. Despite their perches, each of the several warped individuals sway with mentions of movement. A Sunkid is decapitated yet completely nonchalant, unaffected by his diminished sensual input. He steadily caresses a glowing ball of fire in front of his body, balancing as his legs swing out to the right. The fireball appears familiar and harmless; was it the man's skull? Has his enthusiasm for or enslavement to it tempered his reaction? Van Meeuwen's sculpture taunts childhood fantasy and fear. He allows the viewer's own apprehension or delight to direct his work and encapsulate childhood impulses and perception.
Despite disdain from the Minimalists of the '70s and '80s throughout his formal training at the Royal Academy of Art and Design in the Netherlands, van Meeuwen was handsomely rewarded by his country for creative innovation. The Prix de Rome in particular allowed travel, exploration, and evolution out of his architectural beginnings into his current ambiguously nostalgic framework. He moved to Germany in 1991, then to New York in 2004. Most recently he has taken to drawing as a potent "fast media" alongside his more involved sculpture. Capturing an expanse of emotional extremes in the viewer's matrix of memory, van Meeuwen revitalizes outgrown impulses.
Lynn Maliszewski What role did art play in your adolescence?
Hans van Meeuwen I was always building stuff. I was always having cardboard and building stuff out of it. It was sort of three dimensional, I made my own toys. When I was a teenager I was always taking courses, drawing courses and painting courses. I always was creating; it was not art in that sense.
LM Can you tell me about your most recent works in progress?
HvM The drapes are very new. I'm still working on that one. There are four hanging; I have six more. They'll come to seven or eight and I hope to show them on one wall. A starting point for my art is often what I remember from my childhood. When I was a little kid, we had these exact curtains. Not exactly, but kind of velvety curtains with just the pattern; that mask was somehow imprinted on. If we looked a little bit to the side, you just can see pattern. So [it was] not so strong as you see it here. [Pointing out a white, paper-mache giraffe head hanging from the ceiling] I'm waiting for a space to show this. I want him to come out of the ceiling but I want to have a really high ceiling for it. It's a giraffe, so the neck must be really long. The neck is the easy part, its just waiting.
LM How did you decide on such a large format for your works?
HvM I like to use fragments. I remember looking at ancient sculptures when I was in Rome, huge statues, but they only have a nose and I thought, That's enough. Just seeing a foot makes you think about the whole person, about the giant. Your imagination is much more active when you just see that fragment.
LM Your sculpture regularly draws from forms found in life. Are they pulled from memory or observed in reality?
HvM I have an interesting experience with this. I was in Provincetown, in a residency near Cape Cod. I wanted to make chicken feet, but big. There was a little library but I couldn't find good images of chicken feet. So I thought, Well, the only thing I can do is make them the way I think they are. So I did that, and I was very happy with the result. A little later I was in Harvard in the Museum of Natural History, and I saw real bird feet and I thought, Jesus Christ this is so wrong. I came to the conclusion that, well, it doesn't matter. People still know it; no one says it's anatomically incorrect. Everyone thinks its right, your memory is more important than the real biological particulars.
LM Tell me about your recent forays into drawing.
HvM It is rather new. I think it took a while for me to be mentally strong enough to do it. I started a couple of years ago and now I can not stop it, once I started and was over it. It's so base. It takes half an hour, an hour, maybe two hours. It helps me to make my sculptures. They are meant to be a separate thing, they are not meant to be sketches for a sculpture but since I do them they influence my sculpture so much and vice versa. I have to do my drawings, I love it.
LM What's your relationship with the animals you portray so frequently, such as birds and rabbits? What is their relation to humans?
HvM I am not particularly interested in animals but rather how we look at animals. In earlier days and times, animals were on the farm and were there to do work. The bull had to work, the cow had to give milk and meat. They were respected as animals and there was a bond because you had to take care of your animals as assets to your livelihood. Nowadays, we interpret so much into animals. There is a company here, RocketDog, that makes gourmet food for dogs. A dog is like a coyote or wolf—what do they care about gourmet food that tastes like vegetables? We trick ourselves into thinking that they are human beings. That's one side. On the other side, animals are mistreated in farming nowadays.
LM Does your imagery have a goal as it relates to the viewer?
HvM I would love to trigger several emotions. A lot of work is at first funny, some people start to laugh. "Look at this, look at the size of this…" and I hope that people think about it a little bit more, and say, "Ah, it is a little bit weird, and maybe it's sad." In the typical string of emotions, somebody told me once, 'This one sculpture of yours, I can't get it out of my head. I thought it was funny but it is actually terrible.' And those emotions I love, where people think about it again and come to different conclusions. Sometimes you dream and they're very clear, and you wake up and you can retell the dream. But often you reminisce about something, think of something that is just a little image deep in your head. That's also what I want to reach, something there for 5 seconds and then gone. You can start to think of a story, I just give you hints.
Van Meeuwen's odd fragments and modifications impinge upon the sanctity and confines of the space. Using animals and humans to intermingle with physical walls, he incites curiosity beyond the room and challenges the viewer to link assumption and memory. The Landing(1996) depicts the oversized webbed feet and fluffy white underbelly of a pelican. The mind wanders into the bird's realm, contemplating its reasons for being there and what the rest of the body looks like. Are the outstretched legs indicators of struggle or just a momentary loss of control? His sculptures have a dynamic freedom bound only by what we see and thusly imagine. Human distortions like Jumper (2008) relay similarly unstoppable trains of thought. A tiny man connected to a leg of more normalized human proportions is immediately baffling. Does his opposite leg defy the constraints of reality in a similar fashion, or is he forever damned to a pogo-hop? Van Meeuwen's sculptures enflame the porous mind, tapping into the depths of the psyche despite their superficial simplicity.
Contradictions in form and function persist through van Meeuwen's sketchy, gestural, stocky drawings. Transportation—inspired by his studio's close proximity to the Brooklyn-Queens Expressway—has been a prevalent theme in his drawings. In his hectic, woozy renderings of cars in motion or a congested highway on-ramp, the tension and aggression of his reality is inescapable. Untitled (2007) portrays two legs stunted by a maroon convertible wedged just above the ankles. Each component is worthless in lieu of the other: the car cannot drive perched above the ground, and the feet cannot take a stride without legs (or a brain, for that matter). Untitled (2008) portrays two standing individuals with large mirrors for heads. Literal mirrors provide an opportunity to reassess the external; figuratively, mirrors can be people or actions that enable one to reflect. Such foils hold considerable importance. These two figures, staring into each other's blank void, punctuate an emptiness and disillusion to be found in reflection. Van Meeuwen's drawings demonstrate the power of naïveté and the pitfall of submitting to an extreme.
Van Meeuwen stirs similar neuroses in the viewer through his manipulation of the human body. Tafel (2001) consists of three identical noses of approximately three feet tall by two feet wide projecting from three separate walls. A menacing cloud hovers in the room, fed by the suspicions of a witch-hunt or a haunted mansion susceptible to Scooby-Doo's snooping. In the middle of the bleached room is a vacant, wooden, white table. The table is insignificant in the midst of the noses' imposition, building an unwarranted tension. Black Holes (2005) emphasizes comparable feelings of paranoia. Icy-blue irises peer from beyond the walls of a corner, free from sockets in their rendering on canvas. A white table conjoined to a white chair is the focal point between the startling glares. Gazing upon the scene stirs discomfort in the viewer at the desk being rendered completely useless. In regressing to uncertainty, van Meeuwen challenges viewers to recall evolution out of childhood and gauge the tendencies that may remain.
Van Meeuwen's clearest analysis of the human condition is in a series of partially transfigured humanoids. Sweet Potato (2007) presents a small man dressed like a Midwestern cow-herder in work boots and jean separates kneeling on an oversized sweet potato. Hunched over like a spewing drunkard, the man is victimized by the dense root vegetable as it absorbs his head and arms. Kartonkind (2004) portrays a similar "little man" settled on a raised board with a large cardboard box engulfing his upper body to the waist. Kartonkind 's oblivion is reduced to its most fundamental denominator, comparable to hiding in a closet or ignoring an incriminating email. These humanized sculptures are a caveman's solution to obscured issues: so absurd, it's funny; so desperate, it's sad. Both relay feelings of isolation, of clouded judgment and introspection.
In sculpture and drawing, van Meeuwen ennobles the escapism of daydreams and gives the viewer shameless excuses to introvert. Summoning adolescent relations and solutions combined with innate tension, he invites viewers to revert at a whim. His work is simultaneously inside and outside of itself, thoroughly incarcerated by the viewer's assumptions based upon his suggestions. Endlessly open-ended, van Meeuwen's imagery is a reminder that the crux of adolescence hasn't quite dissipated. He embraces the juvenile curiosities and perceptual frenzy found in coming-of-age.
Lynn Maliszewski is a freelance art writer and aspiring collector. She writes for Whitehot Magazine, HAHA Magazine, and her own blog Contemporaneous Extension outside of her sanctioned waitressing job in the West Village. She enjoys Julian Schnabel plate paintings, micro vs. macro, and her Willy Wonka candy wall.