A new gallery opening in the wake of this depression is nothing short of a miracle, but to say that Prism Gallery "opened" is an understatement. Its appearance in Los Angeles was more like a close encounter of the third kind.

Discover MFA Programs in Art and Writing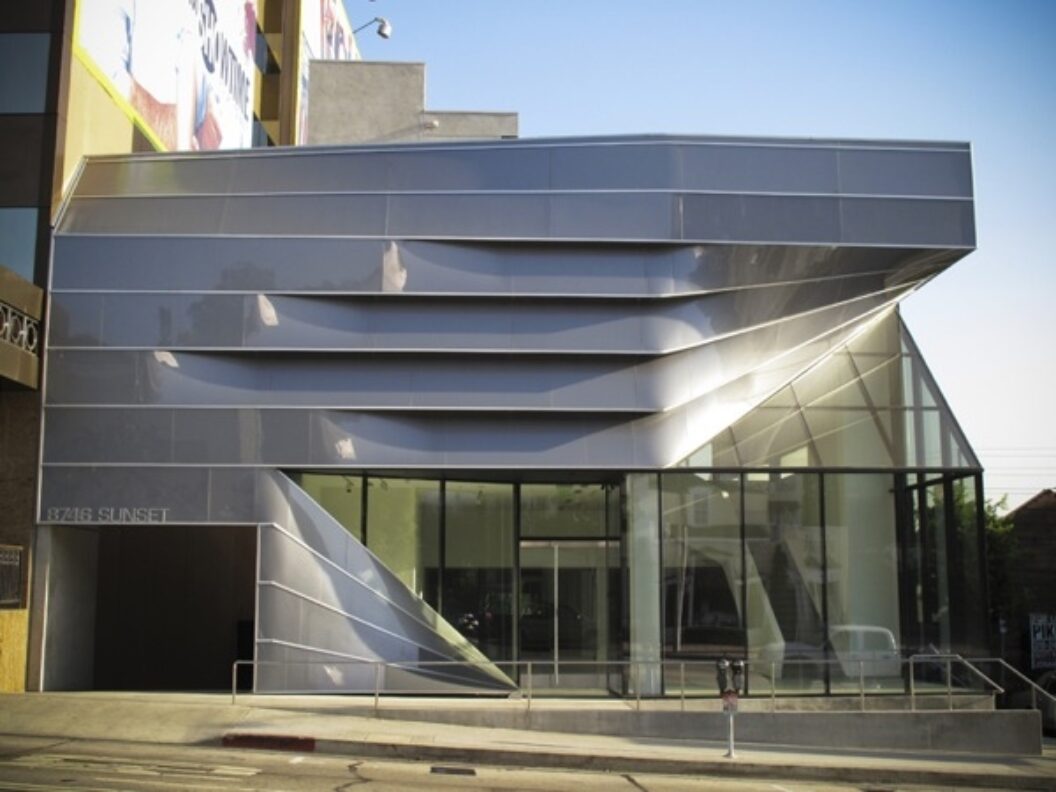 The post-bubble market of 2009 left many collectors so broke they couldn't even afford to pay attention. Countless galleries closed their doors and all the fair-weather artists went back to whatever jobs they had before the boom. A new gallery opening in the wake of this depression is nothing short of a miracle, but to say that Prism Gallery "opened" is an understatement. Its appearance in Los Angeles was more like a close encounter of the third kind. Owner PC Valmorbida and co-founder Jared Najjar boldly landed their mother ship designed by Pattern Architects right on the Sunset Strip. Building details like the first facade in the country to be constructed entirely out of a resin based composite polycarbonate are so slick they deserve a complete article of their own.
According to Valmorbida the gallery is also a "project space/cultural center" and will host artist lectures and movie screenings, giving it the social appeal of a modern day salon. This "multidisciplinary" vision is refreshingly inconsistent from the cold, sterile galleries that serve as intellectually self-aggrandizing one-way outlets of class and culture. It's strange to think how great a gallery could be if it offered the community more activity than one booze-fueled opening every two months. Furthermore, during this economic downturn it reveals not only an unconditional love of art but also an innate understanding of the resiliency of the market.
Prism's inaugural show, titled MINDTHEGAP, is curated by PM Tenore and RVCA Artists Network Program. Their aim is to highlight artists whose work lies between historically significant (high) art and graffiti commonly labeled as vandalism (low). The great irony of "Graffiti" and its common misconception as a "low" genre of art becomes clear when we consider the broad variation of its influences and applications from cave painting to techno-chic. These artists are not bound by any particular style, class, or location. We cannot assume they are "Outsiders" or "Insiders". So, what's in a name? In 1961 the term "Junk Art" was used in reference to painting and sculpture formed from worthless material. A title like that could be cringeworthy, but to underestimate it would invalidate the significance of Robert Rauschenberg's Combines. This exceptional series was responsible for redefining the concepts of "high" and "low" art in both cultural terms and market values, and the resulting polarization created a rift in critical opinion that we may now call the "Gap."
In MINDTHEGAP, the curator turns our attention to Barry McGee and Phil Frost who have been chosen to represent the cult of artistic personalities that occupy this rift. For them, the exhibition title becomes more than just a name or a witty reference to the London Underground, it flagrantly designates a new movement in the nomenclature of fine art history.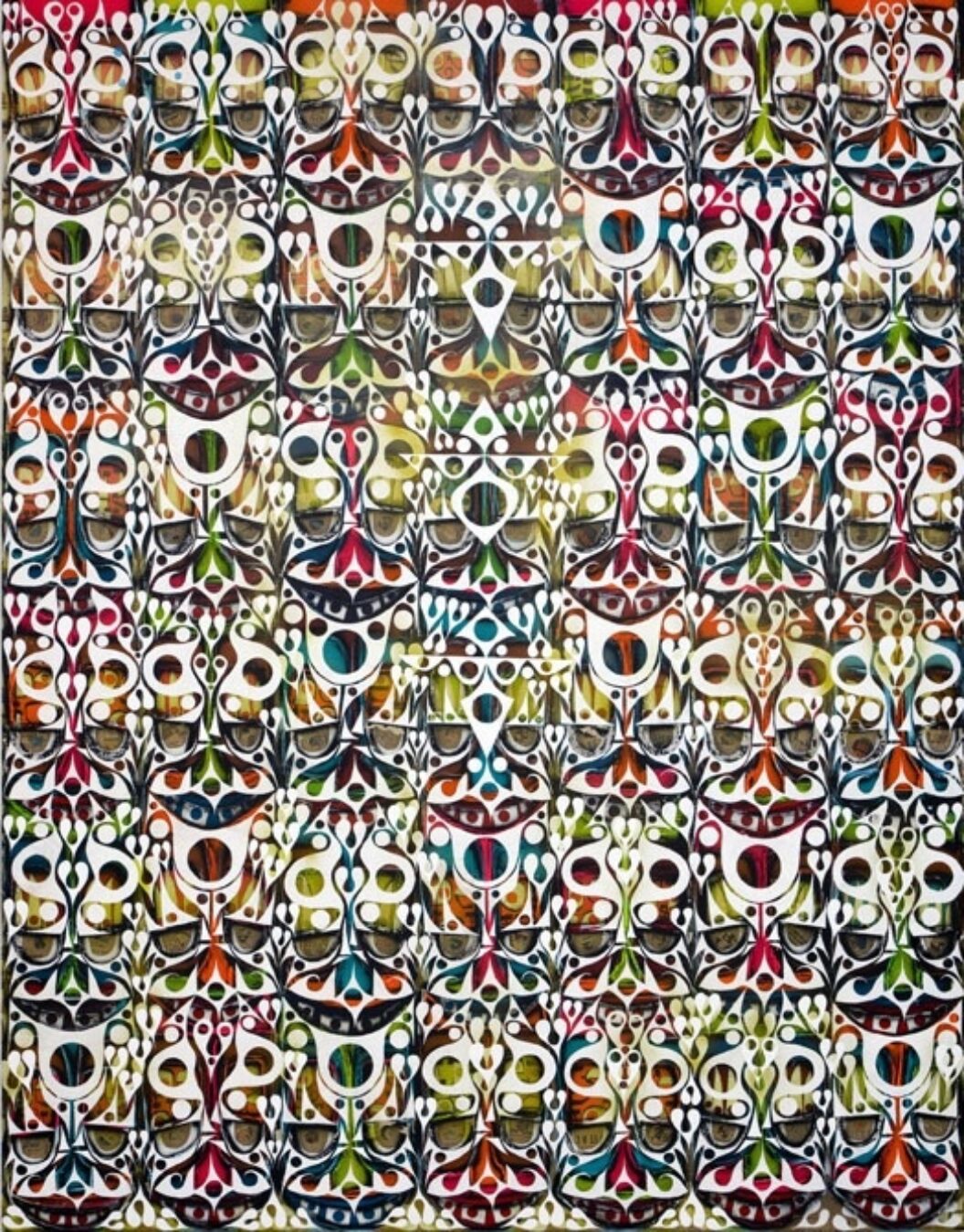 Rauschenberg (1925–2008) is such an influence on Phil Frost they are having a posthumous dialog. Frost paints heavy with correction fluid on found objects which recalls Rauschenberg's fastidious effort to erase a drawing by Willem de Kooning. Frost responds by making his own colorful Combines and then drawing on them with white out. From there he diverges and begins to freehand detailed graphic patterns based on letterforms and totemic structures. The totem defines a social group having a common affiliation to the object, their images and language percolate through the field of debris and settle on the surface like a communal shroud of Turin. The work is so repetitive and labor intensive it can appear redundant at times; however, it never loses seductive quality because what becomes visible is the exact moment when the artist's meditation meets catharsis. Frost's development despite the lack of a formal art education is impressive and also worth mentioning but is of no particular consequence to his placement in the "Gap".
Barry McGee graduated from art school in 1991. His work has all the polish and refinement that higher education can provide, but there is a playful attitude that cannot be taught. McGee eagerly jumps without hesitation from brush painting to mixed media collage to kinetic sculpture, pen and ink, video, photography, montage, large scale installation, printmaking, and spray paint. This artistic decathlon is dedicated to his roots. The work has an unapologetic West Coast swagger, organically sprawling through the gallery like a wild vine. His palette goes far beyond primary to include fluorescents so hot they sizzle. The rectilinear formation of installations, patterns and solid colors invoke a young, surf-punk Mondrian. McGee's stylized portraits express as much comedy as they do tragedy, in many cases they represent the character who disposed of the material on which their face is painted. Like Frost, he also pays homage to the culture and community he knows by transforming their discarded objects into distinct reliquaries. Unlike "Junk Art", they are not only highlighting the abstract beauty of worthless material, but further attempting to reattach the past-personal sense of belonging.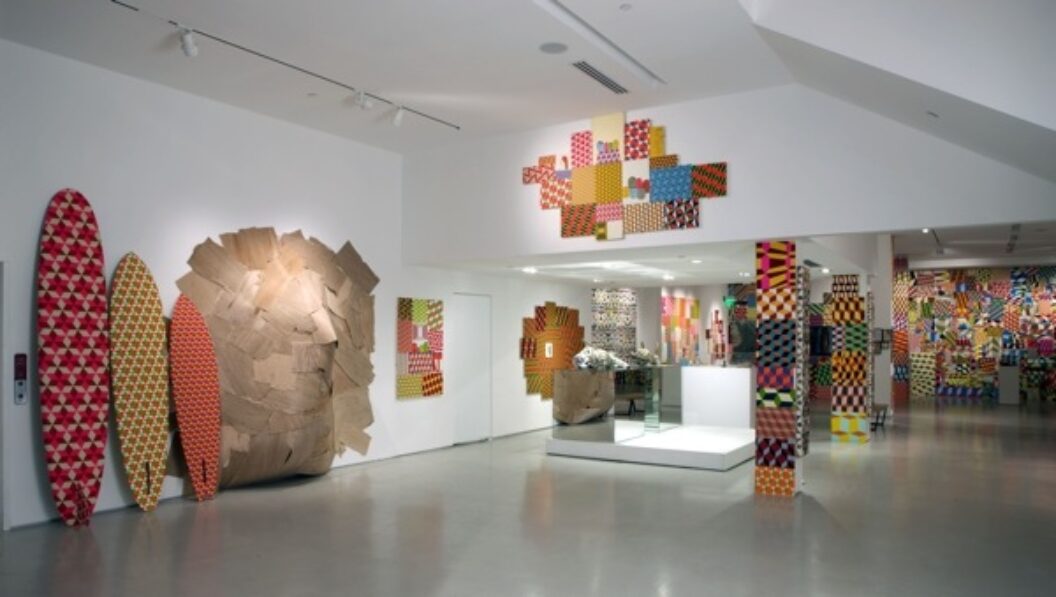 Indeed, both artists have a lot in common and their work hangs very well together. The exhibition appeals to my attention deficiency and yet has many qualities that only obsessive compulsion can deliver. It is remarkable to feel these contradicting neuroses curb their disorder and agree to have a healthy, productive relationship. Still, the proverbial "gap" in the title leaves this exhibition begging for more artists, more themes, and more variations. I kept wandering into stairwells hoping to discover another level with more work, looking for answers to a sudden rush of questions… Which other artists have made the transition from sidewalk scrawls to museum walls? How do we regard the cultural value of a tag by SAMO versus the historical value of a Basquiat painting worth millions? Can a building really appreciate in value if Banksy does an exterior wall piece on it? Shepard Fairey, Invader, and Keith Haring joined the round table discussion in my head. Eventually I got to the roof deck, which had no artwork but a nice breeze and an outstanding view. There I realized that launch exhibitions with broad titles and graffiti artists are open to much debate but the birth of a gallery is a beautiful thing, especially these days. Surely Valmorbida, Najjar and art lovers all over Los Angeles will be looking forward to their first year of taking chances, expanding horizons, and making it look like a lot of fun.
MINDTHEGAP is on view through February 20th.
Gilles d'Amecourt is a freelance writer and art lover living in Los Angeles.