Discover MFA Programs in Art and Writing

Priscilla (no) ama: The dual meaning of the Spanish word amo —the first-person singular form of the verb to love, as well as a noun meaning master—encompasses Priscilla Monge's artistic project. Master—head of household, owner of something, man with servants—is always a masculine noun. Then there is the ama de casa, a woman who occupies herself with domestic tasks. Priscilla (no) ama alludes as much to love as to the circumstance of being (or not being) master in a certain situation. It is in these zones, where language distributes roles and establishes hierarchies, that Priscilla Monge sets her traps.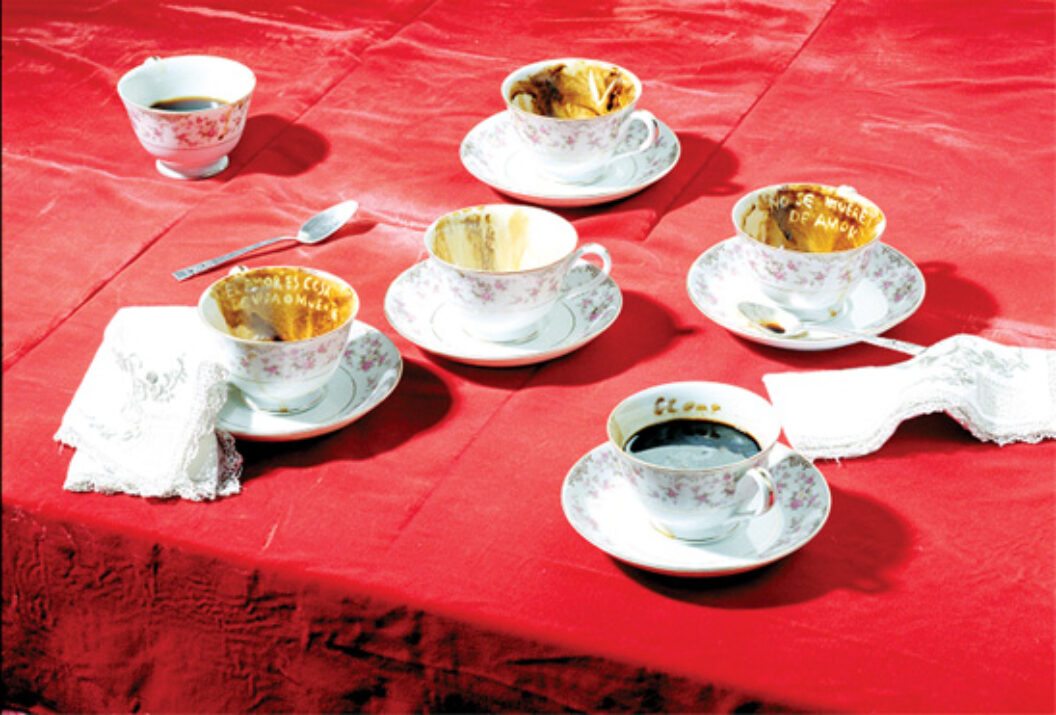 Priscilla no pinta ("Priscilla does not paint"): The title of the artist's first solo show, in San José in 1995, was a gesture as provocative as it was programmatic. Since then, Monge has used a range of languages to speak about love and aggression, and above all about the complex power struggles that take place in social space. Her early pieces include a series of Recetas ("Recipes") that instruct, for example, Cómo hacerlo tu esclavo ("How to make him your slave"). Subsequent pieces like the video Lecciones: Cómo (des)vestirse ("Lessons: How to [un]dress yourself") and Cómo morir de amor ("How to die of love") confound expectations of seduction, converting striptease and tragedy into farce.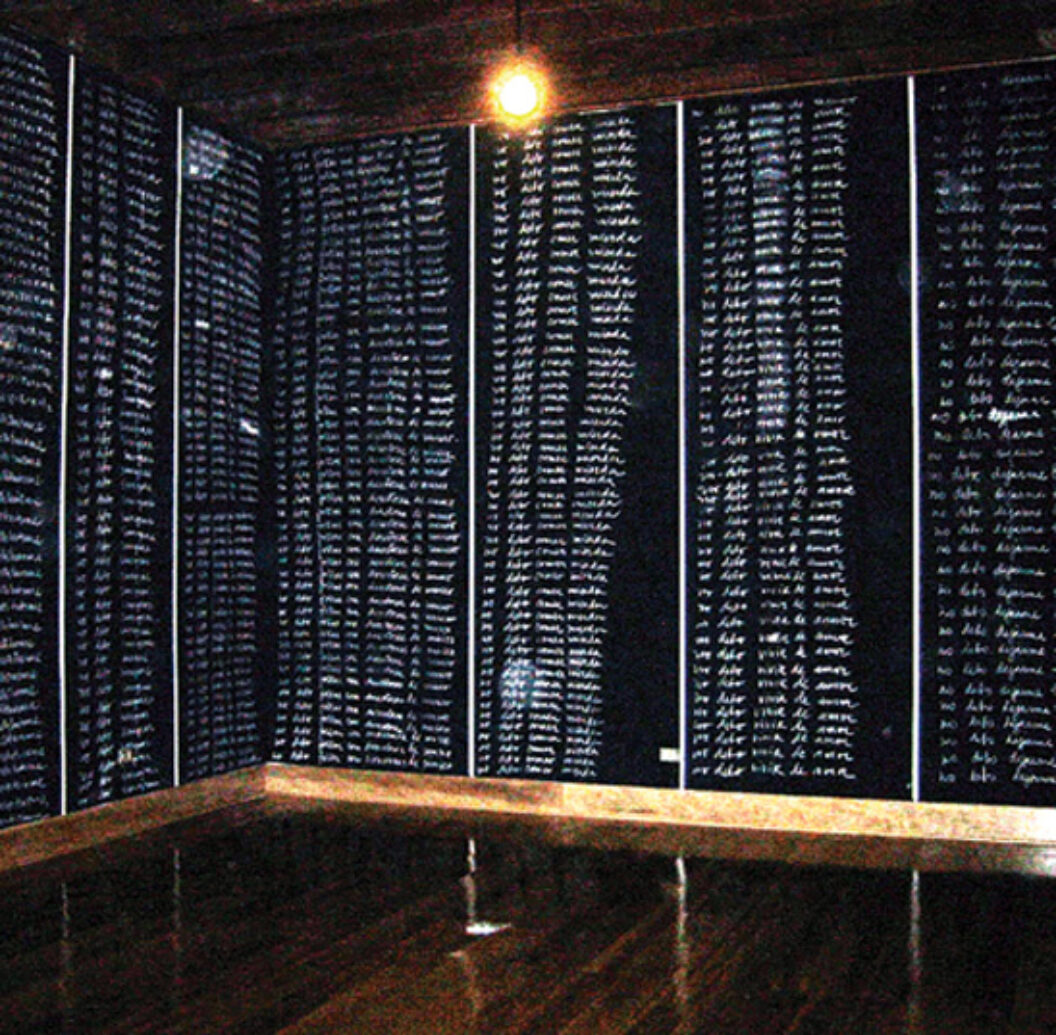 Pensum, 1999–2002, a series of schoolroom chalkboards, displays an endless list of prohibitions—"I must not have sex with art critics"; "I must not buy any more shoes"—that reveal a hidden substratum of social taboos and prejudices. In that sense, the works that Monge has created from sanitary napkins (soccer balls covered with menstrual pads, entire rooms lined with them) are quite literal. Monge's project incorporates the disobedience of making certain proscriptions visible.
Monge's work finds its most critical and complex profile along the indistinct boundary between submission and rebellion. Her Lápidas ("tablets") inscribe in marble the words of Caliban, the "savage" rebel in Shakespeare's Tempest, whose curse is to have to speak in the language imposed upon him by his amo, Prospero: "You taught me language, and my profit on't / Is I know how to curse. The red plague rid you / For learning me your language!" Written in English, the blasphemy acquires a paradoxical tone: the insubordination of the dominated, written in the language of the dominator.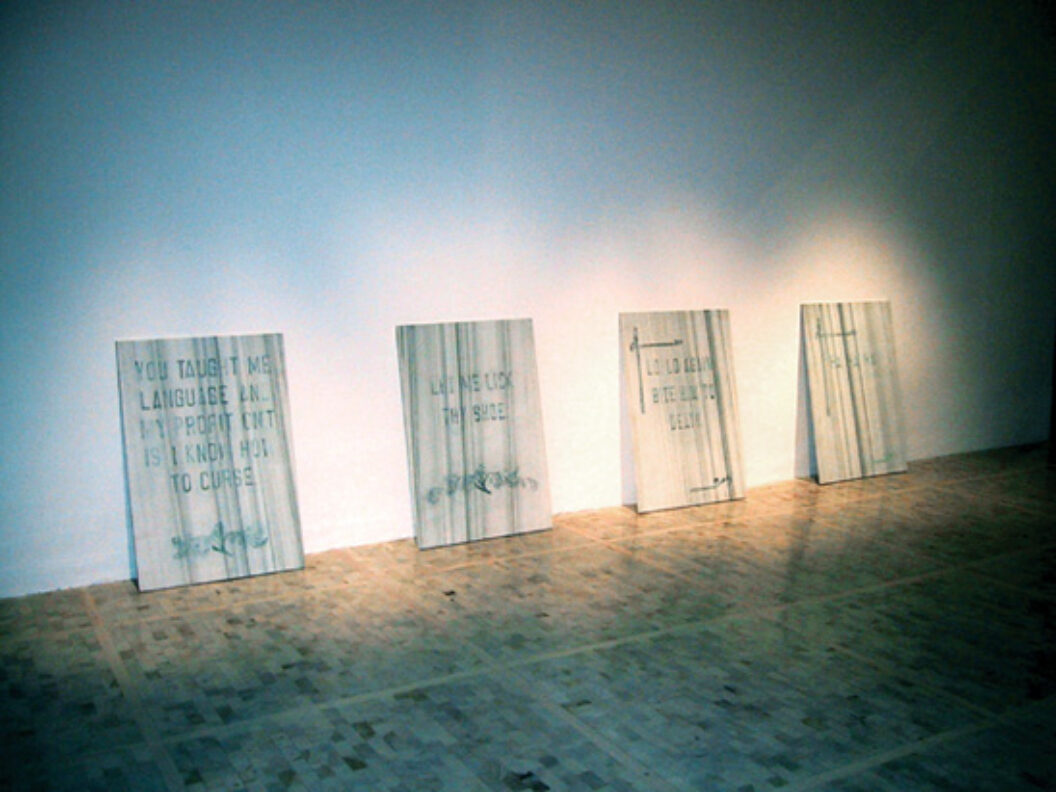 Monge investigates relationships of power from a perspective that is not simply oppositional. Rather, she acknowledges the variable roles of victim and victimizer. As Barthes recalls in A Lover's Discourse: Fragments, "Language (vocabulary) has long since posited the equivalence of love and war: in both cases, it is a matter of conquering, ravishing, capturing, etc."
Translated from the Spanish by Ezra Fitz.
—Tamara Diaz Bringas is a curator and critic based in Costa Rica.
Originally published in
Featuring interviews with Plastilina Mosh, Andy Palacio and Christopher Cozier, Pedro Reyes, Francisco Goldman, Pablo Vargas Lugo and Ruben Gallo, Carlos Brillembourg, Julieta Campos, Jose Castillo, Julieta Campos, Daniel Sada, Jose Luis Rivas, and Beto Gomez.