Power in Diversity: fierce pussy Interviewed by Alexandra Juhasz
The artist collective discusses a new public project.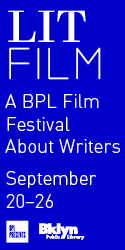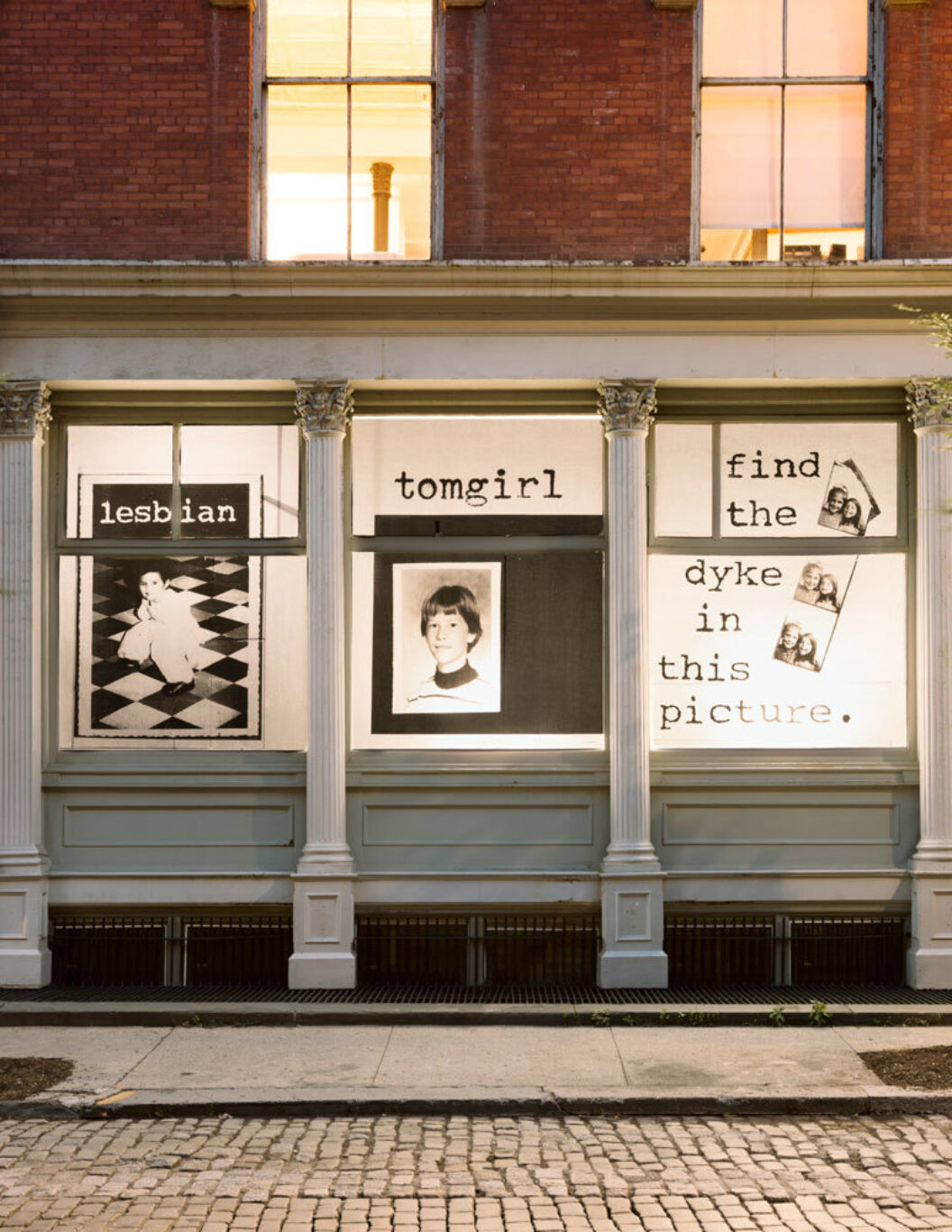 I met to chat with three members of fierce pussy as they were installing AND SO ARE YOU, their ten-window site-specific installation at the Leslie-Lohman Museum of Gay and Lesbian Art, the second year-long installment of the museum's QUEERPOWER project.
fierce pussy is a collective of queer women artists that formed in New York City back in 1991. As is true for me, the collective was deeply invested in AIDS activism during a decade of increasing political visibility and mobilization of gay rights. fierce pussy chooses to be interviewed as a collective voice. In this interview, I mark when each different member chimes in, but honor the power of the collective with the designation fp for all voices.
—Alexandra Juhasz
Alexandra (Alex) Juhasz Tell me a little bit about AND SO ARE YOU.
fp AND SO ARE YOU is a display of posters from fierce pussy's early history, along with baby pictures first displayed in 1991.
fp At that time, we did list posters of derogatory terms, and those early posters said, "I am a …" and then a list of terms, and it said, "AND PROUD." In 2008 we changed it and did a mix list from earlier posters, and it said, "I am a …" and the list, ending with "and so are you."
fp For this show, there are ten windows in the installation, and six of them are older posters from the early 1990s and four of them are new posters: a new list remix and baby photos with Bulldagger, Tom Girl, and fierce pussy.
AJ Does the project of reclaiming derogatory language in 1991 signify differently when fast-forwarded to 2018?
fp In 2008 we remixed all three lists and wheatpasted it on the front of Printed Matter as part of our retrospective there, and then we went out to lunch. We were gone about an hour, and the cops were there by the time we got back because people in the neighborhood complained.
fp So in 2008, the terms were still really very offensive. Children in strollers might look up and be able to read them.
AJ In 2018, are these terms still radically offensive to children in strollers and their worried parents?
fp We've changed the list now again, in 2018, ten years later.
fp We've broadened our horizons.
fp We've added "tranny" and "tomgirl."
fp We're claiming all these words and embracing them, inverting what we were called, and what one internalizes, and then gaining strength from it. When you see these baby pictures, they're these tender little people, named such ugly things at such a young age; you take that on, and it's deeply impactful. How one names oneself is very different than being named.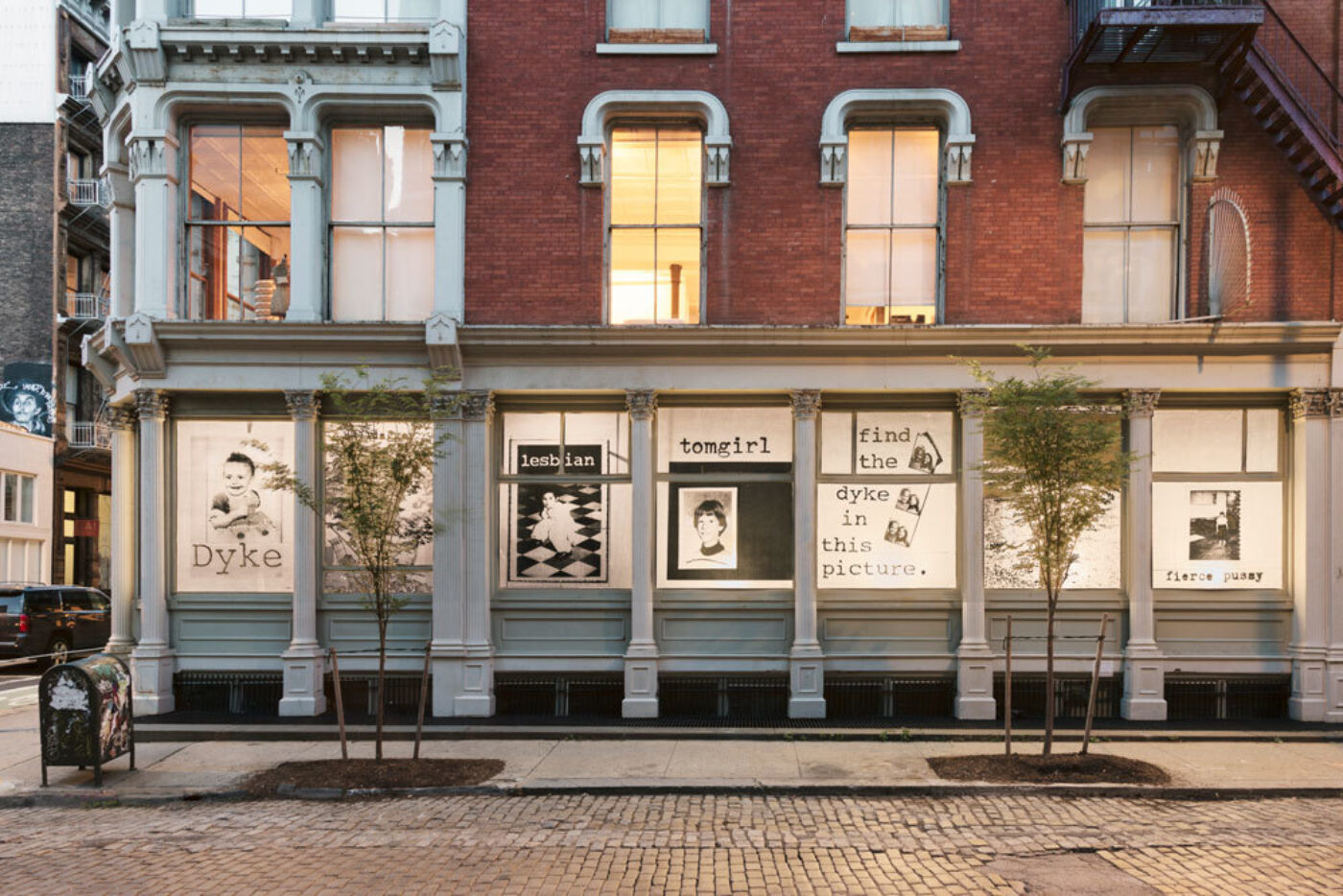 AJ Given that thought, how does the term "lesbian" factor for fierce pussy, a rather tender self-naming in today's gay, lesbian, bisexual, queer, and trans politics. "Lesbian" can itself be understood, in a queer context at least, as derogatory or at least troubling.
fp I feel like I've changed over the years. A lot of things I thought about myself personally, I didn't put out there because I think early on, politically, it was important to cubbyhole yourself. I think now things are more fluid.
fp Lesbian describes a lot of people who have done a lot of work, over many years, and have brought a history with them. Every one of us is standing on the shoulders of many lesbians who let us get to where we are.
fp But if you don't want to call yourself a lesbian, you don't have to.
AJ Thank you. (laughter) Same to you.
fp So are you.
fp In the list posters, we're interested in multiplicities, not a single identity but that many identities can coexist at the same time, even in one person: "I am a feminist, amazon, stone butch, pervert, tranny, tomgirl." Sometimes gender politics and identity politics feel so reductive, so I think we're saying that it should be more about freedom.
AJ But of course 1980s and '90s AIDS politics, to which you are so connected, was itself about a defining flexibility: profound first-time connections made between lesbians and gay men. Can you reflect on the AIDS politics that is so central to your work? Is it resonant in what we see today in the windows and on the street?
fp Back in the '90s we only made one poster about AIDS, and that was at the end of our first incarnation.
fp After the fierce pussy retrospective in 2008 we were invited to be in a show at Harvard: ACT UP New York: Activism, Art, and the AIDS Crisis, 1987–1993. There was a symposium where a number of us got up and spoke for the first time in many years to a big group of people who were also there in ACT UP at the same time as us.
AJ Yes, I was there. I remember.
fp And it was very upsetting and cathartic, but what we walked away with was that in the room there were a lot of people who were still alive talking about who was not here anymore. How could you insert someone who was not there into the now, so that there might be an understanding of what it was like to be in those very dark days, and go through what we all went through, and then also be now in the present bridging that gap?
fp And that segued into For the Record, where we use the language of, "if he were alive today he would be at this party," or "if he were alive today, he'd be going out dancing," or "if she were alive today, she would be going grey."
fp If they were alive today, they'd be texting you right now.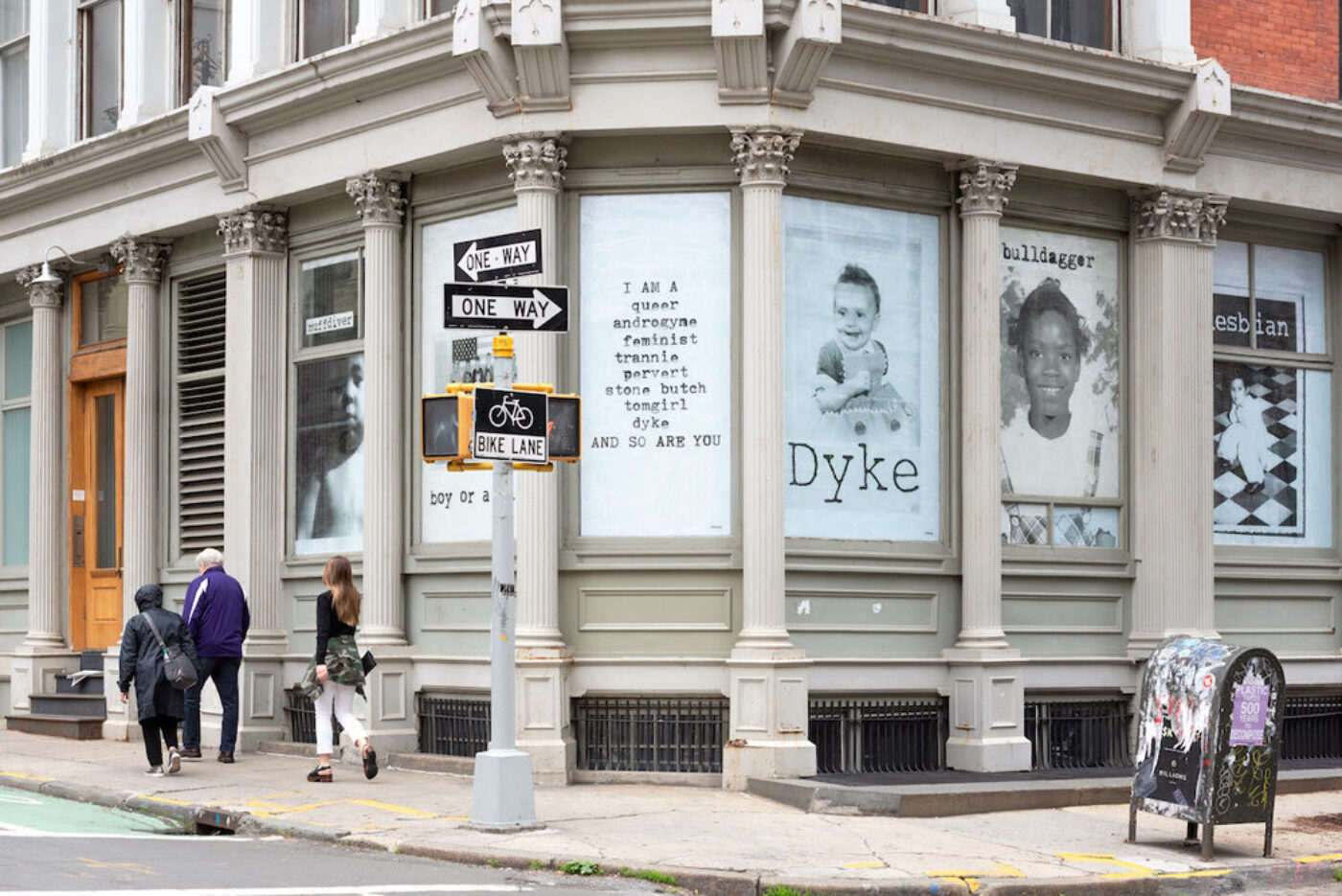 AJ But AIDS is not present in the two bodies of work that you put on the street for this show. Is AIDS emanating from or situated within your lists and baby pictures?
fp We were all in ACT UP together. By 1991, we decided that we were going to get together as fierce pussy—doing the lists, the baby pictures, renaming the streets—at the same time that we were going to demos, doing covert actions, taking care of our friends who were sick, and now dying and in the hospital, holding their hands and picking out a coffin. So, it's all happening at the same time, and we have lives, and we have relationships, and we have jobs that are supposed to pay the bills, and we're making our art.
fp And that's what For the Record touches upon: that deep, deep sadness that we all walk with. There was so much mourning left inside of us that we never had a chance to express because we were so busy doing all the things just mentioned. When we got together as fierce pussy the AIDS epidemic made it so apparent that the inaction of our government was steeped in homophobia. And we all learned that in an incredibly painful way, at the cost of many many lives and people that we loved.
fp Homophobia, but also death, grief, and action, right?
fp And creating a space for each other, creating a space for other women at the time, creating a space for our desire. We'd meet at someone's apartment; we'd make a list on the typewriter or bring in the baby pictures; and then we'd go out and wheatpaste. So we were taking over the street and claiming space for ourselves. There's another claiming of space with this show; but we're back on the street.
fp Also the voice in the new list is slightly changed because there's a little bit of a challenge in the final line, "And so are you." Because it's addressing the viewer very directly. And some viewers may look at that and say, No, I'm not. Maybe I'm a feminist, but I'm not a pervert.
fp It's also the language of a child, it's like na-na-na-nah, so are you.
AJ Is there something about 2018 that demands that direct address?
fp These are dire times. Unlike 1991, 1992. Those were dire, too; but this is dire in a different way.
fp It's a different dire.
fp Historically our work is emphatic, but it's not didactic.
fp We're not teaching anyone. We're creating space.
fp And we're shouting out to others, going to different neighborhoods and wheatpasting, and we don't know who is seeing them.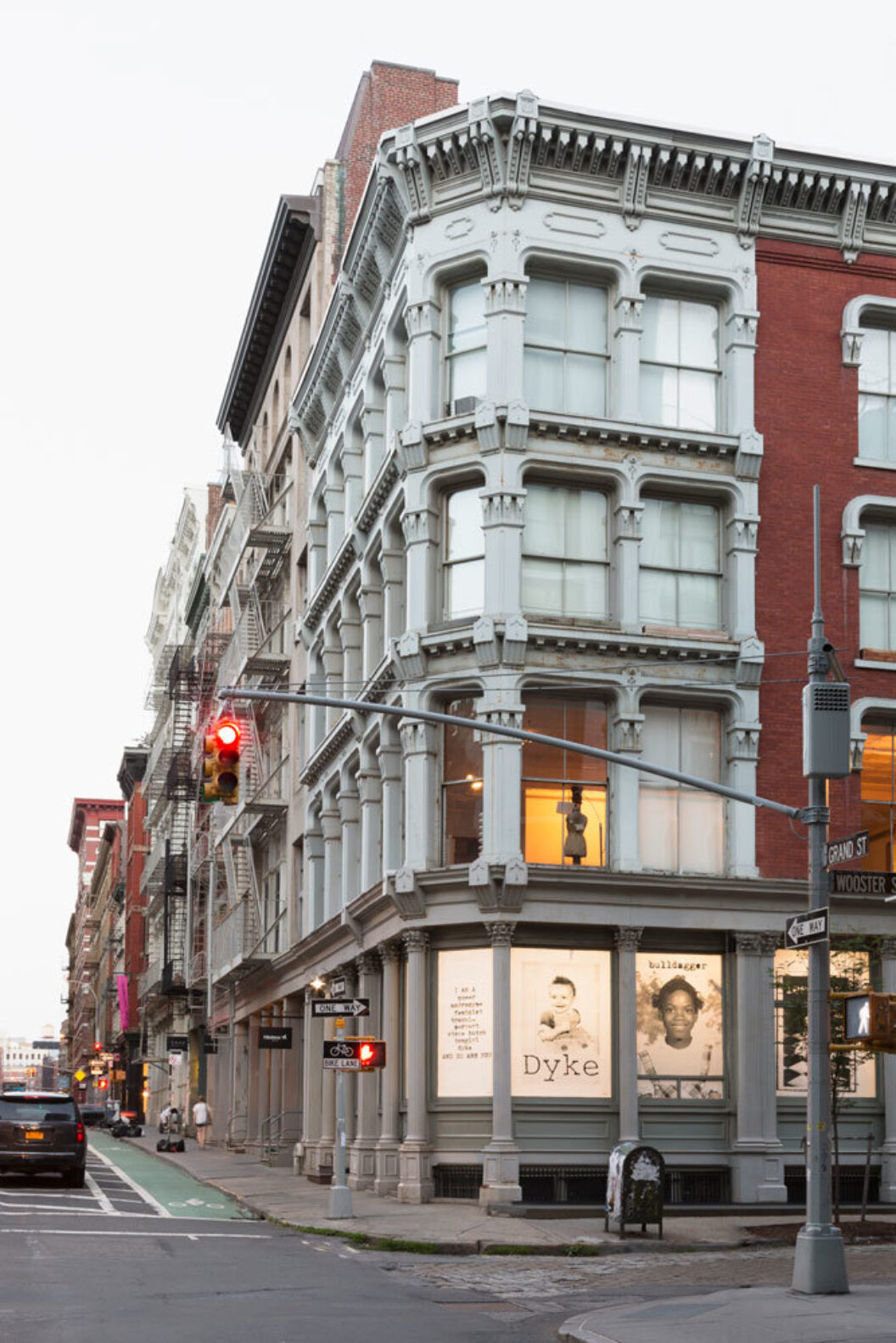 AJ But there's something about calling out to the spectator that's of this moment. The internet pretends to make room but actually forecloses the possibility of room, and so reaching out into the street and making room seems really critical right now.
fp And this is coming from a joyful place, even though the posters were first made during dire times. When we were working together, it was a way to be with one another.
fp We had a lot of laughs.
AJ Do you still have laughs, or has that changed? (laughter)
fp We have such a history together. We've known each other and worked together for over twenty-five years, and that plays into the ways that we are able to get together and what we understand about each other's sensibilities.
AJ What might your work and knowledge as a collective over many years tell us now that we particularly need to hear?
fp I was going to get back to the lesbian term for a minute. There's this sensibility right now that's very difficult, confrontational. Instead, I think discussion is really important. I think disagreement is really important. But if we could stick together, we have a much stronger front with which to fight what's going on now. We need each other. Being inclusive, even though you have your differences, that's what makes us.
fp Because our so-called communities are under attack.
fp The diversity in our communities is what's interesting. That's where we get our power. That's where ACT UP's power came from.
AND SO ARE YOU is on view at the Leslie-Lohman Museum of Gay and Lesbian Art in New York City through the spring of 2019.
Alexandra Juhasz is Chair of the Film Department, Brooklyn College. She makes and studies committed media practices that contribute to political change and individual and community growth.