Potential Symbols: Sacha Ingber Interviewed by Hallie McNeill
Merging image and object.

Discover MFA Programs in Art and Writing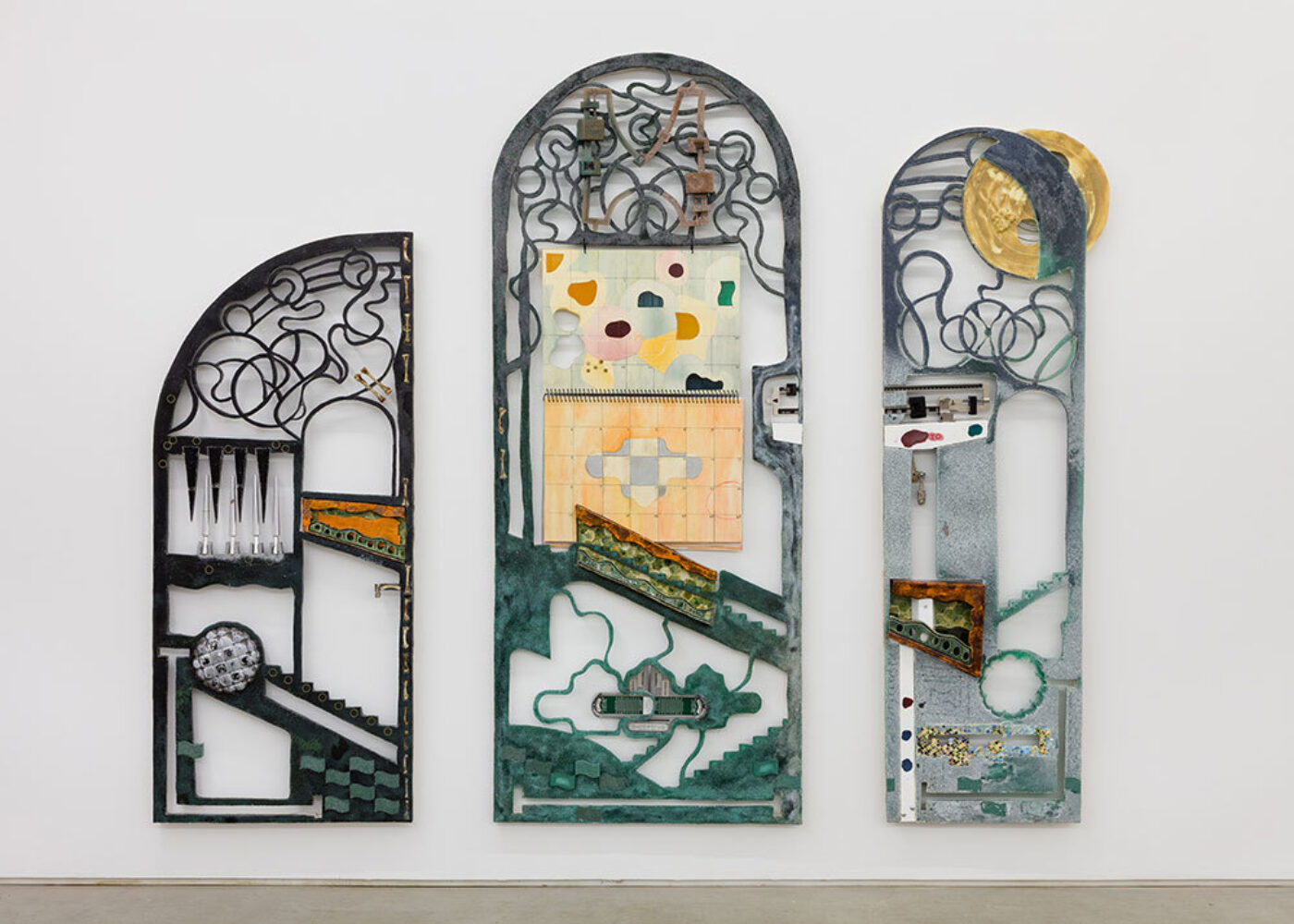 Sacha Ingber is a Brooklyn-based artist whose work moves between image, object, and sensation. The webs of relationships generated through her use of materials and implicit and explicit narratives exude warmth and intelligence, not unlike the artist herself. Though I met Sacha years ago—and I've admired her work from a polite distance since (thank you, Instagram)—it wasn't until the spring of 2019 that we ever really had a conversation. She was a resident at the Sharpe-Walentas studio program in Brooklyn, and I attended an open studio event. I so enjoyed talking to her that day that I later asked if she would be up for an interview. She generously agreed to talk about some of the ideas and processes behind her current solo show, The Word-Killer, at Brennan & Griffin.
—Hallie McNeill
Hallie McNeill You use casting as a way to merge image and object, and, by extension, surface and form. It's also a way to bring together made and sourced things to create something that feels as if it came into existence as a singular entity. What's the significance of this act of merging to you?
Sacha Ingber The moment of casting is a way of letting go, like when a cake is in the oven. You've orchestrated a recipe with as much specificity as possible, but then it's time to trust the rest and let it do its thing. It's also the ultimate form of adhesion; I'm always looking for ways to glue things together, both physically and symbolically. Casting is not so much about the embedding of objects to create a fossil but about controlling a composition and forcing the material to make room for—and to acknowledge—another object or material, and vice versa. The feeling of permanence is great because it has the confidence and material strength to convince that these separate elements came into existence together and belong together.
When I'm working on a piece, I try to strike a balance between it being able to be read as either an image or an object. Or both. I try to get to that moment where the work could teeter toward one direction or the other, but stays unstable right in between. That space feels very psychologically charged to me, similar to the way that a memory can exist as imagery in your mind but also as a tangible, visceral, physical feeling.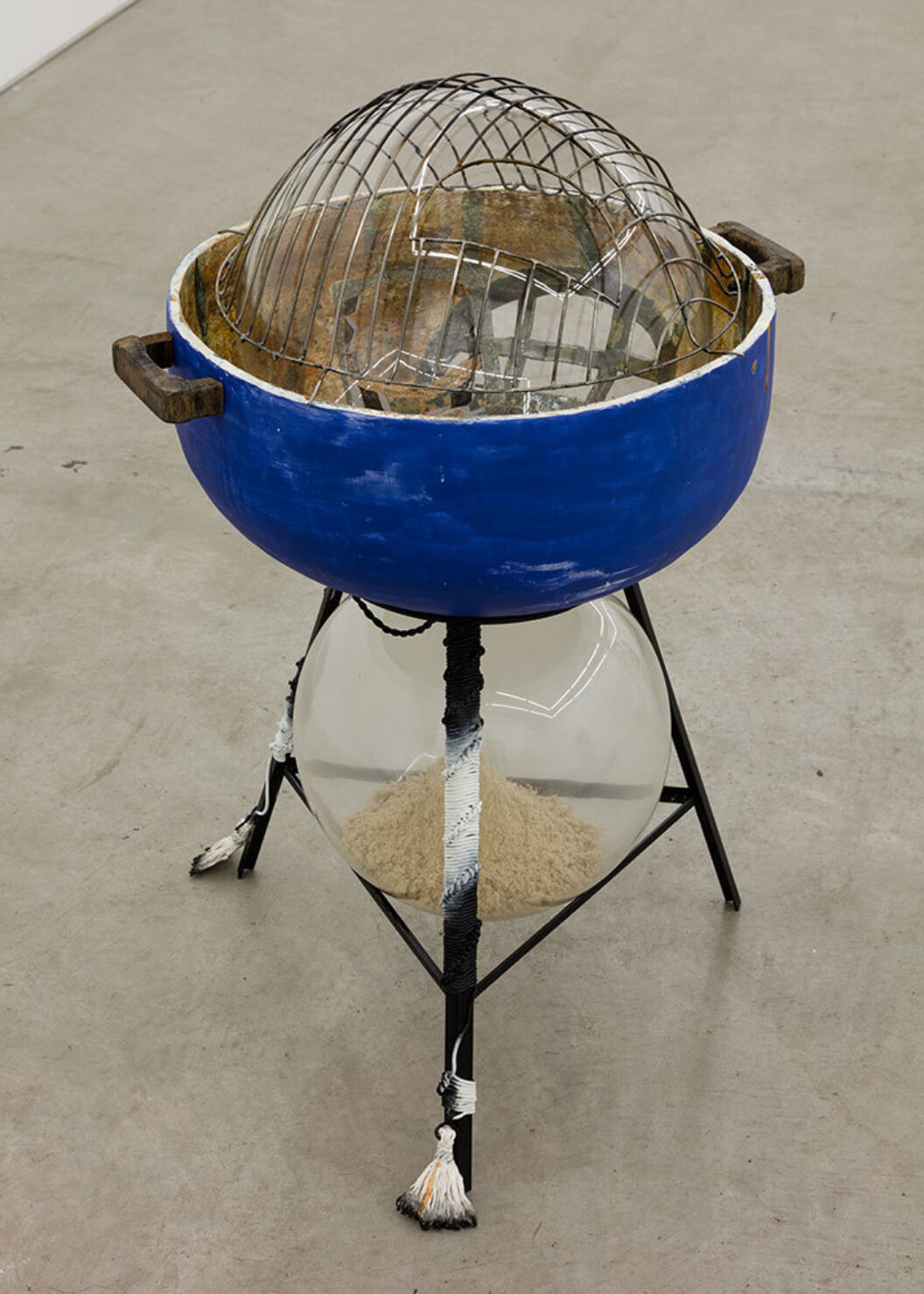 HM Does creating a mythos out of quotidian objects appeal to you or relate to this kind of psychological charge you mention?
SI Not all of my starting points come from banal everyday things or experiences, but they do often start there and snowball. For example, a month before my thirteenth birthday, I went on a trip to the Amazon with my mother and sister. I had just gotten my period for the first time, which terrified me. We took a very touristy excursion into the jungle where we dined with a group of indigenous people. Putting aside the moral complexity of the situation, there was a whole caiman being barbecued over a fire, which we ate. This image really stuck with me—all these things happening at the same time inspired me to use the barbecue as a symbol for a sculpture. And later, I saw a Weber barbecue grill that my mom had at her place in Rio de Janeiro. It was in a super unusual color—something between purple and blue. This got tacked onto the original barbecue experience.
HM A barbecue sculpture made it into your show!
SI Yes, although a different one—more like the Weber but also an hourglass. I think all images or objects have the potential to become symbols in this way. It's such a rich site for things to deteriorate, assimilate, or to become consumable. When Denise Scott Brown talks about the Stardust Hotel she and Robert Venturi worked on for Disney, she's talking about using motifs in their work, and she very plainly says that "to be read as a symbol, an object needs a certain history behind it." Mythology, or even religious narrative, is a way for people to find truths or meaning in their own life or in the everyday. There is so much complexity in a person's daily psyche, and I think that a sculpture can describe quotidian life to a point where it becomes autonomous and tells a story that becomes its own, almost to the point of fantasy.
HM There's also the potential for the everyday object to be read as a flatfooted gesture.
SI The flatfooted gesture in art is so powerful to me when it's sincere. I think this is the most direct way for an artist to communicate. I would even describe Elizabeth Murray's work as flatfooted abstraction, because these gestures and marks in paint don't feel like commentary or irony. They feel like they're reflecting the sincerity in how she sees the world. I also believe that in many respects creatives are always telling the same kinds of stories about the same objects or themes. Like pop music, which never stops being compelling to me. Themes of love, longing, or loss are timeless. I wouldn't say that those themes are banal, but they are universal. And the storytelling or style is what transcends and travels away from the original idea. For me this starts to happen when the work can become its own organism and when it knows what it needs.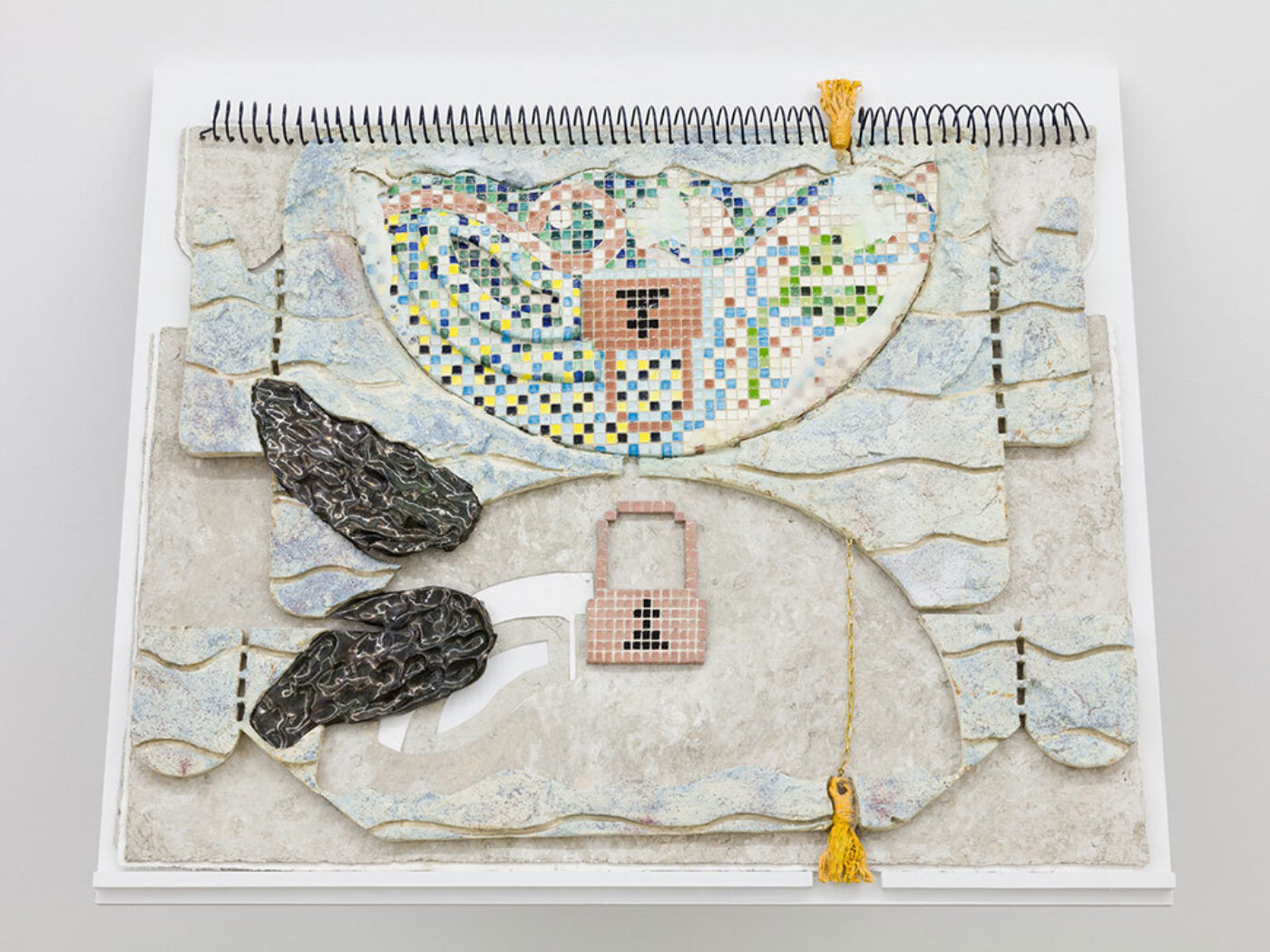 HM What about the show title. Where did that come from?
SI The title is inspired by a fictional character in Georges Perec's novel Life: A User's Manual. The story describes the daily lives of all of the people living inside of an apartment building in Paris in 1975. My favorite character is the "word-killer." His job is to find words that are obsolete and to determine that they are no longer useful and to cancel them. The maximalist in me really loves the cumulative quality a title can have, how it can be a resolution enhancer; it's similar to how a readymade functions in my work to add a different kind of specificity. There's a piece in the show that feels like the anchor for all the other works and has the same title as the show. That's the title track or the protagonist of this body of work. Here, unlike in Perec's novel, the word-killer is a woman.
The title made sense to me in so many ways. It's simultaneously playful and violent, and it contains the idea of whittling down language for the sake of reflecting a current culture more concisely, as well as taking what you need from the past to describe the future. It also made sense literally, given the book motif. She sounds like a protagonist in a blockbuster movie, but being an artist is also like being a word-killer.
HM And how does she relate to the other works in the show, such as the triptych?
SI With her, process-wise I was thinking about mass and volume in a very different way—much less about architectural open space and more about physical mass, with what resides inside my body, what slips away from my memory, and what floats in the general vicinity of a person's physical space.
The triptych Conspiracy of Mass (2020) is a diagram, very much like an entity-relationship model. This work has been an exploration in understanding myself, my ways of thinking, my anxieties. The closer I got to finishing this work, the more I felt exposed, and the more I felt like I was staring at a map of my brain. Working with the format of a triptych, I could chart many relationships and associations at once. And I could also explore the image-object relationship that I'm persistently interested in. The three door-like forms resemble a gate, and I wanted them to feel as if one layer of a building facade was peeled back but also could shift between human-scale architectural doors and a miniature map of a cross-section of a building.
I was also thinking about the way that you read, from left to right or right to left, depending on the language, and the passage of time. The central "figure" in the triptych is a calendar. It's my actual calendar that I used in my studio to plan out the making of this show. I was so anxious about time and all of the unknown turns that my work could take, so much so that the calendar made its way into the work as this meta-moment. Similar to the books in the show, all of the textual content of the calendar is omitted in favor of visual marks. There was something about this gesture that made me feel in control of what I was living in the present moment while making this work.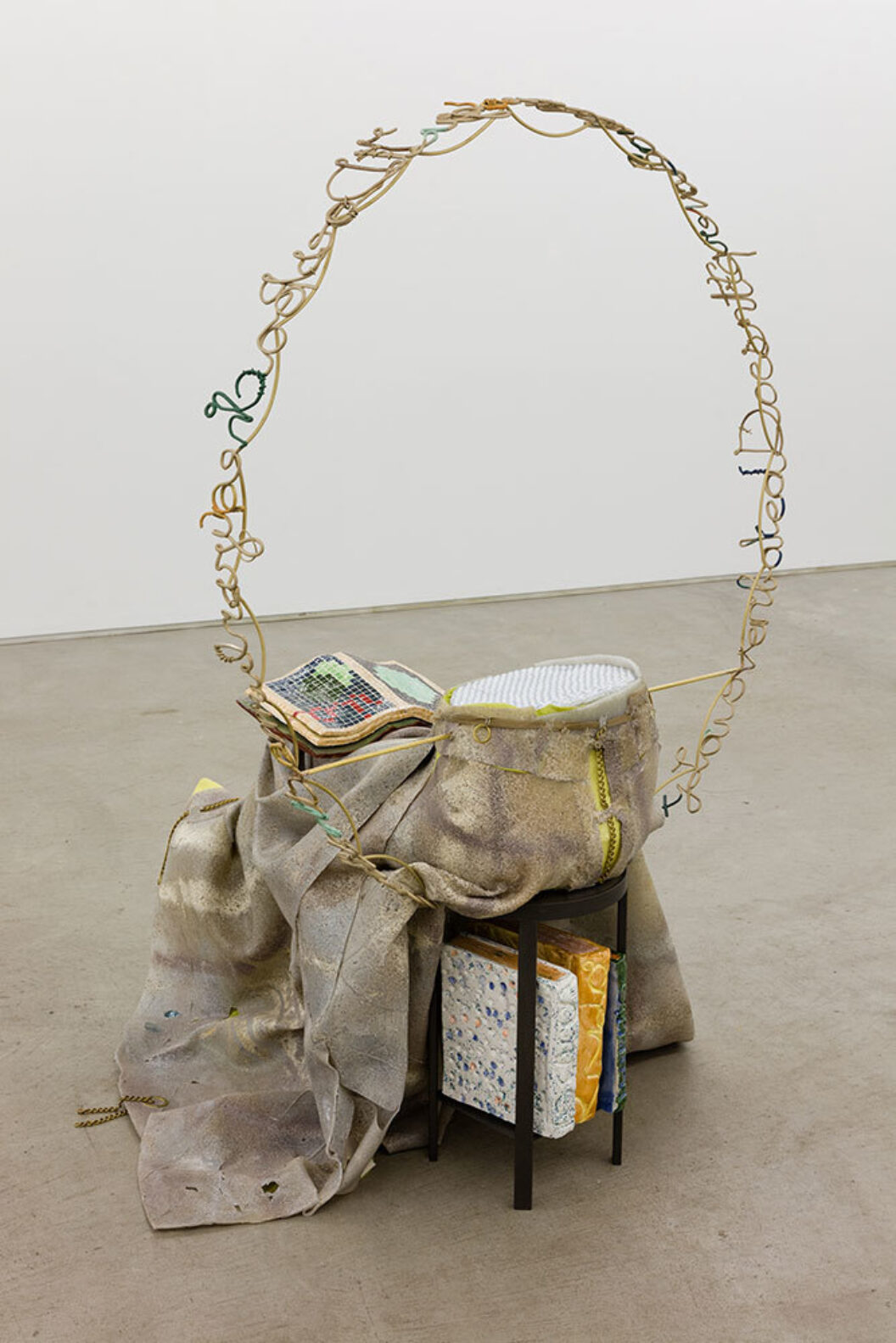 HM One last question about The Word-Killer. Is she a stand-in for yourself?
SI Not quite, but perhaps? Right now in the studio I feel as though I'm trying to get at something personal and internal, and the work is maybe less direct and more in tune with the senses or something personal and invisible. The best way I can describe this half-figure is as an embellished projection of a version of myself. She's a literal portrait of the physical body transitioning to the psychological and back again, and of the materialization and dematerialization of language.
Sacha Ingber: The Word-Killer is on view at Brennan & Griffin in New York City until March 28.
Hallie McNeill is an artist and writer. She teaches at Pratt Institute in Brooklyn.