Postcards from Kabul: Nathalie Handal by Ram Devineni
In this discussion, Nathalie Handal tells Ram Devineni of her experiences in Afghanistan as well as explaining where her fascination with the written word originally came from.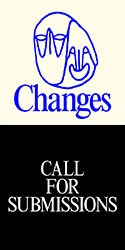 In May 2011, poet Nathalie Handal was invited by the International Writing Program at the University of Iowa and the State Department to travel to Kabul, Afghanistan to participate in a literary tour, which also included National Book Award Finalist Joshua Ferris and essayist Christopher Merrill. While in Afghanistan, she taught a poetry workshop to young Afghani women students at Kabul University and participated in many literary dialogues with other poets from the country. The short film captures this unique poetic journey. Nathalie currently lives in New York City.
Ram Devineni You are probably one of the best-traveled poets that I know, and you have been to some difficult places. What is the role of a poet in the world?
Nathalie Handal I've always been fascinated by words and journeys. From a young age, I collected photos, postcards, letters, or whatever I could find that told a story about being on the road. When I was about fourteen years old, I found a letter my grandfather wrote. It was about my family members who immigrated to Egypt. Excited, I showed it to my parents. My father was amused. My mother was emotional. My grandmother thought we should throw it away—she didn't want people reading about him. Everyone wanted the letter for different reasons. Finally, my mother hid the letter. During our many moves, we never found it again. At that moment, I realized that writing was risky. It could infuriate. I later discovered writers were exiled or imprisoned because of what they wrote. What we read could take us into different worlds—I couldn't remember the story in the letter because I read it fast, so I created my own version. It took me to the cusp of my imagination and emotions, to illusion and disillusion, to where what's real and surreal, and where the sacred and unholy collide. I realized that writing has power, and that was exhilarating. It seems impossible for poets to stay away from the debates that surround them or be indifferent to their ghosts. Poetry can show others what has happened to them, and what they have lost or gained. It explores the human condition. It is a meeting place of society, history, and self. And when we write, we not only use language, we use silence.
RD What was your experience in Afghanistan and with its people?
NH "To understand where you left the sun, you must know where you discovered it." I wrote that line in my notebook during one of the workshops, but I am not certain what triggered it. Was it the students insisting: "We want peace. We want to live. We don't want Taliban?" Was it their persisting question: "Will you tell others who we really are—lively, endearing, welcoming?" I understood their need. I heard their heartbeats, earth-beats, the music that stirred deep in their folklore. I found the people beautiful—a cross between Asia and the Middle East—their piercing green or black eyes, almond shaped or slightly slanted, the men's tall, often statuesque, well built frames. Faces that kept the breadth of history. It was also a gift to meet writers I had read while editing the Norton anthology, Language for a New Century: Contemporary Poetry from the Middle East, Asia & Beyond. I felt close to the language—Pashto and Dari—which at the base is Farsi but has Arabic and Hebrew words. The students inspired me to try to communicate absence—what it feels like to exist in a world where absence, in time, will shatter myth. In the end, I discovered a people I knew and wanted to know more about. And surprisingly, roses—red, orange, mauve—grew everywhere in the city. I left Kabul with that striking image—yellow roses in the ruins.
RD How do you teach poetry or run a workshop in different countries? Is there universal themes or approaches?
NH There are two workshops that seem to work everywhere I go. The first, "Poetry as Cultural Voice," which explores ancestry, gender, cultural memory, and identity; how our ancestry, the languages we speak, the memories we have inherited (stories told by our grandparents, parents), and the places we have lived affect the poems we write and how we write them. The second, "PoetryMap," is a workshop for poets to sharpen their writing skills and expand the imaginative boundaries in their poems. The premise of the workshop is that a poem is like a map, from its early stages to the end, which provides a chart for possible journeys. The explored analogy of writing/making poem-maps encourages students to expand the spaces in which they navigate literally, culturally, and metaphorically. The workshop encourages students to have a great dialogue with their work and the world.
RD The collaborative poem that was written with the young Afghani women students at Kabul University is lyrical and full of engaging metaphors. You just finished a collection of poems recreating the Spanish poet Federico García Lorca's journey in reverse (from Poet in New York). What was García Lorca's influence on your poetry?
NH The collaborative poem the Afghani girls wrote is full of the same longing for love that can be found in many of Lorca's poems. Lorca was a great influence on me, hence my book, Poet in Andalucía. But mostly, Lorca took me beyond the edges of nation, music, poetry, and he took me where words compose the heart.
Nathalie Handal is an award-winning poet and playwright. She has lived in Europe, the United States, the Caribbean, Latin America and the Arab world. She is the author of numerous books including Love and Strange Horses, winner of the 2011 Gold Medal Independent Publisher Book Award, and is the co-editor of the landmark Norton anthology Language for a New Century: Contemporary Poetry from the Middle East, Asia & Beyond.
The film was produced in association with the International Writing Program at the University of Iowa and Rattapallax. This video and the tour were made possible by a grant from the Bureau of Educational and Cultural Affairs at the U.S. Department of State. Workshop organized by American Embassy in Kabul.

Ram Devineni is the editor and publisher of Rattapallax magazine and a filmmaker.