Postapocallipses: Matt Borruso by Matt Sussman
In continuation of BOMBlogs reprint series of San Francisco's [2nd floor projects], Matt Sussman writes from a collection of illustrated artworks by Matt Borruso that inspire visions of a post-apocalyptic environment.

Discover MFA Programs in Art and Writing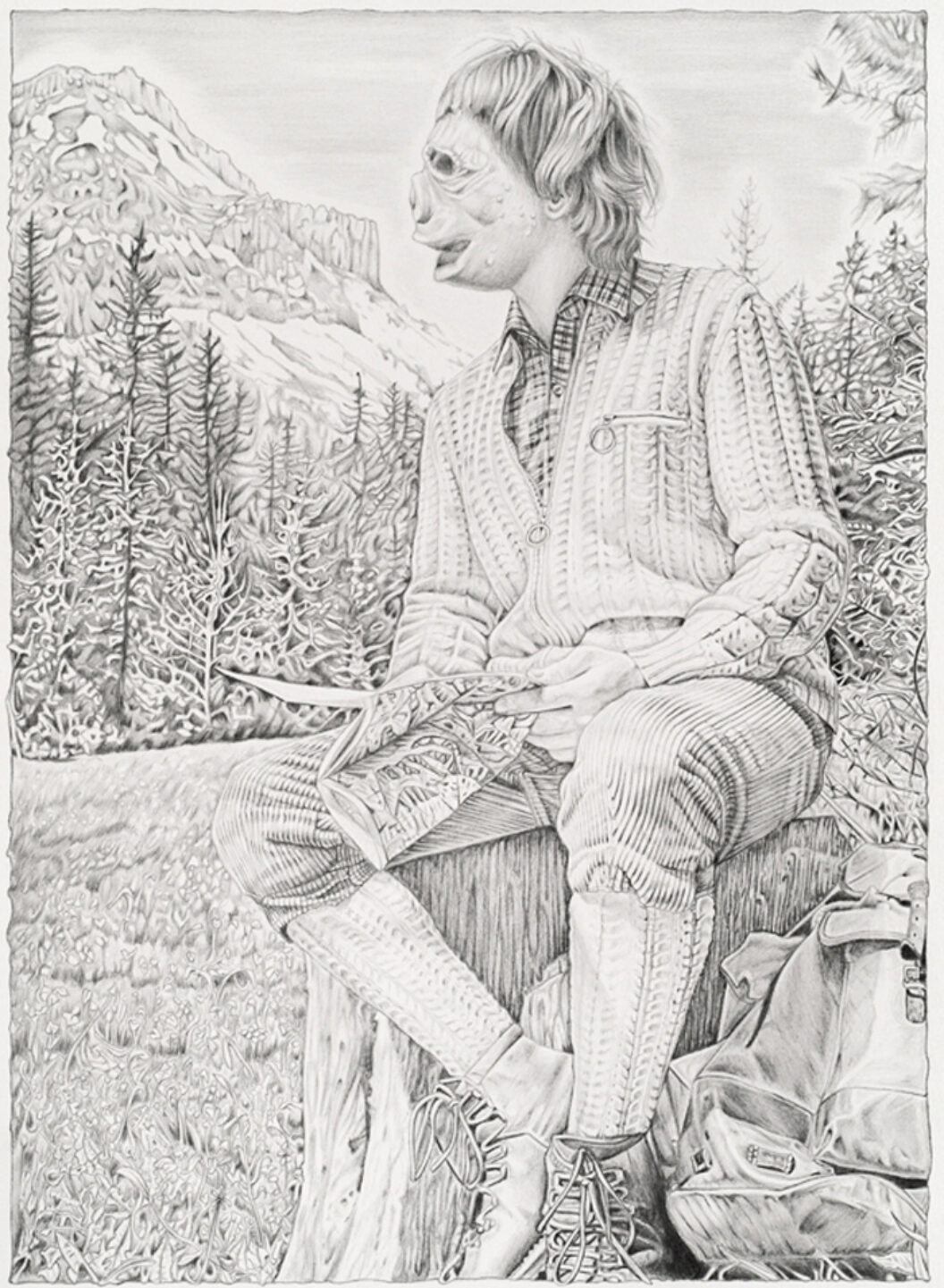 The camera zooms out slowly to show that I'm the last man on Earth. Actually, I'm having cocktails with friends I stole from the department store. The city is a veldt in which all the metaphors have been poached. Watch me perform a trick shot in which doves fly from my open wounds, white darts from a magician's coat. The animals had to be borrowed surreptitiously, because nothing conveys the dark night of sense and desire like a lone camel. The waiter cuts into my neck and extracts a cancerous squid simmered in indigo. Voila! Dinner is served. Anyone can turn shit into gold—I saw the infomercial. I've been feeling under my couch cushions for spare enlightenment. The only loose piece here is that lesbian arms tycoon. They say the race problem has been solved now that everyone is albino. So why is the last woman on Earth a sistah? I've never slept with anyone before who had a pierced peradam. What a lovely interior. Did the atrium come with the fistula? You're a little woo-woo, but one month with no vandalism is nothing to turn a blinded eye to. Give me your palmistry and I'll read your card catalog. I say this from the very bottom of my world-weariness: It is by the straight-faced linesmen and the bloodied citizenry that the first and most simple example and representation of all things may be demoralized. Oh God, how profound are these mysteries! Check please. The dwarf maître d' informs us your money has no value. INT, Bedroom: Sun streams across our faces, the sheets keep my modesty in check. Our semen has dried into a fine breadcrumb trail between my Anahata and Manipura chakras. Real life awaits us, you inform me as you light another Parliament. What a fucking cop-out.
About :
Since establishing [ 2nd floor projects ] in San Francisco in 2007, I have featured twenty-six writers in the exhibitions, with eight writers forthcoming through 2012. My programming includes commissions to writers throughout the country to produce an edition: essays, personal narratives, interviews, poetry, or mixed-genre pieces in the form of handcrafted broadsheets or chapbooks. From early on in my art practice, I have been interested in trespassing disciplines. These visual, theoretical, and narrative crossings perhaps address an interstitial space of engagement with the artists' works from the writer's point of departure. A distal approach rather than the traditional essay model, such as an exhibition catalogue. For each exhibition, I design and print in-house a limited run of 100 on archival papers. The writers are also invited to give a reading during the course of the exhibition, or to send a recording if they are not in the area. [ 2nd floor projects ] participated in the NY Art Book Fair in 2009 and 2010. BOMBlog will be re-publishing these pieces regularly over the next several months.
—Margaret Tedesco, Director
Matt Sussman is an Oakland-based freelance writer and editor. In addition to regularly covering visual art for the San Francisco Bay Guardian, Matt is also an Associate Editor for Art Practical. He enjoys good whiskey, the company of his cat, and watching the world end on film again and again.