Post Impressions: Regifting by Mary Jones
With Chinatown tat and other trimmings, Whitney Claflin attaches personal significance to otherwise impersonal loot on the grounds of abstraction. Mary Jones talks shop and Twitter with the artist.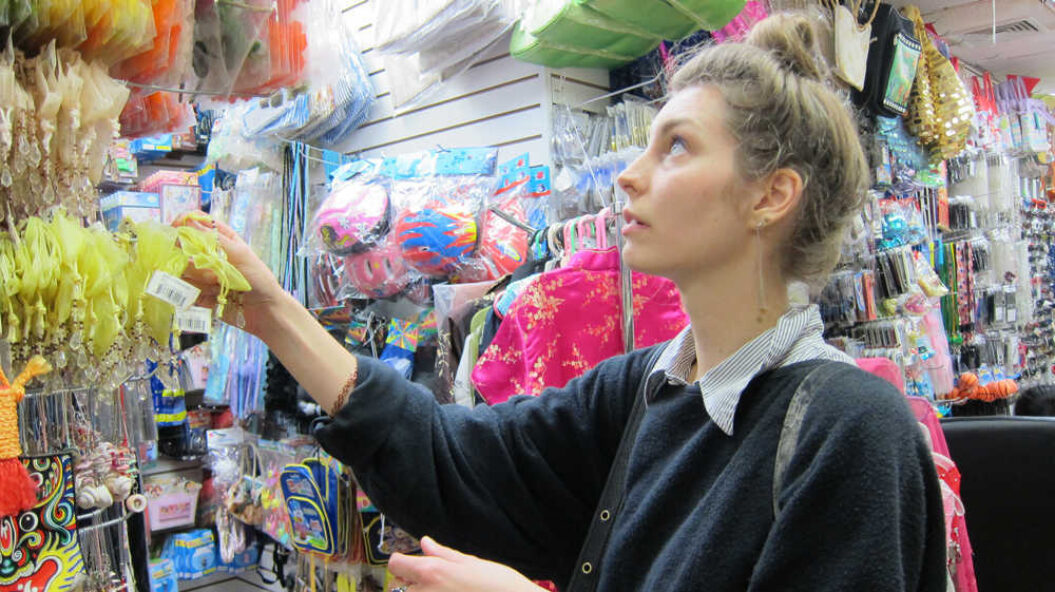 It's the last week of August and Whitney Claflin is unpacking her week-old studio in the Brooklyn Navy Yard. At the same time, she's preparing for a four-person show at Thomas Erben Gallery in New York. At the end of September she'll leave for a two month stay in Venice, California, where she'll be selling her wine bottle paintings on the boardwalk. Whitney graduated from RISD in 2005 and from Yale in 2009.
Mary Jones I think of your work as being completely deconstructed. Everything about painting is questioned—put under pressure and analysis. Can you describe your influences?
Whitney Claflin Miró is someone that I think about a lot. He was someone who was very much a painter, he questioned everything in a wry, humorous way, but also in an angsty way. His constructions and objects (from the early 1930s) are inspirational because they're visual puns, and they're both formal and personal.
MJ How did you develop these ideas in your process?
WC At first I was trying to create collaged space just through paint; I started to paint on plaster and let more and more objects come into the paintings, like beads and fabric. I was also interested in the paintings being simulations of abstractions so I began making digital prints that looked like the paintings, as a way to complicate the paintings and their status. Later on, I felt I had trapped the work in a dialectical, linguistic space that didn't have much soul. The work seemed to need a third term. So, my process evolved from imaging a collaged space to actually building one. For me, adding found objects was a really big deal, it was a mental wall that I had to break through, and it was really liberating.
MJ They're clearly very body oriented, and I'm interested in how that evolved.
WC When I started adding beads and things, I would go to the jewelry section of thrift stores and 99¢ stores and look for trinkets that excited me. Not something that I would wear, but something that struck me as especially crass or delicate. I felt like I was dressing the painting up, accessorizing it. Then, I realized that all the objects that I was sewing on the work actually were accessories, and were referring to a body, to getting dressed. There's a scene in LA Story (1991), when Steve Martin's girlfriend is getting dressed and she claims there's a point system for every accessory you use, and you have to get just the right balance. You do a fast look in the mirror and quickly see what resonates. That notion became a formal and conceptual guiding structure for me. It's a lot of finding what's too loud and what's not loud enough and then pushing the whole thing down into this weird zone, where I obliterate them, and then pull them back.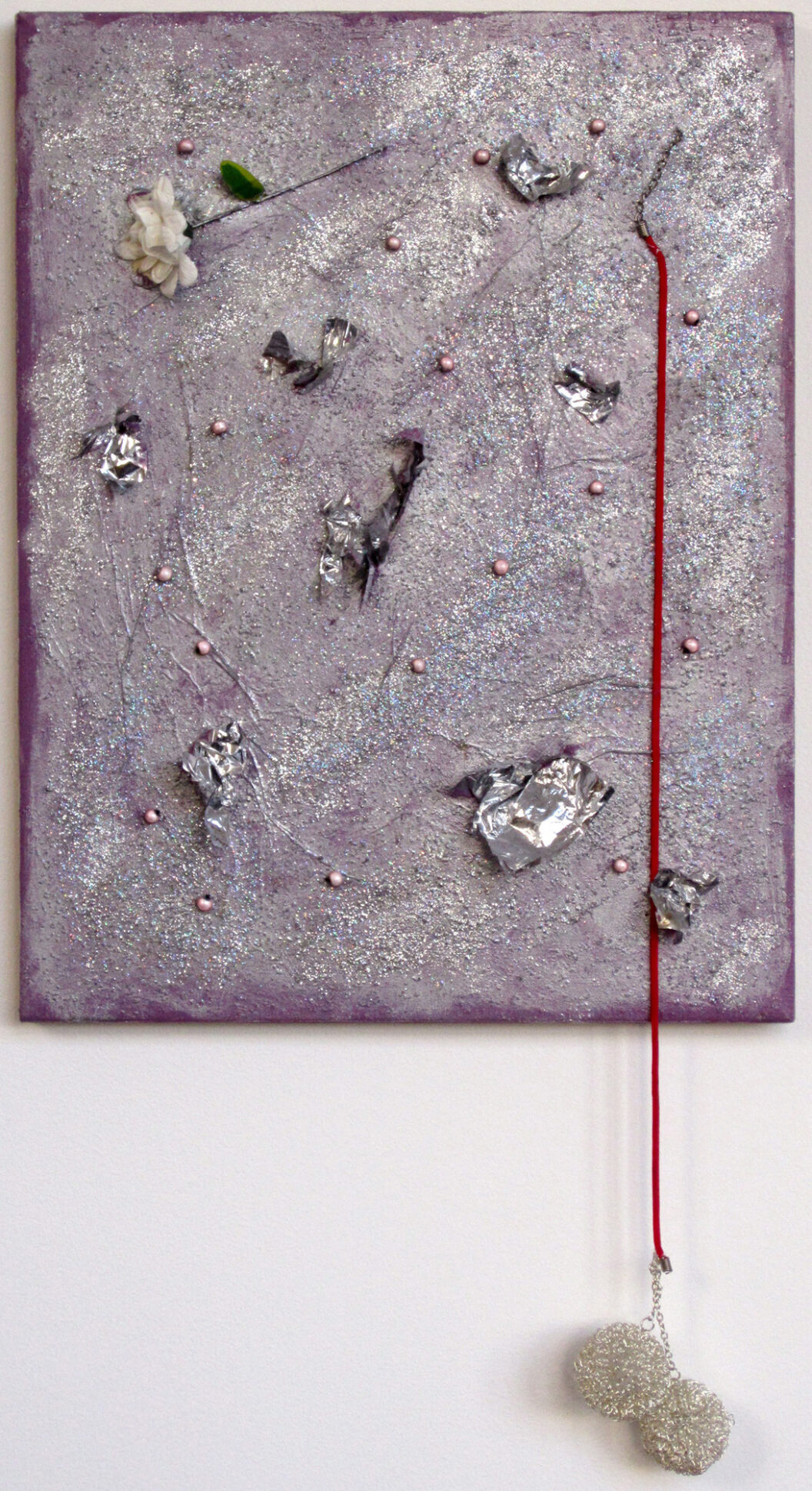 MJ It seems like you destroy it as a painting and bring it back as a body. Does the body in your work relate to femininity or feminism?
WC Not exactly. I was thinking that I didn't want them all to be female bodies, but to be all kinds of bodies; I made that one with testicles hanging, which I don't think of as a depiction of a man, but of a moment. I think of the paintings and things that I make as one whole painting project. Identifying them as characters forming a crowd is a way for me to see them simultaneously individually and en masse. I want them to have a kind of campy sexual feeling, like going out to a weird dark club. I think a lot of that was coming from my previous studio being this dark, hellish place in Chinatown, surrounded by tchotchke shops and massage parlors.
MJ What's your relationship to beauty, to decoration? With the beads, feathers, and earrings, they seem to refer to ornamentation, yet the surface of the paintings seem scarred, wounded, damaged, even dirty.
WC If I look at my palette or my supplies, it seems they might be decorative, but in the way that I combine the materials, they turn into something toxic and acidic. I'm really charmed by these weird overflow areas where that occurs in real life, like on Broadway by Canal, or the Garment District. There are three ways that I find supplies: I find them on the ground, in thrift stores, and by searching the Garment District to actually buy something that I've decided I need, like a sequin butterfly patch. I frequent places like H&M, Forever 21, Mandees, or knock-off stores for inspiration because they house and sell this putrid visual noise that I think very much describes our current time. There is so much of everything. All the vendors are selling exactly the same thing, but slightly different: very chemical-laden, low-quality versions of brightly colored spandex club clothing, cheap jewelry, fiery disposable wares. The head-space in those neighborhoods is very loud, claustrophobic, and dirty. This idea of over-production for ambiance's sake and the residue of a disposable club clothing culture seeped into my work.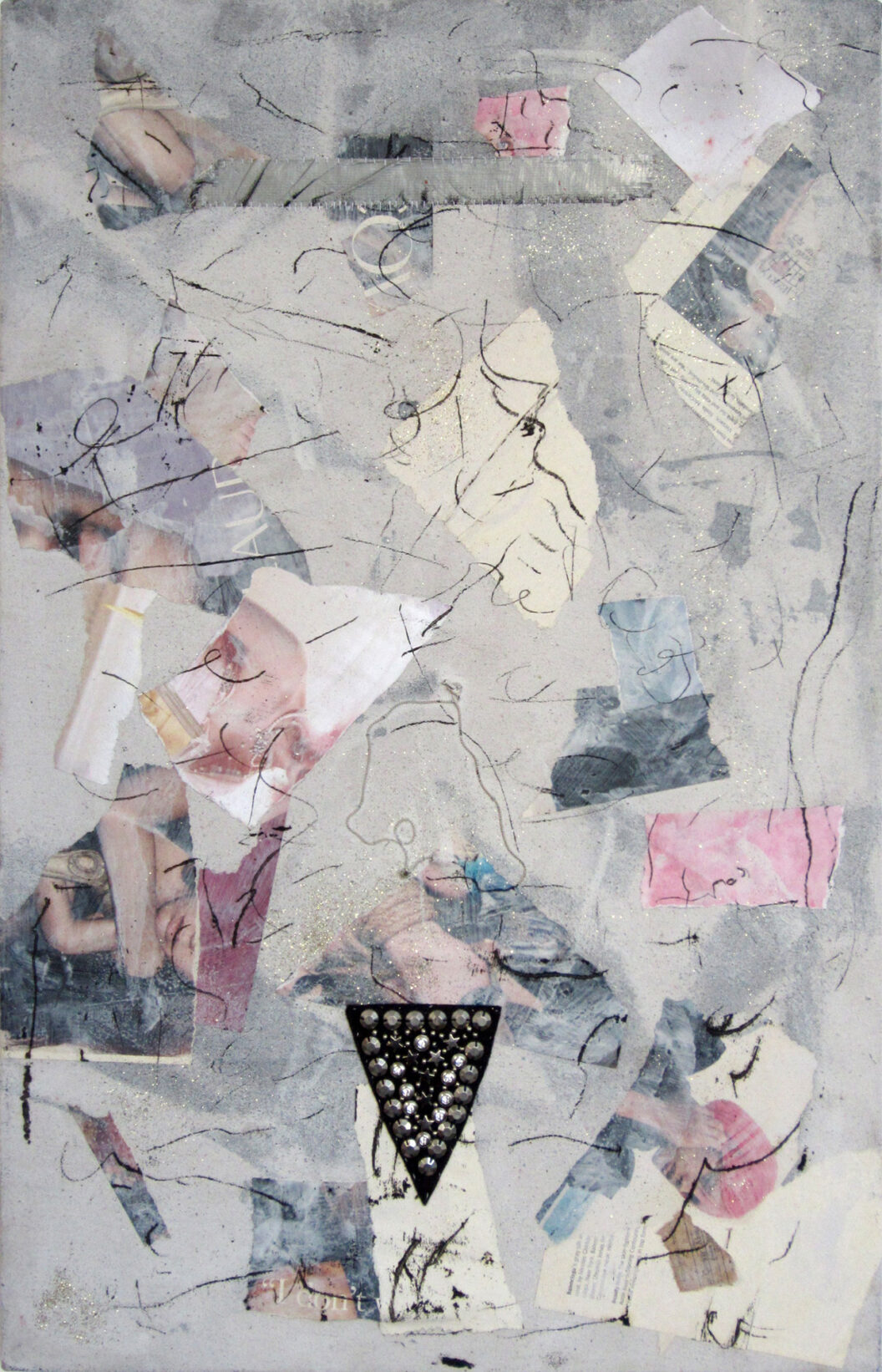 MJ Do you go to clubs?
WC For the most part, no. Maybe the paintings stand in for the club life that I don't have? Maybe it comes from an outsider-ish enthusiasm, so I attempt to recreate and personalize that energy in my studio. I feel like I've got to collect and save all this rubbish and run off and use it somehow. I'm trying to gesture towards something that's vacant, that's visual noise but also specific, like a squiggle of a heart that's simultaneously loaded and empty. I'm definitely trying to take each thing that comes into the painting as a signifier, but give it something else to rub up against, so that it can function in multiple ways It's not fixed in that it's not simply a person going out on the town with items from H&M. It's also garbage and things that I have on hand. For instance, my Dad's old drop cloth that has an incidental shallow space spray painting on it, which is this weird pre-made painting that simultaneously conjures the kitsch of Tauba Auerbach's paintings and the folds and ruptures you see in low end digital printing on spandex. I'll use my old linen dress, this W magazine, some tissue paper from Opening Ceremony, a test tube shot from Dallas BBQ or this newspaper—a real range of things. There's this weird bikini patch I found in an appliqué store, and I thought it made a great stripper painting. The zebra tissue paper is left over from my birthday party. It's through the materials that the paintings start to develop a character, like, if I sew a thick, clear plastic bag onto it, it becomes a stitched up suffocated kind of thing. I pull a lot of energy from my own anxieties, which stem from seeing things produced so recklessly and so wastefully.
MJ So many of your materials commemorate a social occasion, like the paper streamers from your birthday party for example. Do you have a special attachment to things that come to you this way? Do you hold on to the people in your life through your work?
WC Mainly it's stuff I want to save and repurpose. I'm sometimes anxious about whether or not my work is too diaristic, but I feel my previous abstract work wasn't really tethered to anything beyond abstraction and it's status as an object. It felt analytical and devoid of love or emotion; it felt sterile. I wanted to make things that were really me, and were prismatic in that; bad sides of me, good sides of me. I wanted the work to have more malleability.
MJ Can you talk about your paintings on the wine bottles and your plan to sell them on the boardwalk at Venice Beach? I'm assuming you drank part of the wine.
WC Yeah. All of it. I started using the wine bottles as a place to put my extra paint, like when I'm done with a painting, but there's still a lot of great wet paint on my palette. Then I wanted them to be flower vases to give to my friends. They became paintings. It's all about saving, recycling, clinging on to things; one use is not enough for me. I want to give the work a different space and a different possibility for exchange, so I'm going to sell them cheaply on the beach. I think it's silly that there's this prescribed way of doing things, and so by following that model, you might shut down things that could be fun or interesting.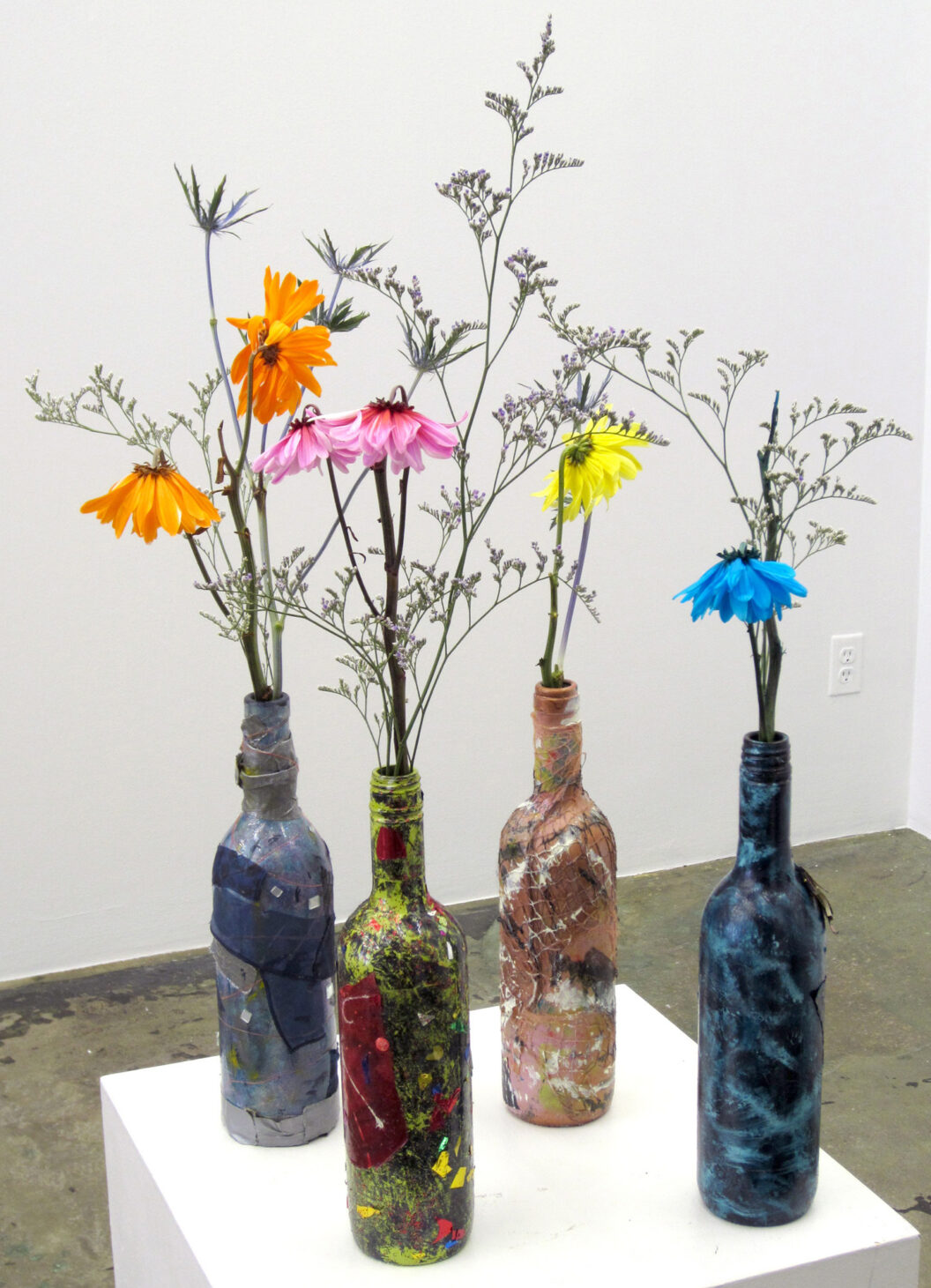 MJ Are you viewing this through a lens of relational aesthetics?
WC It's part of the whole orbit of everything for me. The wine bottles are paintings in their own right, as far as I'm concerned, but they have a different value because of their functionality. To me they are paintings first, and you can choose to use them or not. Although I'll have my vendor's license, I'll probably give a lot of them away. I'm also planning on bringing a typewriter to capture the whole experience through writing.
MJ What are you writing now?
WC I've been keeping a journal and using Twitter a lot; it's personal but observational. I thought that instead of using this rambling, observational technology to corral my stream of consciousness, I could turn my thoughts into something tangible and closer to the work; really put the words down in a locked way, instead of a transient, digital way.
MJ How many people follow you on Twitter?
WC About 100, which is fine. It feels more private and the people know me and know my sense of humor and where I'm coming from. I always think it's funny when someone I don't know starts to follow me, like, why anyone would want to subscribe to my schizophrenic exclamations eludes me, but I like the detachment that comes with an unknown audience. It's a performance of self. Twitter is a technology that's younger and has a reputation, for the most part, as being frivolous. I'm sort of always thinking in stanzas, and it's exciting to do it from the hip, on the fly. I like the casualness of it, I feel kind of embarrassingly prolific, but I like how through all these random quips a portrait emerges.

MJ Have you been greatly influenced by music?
WC When I work, I listen to a single song on repeat for hours. For example, Ke$ha's "We R Who We R" plays seamlessly on repeat, and so it becomes invisible. The type of music that is produced by people like Dr. Luke, and its aesthetic, is really inspirational to me. That music is constructed to be easily remixed, replicated, cut apart, used in bits and not as a whole. Similarly, it co-opts so many different styles in an attempt to retain mass accessibility. Artists like Ke$ha are constructed to be simultaneously distinct and generic, to have a simultaneously fixed and open signification. That confusion and indecision really interests me because I see it as a very contemporary form of abstraction. I find it interesting that you can assemble an identity through the things coming out of a collaboration already in place, like a the way a 7th grader going to a dance or a thirty-something woman going out to a bar might take a little bit of this and that, perhaps the same crap jewelry, to make a temporary statement. Constructing identity and constructing paintings are both collaborations with the viewer and with history. In my work there's definitely a collective effort of viewing; an idea of entropy that seems contained, or maybe a hall of mirrors.
Mary Jones is an artist in NYC and an adjunct professor at RISD and SVA.