Post Impressions: It Helps To Have A Crazy Family by Mary Jones
Rebeca Raney (RISD, BFA 2003, and School of Visual Arts, MFA in 2005) knows how to tell a story. It's not unusual for a conversation that begins over a stack of new drawings to end with a spellbinding tale weaving together sleazy landlords, collapsing Florida real estate, one tough mom and murder.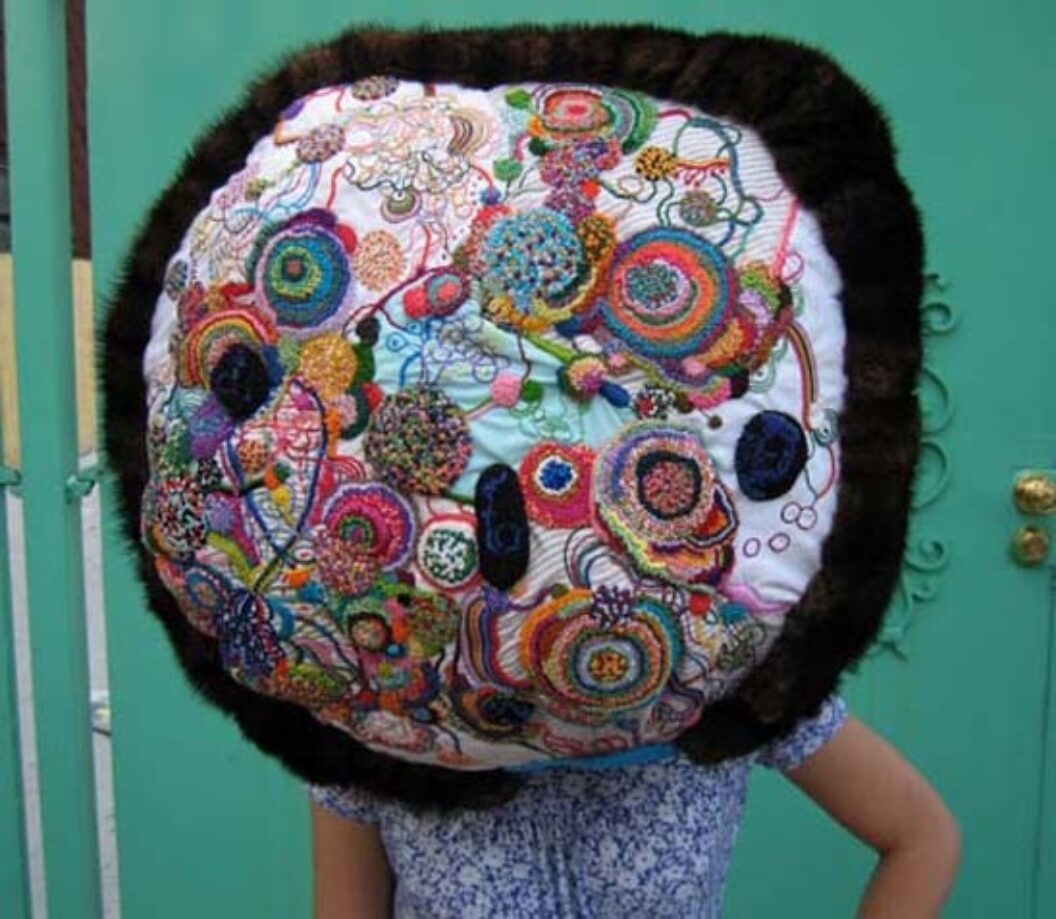 Rebeca Raney (RISD, BFA 2003, and School of Visual Arts, MFA in 2005) knows how to tell a story. It's not unusual for a conversation that begins over a stack of new drawings to end with a spellbinding tale weaving together sleazy landlords, collapsing Florida real estate, one tough mom, and murder. The drawings are simple, reductive forms that vividly prompt the imagination. Raney has described them as "like one sentence, or like a poem". Large scale installations at Monya Rowe Gallery in 2005 and 2007 offered a chance to physically enter her startlingly original and painstakingly crafted Brobdingnag fantasy world. The childlike nature of her rounded, essential forms connect Rebeca to recent Japanese art; she had a one person show last June at Lamp Harajuko in Tokyo, but the stories, the childhood, and the voice are distinctly American in that Steven King kind of way.
Mary Jones Are you the protagonist in your work?
Rebeca Raney Yes. It's always me. I communicate with the world like a voodoo mastermind trying to cast spells on people. I use my work and stories as a tool to make friends or to laugh with people. It's embarrassing, but I hold court. I've had to learn in relationships, especially in work relationships, to let someone else talk, or to fake listening. Actually, I'm a good listener. I'm always listening; nothing is going under the radar. It helps to have a crazy family. I grew up in a bohemian household, like a "get a haircut in the kitchen kind of place". Messes were O.K. It was a great place for an artist to grow up.
I heard from my sister this week. She was cat burgled. My mom said "Well, I've got one better. I had a 55-year-old tenant, a man tenant, and the neighbors were complaining about him because he was having people over really late at night, so I told him he had to get out of there. His last day was on Friday, but on Wednesday there was an armed gun thing, and his girlfriend was murdered and he was shot up by some 18-year-old kid. Now there's murder happening in my apartments. Now it's like murder house."
So I said "What are you going to do? I strongly think you should get rid of them."
But she doesn't want to, her response is like, "How can it get any worse? It's one less tenant to worry about, and we'll just have to get a special cleaning crew for the mess of the murdered bodies." That's the point of that story: my mom's so tough. She's unfazed, she doesn't care about the brains and guts, to her it's just a bad situation to go through.
MJ Were you an artist as a child?
RR I was. It's how I dealt with a lot of loneliness and missing my mom when she went to work. I have one younger sister; we're three years apart. I was the good one and she was the bad one. Not that I was good. Art was my way of flying under the radar, pulling me out of trouble. Being the good girl let me do what I wanted. It was a shell.
MJ What does the "good girl" mean to you? The figures in your 2007 show at Monya Rowe Gallery were cute but they were also kind of menacing.
RR It's true. When the figures were just big heads they weren't so cute, but they were funny. I'm attracted to the paraphernalia of the "Girl's World": glitter, rhinestones, fashion, bows, and magazines. The big heads were menacing because they were big and clunky, but they were also painstakingly embroidered. For me the good girl thing is about working hard; the work ethic. Being good that way. But talking about the good girl thing, it's also that I don't drink, smoke, or do drugs and I never have, like never, and that is a big part of who I am. The desire to do those things doesn't exist in me.
MJ How does the good girl "shell" work in regard to sexuality?
RR I don't have a good answer. I'm aware of it. The sexuality is a separate issue. Just because I want to make a soft round shape it's not a naïve gesture…sexuality in my work is a tricky thing. I try to take the sexuality out; it's usually not what I'm thinking about. When I was in college it was what I was thinking about, and I made a lot of self-portraits to that effect at the same time. But as for as the good girl being like a baby, I got in trouble because people wanted to talk about child abuse, and it's not something that's there for me. I don't have a good answer as to what it is.
MJ Does this attitude separate you from a lot of recent Japanese art?
RR I get asked a lot how I feel about Japanese art. My entry to this work was as a child, and I always loved it. One of the first things I ever coveted was a Sanrio Hello Kitty compact and comb. That aesthetic of bubble-gum colors, really sweet lines, and simple shapes really appealed to me. I still have an affinity for the high gloss of it all. As for contemporary Japanese art, I love the protégées of Murakami: Chinatsu Ban. I love the restraint, the controlled lines, specific colors, and complete packaging of the way it's done. But my work is much funnier than Japanese Pop.
MJ But like some Japanese artists, you seem to use the quality of "cuteness."
RR Cute things are really powerful in a mass-market kind of way. People are instantly attracted to it, and it's going to sell more. Stuff for women, especially in clothes for women, it's a driving force. It motivates people very strongly. I'm 5'2". Women sometimes have to make a choice; you can either be sexy or cute. I found myself going for cute 'cause I'm smaller, and then attaching smart to cute, which is very powerful.
MJ Do you draw upon childhood as a resource for your images?
RR At RISD, you had this option to make sophisticated work, but you could also do really imaginative work, which is more free. Childhood offers this resource. I'm interested in making shapes that I like, as simply, as basically as possible. I think you just need a head and a body. Also, when I was in graduate school I worked as a live-in nanny in charge of three little girls, the youngest was 2. I was in NYC, the big city for the first time, and I had a stroller and 2 little girls with me. You see everything through their eyes, it was perfect for my work, and now I teach children at the Joan Mitchell Foundation After School Program. I've been there 4 years now.
MJ That gives you a lot of experience in the domestic world, and for a woman artist that can be very compelling but very difficult territory.
RR In graduate school I was constantly wishing I was a guy, 'cause if I was a guy making this work I'd be so off the charts. But I'm not a guy. That's the way the cookie crumbles, so I'll just make the work that I want to make. I used to embroider all my clothes and that got lots of attention. In critiques it was always "but let's talk about what you're wearing." I was often upstaged by the work I was making when no one was looking. It's hard to be genuine with yourself when you're trying to make a living from your work, have a dealer, or organize a show, but I'm trying to make my girls world, my domestic secret life, my fantasy world.
MJ How do you see your narratives influencing your work? Is it possible you would transition into performance-based work?
RR I don't really like a lot of performance artists. l loved Hanna Wilke, but I also thought she was kind of cheesy. I loved the pictures of her walking around naked with the toy guns and sticking gum on her body, but I also had this strong sense that she might have been obnoxious. I had this idea that you had to be an exhibitionist to perform, and I don't think of myself that way. But I like to tell stories so much, that now I feel like I need to introduce it somehow. So now it's starting! In the future I'm going to do that thing, where the duration of the exhibit will be like a fake residency and I'll be just there. I want to sing and dance and wear costumes. Sometimes you forget that you can do anything you want. I forgot that I could stand next to the artwork and just tell stories. I want to be, I just need to be in my work.
Rebeca Raney's website is www.rebecaraney.com.
Post Impressions is a conversation series conducted by Mary Jones. She is an artist living in NYC and an adjunct professor at RISD and School of Visual Arts.