"Walls become panoramic vistas, referencing fractal geometries, viscous lava flows, and '60s psychedelia." —Peter Halley

Discover MFA Programs in Art and Writing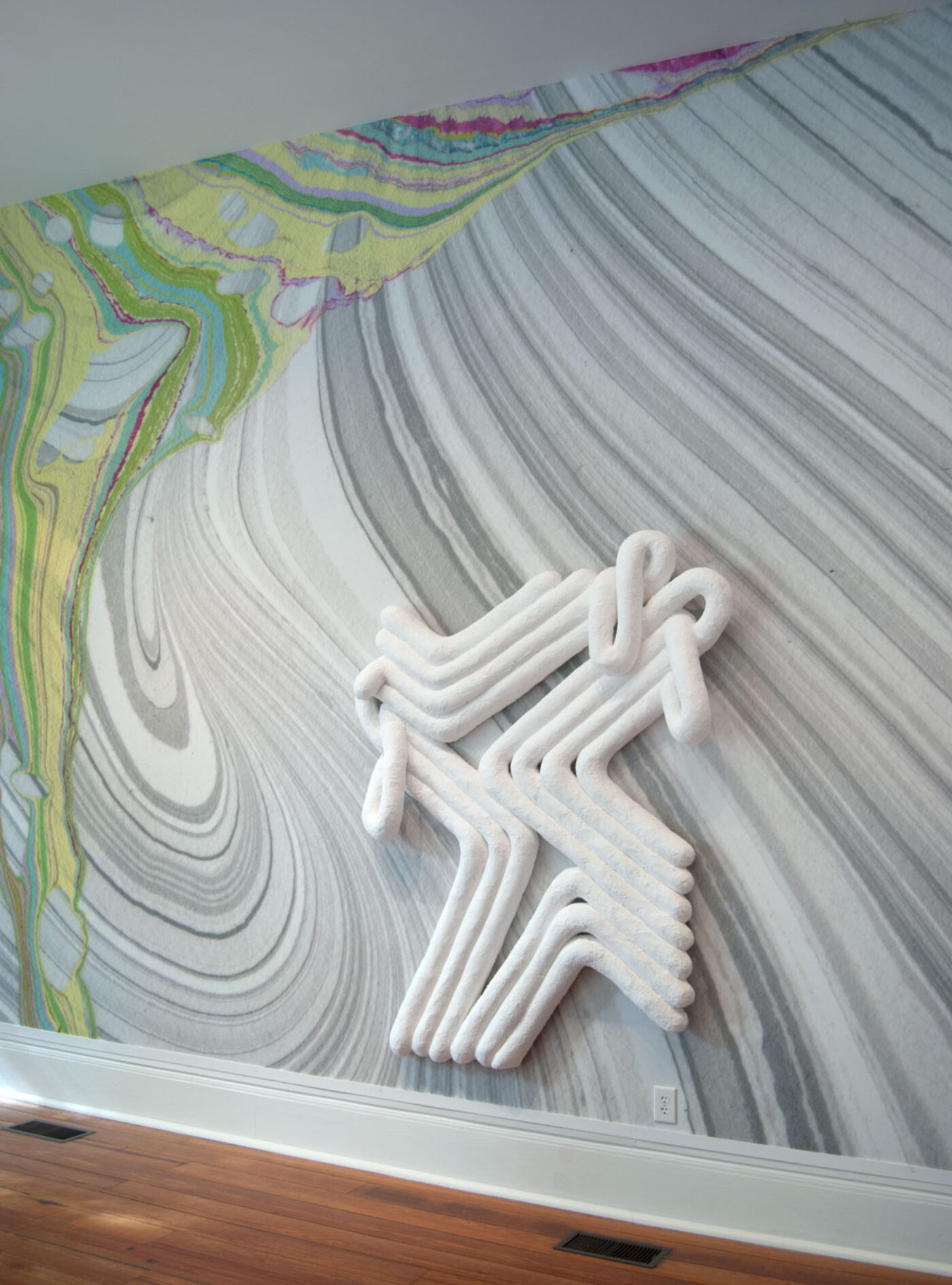 Lauren Clay's work begins with an investigation of the artifact, a meditation on a culturally resonant object. It is an oblique approach to the act of self-expression. She concentrates on the transformation of the artifact through a process of spatial manipulation. Her process eschews narrative and representation, focusing instead on the power of morphological and spatial changes to metamorphose the artifact.
There's a tension here between a methodology grounded in a detached, almost egoless approach and the results—that are disquieting and uncanny, that thrust flat, rationalistic elements into an unsettled three-dimensional world of twisting space.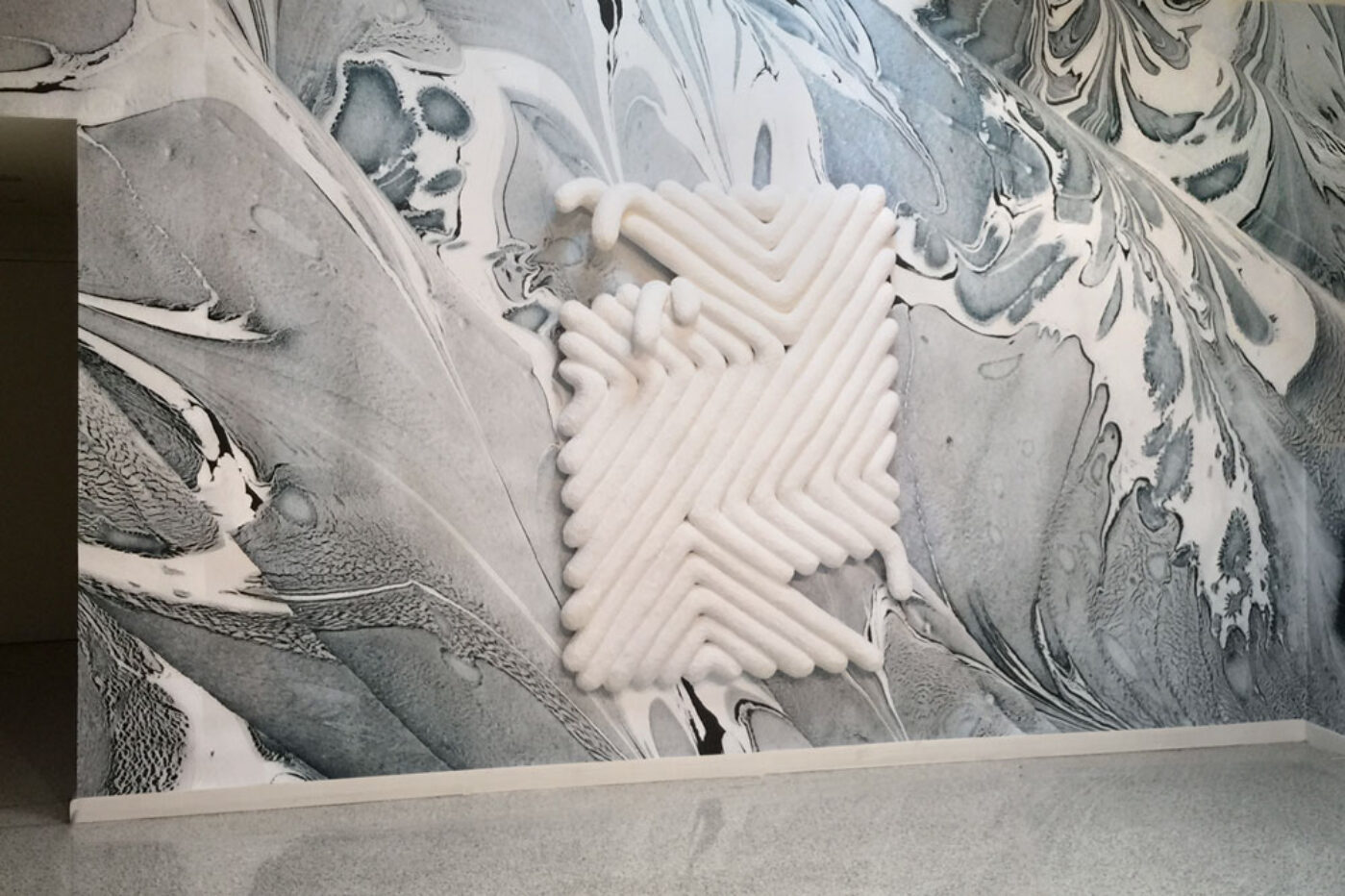 In recent work, Clay has focused on two contrasting sets of artifacts—first, on the Black Paintings of Frank Stella, iconic monuments to modernist authorship, and, second, on handmade marbleized paper (such as that used in the colorful endpapers of antique books), readily identifiable as a reference to anonymous historical craft.
In Clay's work, the ideological hierarchies explicit in these two very different sources are leveled. Modernist painting and pre-industrial decorative craft are equally valid for investigation. Clay's artifacts are chosen for possessing long cultural tails. Her valuation is based on the intensity of resonance evoked by the artifact, the extent to which it can be read widely and deeply.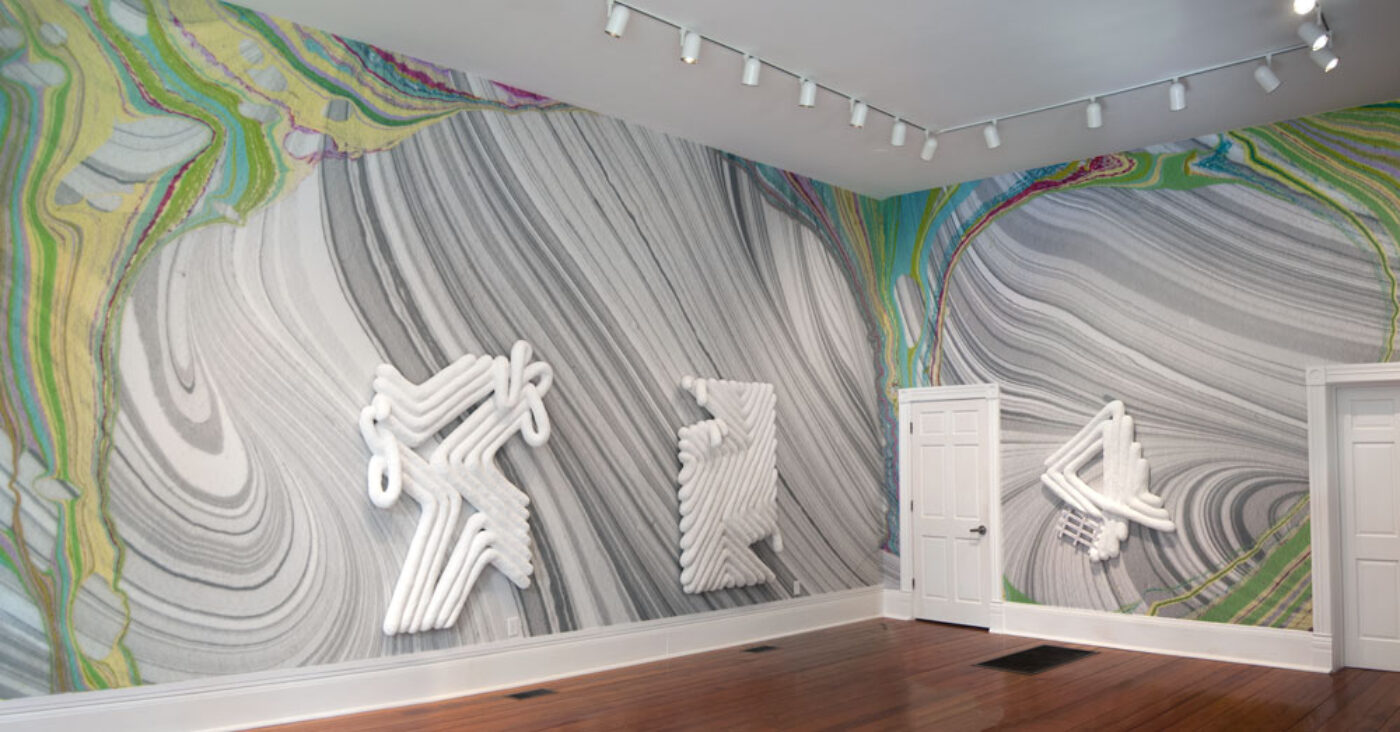 In her transmutation of the Stellas, the flat bands of the Black Paintings are fattened up and rounded to become rough-surfaced three-dimensional tubes constructed from papier-mâché. The straight, symmetrically arranged bands are bent and twisted, both within the pre-existing two-dimensional compositional plane and outward into three dimensions. The Stella artifact mutates into three-dimensional relief, becoming spatialized and organic. The flatness of the Minimalist plane becomes bulbous. Abstract linear networks and disinterested symmetry become visceral and bloated.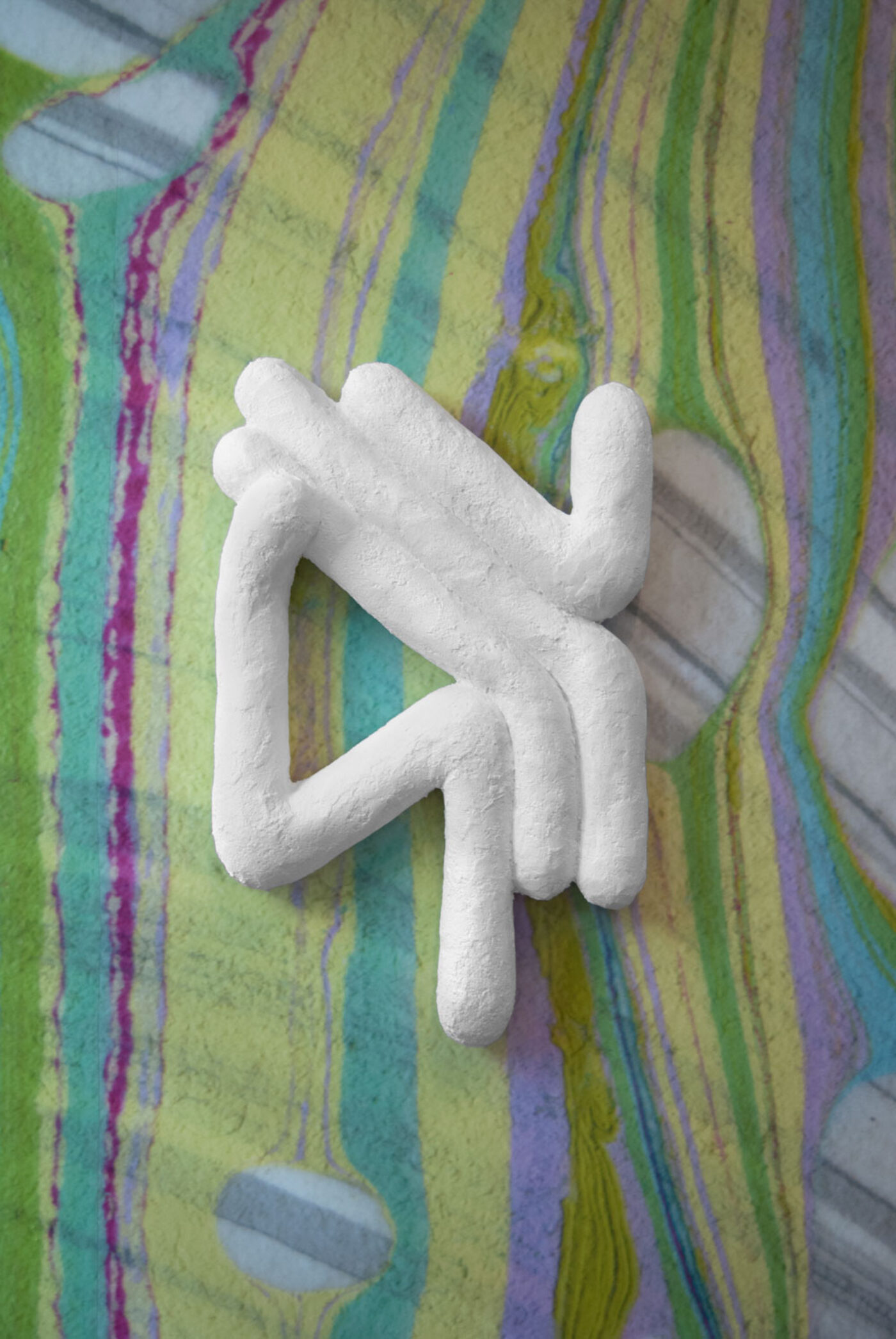 The resulting relief sculptures, though borne out of a detached, gently humorous sensibility are, nevertheless, insistently disquieting. They evoke shapes warped by alien science-fiction forces or twisted by altered perception. Sanskara, a recent free-standing sculpture assertively hijacks rational geometry, hustling it into a gangling world reminiscent of Louise Bourgeois and earlier biomorphic surrealism.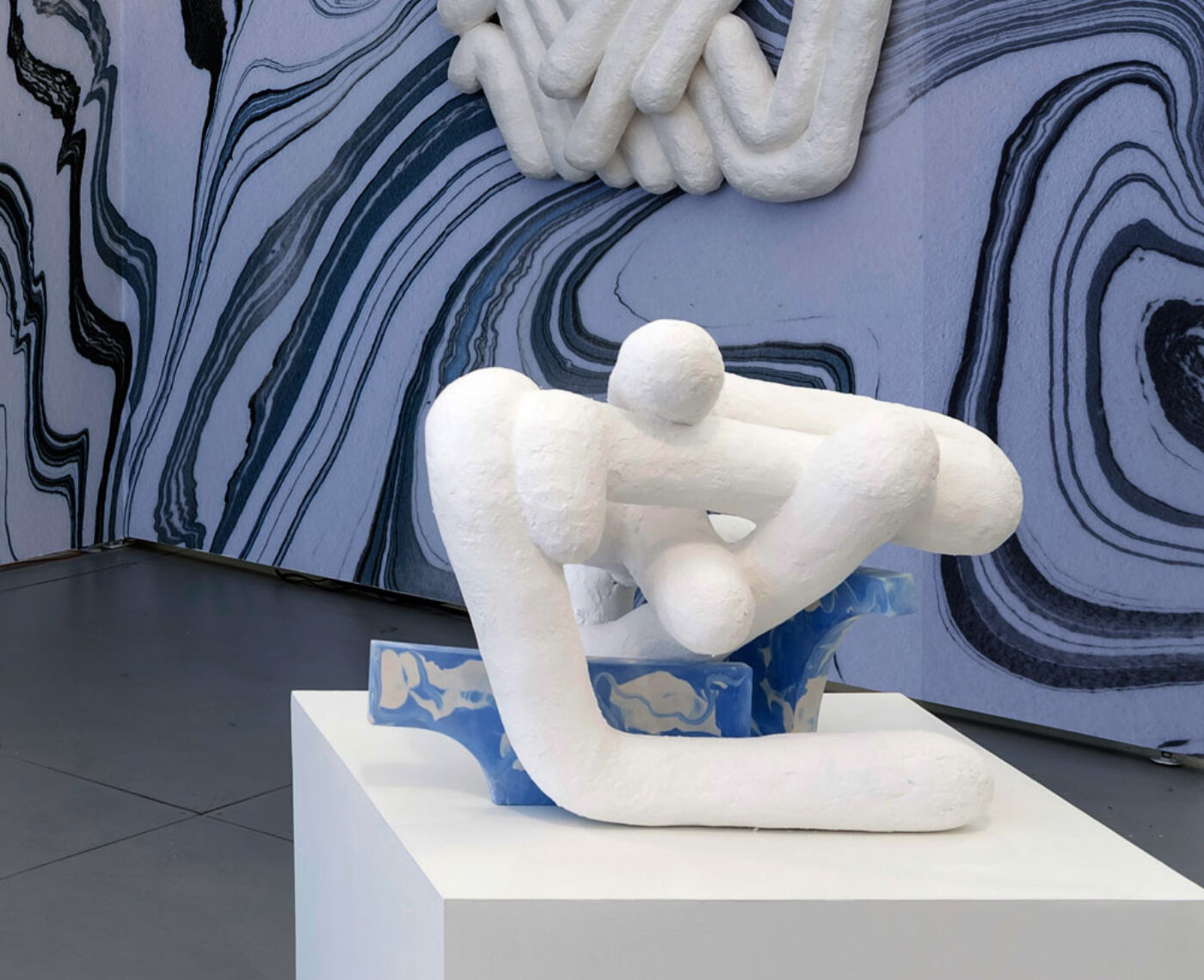 In Clay's installations, the walls of the room are covered edge to edge with all-over arabesque imagery—wavelike bands of color that appear to turn and undulate in three dimensions.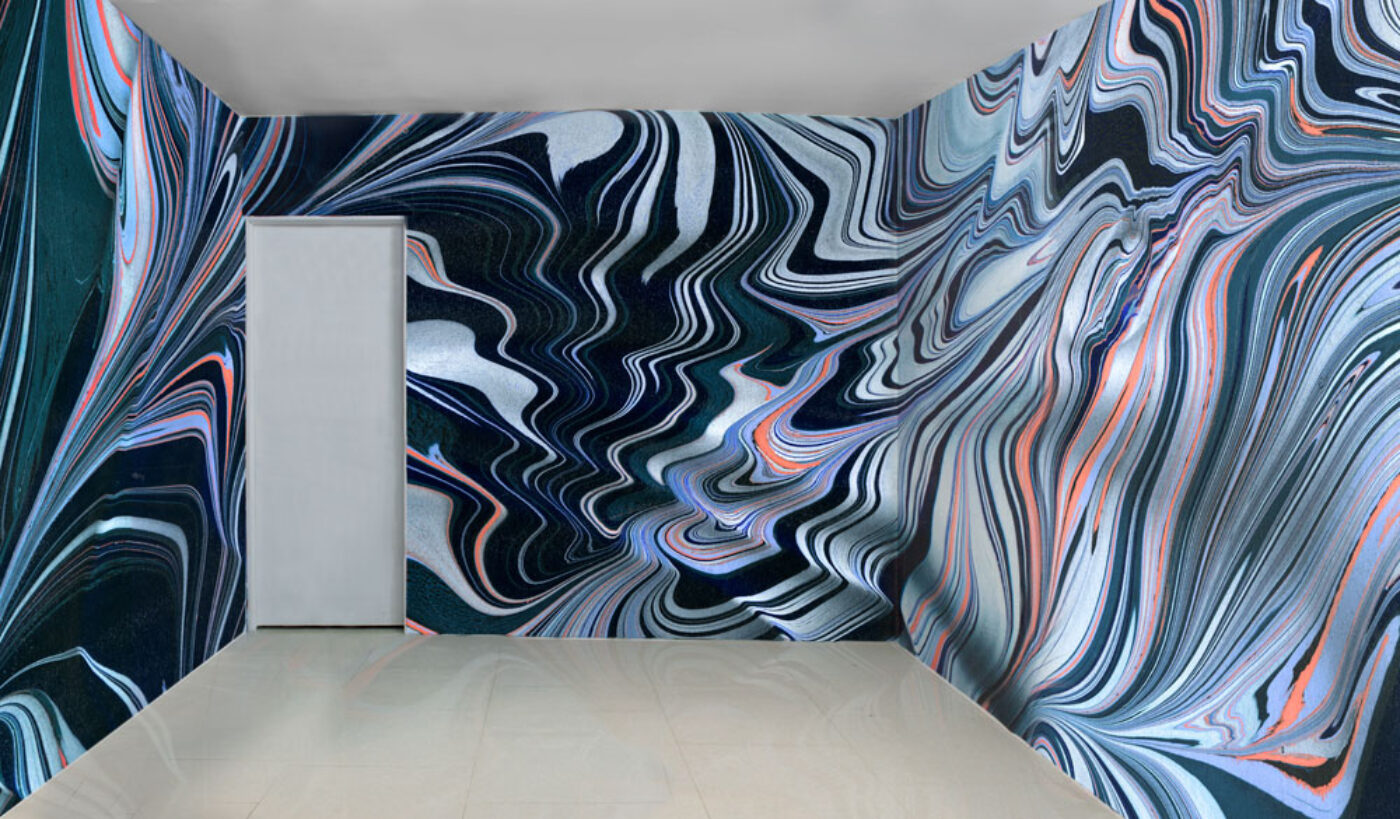 Her wall-sized prints are made by photographing very small areas of marbleized paper, made by the artist herself. These small details are then printed digitally, areas just two inches wide dramatically enlarged to fill whole walls. The walls become panoramic vistas, referencing fractal geometries, viscous lava flows, and '60s psychedelia. They evoke the sublime.
This work, too, is disorienting and uncanny. A tiny square of marbleized paper has been blown up to fill our whole perceptual space. The little square of paper magically yields a three-dimensional fantasia. It's Clay's Alice in Wonderland. But it's an experience of altered consciousness achieved not through psychedelic drugs or spectacular technology but through her intense, quietly focused art.
            — Peter Halley
Lauren Clay is a sculptor living and working in New York. Her installation Squash & Stretch opens on February 16, 2016 at Savannah College of Art and Design, Trois Gallery, Atlanta. In 2015 she exhibited with Chicago's LVL3 Gallery at Untitled, Miami, and in a three-person exhibition with Carey Denniston and Hanne Lipard at Topless, Rockwaway Beach. She also executed a solo installation at Grounds For Sculpture, Hamilton, NJ.
Peter Halley is an artist based in New York. In 2001, he was awarded the College Art Association's Frank Jewett Mather Award for excellence in art criticism. A compendium of his writings, Peter Halley Selected Essays 1981-2001, was recently published by Edgewise Press. Halley is currently working on an installation for the Schirn Kunsthalle, Frankfurt, that opens May 2016.