Poetry and Architecture, Architecture and Poetry by John Hejduk
The event preceded the architecture and the poem was the mediator. The story is clearly delineated; poetry and architecture are talking to each other forever.
—Carlos Brillembourg
The Funeral of Jan Palach
When I entered the first meditation
    I escaped the gravity of the object,
I experienced the emptiness,
    And I have been dead a long time.
When I had a voice you could call a voice,
    My mother wept to me:
My son, my beloved son,
    I never thought this possible
I'll follow you on foot.
    Halfway in mud and slush the microphones picked up.
It was raining on the houses;
    It was snowing on the police-cars.
The astronauts were weeping,
    Going neither up nor out.
And my own mother was brave enough she looked
    And it was alright I was dead.
—David Shapiro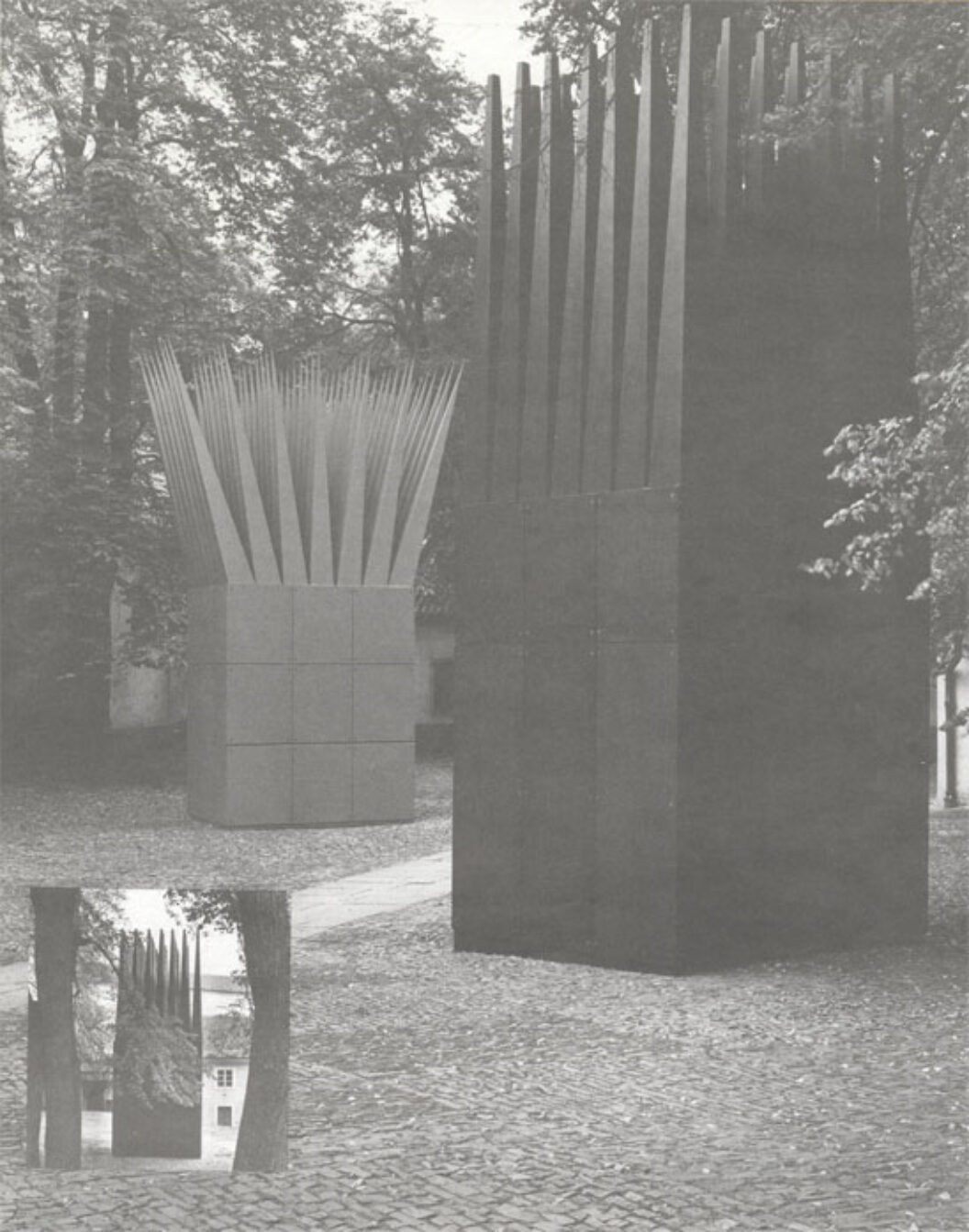 Dedication Speech by David Shapiro, September 4, 1991
To honor Jan Palach and for President Havel
I was in Cambridge, England, in 1969, when I read of the act of Jan Palach, of his amazing words, of his funeral, and of the words of his mother. I read of the march which was so silent even the birds could be listened to, and I wrote my little poem in awe of Palach's great courage. For years my friends and I had tried to be courageous against what we thought was an immoral war. We were timid; some were audacious; we did a little; we were humiliated; perhaps we succeeded, a bit. I had lived through the terrible assassinations, and I recall that I felt honored when a stone struck me at Columbia University when I said that I hoped that what we were doing honored the memory of Martin Luther King.
When I read of the sacrifice of Jan Palach, I was reading of a heroism toward which I had aspired but recoiled. But it is not for everyone to be such a sacrifice, as many have said, it is not even easy to be a disciple of such a hero. Indeed, Palach finally asked others to refrain from a mechanical martyrdom.
Now I am lucky to have known an architect who draws angels and who refuses to participate. I was more than lucky to have been asked, almost by accident, to meet a Polish cultural advisor of the new Polish government in New York, the painter, Josky Skalnik. And in Mr. Skalnik I met a man with whom I wanted to share this architecture and my poem. He had lived it. He also gave me the honor of introducing me to Mr. Miroslav Masak, who immediately asked to meet Mr. John Hejduk. We were invited to Prague, but we shrank from asking for anything of this inspiring new government. My dream was to give something back to you, the image of Jan Palach, your Torch Number One, as he called himself, the image of your country in resurrection and victory.
Amazing, too, to come in a week of other martyrdoms, other solemn funerals: three in Moscow. When I wrote my poem I wanted to raise a lament as true as that lover of truth—Jan Hus's phrase—and I am so proud to collaborate with John Hejduk in the Prague of my heroes: Kafka, Rilke, Milena Jessenska, who said: fear nothing, tell the truth. And the children of Terezen who reappear in their drawings.
Each article by Timothy Ash about you in your "year of the truth" was like a miraculous reward for Palach's act and your innumerable intransigent acts. We read each page of your letters from prison, Mr. President, as you demanded of others elsewhere, as an "ethical mirror of Palach's act." Czechoslovakia has been for us like George Bataille's image of the sun: it warms us and gets nothing in return. In honor of you, then, and for the people of Czechoslovakia, we thought of bringing you our little gift of your own son. Thank you.
Dedication Speech, John Hejduk
September 4, 1991
I have devoted my life to education, to teaching and to architecture. I am at home with students. I give thanks to their existence and I celebrate their creativity. I mourn those who have given their lives for the freedom of expression. I listen to the poems about them. And I am saddened by the fact of those missing, disappeared, and dead.
Lost are lost.
Art, literature, architecture and poetry, in the end, are thoughts of people about people and they are life giving, in life and in death.
Originally published in
Featuring interviews with Richard Tuttle, Television, Anna Deveare Smith, Jessica Stockholder, YoYo, Donna Tartt, Gregg Araki, Ron Vawter, Lillian Lee, Fabian Marcaccio, and Robbie McCauley.