Poetic Wizardry: Dimitris Papaioannou Interviewed by Ivan Talijancic
The Greek choreographer's long-awaited North American debut with The Great Tamer.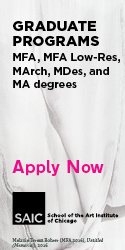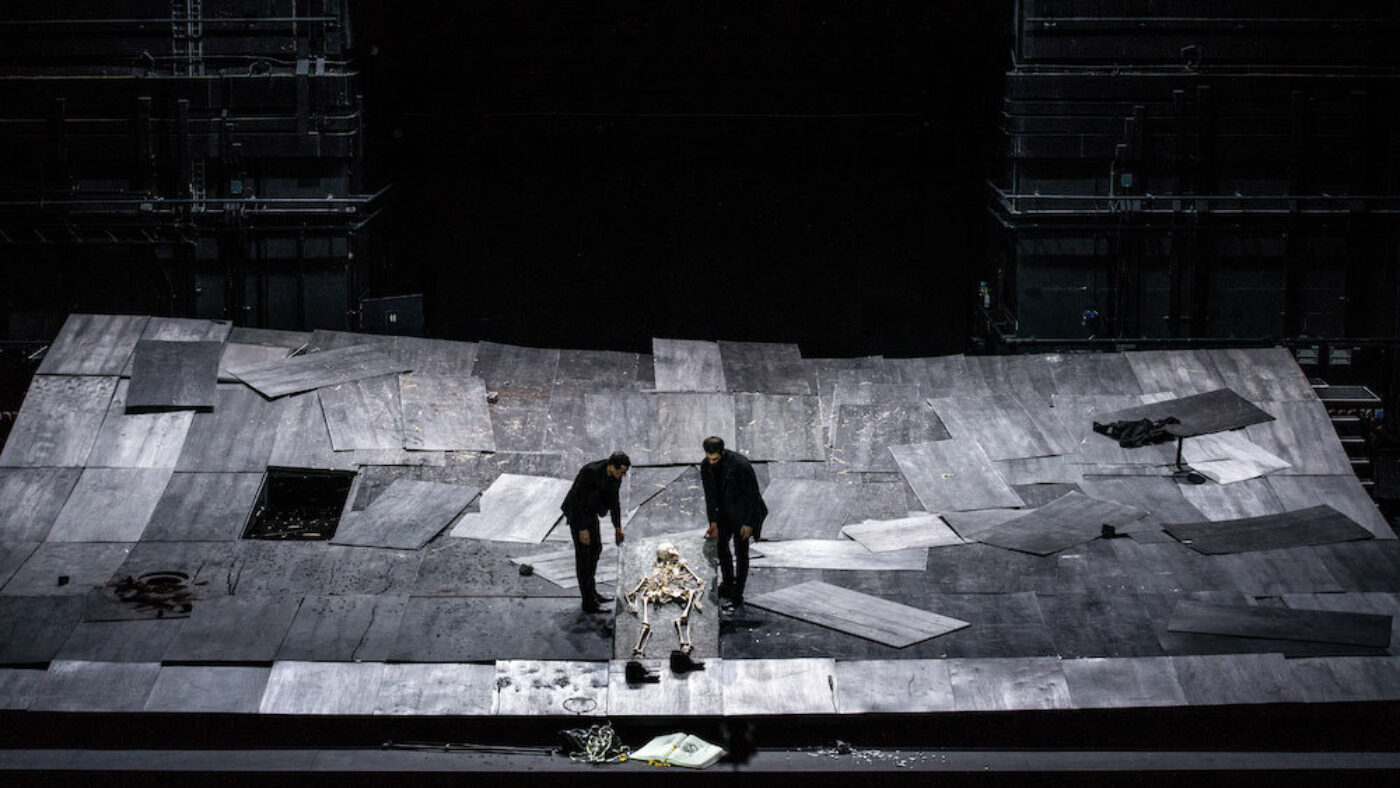 At some point during the opening ceremony of the 2004 Olympic Games in Athens, a large, glowing, white cube emerged from a stadium-size pool of water. As the cube rotated, a lithe man perched on top of it started scaling its sides, floating mid-air. I think that was the moment I thought to myself, Who on earth is responsible for making this happen? This is how, thanks to Google, I discovered Dimitris Papaioannou, with whose work I've had a long-distance love affair ever since. Although the works he creates with his company are often more intimate events, they are always characterized by a visual poetry and theatrical wizardry of Olympic proportions. Thankfully—not just for myself, but for US audiences at large—the affair no longer needs to be long-distance, as Papaioannou's stunning production of The Great Tamer recently landed stateside for an exclusive, one-night-only engagement as part of Center for the Art of Perfomance at UCLA's season at the Royce Hall in Los Angeles. In conjunction with his American debut, I caught up with the show's endlessly inventive creator via Skype during his rehearsal break in Monaco in December.
—Ivan Talijancic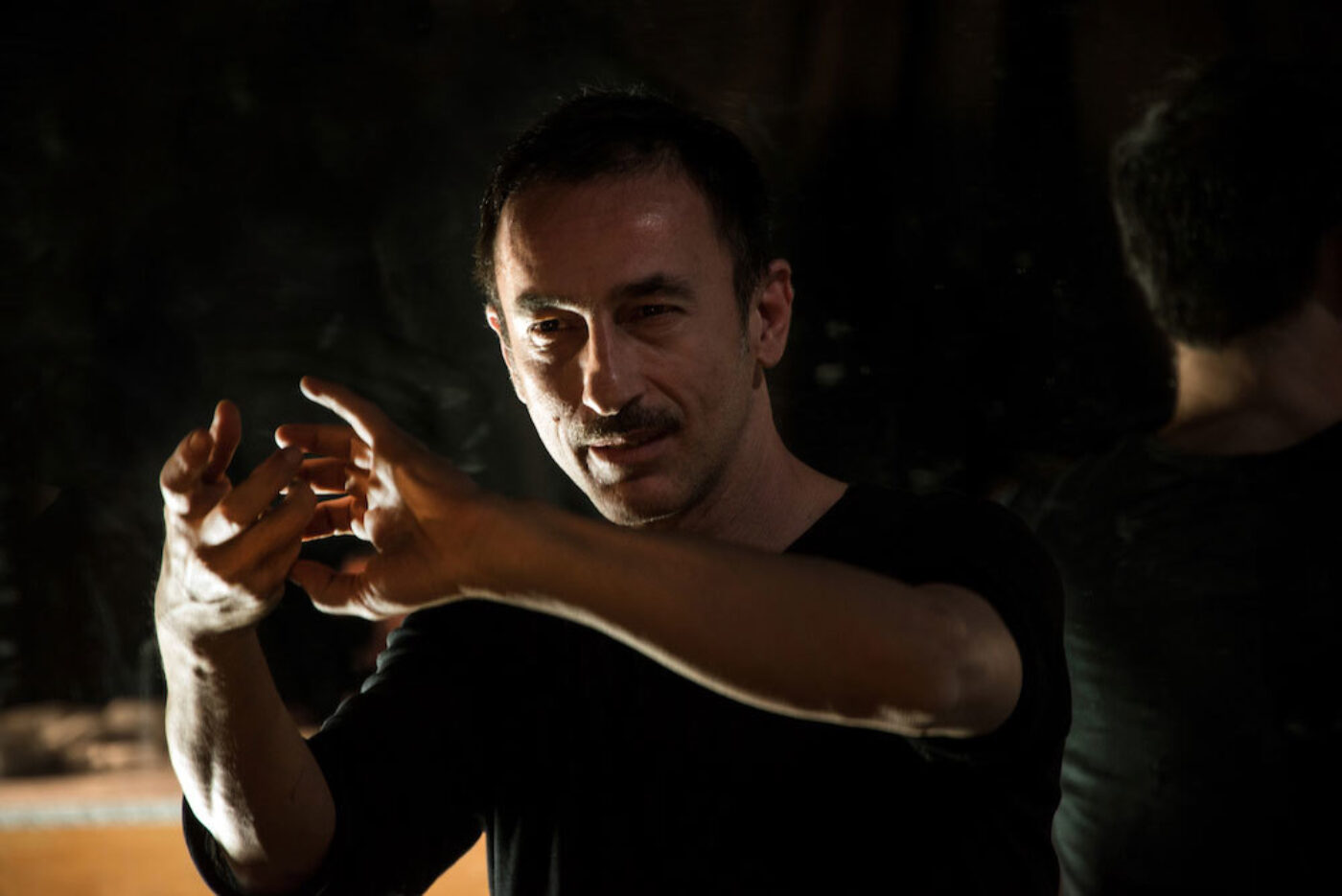 Ivan TalijancicYou started your career as a visual artist. What prompted you to transition to the performing arts?
Dimitris PapaioannouVisual artist is a flattering way of putting it. I studied to be a traditional painter—oil on canvas from real life. I was very keen on portraits, and I was also trained to be a Byzantine icon painter. As I was studying, I met a woman who was a choreographer, and she became my first teacher; she asked me to join her classes, and I was drawn into the contemporary dance world. Along with my painting, I was working on a lot of comics, so I was accustomed to narrating stories through images. As I accumulated more experience in contemporary dance, I started experimenting, telling my own stories, which ended up being the medium that I'm most interested in.
ITYou create a narrative through a succession of compelling visuals, but your works are also characterized by a precisely sculpted physicality. Where do these images come from?
DPWell, going for the images is a rarity in my process; I don't visualize them and then struggle to create them. In the process of experimenting and playing with the artists I collaborate with, I try to find what makes an interesting interaction with the human body. What sounds interesting, what manifests the laws of physics in an interesting way for me is gravity, mainly. The way that I try to compose those details, the only way that I can make them valid, is to put them within a visual composition, simply because, coming from a background in painting, that's my only way to make sense. That's how I understand the world around me. That's how I understand creation. It's like making gardens: you arrange the flowers. So it's not that I conjure them in my mind; I trigger a workshop, I find interesting things, and I try to create a visual space for them to exist.
ITHow did you come up with the source material for The Great Tamer? What was your impetus to create this work?
DPThe Great Tamer first came from my obsession with the archaeology of the mind, which is the source of the image of the astronaut digging in the planet's soil and pulling out a live human, as if he was digging in his mind. And it also came from an emotion that was created inside me from a tragic story that happened in 2015 in Greece. There was a young boy who was missing, and his face was posted on social media. He immediately became loved as an embodiment of grace and victimhood. Subsequently, the story came out that he had been bullied by his friends in the university, and finally, his dead body had been found buried in the mud of a riverbank. We still don't know if it was a suicide or a murder. There was an emotion that was triggered inside me from this, and this emotion somehow simmered underneath the creation of The Great Tamer. How do we suddenly fall in love with human beauty? And how do we victimize human beauty? How do we cannibalize it but still have the need for discovering human grace? It's the story of Christ, the story of Socrates—so all these mixed emotions fueled the making of this show.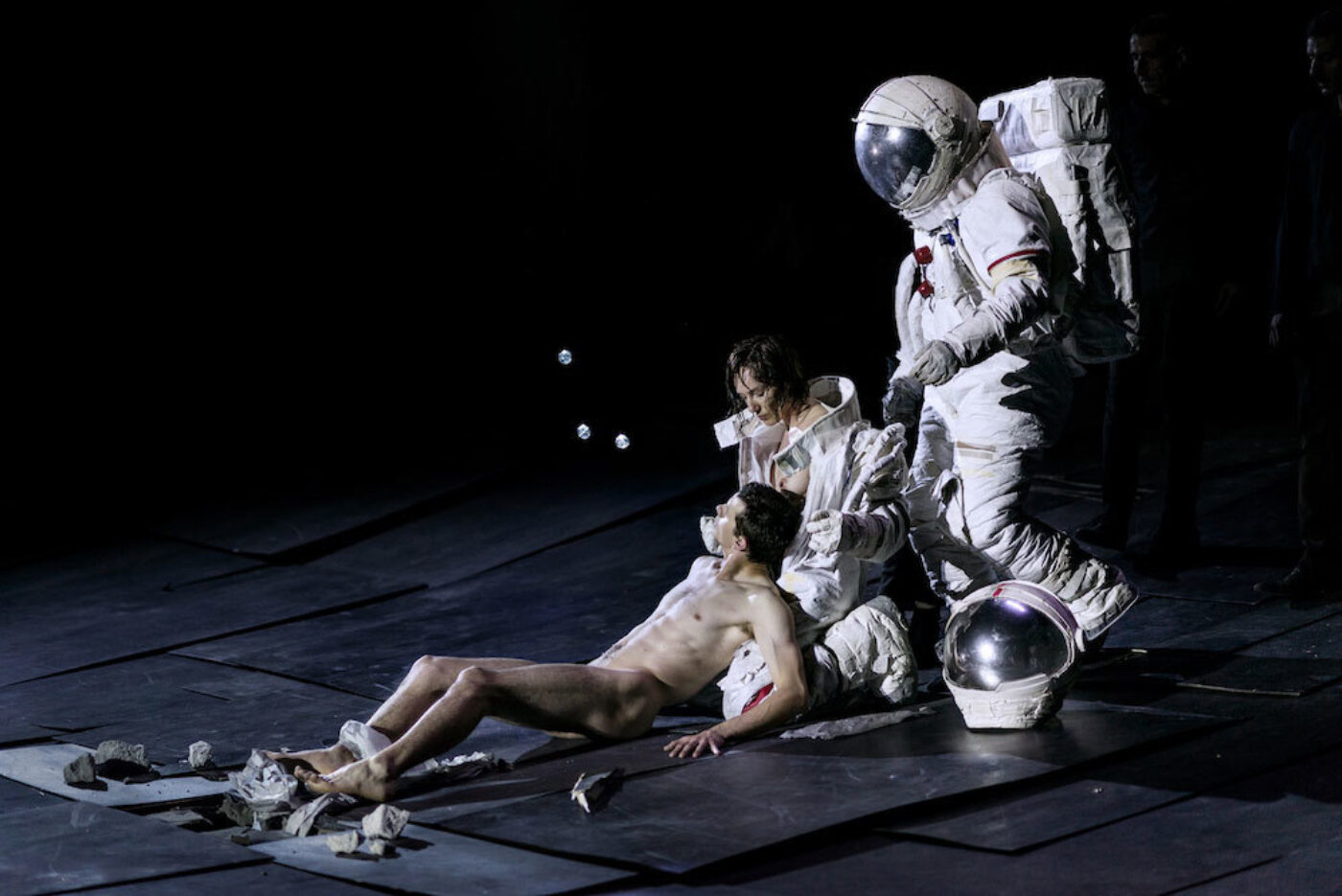 ITAlthough you are about to have your US debut in Los Angeles this month, I have been following your work from afar for many years and often wondered: Why have we not seen this artist's work in the US? Your work has toured worldwide at some of the most prominent venues and festivals. Why do you think it has taken this long for it to land stateside? And how does it feel to finally have your work presented to American audiences?
DPFirst of all, we are all very enthusiastic to come over and see what happens. But the first part of your question is not for me, it's for the programmers in the US. I have no idea. I am glad that there is a chance now, and I hope that the chemical reaction will be a good one, so that we are more often over there because we kind of liked it. Let's see now what happens.
(laughter)
ITEarlier this year, you created a new work, Since She, with Tanztheater Wuppertal, the company founded by the late Pina Bausch, who I think of as a goddess in the choreographic pantheon. One could say that those were big shoes to fill. Yet it seems to me that you managed to strike a delicate balance of honoring Bausch's legacy while at the same time creating a very personal vision. Can you tell me a bit about your experience of working with this iconic company?
DPIt has been a learning experience. To give some context, during Adolphe Binder's very short tenure as the artistic director of Tanztheater Wuppertal after Pina, she dared to call two artists to create new works for the ensemble. I was honored to be the first one to present a piece. So, yes, I did that with an awareness that I was stepping on holy ground because I do consider Pina as a kind of deity, too. I have been brought up in the emotions that her works created, and I have been a fanatic of her work. Of course, this opportunity was an honor and a trap at the same time because I knew that I would enter inevitable endless conversations about comparison, which is unfair, of course, for me and ridiculous for her legacy. Naturally, it is a deeply personal work for me, it is extremely emotional, while at the same time honoring her legacy. I have always been nurtured by the work of people I love, whether it's choreography, film, or painting; it's in my blood and that is how I work.
So working in Wuppertal was very interesting and very emotional for me. It was very hard to trigger the whole machine to create again and produce again after a nine-year hiatus. It was very emotional and loving to work with those amazing artists who are the dancers in the company. I found myself very nostalgic and, in the process of doing it, driven deeper and deeper into my ancestry, digging down to the roots. I revisited Expressionism and Fellini and things that may have moved Pina as well. Then I remembered my family, which drew me to traditions that are deeply personal to me. But mainly, I did a piece—as I've often done in this latest period—that confronts existential issues. This is a piece saluting the women and men who insist on playing life's game even though life is grinding them down. And in parallel, it's a salute to the greatness of Pina by using those famous chairs from Cafe Müller (1985), which was my first experience with her choreography that changed my life. And truly, I am using the very same chairs. I took them from storage.
It's a complicated story, but I have to say that perceiving this work as only an homage to Pina is not fair for the work. The work is about humans, but it is done to this circus that Pina created. I created another piece for this specific circus without denying its identity: the long hair, the high heels, the completely differently dressed genders, that tension between the couples. But I cannot do anything else but create a deeply personal work; even if it is the opening ceremony of the Olympic Games, I still have to make it personal.
ITSo, the ghost of Pina lingers in there somewhere.
DPYes. (laughter) You'd have to ask the ghost how she feels.
The US premiere of Dimitris Papaioannou's The Great Tamer was presented at CAP UCLA's Royce Hall in Los Angeles on January 11. The show will next appear at Usine-C in Montréal on January 24–27.
Ivan Talijancic is a founder and artistic co-director of WaxFactory, a New York-based interdisciplinary art group. He is currently completing his first feature film, 416 MINUTES, and regularly writes on the arts for BOMB, London-based Bachtrack, and The Brooklyn Rail.