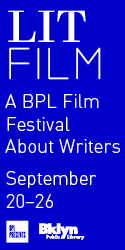 Room With No Window
A lot was said here. There was the thin plant unfurling, but slowly.
Time was told by someone's cough through the wall. This is enough, you tell yourself.
This is enough. There was the mirror, and I was in the mirror.
I brought nothing with me. A lot was said in this room. I did diminish, but slowly.
Brighton Beach
Because the people I love don't believe in heaven
we take the train to Brighton. Atlantic Avenue, Pacific Street. The ocean
is always the ocean, so we take the Q to Brighton. 7th Avenue, Prospect Park.
It's hard to explain. The tide rises, and we drink all the beer we brought.
Before the restaurants, before the boardwalk, crackheads slept in dunes,
and whores turned tricks, or so we hear from a guy we met. He grew up here
and for a living now he installs in bars electric chandeliers. In these waves,
when he was young, his sister drowned, and because she's gone
he takes the Q to Brighton. Church Avenue, Beverley Road.
We don't speak the language spoken in Brighton, so at a loss to say
what we need to say, we take the Q to get there, and because the sun dies
in Brighton, we know the day can end, and because the sky can't help
but darken, we go home again to Boerum Hill. Cortelyou Road, Avenue J.
In these waves, one night last summer, I kissed someone
and my life changed. We walked barefoot through sands of broken glass
so we might touch the ocean the way the water can't help but touch the land,
and because, in the end, we couldn't help but touch each other,
we took the Q, that year, to Brighton. I almost believed in heaven.
It's hard to explain. Take the train to Brighton, and touch the sea,
and walk the sand. Just offshore lies what, this year, you've lost and gained,
and what you haven't lost yet but will, and along the shore
lie those who know, by night, by day, there is no heaven, and no answers
to our questions, Kings Highway, Sheepshead Bay, and because the ships
leaving piers look like distant chandeliers, still take the Q to Brighton.
Tomorrow Morning
When your shirt caught fire, your own hands snuffed the flames.
We stood in valleys where marigolds would sprout through rain. Once,
glaciers were here. Now, their ice is in us. Someone draws a bird in the dust.
The Weaver
Hitches a loop in the belt she made. Hangs herself in a white room.
When they found her, they took her down. They closed her mouth.
In the ravine, large silver fish, like overturned rafts, float motionless.
When one woman gives another permission to see, she sees.
That's how we work. One cuts a hole in the world and passes through.
Another drives north and buries ash beneath evergreens.
Sarah V. Schweig's poems have appeared in Boston Review, Painted Bride Quarterly, Western Humanities Review, and Verse Daily. She is a graduate of the University of Virginia and Columbia University, where her manuscript was recipient of the David Craig Austin Memorial Award. Her chapbook, S, is available through Dancing Girl Press. She lives in Brooklyn, New York.
This issue of First Proof is sponsored in part by the Bertha and Isaac Liberman Foundation and the Thanksgiving Fund.
Additional funding is provided by the New York City Department of Cultural Affairs, The New York State Council on the Arts, and readers like you.
Originally published in
Featuring interviews with Francis Alÿs, Binyavanga Wainaina, Simon Van Booy and Siri Hustvedt, Natalia Almada, Joanna Newsom, Scott Shepherd, and Mickalene Thomas.