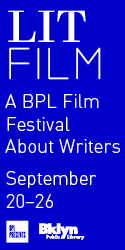 H is for Hat
Regrettably, you put it near me
It was as though an unstoppable fact had come between us
How appropriate, therefore, to be literature in a bereft
state,
unpaginated.
You were sorry at every level, perpetual, conceptual
You were sorry. No one speaks here. That we are speaking
the same
language oozing incomplete arithmetic
would be nice. Put it next.
"To throw with an overhand pushing motion"
to put the shot
to plant or imprison or formulate the shot—
"I am talking, by definition, about it."
Putting a finger on Ecclesiastes
in other possible worlds, possibly your world of warmth
and cold
easily magnetized,
reclaims it, it and other assets up in the under-eave space.
Marjorie Welish is the author of several books of poetry, including The Windows Fly Open (Burning Deck) and Casting Sequences (The University of Georgia Press). She shows her paintings at the E.M. Donahue Gallery in New York.
Originally published in
Featuring interviews with Patti Smith, Peter Carey, Mike Figgis, Lawrence Weiner, Sharon Olds, Kiki Smith, Ridge Theater, Oliver Herring, Adrienne Kennedy, and Shu Lea Cheang.