BOMB's very own Lena Valencia and music blogger PIXELHORSE (a.k.a Elise Oh) give you an instant-messaged tour of this year's Northside Festival put on by L Magazine, complete with pictures and video. It's easy. It's virtual. And much, much less sweaty.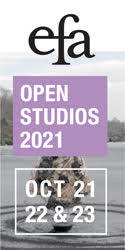 While there is no lack of outdoor, festival-like shows all over the City in the summer, L Magazine's Northside Fest is the closest Brooklyn comes to an actual music festival in the traditional sense of the word. Spanning over 20 venues in the Williamsburg/Greenpoint/Bushwick area, the fest this year featured 300 bands, most of them "unknowns." Rather than curating all those bands themselves, the L reached out to bloggers, labels, and PR firms to create their own showcases which kept the lineups fresh and eclectic.
The problem: the bands were SO fresh and eclectic that there was no way I could navigate the lineup myself. I needed an expert. I needed a music blogger. So I called up my old friend PIXELHORSE (a.k.a Elise.) Elise and I met to watch the playoffs (go Lakers!) at Habitat, where she came armed with a long list of bands annotated with little hearts and x's—I was dealing with a professional. Together we decided to steer away from the hyped shows and stick to the lesser known bands (sorry, Thao and Mirah!), and, in lieu of the Traditional Review, to stick to AIM banter, videos, and photos, which is mostly the extent of my attention span on the internet anyway.
Come Thursday, we bustled over to L Mag HQ to pick up our press passes and swag bags, chugged some free Heinekens, and decided to jet over to Warsaw for "housegaze" duo Hundreds in the Hands who were opening for Au Revoir Simone.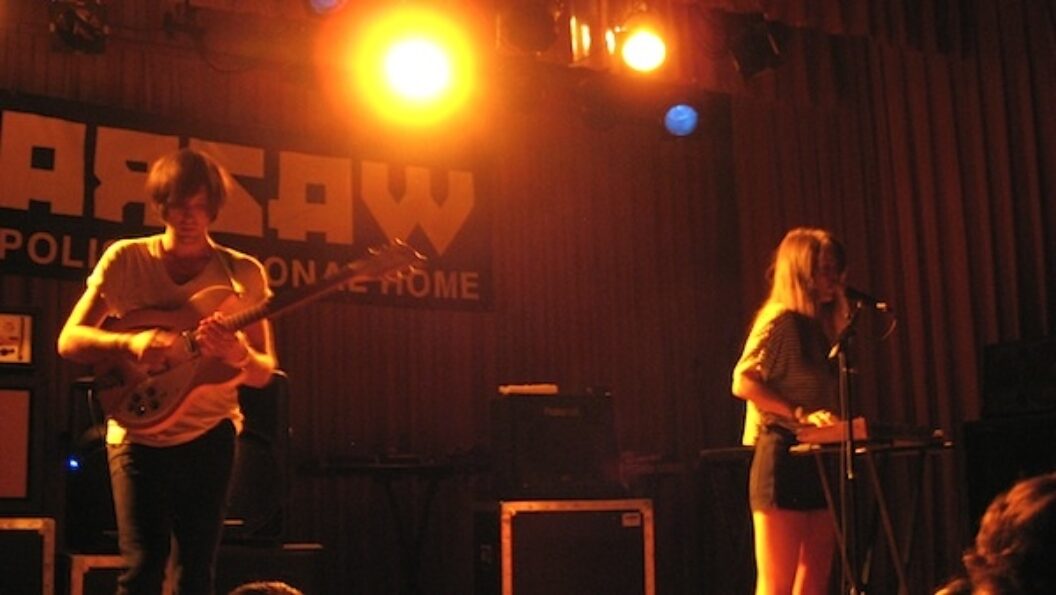 Lena Ok so: Hundred in the Hands.
Elise oh boy.
Lena I mean, I get it, but I've heard it before. Also, would they exist if she wasn't pretty? Questionable.
Elise Jenny Lewis Jr., you mean?
Lena I was thinking more Lykke Li but not as interesting.
Elise If she were uggos, they def wouldn't be opening for Au Revoir Simone.
Lena True dat. I liked Warsaw though! That disco ball was amazing…
Elise But the scene was 90% eurotrash taking photos of themselves outside smoking and making sexy faces. I couldn't stand that place. The disco ball was the best thing about Warsaw, just like the singer's hair was the best thing about the band. Followed somewhat closely by her voice.
Lena I am over drum machines. We saw some interesting drummers this weekend, and they are so much more fun to watch than people twisting dials around.
Elise yeah Hundreds in the Hands were BRINGIN' the drum machine noise, hard. I think I like a combo of synths/drum machines with good instrumentation. There are some exceptions, like AnCo and other bands that are all synths and shit, but for the most part I think a balance works best.
YellowFever at NorthSide Fest from BOMB Magazine on Vimeo.
Our next stop was Union Pool, aka the easiest bar to sneak PBRs into, where we were just in time for Austin transplants YellowFever.
Elise Good duo. Another amazing drummer.
Lena I usually find indie-folky female vocalists overly whimsical but she had some bite.
Elise Yeah I feel the same way. She is so stone-faced. There was nothing cutesy or too approachable about her, but she was still sarcastic and funny.
Lena Also the way she manipulated her voice was fucking with the voice recorder.
Elise Oh? How?
Lena She'd hit a high note and the levels would go crazy
Elise She was using a slide guitar. I have a feeling this is the song you are talking about. She would slide the guitar as she hit the same note vocally. I was about to bring up that song because it was my favorite part of that show. maybe even of the whole weekend.
Lena Yes. That's what i was talking about.
Elise It was rad. i love a slide guitar. and YellowFever's aesthetic is folky and eclectic enough to pull it off. Their equipment is all pretty vintage feeling. I couldn't quite see at Union Pool but when i saw them at SXSW I noticed all their amps and cases/stands all look at least 20 years old.
Then, as is wont to happen at a place like Union Pool, we were trapped in the backyard for a while. I ate a taco. Since there wasn't enough time to hoof it out to Glasslands for the end of the Oneohtrix Point Never set, we decided to head over to Shea Stadium in Bushwick for the alleged til-dawn afterparty that Ryan Schreiber of Pitchfork was hosting. We all know how thatturned out. Damn kids.
DAY 2
Our first stop was Music Hall of Williamsburg to check out the Woodsist showcase, where, naturally, the press list was full. We raced over to Matchless and arrived as nouveau-riotgrrrls Coasting were setting up.
Elise Coasting are hot. I have trouble discussing their shows though because I feel conflicted. I always use words like sexy and hot and badass, and I feel like it's anti-feminist or something.
Lena Yeah, that's hard to stay away from when discussing chicks in rock bands. But they were pretty badass.
Elise Right? Fiona is so powerful on drums but never overly-masculine. But I feel like that's a shitty thing to suggest, that a woman musician needs to worry about not being feminine/sexy enough.
Lena I didn't think they had the most original sound in the world but they had great chemistry. And Fiona is an amazing drummer.
Elise Yeah she's got stage presence for sure and their banter between each other is pretty fun and lovable
Lena Also I think the bands they are referencing (Bikini Kill, Breeders-kind of) are solid ones.
Elise Definitely. I get a Breeders, sisterly vibe. Coasting just had their first record come out on Group Tightener. An extended 7″ I believe.
Lena I thought Family Portrait were standard bar rock and kind of uninteresting. I feel like if you're going to play that kind of music you need an edge.
Elise I understand. These guys are my bros. I love 'em. Their lineup changes a lot due to one or two original members often being out of town, living in China for a year, running Underwater Peoples Records in DC, etc. I will say that I think Brody (lead singer/guitarist) has more charisma than you could give him credit for based on this one show alone. AND I'm excited Jackson Pollis is newly drumming for them. He's a great drummer.
Lena Yeah. they were solid musicians. I have no complaints about that. I wrote that they have some "psychedelic y'alternative flair" in my notes so I must have liked at least one of their songs. Remember how I said we were going to stick to the less-hyped shows? Well, we ended up sneaking into the Woodsist showcase after all and watching Real Estate.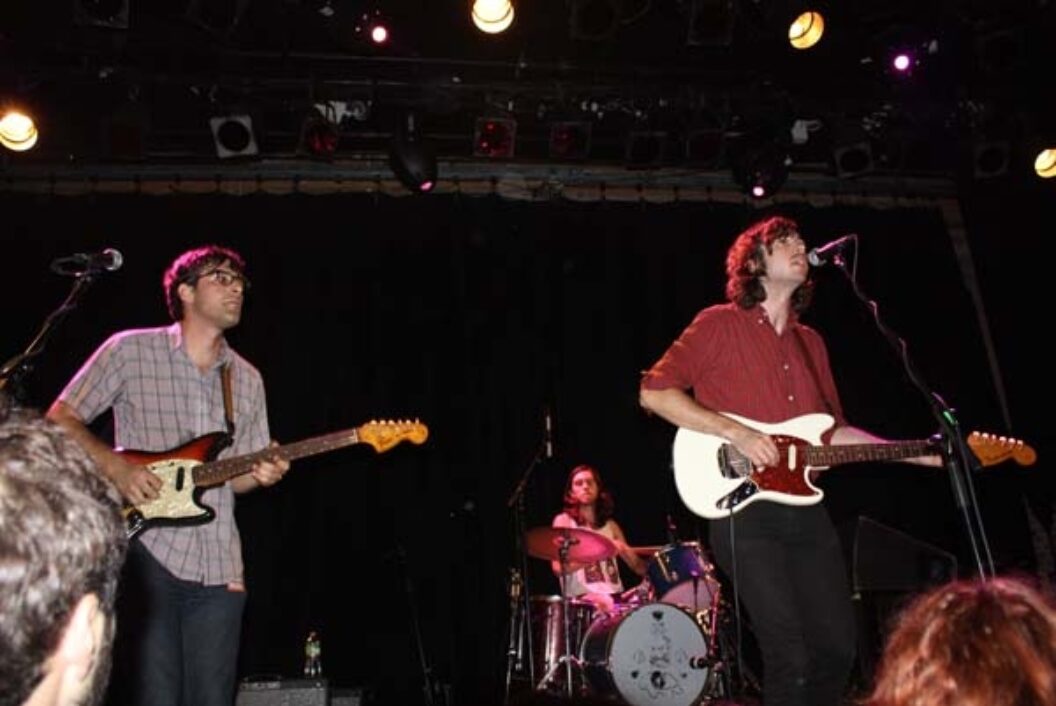 Lena They are so polished.

Elise For sure. they have been playing these songs for a while now. I'm just gonna say that I'm excited for these guys and how big they have gotten/are getting.
Lena They aren't really my type but I had fun at that show.
Elise I always have fun at their shows, dancing to their music. It makes me smile
Lena I yelled at one of the bartenders when he said they sounded like Sonic Youth, though.
Elise Haha, I remember you told me that and I said they sound nothing like Sonic Youth.
Lena They have a little shoe-gazey flavor but thats about it. Beach-gaze. Shore-gaze.
Elise Yeah, it's more peppy and upbeat than shoe-gaze. It's definitely pop music, but I love it. I'm afraid Real Estate has no staying power and that they will tragically be swept out with the tide when the whole beach/chillwave/jerseycore trend recedes. I really want them to prove me wrong though.
Lena Yeah I think bloggers' obsessive classification of bands kind of pigeonholes them and makes it difficult for them to experiment and become more than a buzz band.
Elise But to be fair, at the same time, bloggers kinda MADE this band. Real Estate started out as a classic "blog band." They're lovable. Anyway, yeah, you're right, plus there are just SO many bands now and info/trends that move so fast.
Lena I think the fest definitely demonstrates that in the way they let bloggers curate their own shows. I mean there were so many 'unknowns' it was intimidating.
Elise There are too many bands to get to know. I cower beneath the number sometimes and just give up.
SATURDAY
It was really effing hot. We mapped out our game plan over Life Cafe mimosas and hit the road on our bikes. So Brooklyn. We rolled up to the Newtown Barge Park, ran through the mister in the playground, and caught the end of Cults' set.
Lena Cults is totally riding the BK-girl-with-cute-hair-wave.
Elise Dude so cute. But are they from BK? Does it matter?
Lena Oh, I dont know.
Elise No. They're on Forest Family Recs, which is Texas-based so I'm inclined to think no. Anyhow, bigger issue here (I think), is that Forest Family Recs is this new blogger-run record label started by Gorilla vs. Bear and Weekly Tape Deck who blog about their label's artists on the regular, without necessarily stating their own conflict of interest.
Lena Well, a label seems like a logical progression. Most blogs are more about promotion than journalism, which isn't a bad thing. I mean, someone needs to sort through the dreck for us.
Elise Of course.
Lena Boutique labels are where it's at. The same is happening with publishing and small presses.
Elise I don't personally care about the conflict of interest. I think those bloggers liked those artists before they decided to put out their records.
We listened to a couple of Male Bonding songs but decided to go watch the USA get creamed by Ghana instead. After some much-needed R&R, we reconvened at Shea Staduim, an all-ages venue above…I'm not really sure, for the Chocolate Bobka showcase. It was about 90 degrees inside, and not much better on the balcony, where kids clustered clutching their $3 cans of beer.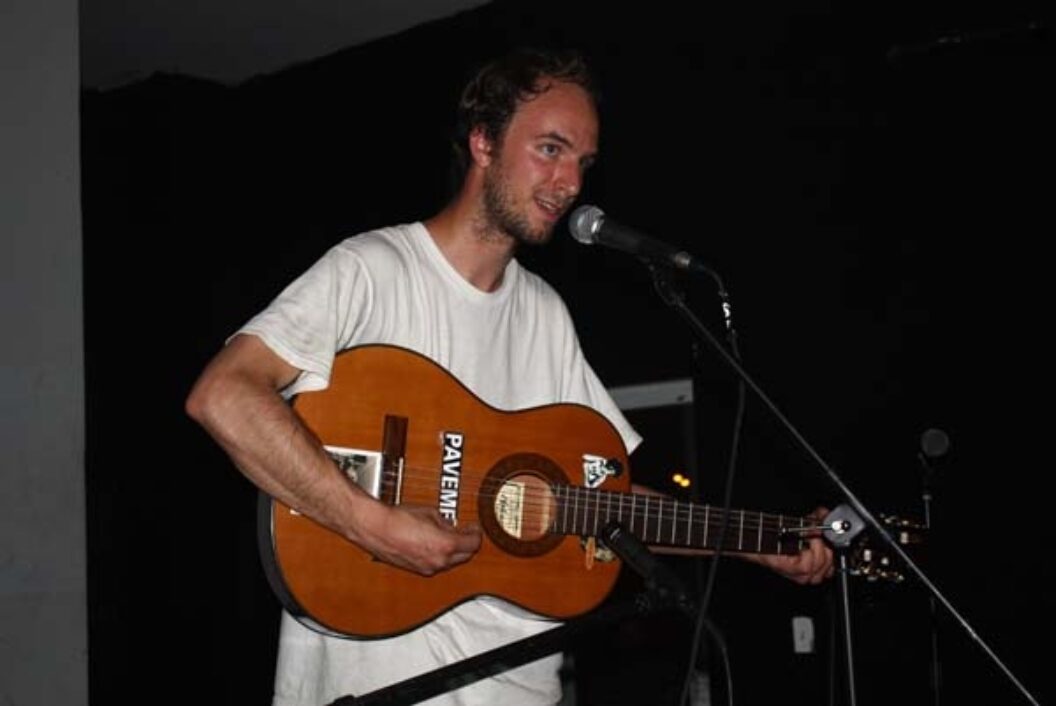 Elise Dana Jewell is a solo artist, but he has performed as part of Pill Wonder, another Underwater Peoples Records band based out of Olympia, WA. I felt the Arthur Russell influence harrrd.
Lena I was imagining him sitting in his room and playing Beck's One Foot In The Grave on repeat.
Elise I know his songs all kind of felt similar in theme and tone but I think he is endearing and so earnest. It's easy to love him as a performer.
Lena I couldn't hear the lyrics.
Elise You know, a girl broke his heart and he got on a boxcar and rode that freight train out of town…
Lena Yeah. Not so into it.
Elise I just wanted to make him feel better about whatever girl broke his heart.
Lena Yes. he was adorable. I was smiling through most of the set, I couldn't help it. The cute boy with acoustic guitar formula: it gets me every time. He could have been playing Dave Matthews Band covers and I still would have been smiling.
Elise Haha, yeah! And when the crowd sang him happy birthday?? [He was like hardcore blushing] Oh, I wanted to die. So cute.
Big Troubles at NorthSide Fest from BOMB Magazine on Vimeo.
Lena Big Troubles was just what I needed in that heat. A loud band playing in my face.
Elise Yeah, Big Troubles are so good. They made me forget how hot it fcking was in Shea Stadium.
Lena I do like this resurgence of noise rock. I think it's totally great that people want their bands to sound like My Bloody Valentine. A-OK with me.
Elise Yeah, definitely. I love how McGregor (Chocolate Bobka) yells out to "play some slow shit," and Ian, the lead singer goes like "Okay yeah this next one's sloowwww…" And nope, totally not. They played fast and loud every song, and that was it.
Lena It was lulling me to sleep for some reason. I was dozing off on a noise cloud. I don't have much else to say about them.
Elise I think big things are gonna happen for Big Troubles. That's all I'm gonna say.
Elise He used to be in Titus Andronicus.

Lena Haha! he has a song called "Lookin' for a Boswell".
Elise Oh, so he's an intellectual. I could tell by his glasses. He is a great musician. He has some beautiful songs.
Lena I don't have much to say. I love that he fellated the mic. I heard some hints of Jeff Magnum in his voice, which was neat I guess.
Elise Yum yum. I love how happy the drummer looked to be there. I think getting Patrick up there on drums to play a song and Martin (from Real Estate) on bass was great. If Dana Jewell had actually been in the room and not missed his curtain call, it would have been a great song. Instead it was just a really good moment.
Lena Agreed.
Elise He was outside talking to a girl on the phone and breakin' all our hearts. Anywayyy…
Lena Perf. He was talking to a girl the whole fest!
Elise Truth Ruth.
Lena OH DANA COME ON.
Elise I just wanna show him a better way.
Ducktails at Northside Fest from BOMB Magazine on Vimeo.
Lena You want to say something about Ducktails' show that night, since I had to go to bed?
Elise Ohhh, I forgot you missed it.
Lena I can pretend I was there.
Elise Well, it was cool. Matt Mondanile wore shorts and played with all the dudes from Big Troubles (except guitarist Alex Craig), who are so, so cute.
Lena Matt is the future of rawk. Big Troubles are adorbs.
Elise HA! He is the "origin of chillwave." Anyway, he's been playing his songs with a whole band lately, which is way diff cos he would normally play solo. I'm not sure why really. He performed with a whole band at Silent Barn like a month ago. He likes Big Troubles dudes a lot and is a fan of their music. They're going on tour together soon.
SUNDAY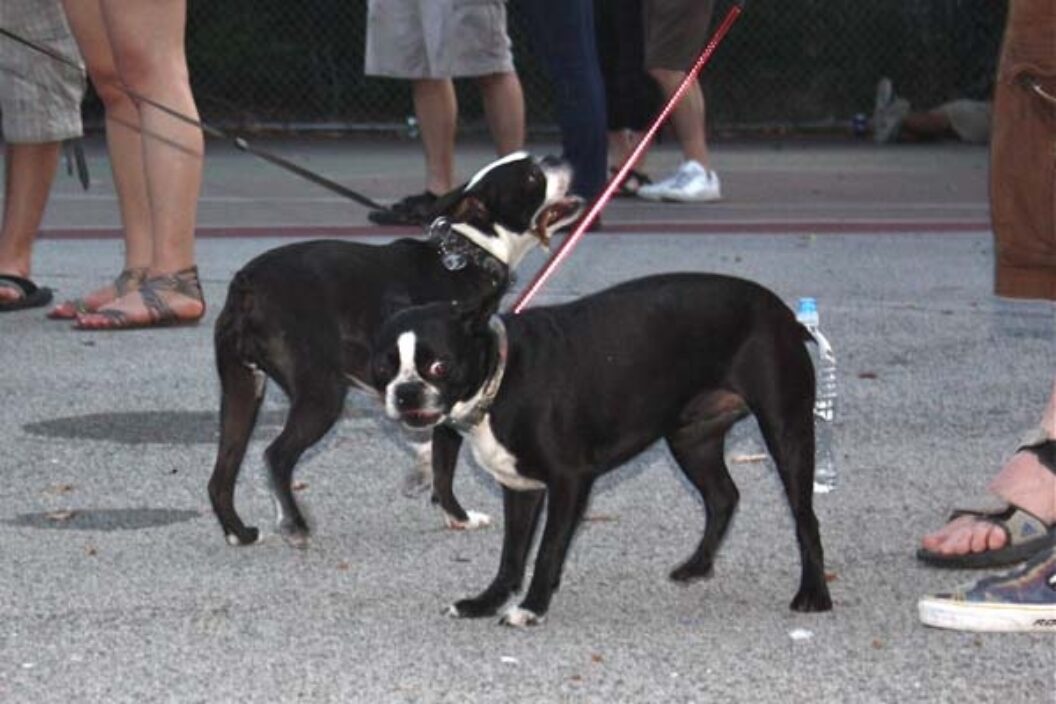 Hate to admit it, but the festival was catching up to me. Sweaty and dirty from biking, and drowsy from beer, I may as well have been at Bonnaroo or Coachella. The facemelting 90s guitar sounds of Polvo, however, were refreshing—it was also nice to see someone over 30 on stage in this youth-dominated festival. We headed back to Matchless for Mini Boone.
Elise I don't like their music. And I didn't like their show. They're too excited. Am I allowed to say that? Whatever.
Lena You can say whatever you want. It was a nice break from the trendy noise bands, but yeah, wouldn't go out and download the album. I wrote "Uh…good energy…"
And finally, ended our Sunday evening at Brooklyn Bowl for Animal Collective-influenced Keepaway.
Lena If I weren't so tired I would have totally felt like dancing to them.
Elise Keepaway = AnCo + MGMT + Rapture.
Lena Yes. With a barefoot upright drummer.
Elise The standup drummer is always a red flag for me. I think the Beets are the only band I like who have a standup drummer, and that's DESPITE him. But the bare feet? Yeah, too much. Put them over the top in my book.
Lena You know, it's good to sound like things that are popular. Makes it easy for people to digest and write about you. So, thank you Keepaway, for being dancey and derivative.
Elise I do like these videos of them though.
Lena I'm kind of into his voice. It's grating and bizarre. And no comment about the hair. Too much hair talk here.
Elise He's so cute. I do like his voice but, yes, it's derivative.
Lena All of these bands are so young though. It's almost unfair to judge them too harshly.
Elise Yeah but that's the BK scene.
Lena That is the bloogers duty. blooger. ha.
Elise Most of them haven't existed more than a year or two.
Lena Ok, any final thoughts?
Elise bloogers rock.
For more photos and videos, head over to PIXELHORSE.