Pierre Huyghe's Rite Passage and Human Mask by Chris Chang

Discover MFA Programs in Art and Writing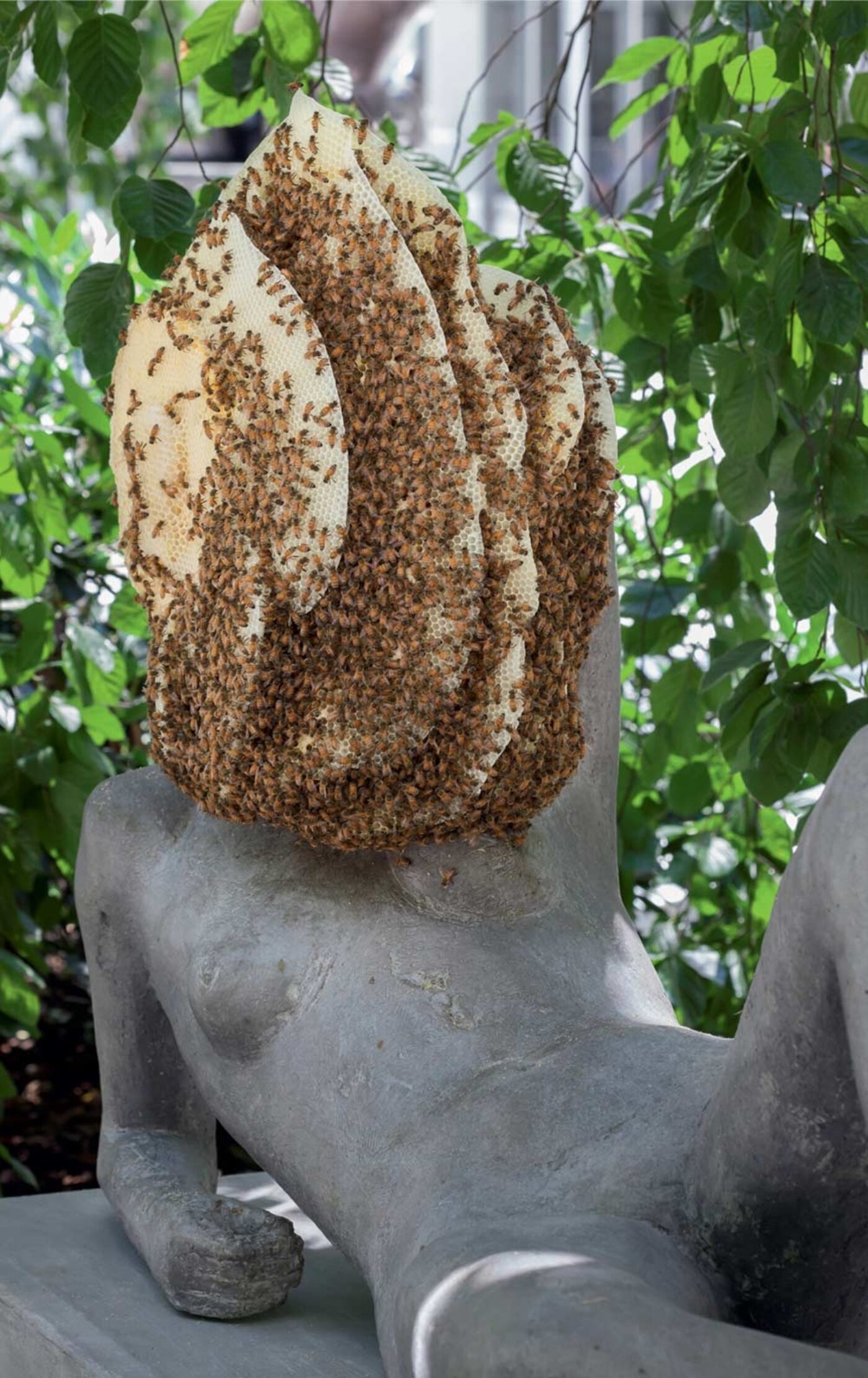 Pierre Huyghe currently sits on top of the art-world food chain. His multi-dimensioned, tourist-perplexing installation, Rite Passage, straddles the Metropolitan Museum of Art's roof garden through November 1. The work consists of three major elements: a signature Huyghe aquarium, a displacement of a number of the garden's rectangular granite paving stones, and a large granite boulder. The spaces revealed beneath the paving stones contain both liquid seepage from the aquarium and runoff from New York City's precipitation (and who knows what else). Crystallization, weedy plant growth, and other "natural" processes are well underway—as are the occasional intrusions of human detritus.
Huyghe is forever fond of systems that try to take care of themselves—regardless of whether they self-generate, naturally decay, or both. The artist has done astonishing things with, for example, honeybees. His somewhat ominous 2012 sculpture, Untilled (Liegender Frauenakt), features a life-sized reclining female nude, cast in concrete, with an active bee colony where her head should be. She could be found, earlier this summer, holding court under a shady tree in MoMA's sculpture garden.
The glass used for the Rite Passage aquarium employs specially designed liquid crystal diodes that create alternating periods of visibility and opacity. The effect makes the apparatus feel somehow alive. Through the tank's open-to-the-air top one can see—if you're tall enough—the tip of a paradoxically floating rock that dominates the aquarium's ecosystem. Beneath the buoyant rock sits a mound of silty sand. Two discrete species inhabit this aquatic realm: Lethenteron appendix (the American brook lamprey) and Triops cancriformis (a type of tadpole shrimp).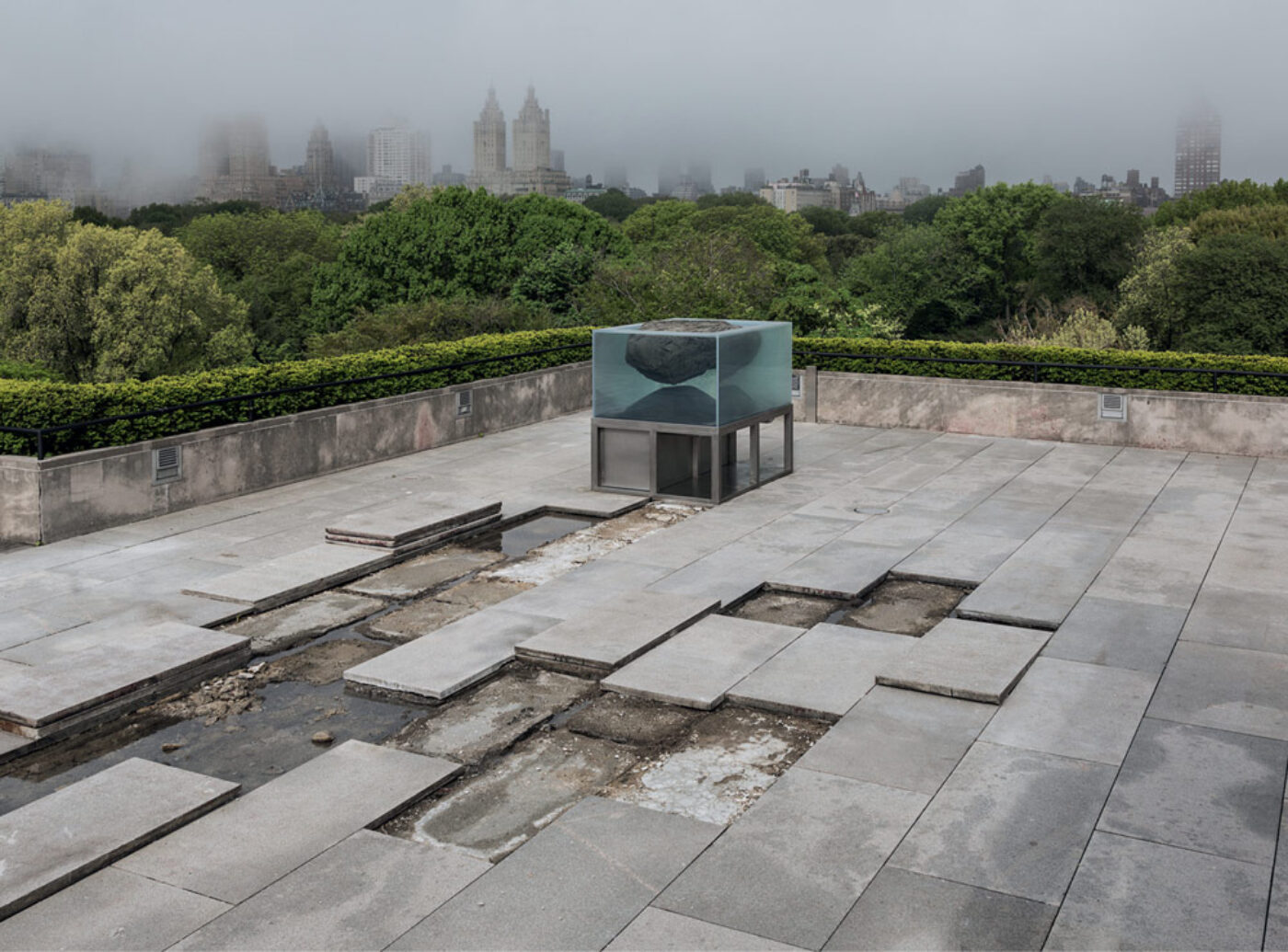 If you happen to be a freshwater biologist you know that these two breeds are evolutionary success stories. That is to say: they haven't evolved at all. According to the geological record they appear the same today as they did millions of years ago. Huyghe—who often explores the relationship between the animate and its opposite—would obviously be attracted to "living fossils."
Two iconic figures need mention: Anubis, the ancient jackal-headed god of the Egyptian underworld; and the archeological artifact known as the Copper Man. The latter real-life human was a Chilean miner trapped in the Andes circa 550 AD. He was found nearly a millennium and a half late—apparently mummified by the copper that had bonded with his skin. (Anubis is/was the god of mummification.)
Rite Passage pivots on one of Huyghe's, and Anubis's, favorite tropes: transmutation. Water evaporates into the atmosphere or oxidizes with rock. The sky, in the form of clouds and rain, returns the cyclic favor. Life arises out of inanimate material. The movement of stones—including a stone that floats—triggers human fascination. Living things can eventually become fossilized. Everything's connected (by ooze). This can be frustrating. More than once, strolling amidst Rite Passage, I heard a museum visitor exclaim, "I don't get it." More than once, like an existential non sequitur, I heard a museum guard say, "Please don't stand on the art!"
The Copper Man mummy lives in the American Museum of Natural History. That's less than a mile away, across Central Park, from the Met. Huyghe, in a published conversation with Sheena Wagstaff (the Met's Chair of Modern and Contemporary Art), remarked that the mummy would be too fragile to move to the roof garden. However, as a poetic alternative, Huyghe researched the creation of his own copper mummies—made from humanely sourced animal carcasses found in the park.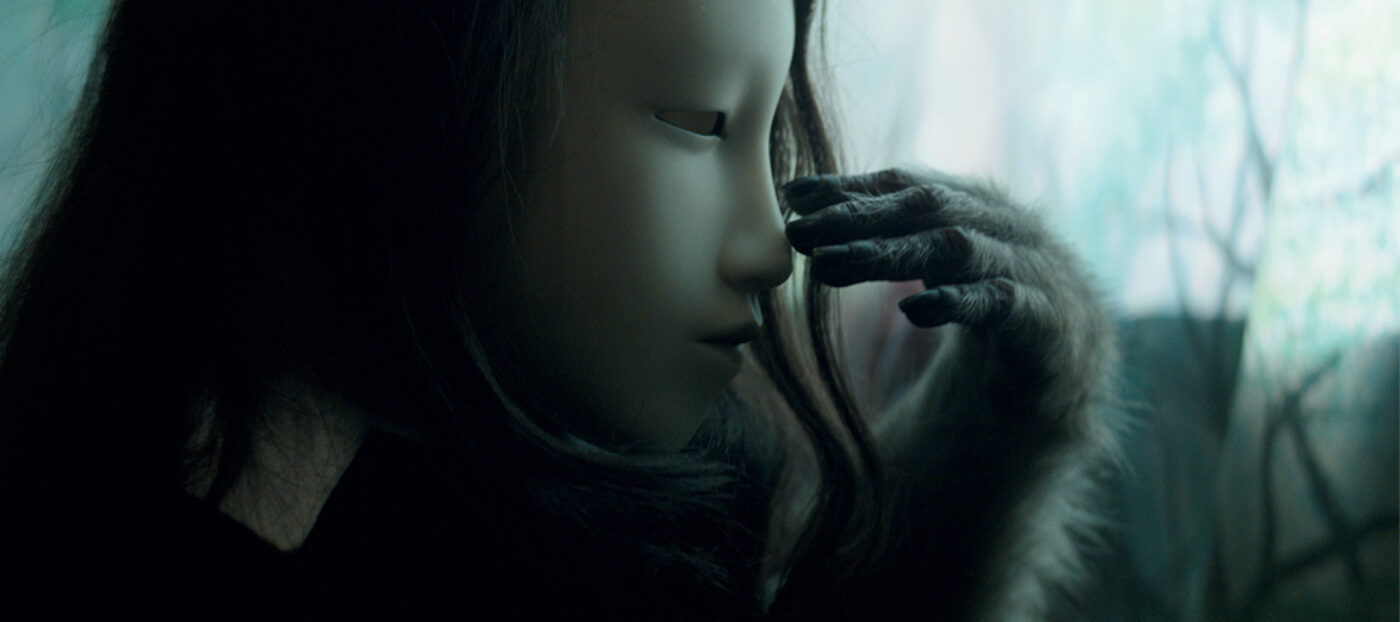 Another character thematically connected to Rite Passage appeared on a wall in a windowless gallery deep within the Met. She's a monkey wearing a white plastic mask—reminiscent of Noh theater—and she's the "star" of Huyghe's twenty-minute film, Human Mask (2014). Whereas installations like Rite Passage or films such as The Host and the Cloud (2010) may seem to revel in obfuscation, Human Mask presents itself as plain as day—as long as that particular day occurs within a post-apocalyptic nightmare. The film is set in an abandoned Japanese city devastated by recent disasters—sound familiar? The action takes place inside a desolate restaurant/bar that's inhabited by the masked monkey. Her angst-ridden life has been reduced to ritualized boredom (lethargic grooming, nail-picking, restless leg syndrome) and frustration (frantic pacing about). Her companions include (and may be limited to) a stoic cat, a scampering water bug, and a seething clump of maggots trapped under plastic. "Relational aesthetics" allegedly involves "human relations" and "social context" quoth Wikipedia. Huyghe's aesthetics of the "self-generating system" appears, at times, antithetical to all things "relational." Again, in his conversation with Wagstaff, Huyghe speaks bluntly: "Whether the visitors [to Rite Passage] are here, or not, the situation continues to grow, indifferent to their presence [emphasis added]." The monkey with the human mask is not indifferent to the lack of human presence. The absence is clearly driving her insane (or more insane). Perhaps the humans are to blame for their own extinction. Perhaps the monkey—without the balm of social context—suffers for our sins. Regardless. Not only does the film summarize Huyghe's oeuvre, I suspect it is his masterpiece.
Chris Chang writes about film and art and is BOMB's online performing arts editor.
Originally published in
Featuring interviews with Nari Ward, Jim O'Rourke, David Diao, Rachel Rose, Tonya Foster and John Keene, Alice Notley, Deana Lawson and Henry Taylor, Annie Baker, and more.