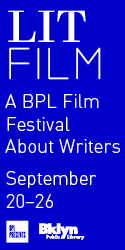 Where he grew up there were no museums, or art collections, or the possibility of being exposed to any form of art that was not reproduction. Even the reproductions were of poor quality, mostly black-and-white, postage stamp-size shadows of the real thing. The beauty they represented came to his life in other ways. It came mostly through the voice of his mother, who had grown up in Italy, where the existence of art had permeated every aspect of her daily early life. Instead of fairy tales, his mother would tell him about magnificent churches with delicately carved portals and aspiring campaniles that pierced the blue sky and crowned little hill towns. She described to him paintings of submissive Madonnas visited by angels, suffering Christs, arrogant noblemen, and Umbrian landscapes of manicured beauty. She missed being surrounded by art and her longings were transferred to him. Listening to his mother he wondered if it would ever be possible for him to understand the kinds of things she was talking about. The possibility that he might actually see these things himself never occurred to him. He loved his mother's voice with its soft Italian accent, it caressed the space around him and it made him feel safe and warm. Her nostalgia for the beauty of her past filled him with longing.
While his friends' imaginations were dictated by movie stars and comic books, his was fed by images created by people who existed centuries ago and now resided in magnificent churches, ducal palaces, or places called museums. Once he made an effort to explain to some of his friends the kind of beauty that his mother described to him, but they were not interested. He tried to look at the movie magazines with photographs of Elizabeth Taylor and Ava Gardner and they appeared different from the way he envisioned a Piero della Francesca or a Leonardo Madonna. His was an abstract sort of vision because he could not imagine specific features or colors. When he was older he thought about it as a mood of beauty, a hope that someday he would encounter the reality of that nebulous and wonderful feeling that emanated from his mother's descriptions.
The stories behind the paintings were also very different from those of movie stars, their lives and their quests for attention, or comic books and their desperation for obtaining a quick laugh. His mother told him about the myths that inspired artists like Piero and he thought of other-worldly creatures like Saint Jerome, whom God ordered to be flogged for reading pagan texts, and archangels providing Adam with a miraculous oil which would save his life.
His mother died before they were able to take the trip she had planned for them. He inherited from her all the embroideries she had made during her life, a private legacy of beauty as important to him as her love for art. They were beautiful tablecloths with intricate patterns that she designed herself in large sheets of paper and transferred to the cloth. His favorite was the one with the garland of pomegranates; its flaming red and purple shades made up of tiny stitches glowed on the New Year's Eve dinner table. His mother told him about the delicate taste of pomegranates and lamented that she could not find them in any of the local markets.
He was thirty by the time he went to Italy, and by then he possessed many books with good reproductions. Of all the masters, his favorite continued to be Piero. His work encapsulated the enigmatic ambiguity that inspired in him the same kind of sentiments his mother had.
It was natural that his first trip to Italy would be to visit Piero's work.
The travel agent with whom he booked his trip was surprised that his first visit to Italy did not include Rome, Venice, or Florence; that instead he was going to Borgo San Sepolcro, Arezzo, Monterchi, and Urbino. To him this was Italy, the places near where his mother, like Piero, had grown up. By this time in his life, Piero had become almost like a friend of his and although the details he knew of the artist's life were sketchy, he felt he was on his way to visit someone who had continually kept him company.
He had waited for so long to take this trip and was surprised to discover that his anxiety had turned into tranquility. He drove his small rented car through busy wide autostradas trying to stay in the right lane and turning a deaf ear to the other motorists who, irritated by the slowness of his driving, constantly sounded their horns. Soon he found himself on small curving roads through the Apennines and the Tiber Valley. Small towns appeared, towns that had not changed for centuries and seemed to proudly cling to the past. Everything was green and every tiny plot of land lovingly cultivated. The scale was minuscule compared to the vast landscapes of the Midwest where he grew up. Every little town had a church with a steeple that echoed the pine trees—they aimed at heaven. The churches were large in relation to the size of the towns and women covered their heads when they entered. He knew from what his mother had told him that these churches were objects of great pride built by generosities that went as far back as the history of the town itself. They were always the most beautiful buildings in the town. He assumed the people who lived there had intense spiritual lives. The churches that he stopped to visit were adorned with beautiful art and candles were lit at the foot of every image. People of all ages came in and out. Some sat in silence as if talking with God. The light was pallid in these churches and the quietness induced in him memories of his mother asking him to pray the rosary with her. It was always in the late afternoon when she had finished the day's labors and the sun was setting and the light in the prairie was timid too. He wondered why his mother did not attend church at home. Now he realized that she must have found the churches of the American Midwest bare and cold, devoid of the mystical feeling that these small churches effused. At the end of the day, before he went to dinner, he stopped at a church, lit a candle, and in silence recited the prayers he remembered.
In the mornings, as he continued his journey, he felt elated to observe how fast the landscape changed. He often stopped to take photographs. He treated himself to the kind of food his mother used to make and, as he experimented with new flavors, he realized how many foods had not been available to his mother and how much she must have missed them. In the country markets he could smell the sweet scent of herbs, fruits, and flowers, smells that did not exist in the sealed packages of the markets at home. He observed that the offerings were limited to what grew seasonally and he smiled to himself remembering how his mother would declare in April that it was "sweet pea season," pretending the frozen peas that were available to her were as fresh as the ones that grow in the spring in the Mediterranean. At night he enjoyed a glass of wine. His first stop was to be Monterchi to visit the Madonna del Parto. He chose her first not only because he had always associated this image with that of his mother, but because he felt it would be easier for his first encounter with Piero's work to be with this Madonna he had imagined every day of his life.
Early one afternoon, he made his way to the isolated chapel in a cemetery that housed the painting. He was the only visitor and the caretaker reluctantly opened the door for him. By the time his eyes adjusted to the interior light, he was standing in front of the Madonna.
He stood in front of the image every afternoon for the remainder of his trip. In the mornings he took long walks in the landscape from which his mother and the Madonna had sprung and tried to meditate on the many queries his journey and the presence of this sublime image elicited. His thoughts were abundant and often unrelated. The angels in the picture that pull away the curtains revealing the frontal image of the Madonna, whose womb engenders Christ, inspired him to ask: Are they her angelic protectors, or a mere painterly trick of Piero's to add to the drama? The reflective face of the Madonna with her heavy lids concealing eyes lost in thought preoccupied him. He could not decide whether she was submissive, peaceful, or discreetly happy. Her pose appeared ambiguous. Was it one of humility or of daring? Her right arm—with its long slender fingers tenderly touching her bare large belly as it bursts from the open seam of her pleated gown—appears so contradictory to the gesture of her left arm placed on her hip in a gesture of seeming defiance. The Madonna seemed to be so alone, just as his mother must have been when his father died shortly after he was born, or when she arrived from Italy as a young bride and knew no one except the man she loved. Sometimes he just got lost in the grace and beauty of the painting's colors and the glorious pomegranates in the background of the canopy that the angels held just like the ones in his mother's tablecloth. There was a sense of friendliness among them that gave the painting cohesiveness and peace. Other times it was the details that absorbed him, the fading pattern of the curtains or the haloes that rested on the angels' heads.
As the days went by, he began to see the painting in different ways. He began to think of Piero himself and how he thought about its structure, so profound in its simplicity. He wondered why Piero had painted this Madonna about to give birth for a chapel in a cemetery—a place of death. Maybe Piero wanted to tell the viewer that life does go on, like his had after his own mother's death. He thought of the day when Piero put down his first brushstroke, and the next, and the one after. Sometimes the images dissolved into brushstrokes; other times into a massive series of decisions. What did Piero feel for the Madonna? Did he admire her? Did he marvel at the mysteries of motherhood and the fear and joy of becoming the mother of God? He thought of his mother's beautiful embroideries and wondered if on some level she made similar decisions when she created a pattern or chose a color. He remembered his mother's sewing basket filled with threads of every color and the intensity in her face as she looked through them to find the right one. Piero too must have studied his palette searching for the perfect pigment. These kinds of thoughts absorbed him completely.
His last visit was late one afternoon, when the Madonna was filigreed with late sunlight, pale and even more mysterious—an image he carried with him forever.
He never visited any of the other Piero's.
When he drove back to meet his plane in Milan, his life had changed. He had discovered that what he had come to do was not so much to visit Piero, or to experience what his mother had taught him to love, or to reach a moment of exaltation. He had come to discover a part of himself. He knew now that what he wanted to do more than anything was to produce something that would reflect his own sense of beauty, something that he could slowly make appear in a space of emptiness and blankness, something that would absorb him completely. He had found in himself the courage to make a plan, to take the risk, and to place the first brushstroke.
Gabriella De Ferrari is an art historian, curator, and writer who lives in New York City. She is the author of two books, the novel A Cloud of Sand (Knopf, 1990) and the memoir Gringa Latina: A Woman of Two Worlds (Houghton Mifflin, 1994).
Originally published in
Featuring interviews with Nari Ward, Jim O'Rourke, David Diao, Rachel Rose, Tonya Foster and John Keene, Alice Notley, Deana Lawson and Henry Taylor, Annie Baker, and more.