Phoenix Rising: ABC No Rio by Fred Paginton
ABC No Rio as we knew it is no more—but its legacy lives on. Here Fred Paginton sits down with the legendary institution's Steven Englander to reflect on the role of the activist art space and its next steps.

Discover MFA Programs in Art and Writing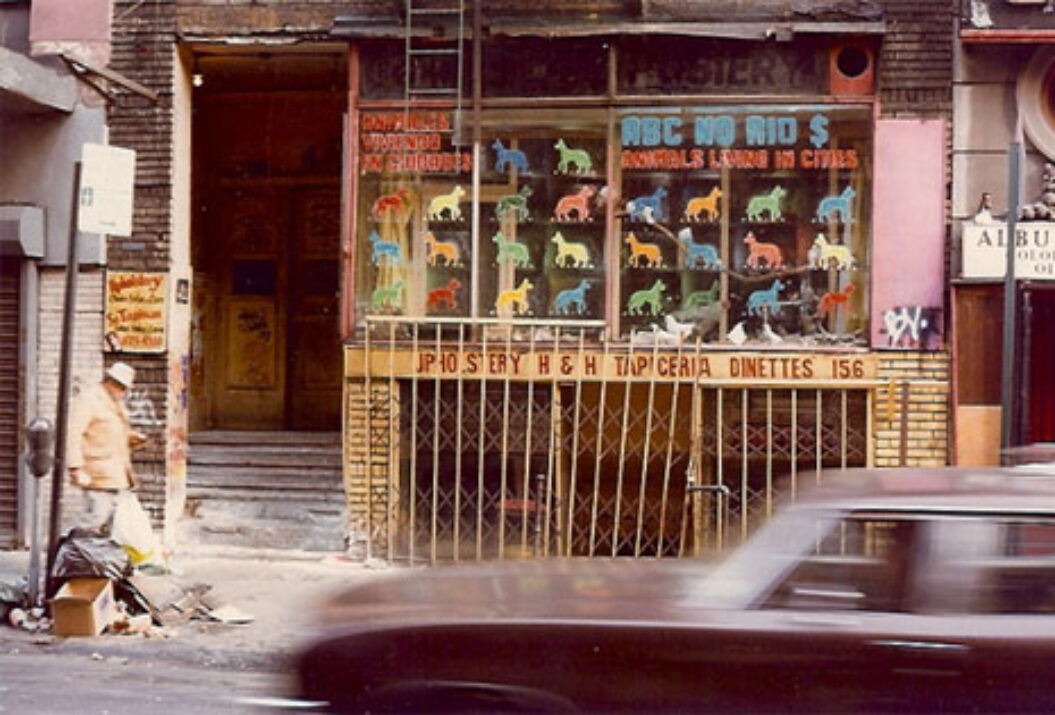 For over thirty years New York's ABC No Rio garnered a widespread reputation as being a refuge for socially engaged and politically activated artists. During its lifespan, and in the midst of a rapidly changing landscape, ABC No Rio served as a constant support for radical projects, providing an alternative perspective to that of the traditional gallery scene and established order therein. First and foremost, 156 Rivington Street, located in the Lower East Side of Manhattan, has always been a melting-pot where art and activism intersect. Founded in 1980, when the landscape of the area (pre-gentrification) was dominated by Latino, Hispanic, and Jewish enclaves that co-existed (but did not always mix), ABC No Rio required of its visitors the commitment of involvement, participation, and ultimately collaboration. Through its various offerings of cultural education—poetry readings, print sessions, the extensive No Rio zine library, and the infamously popular Saturday Punk matinees—the space quickly became not just a gathering place, but a local institution. The question of sustainability within a city of rising rents, mounting numbers in population, and rapid revitalization has been a point of concern throughout. Yet, against all odds, ABC No Rio has managed to roll with the punches—even shelling a few out themselves—to protect and maintain this bastion of creativity. I recently came across an archived BOMB gem—a 1982 conversation with the then relatively new ABC No Rio. Inspired, I sat down with ABC's Director, Steven Englander, to reflect back on their beginnings and contemplate next steps. Since this conversation, ABC No Rio—faced with insurmountable financial challenges and a need for renovation—has been forced to close its doors. Yet, despite this harbinger of the veritable end of an era, the legacy of this venerable cornerstone of New York City history continues to live on.
Fred Paginton In our first interview with you back in 1982, published in BOMB's second issue, you had just formalized ABC No Rio and were establishing yourselves in the community as a venue for oppositional culture—at the risk of being too broad, to what extent do you think ABC No Rio has succeeded in cementing itself as a recognized space for artistic engagement?
Steven Englander We think we've done a pretty good job of it. ABC No Rio was founded by visual artists primarily as gallery space. Over the years ABC No Rio passed hands. Various people got involved with the successive generations, adding different projects and programs to the mix. Public events here now still include exhibitions, but also our Saturday punk matinee, COMA (our series of experimental and improvisational music), poetry readings, performance, video screenings, meetings, workshops, and forums.
In addition to providing a space for artists to show their work and perform, we also provide facilities and resources: we have a darkroom for black and white photography, a screen-printing shop, a zine library and a computer center.
Nowadays, ABC No Rio means different things to different people. It's one particular thing to some borough kid coming to a punk show, and then something completely different to a retired public school teacher coming to a poetry reading. It's one thing to some activist banging out posters or t-shirts in the print shop, and something else to some European traveler visiting the zine library. It can be something to a musician who's been regularly coming to COMA for years, and obviously something else to some bar-hopper who stumbles in to an art opening.
FP Growing up in the Lower East Side during the 1980s is presumably a much difference experience to that of today. For instance, if we hark back to the 1982 interview, you mentioned that the Hispanic neighborhood was largely unaware of your presence and in-effect had little involvement with ABC activity. How has this relationship changed over the thirty years you have been at 156 Rivington Street?
SE The neighborhood has changed so much in the past 30 years. We think the neighborhood has changed much more than ABC No Rio has. When the space was founded and the neighborhood was primarily Latino, the adults weren't very interested in what went on inside. Sometimes there were exhibitions that involved or included neighborhood kids and maybe it was seen as a safer space for them. It really was through the arts education projects we've done over the years that connected us to our neighbors.
When ABC No Rio was founded, many of the people doing things here and who came to events here lived on the Lower East Side or in the East Village. That isn't the case anymore. Most of the artists involved and many of the people who come to No Rio now can't afford to live in this neighborhood. People are coming from all the boroughs, even from all over the greater metro area, like Long Island and New Jersey.
FP As a tolerant cross-pollinating platform between artists and activists–how would you describe your current nature towards political and social engagement?
SE Our attitude pretty much remains the same as it has since our founding. We encourage artists to be actively engaged with the social and political world. We are still committed to creating a fertile environment for artists to engage the current political and social landscape. We think they got it right in the beginning and we're still doing it.
FP Does No Rio's personal aesthetics and politics ever conflict with shows or artists who contribute to the site?
SE We don't really think so. Most of the artists, performers, musicians, individuals who do stuff here are already pretty much sympathetic to what ABC No Rio is about.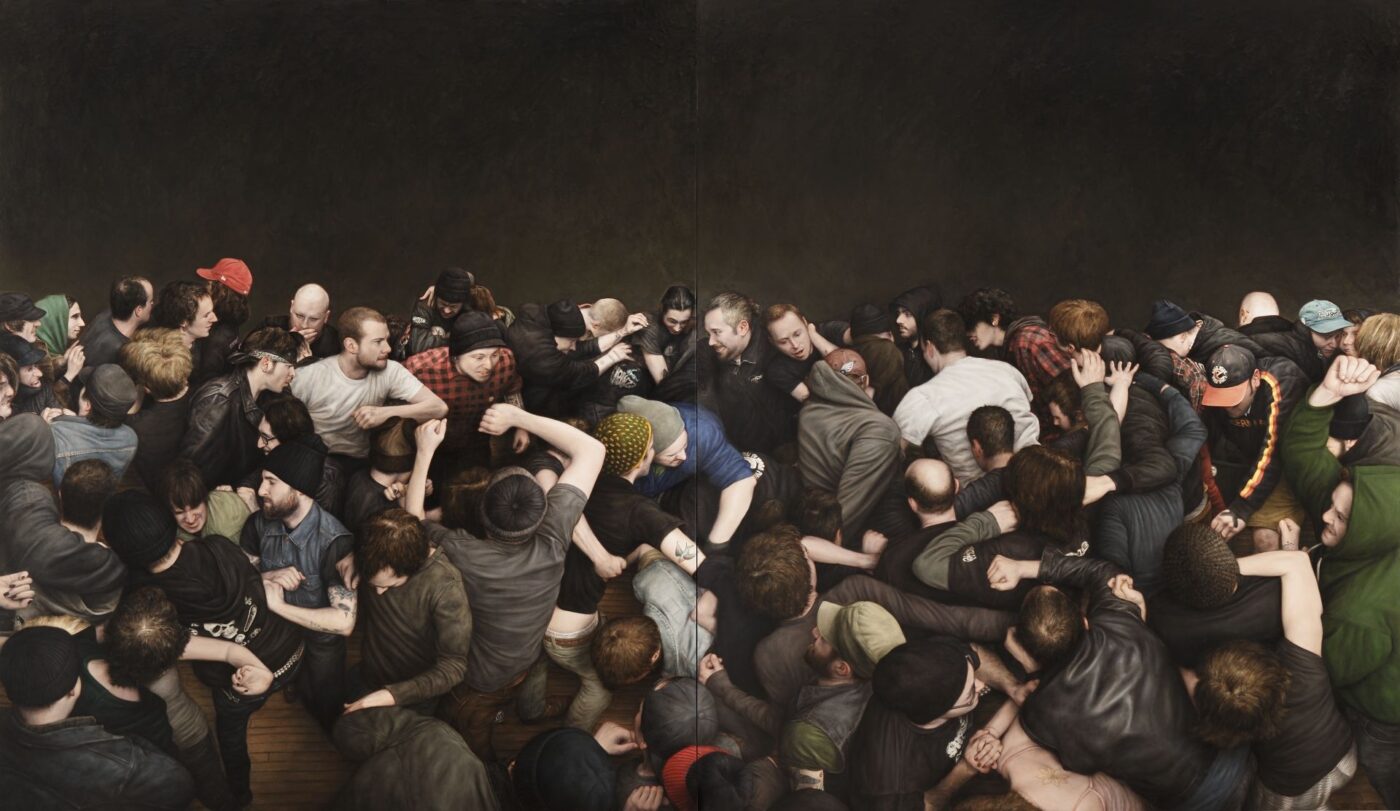 FP The D.I.Y. ethos of the punk and hardcore movements during that era are obviously defining factors of No Rio. Why do you think it became one of the most revered punk venues in New York, and have you attempted to maintain this identity?
SE We think it's really the consistency, and that anyone who wants to can get involved and be part of it, so long as they're not assholes—though over the years there's been a few, just-barely. For over twenty years we've been putting on the Saturday all-ages matinee, and there's always been a sense of community among the volunteers working on this project, a sense of belonging, of being part of something. People come and people go, but it seems that sense of community remains constant.
It's also about a certain level of awareness of politics and of social issues. Like for instance not booking racist, sexist or homophobic bands, making it a comfortable scene for women, gay kids, and black people into the music that aren't white.
FP Has this faded in any way out of changing social/cultural conditions?
SE Hard for us to say. Now there are so many D.I.Y. projects, and not necessarily just limited to punk or hardcore. But No Rio is one of the few in the country that has become an institution.
FP Can you tell us about the One Dollar Deal?
SE Our "One Dollar Deal" is similar to the deal also offered to all those off-off-Broadway theaters on East 4th Street. Basically, we buy the building for $1, and then raise the funds needed to renovate, do the construction, and then dedicate it to community use through our projects and programs. In our case, we realized the building was in such poor condition that to do what we wanted to do we'd have to take down the existing building and build it up as new. That made the project a lot more expensive. It's a five-million dollar project. We now have in place the money for construction costs and hopefully we'll get started this summer. But we still need a few hundred thousand dollars more for furnishings, out-fittings and equipment.
FP In what ways would you say your organization has changed, with particular reference to the plans of a new building at Rivington Street, creating a modern environmentally friendly space for artists?
SE We tried really hard to make sure that raising money for the new building and planning for the expanded projects and programs wouldn't substantively change the nature of ABC No Rio as an organization. No Rio isn't really about the building at 156 Rivington Street. It's about the people and all that they do here.
FP What benefits will a new space like this bring for all those involved—is there anything particular you're excited about?
SE When No Rio was founded, there was a sense of urban decay that many people found attractive or appealing. But we do think the new building will be a nicer, more comfortable place for people to work, meet and experience all that goes on here. We're looking forward to sinks in the bathroom, heat in the winter, cool ventilated air in the summer and no rain indoors when it storms.
FP Will your place in the community adjust in any shape or form?
SE We'll see. We expect more people to come to events here, utilizing resources that we'll have on offer, and we do hope for greater involvement from all sorts.
FP Is this a move towards a more contemporary gallery space? Again, hinting to the '82 article where you aligned yourselves to being nothing like anything on the gallery scene?
SE No, not if by contemporary you mean that corner of the art world represented by commercial galleries showcasing artists as a product. What we will create is a better and more versatile space for artists to realize their ideas within an open and collaborative structure. The visual arts program will still be run collectively, like all the other ABC No Rio projects and programs, and will still be open to ideas or proposals from other curators, artists, and artists as curators.
FP Is it important that ABC maintain their mission to relate to a constantly changing social context?
SE Of course. Relating to that constantly changing social context is what many here believe is our mission.
FP Would you agree that establishing a D.I.Y. art community is more difficult now more so than ever, with skyrocketing rent, indistinguishable movements, and ambiguity within society, or would you say otherwise?
SE We think it's actually easier now to do D.I.Y. stuff. There's more historical grounding for autonomous projects. People nowadays just have the confidence. They know they can just do it themselves. Boom or bust they just find a way. But maybe the projects are more ephemeral. It's tougher to keep things going for the long haul.
FP To those who may be attempting to build a new entity for artists who share ideas and resources in a similar D.I.Y. fashion to yours, what advice do you have?
SE We think the most important thing is just to have confidence. You can do it. Stay low to the ground; like-minded people will find you. Keep going and persevere even when you fuck up. Learn from your mistakes. Be flexible. Listen—be open enough to take in new ideas and hear other points of view. Share ideas and resources. Take action when opportunities present themselves.
For more information on ABC No Rio history and a fascinating insight into East Village art click here to read ABC No Rio co-founders Alan Moore and Marc Miller's ABC No Rio Dinero: The Story of a Lower East Side Art Gallery (1985).