Discover MFA Programs in Art and Writing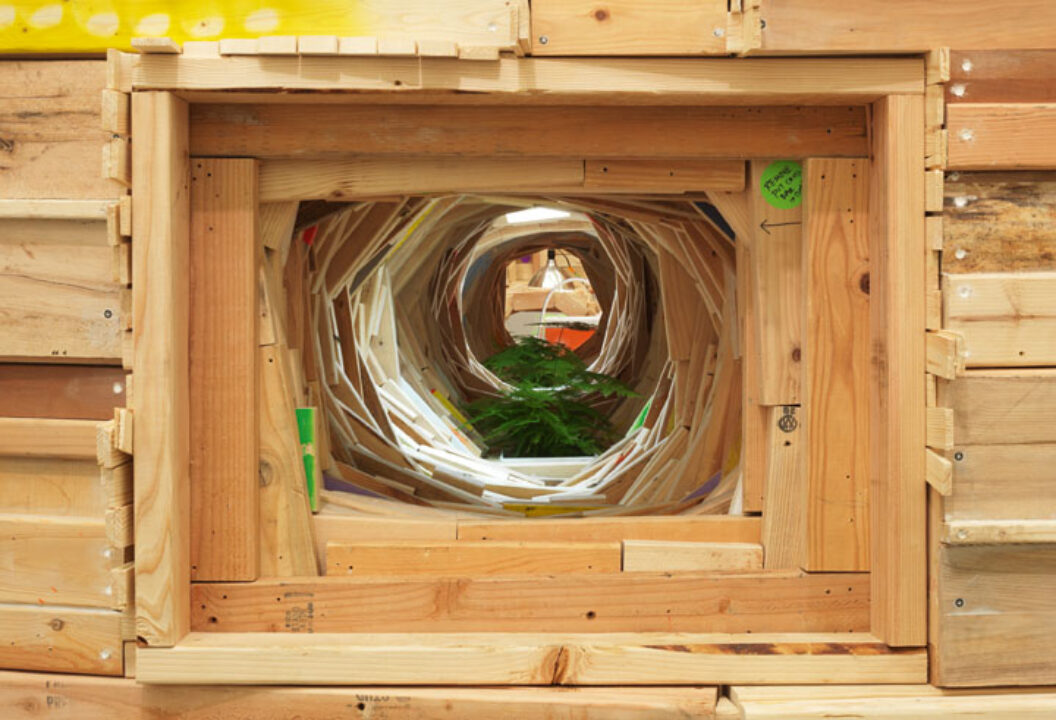 Entering the Downtown gallery housing of Phoebe Washburn's installation Nunderwater Nort Lab you are greeted by a curved wall made of two-by-fours. The wall gently bends and leads you into and around what turns out to be a round enclosure that fills the entire gallery space. The installation is meticulously constructed and pieced together from discarded and reused building material that the artist has collected, sorted, and culled from the street and her own previous installations. It appears happenstance but, in fact, every detail has been mapped out beforehand by the artist in lists, sketches, and models made to scale in her studio. Simultaneously, Uptown, Washburn showed smaller assemblages, which evoke a lyricism similar to that found in Richard Tuttle's work. Mundane metal folding tables and chairs are bound with tubing and inlayed with small stones or sea-urchin shells, spray-painted with a rainbow of colors. In Washburn's hands these objects are transformed into painterly abstractions.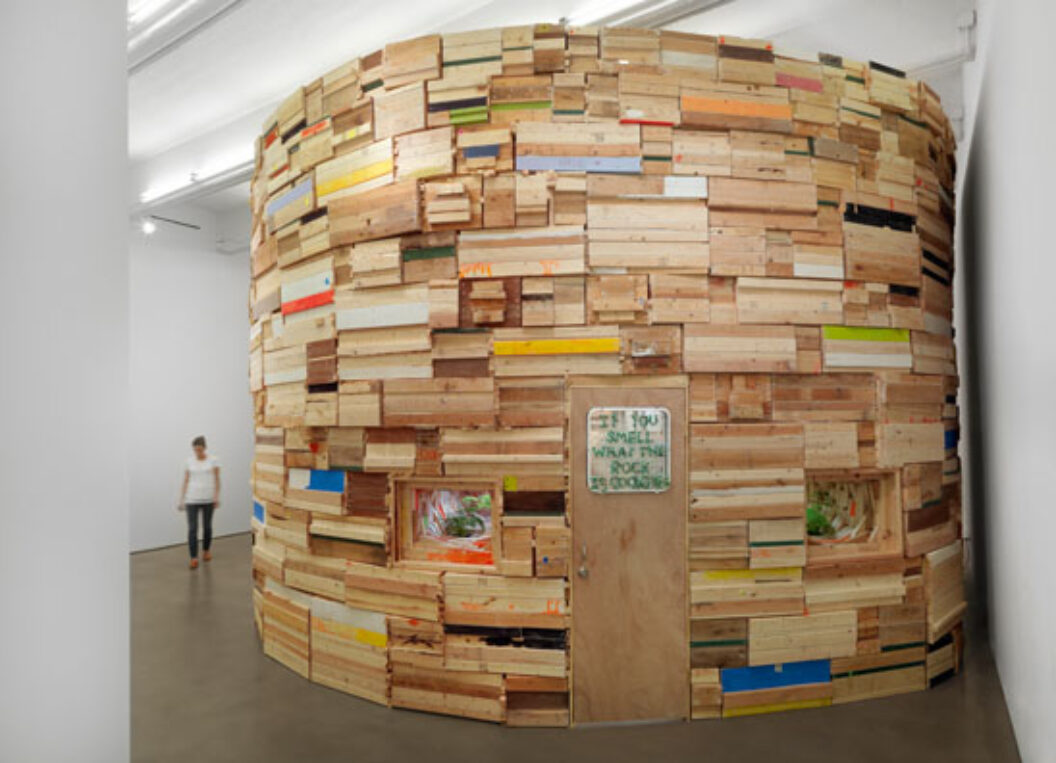 In Nunderwater Nort Lab, on the other hand, Washburn merges her private studio practice with the public gallery experience. She considers the installation process something like a team sport and enjoys nurturing her team of assistants, as well as the people who work at the gallery; for them and with them she has created a clubhouse within the structure, a semiprivate ecosystem for hanging out and sharing meals.
Openings, affectionately called "worm holes" by the artist, pierce the beehivelike structure. A beehive becomes an apt metaphor for the shape of the piece, and for the activities conducted within. Washburn's grandfather was a beekeeper, and her grandmother still is. The apertures resemble peepholes and are the connectors between the exterior and interior environments. Viewers are able to peek through strategically placed openings to observe the gallery staff eating their lunches or to imagine the ritual activities that might occur at other times.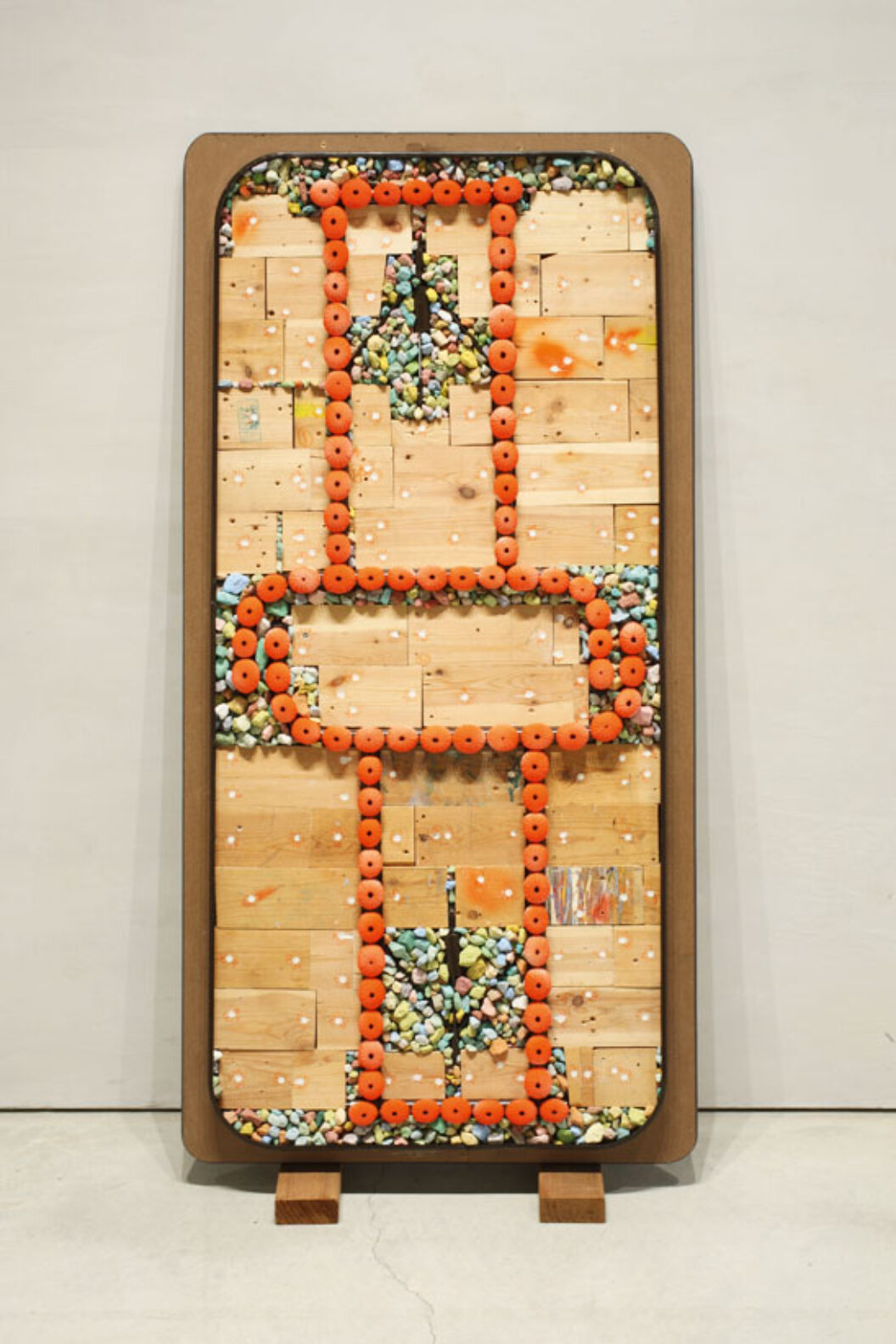 Guided by her focus on formal art-making Washburn likes to give in to her own obsession to collect building materials. She chooses the materials with an eye to shape, size, color, and practicality, such as items accumulated from past projects that are not thrown away, but incorporated and repurposed. With unopened packages of Gatorade and golf balls, tubing, fish tanks, tables, cords, buckets, plants of different kinds, lamps, and building material stored on shelves, the installation remains a conundrum, suggesting a garage in the suburbs, an inventor's workshop, or an environmental laboratory. Washburn acknowledges that environmental issues can be attached to her work; however, she prefers to keep interpretations open-ended and maintains a sense of humor lapping at the edges of technology.
The work remains nameless until Washburn has completed the "team sport" of installing and the piece has had a chance to settle. "Does Nunderwater Nort Lab reflect the content of the work?" I ask. "Not exactly," Washburn answers with a smile. She likes her titles to border on the nonsensical.
Abby Goldstein is an artist and designer living in Brooklyn. Her work can be seen at Pierogi Gallery and Kentler International Drawing Space. She won a 2010 AIGA 50 Books / 50 Covers design award for Helvetica and the New York City Subway System.
Originally published in
Featuring interviews with Clifford Owens, Eve Sussman, Lisa Yuskavage, Sanford Biggers, Geoff Dyer, Kenneth Goldsmith, Neil Michael Hagerty, and Peter Eisenman.